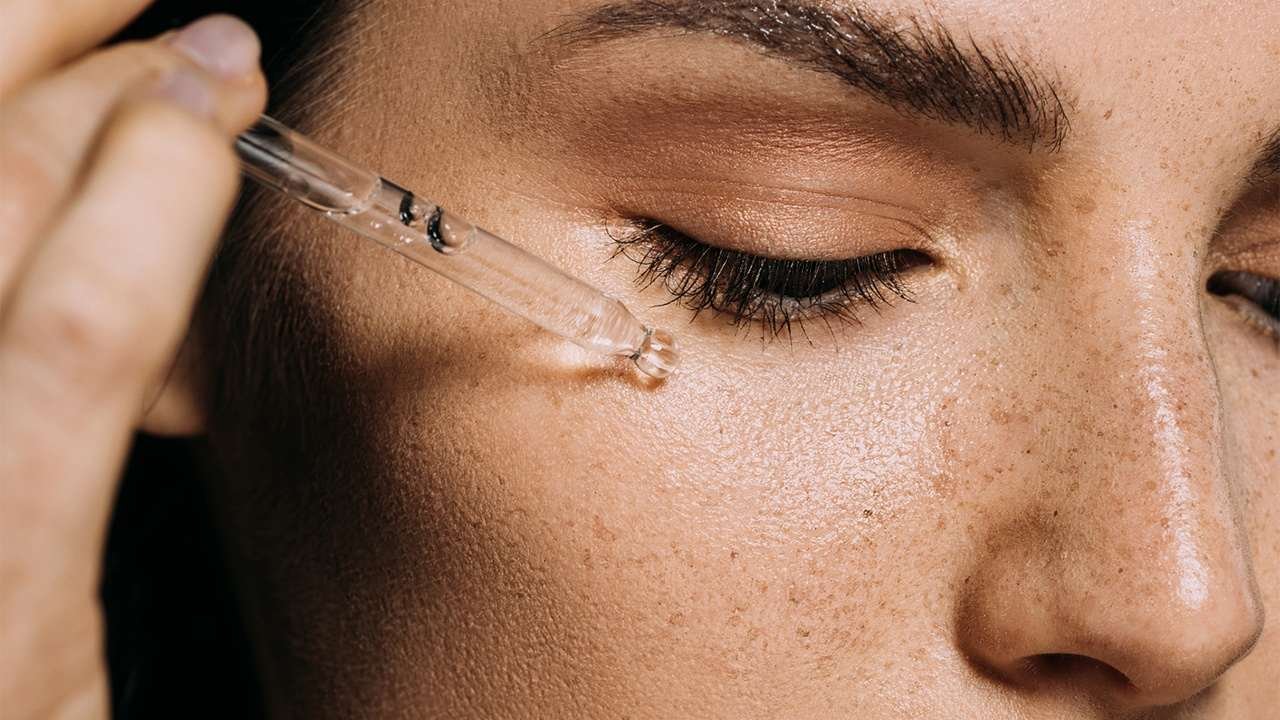 skin care essentials
How to Use a Facial Oil the Right Way
You know that using a nourishing moisturizer should be a super-important step in your morning and evening skin care routine. But who says you can only use a cream to get the job done? If you haven't learned how to use a facial oil yet, you're missing out. Oils sometimes get a bad rap, as you might assume that using one will leave your face looking overly shiny and cause you to break out—but it's all about applying one the right way. Here, we're giving you the 4-1-1 on how to apply face oil as part of your skin routine and how to use facial oil with makeup so that you can elevate your overall beauty look.
WHAT ARE FACIAL OILS?
Let's start with the basics: What is a facial oil? As the name suggests, facial oils are a skin care product that works to provide your skin with moisture. Typically made with a mixture of plant oils, facial oils offer your skin various benefits ranging from locking the skin with moisture to softening and balancing skin. Depending on the facial oil used, you can also take advantage of anti-inflammatory and antioxidant properties. Basically, it's a skin care must-have!
HOW TO USE A FACIAL OIL
It's time for the reason you're here: learning how to apply face oil! Keep reading for a step-by-step routine that will help you do just that!
STEP #1: CLEANSE YOUR SKIN
The first step in your a.m. and p.m. routines should be cleansing. Try a daily exfoliating scrub cleanser to help slough off dead skin cells that have built up on the surface of your skin. The L'Oréal Paris Revitalift Bright Reveal Brightening Daily Scrub Cleanser is formulated with gentle micro-pearls and glycolic acid and will help exfoliate dullness and impurities to improve skin tone, texture, and clarity. (Since alpha hydroxy acids like glycolic acid can increase your skin's sensitivity to the sun, be sure to apply a broad-spectrum sunscreen with an SPF of 30 or higher in the morning before heading out the door.)
STEP #2: LAYER ON YOUR MOISTURIZER
What came first: the chicken or the egg? The debate over whether to apply facial oil before or after moisturizer is almost as discussed as that age-old question. Well, we have the answer. No, not about the egg—the other one. While it can vary from product to product, in general, facial oil should be used on top of creams and lotions. This is because once you apply an oil it's tricky for other products to penetrate its formula.
With that said, go ahead and smooth on your moisturizer of choice. Consider the L'Oréal Paris Hydra Genius Daily Liquid Care for Normal/Dry Skin, L'Oréal Paris Hydra Genius Daily Liquid Care for Normal/Oily Skin, or L'Oréal Paris Hydra Genius Daily Liquid Care for Extra Dry Skin, all of which are formulated with hyaluronic acid and aloe water and help provide long-lasting hydration.
Of course, in the morning, broad-spectrum sunscreen is also a must. To keep things simple, use a moisturizer formulated with SPF, like the L'Oréal Paris Revitalift Bright Reveal Brightening Day Lotion SPF 30, instead.
STEP #3: APPLY YOUR OIL
Once you're slathered in moisturizer, it's time to get your facial oil ready. Morning and night, apply four to five drops of oil onto the palm of your hand. With your finger, dab the oil in small dots onto cleansed skin, avoiding your eye area. Then gently smooth and press the oil onto your face and neck, using the whole surface of your hands. Smooth the oil from nose to ears, eyebrows to hairline, and neck to jawline. Less is definitely more—so no need to go overboard!
Editor's tip: Don't want your face to have an all-over glow? We find it hard to relate, but in that case, you can apply your facial oil in the same spots you'd put highlighter. Dab the oil onto your cheekbones, the center of your forehead, and your chin to give your visage a balanced glow that's just dewy enough.
HOW TO USE FACIAL OIL WITH MAKEUP
Now that we've handled skin care, it's time to switch gears to your makeup routine. Below, we're sharing tips on how you can incorporate a facial oil into your makeup routine for more radiant-looking skin.
TIP # 1: MIX A FEW DROPS WITH YOUR PRIMER
Makeup primer helps create an even base for your makeup products to apply evenly and last throughout the day. And when you add a few drops of your facial oil into the mix, things only get better from there. Since facial oils provide an extra touch of hydration, mixing one with primer is the perfect way to keep your skin moisturized, which will help you sport a radiant beauty beat all day long.
TIP #2: APPLY FACIAL OIL BEFORE FOUNDATION
Another way to add a facial oil into your makeup routine? Apply your facial oil before your foundation. A great tip for dry skin types, applying facial oil before your foundation can help boost your skin with nourishment and leave you with bright and healthy-looking skin. Simply dab a few drops of facial oil onto your skin and smooth over your face and neck. Give the facial oil two to three minutes to absorb, then buff a lightweight foundation like the L'Oréal Paris Infallible 24 Hour Fresh Wear Foundation, Lightweight onto your skin.
TIP #3: MIX FACIAL OIL WITH FOUNDATION
If you have a fear of using too much foundation in your makeup routine, this tip will save the day. Play with facial oils by mixing a few drops with your foundation. A great way to provide your skin with extra moisture, it also works wonders to give your skin a healthy-looking finish. Not to mention, if you like dewy skin, this step makes it oh-so-easy to achieve.
Next up: Give yourself a pat on the back! You've learned how to use facial oils the correct way! Looking for more ways to upgrade your skin care routine? Head on over to our article, What Is a Face Serum and Why Should You Use One, for another quick lesson.
Discover more tips & tricks
Keep your skin happy
See all articles