anti aging
This Is How You Should Be Applying Eye Cream
Order matters.
December 17, 2021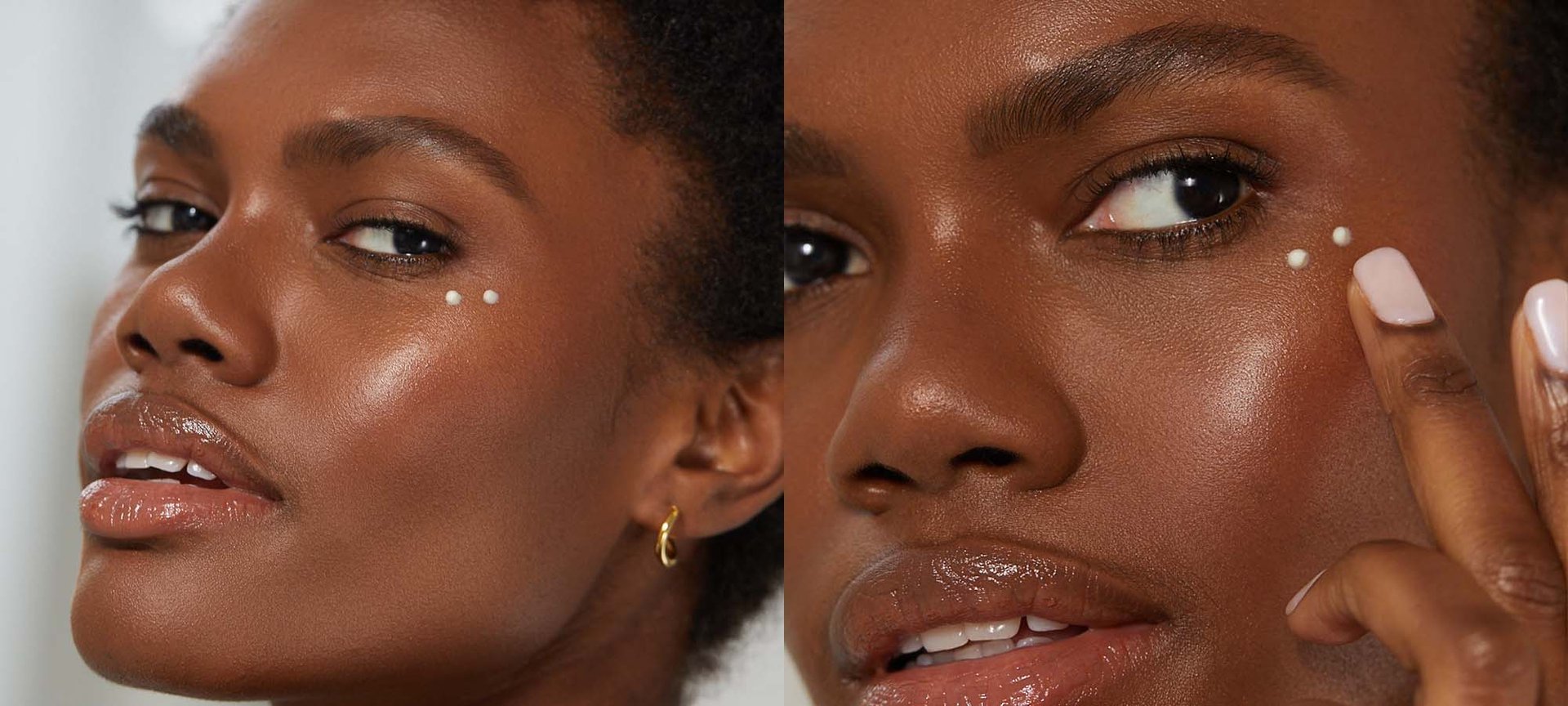 Since the skin around your eyes is thinner and more delicate in comparison to other parts of the face, the eye area is actually more prone to showing early signs of aging, according to the National Center for Biotechnology Information. Besides grinning and bearing it, there are steps you can take to address your biggest under-eye problems, including dark circles, puffiness, and wrinkles. That's where using eye cream in your daily skin care routine comes in. But the truth is, not everyone knows how to correctly apply eye cream in order to reap its benefits. So below, we're sharing what you need to know about how to apply eye cream the right way.

How Often Should You Apply Eye Cream?
Like with all skin care products, it's important to determine how often you should apply eye cream. If your under-eyes are dry, apply eye cream as part of both your morning and nighttime routines. If you find that your eye area is more oily, applying eye cream once daily is best. But always remember that it's important to read the instructions on the specific eye cream you choose in order to determine the best application frequency.

When Should You Apply Eye Cream?
The order of application is key when it comes to using eye cream correctly. An easy way to determine the correct order for your skin care products is to start with the products that are the most fluid or lightweight in texture and work up to the heaviest texture. With this philosophy in mind, eye cream should be applied after serum and before moisturizer (in most instances) and SPF.

How To Apply Eye Cream
Once you've established how often to apply your eye cream and when in your routine to apply it, it's time to understand how to apply it to your eye area.
When it comes to eye cream, a little goes a long way. If you apply too much, it can potentially cause congestion or contribute to milia in the area. Pick up a small amount of eye cream on your finger and dot it on around the orbital bone, from the inner to the outer corners of your eye area.
It's also important to be careful with how you touch this sensitive skin. The quickest way to work a skin care product into your skin isn't necessarily the best way to do it. Rubbing in the eye cream may be fast and easy, but it can actually be too harsh for the sensitive area. Because of how delicate the skin around your eyes is, you'll be better off applying eye cream as gently as possible. After you've dotted it on, use the pad of your finger to pat, rather than rub, the eye cream to help it absorb.
Editor's tip: Try using your ring finger — it has the least amount of movement so it can be the gentlest.

How To Find The Best Eye Cream For You
Now you know how to use eye cream correctly, but you need a product to put this new knowledge to use. Selecting the right eye cream comes down to your unique skin concerns. Ahead, we're sharing our recommendations for common eye area concerns.

For Dark Circles
If you have dark circles, the L'Oréal Paris Age Perfect Rosy Tone Anti-Aging Eye Brightener is for you. This pink-toned eye cream helps visibly color-correct the look of dark under-eye circles while also hydrating the area.

For Puffiness
If you have puffiness or under-eye bags, try the L'Oréal Paris Revitalift Derm Intensives with 1.5% Hyaluronic Acid, 1% Caffeine Eye Serum. This luxurious, lightweight eye serum formulated with hyaluronic acid and caffeine helps reduce the appearance of fine lines and hydrate the area. Plus, it has a cooling roller applicator which helps to calm the area and depuff.

For Wrinkles
If you're concerned about wrinkles in the eye area, reach for the L'Oréal Paris Wrinkle Expert 55+ Anti-Wrinkle Eye Treatment. It's formulated with calcium to strengthen thinning skin, and it hydrates the area without looking or feeling greasy.

For The Aging Eye Area
If you're experiencing several symptoms of aging skin like fine lines and wrinkles, dryness, crepey skin, puffiness and more, the L'Oréal Paris Age Perfect Cell Renewal Anti-Aging Eye Cream Treatment is for you. Formulated with antioxidant ingredients and vitamin E, it works to firm, moisturize, brighten and address wrinkles with continued use.
Next: 7 Reasons Why You Need A Face Serum Right Now
Written by: Alyssa Kaplan, Photography: Chaunte Vaughn, Associate Creative Director: Melissa San Vicente-Landestoy, Art Director: Hannah Packer, Associate Creative Producer: Becca Solovay, Associate Content Director: Shalwah Evans, Makeup Artist: Jonet Williamson, Hair Stylist: Akihisa Yamaguchi, Wardrobe Stylist: Alexis Badiyi, Digital Tech: Erik Dalzen, Photo Assistant: Sam Kang, Model: London Knight
Discover more tips & tricks
Keep your skin happy
See all articles
Shop Featured Skin Care products
Discover More