anti aging
What Does Collagen Do For Your Skin?
Plus, how to add collagen to your skin care routine.
August 21, 2020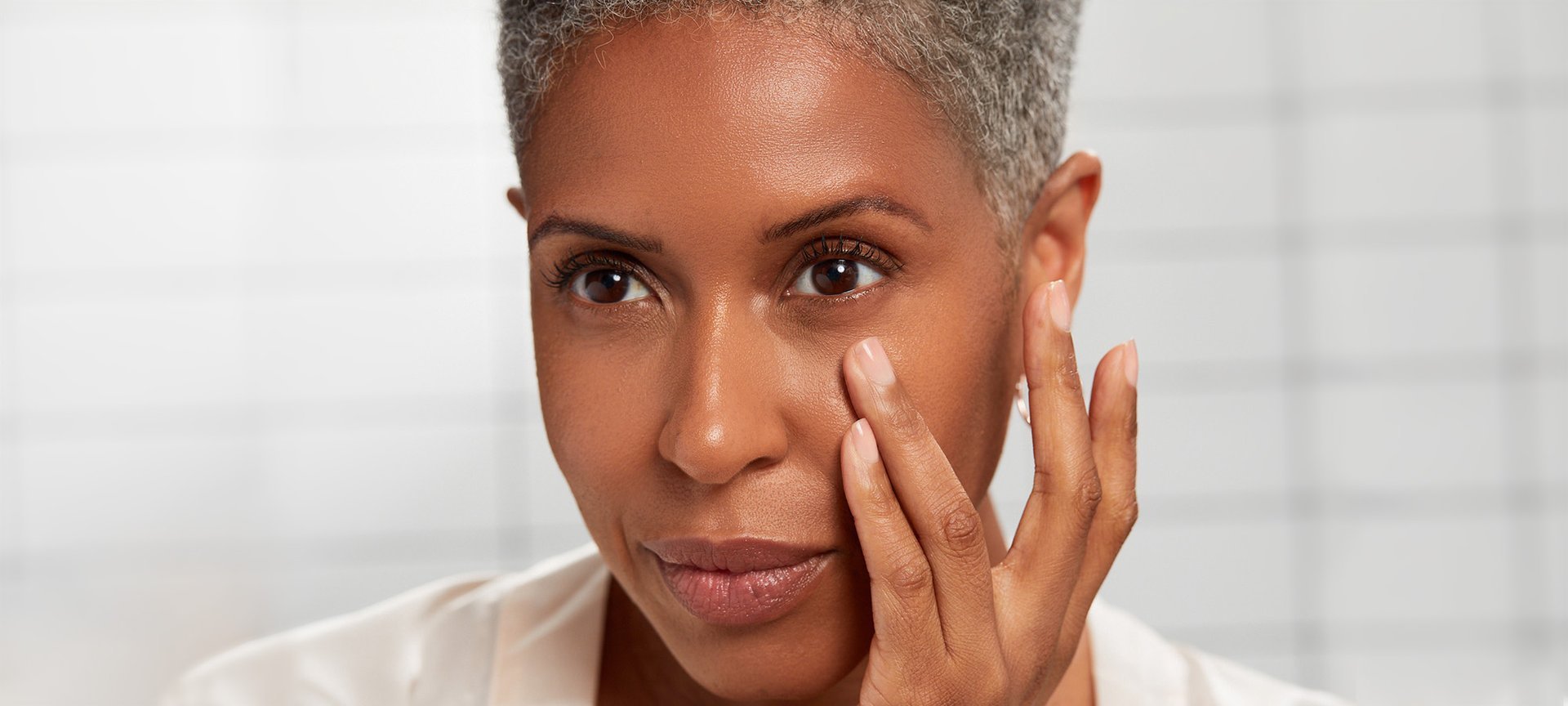 If you're a skin care fanatic, the term collagen likely rings a bell. From collagen face cream to collagen skin supplements, you may be wondering how people are using collagen to address their skin care concerns. Lucky for you, you can find everything you need to know about collagen for skin right here — from collagen benefits to how to add collagen to your skin care routine, we're sharing it all.

What Is Collagen?
Collagen is a protein that makes the skin cells strong, according to the Cleveland Clinic. It's like the glue that holds the skin, muscles, bones and tissues together. The Cleveland Clinic also states that collagen, along with elastin (another protein in the skin), is responsible for warding off fine lines and wrinkles. However, as you age, your body's collagen levels decrease.
Why Collagen Is Important For The Skin
So you know what collagen is, but perhaps you're wondering: What does collagen do for skin? The American Academy of Dermatology (AAD) states that as collagen diminishes, our skin loses its firmness and begins to sag causing wrinkles to become more permanent. In simpler terms, collagen is one of the main factors that keeps the skin looking plump.

What Causes Collagen Loss?
Though the loss of collagen can start earlier, it's most significant for women during menopause. Studies show that a woman's skin loses about 30 percent of its collagen during the first five years of menopause, according to the AAD. After that, women lose about two percent of their collagen every year for the next 20 years.
The sun can also take a toll on your skin's collagen. According to the Mayo Clinic, exposure to ultraviolet (UV) light breaks down your skin's connective tissue — collagen and elastin fibers, which lie in the dermis (deeper layer of the skin). This sun damage and the breakdown of collagen can lead to wrinkles, that's why it's always important to use a broad-spectrum sunscreen with an SPF of 30 or more.

How To Combat Collagen Loss
According to the AAD, skin care products that contain retinol or peptides can increase collagen in your skin. There are also several skin treatments that can help address the loss of collagen–here's what you need to know:

1. Microneedling
According to a study from the National Center for Biotechnology Information, multiple sessions of microneedling — a procedure during which tiny needles are used to poke holes in the skin — can lead to an increase of collagen, reducing fine lines and wrinkles, pore size, and leading to more suppleness and elasticity.

2. Ultrasound
You're likely familiar with what an ultrasound is, but did you know that it can stimulate collagen? According to the AAD, dermatologists are using ultrasounds to send heat deep into the skin, causing your body to produce more collagen.

3. Radiofrequency
Just as with ultrasounds, radiofrequency involves a similar concept of heating your skin's tissue to stimulate collagen production. Your dermatologist will place a device against your skin to heat the tissue beneath, according to the AAD. While it can take about six months to see the best results, they can last for two to three years with proper skin care.

Skin Care Products To Help Boost Collagen
In addition to products with retinol and peptides, skin creams with synthetic collagen add a film-like layer to your skin to reduce water loss and act as a barrier from environmental elements, the Cleveland Clinic states. Below, our product recommendations to help firm your skin.
This moisturizing face cream contains collagen to help strengthen skin's cushion for plumper, smoother skin. It also visibly reduces the first signs of aging, including fine lines, elasticity loss, and dryness.
If you're looking to incorporate retinol into your routine to help address firmness and wrinkles, look no further than this potent serum. It's formulated with pure retinol to visibly reduce wrinkles, smooth, and brighten the skin. It's also formulated with hyaluronic acid and glycerin to counteract the potentially drying effect of retinol.
If you have sensitive skin or are looking for a gentle retinol, give this hydrating moisturizer formulated with retinol and niacinamide a go. It works to reduce wrinkles, even the skin tone and deeply hydrate. It also comes in a pressed jar which makes applying the correct amount of product a no-brainer.
Next: A Beginner's Guide To Retinol

Edited by: Alyssa Kaplan, Photography: Chaunte Vaughn, Senior Art Direction: Melissa San Vicente-Landestoy, Senior Visual Designer: Hannah Packer, Associate Creative Producer: Becca Solovay, Makeup Artist: Jonet Williamson, Hair Stylist: Akihisa Yamaguchi, Wardrobe Assistant: Victoria Ochoa, Digital Tech: Kyle Thompson, Model: Roxanne Hancock
{ "@context": "https://schema.org/", "@type": "WebPage", "speakable": { "@type": "SpeakableSpecification", "cssSelector": ["speakable-content"] }, "url": "https://www.lorealparisusa.com/beauty-magazine/skin-care/anti-aging/collagen-skin-benefits" }
Discover more tips & tricks
Keep your skin happy
See all articles
Shop Featured Skin Care products
Discover More
{ "@context": "http://schema.org", "@type": "BreadcrumbList", "itemListElement": [ { "@type":"ListItem", "position": 1, "item": { "@id": "/", "name": "Home" } } , { "@type":"ListItem", "position": 2, "item": { "@id": "https://www.lorealparisusa.com/beauty-magazine", "name": "Beauty Magazine" } } , { "@type":"ListItem", "position": 3, "item": { "@id": "https://www.lorealparisusa.com/beauty-magazine/skin-care", "name": "Skin Care For Every Age" } } , { "@type":"ListItem", "position": 4, "item": { "@id": "https://www.lorealparisusa.com/beauty-magazine/skin-care/anti-aging", "name": "Anti Aging Skin Care" } } , { "@type":"ListItem", "position": 5, "item": { "@id": "https://www.lorealparisusa.com/beauty-magazine/skin-care/anti-aging/collagen-skin-benefits", "name": "collagen-skin-benefits" } } ] }