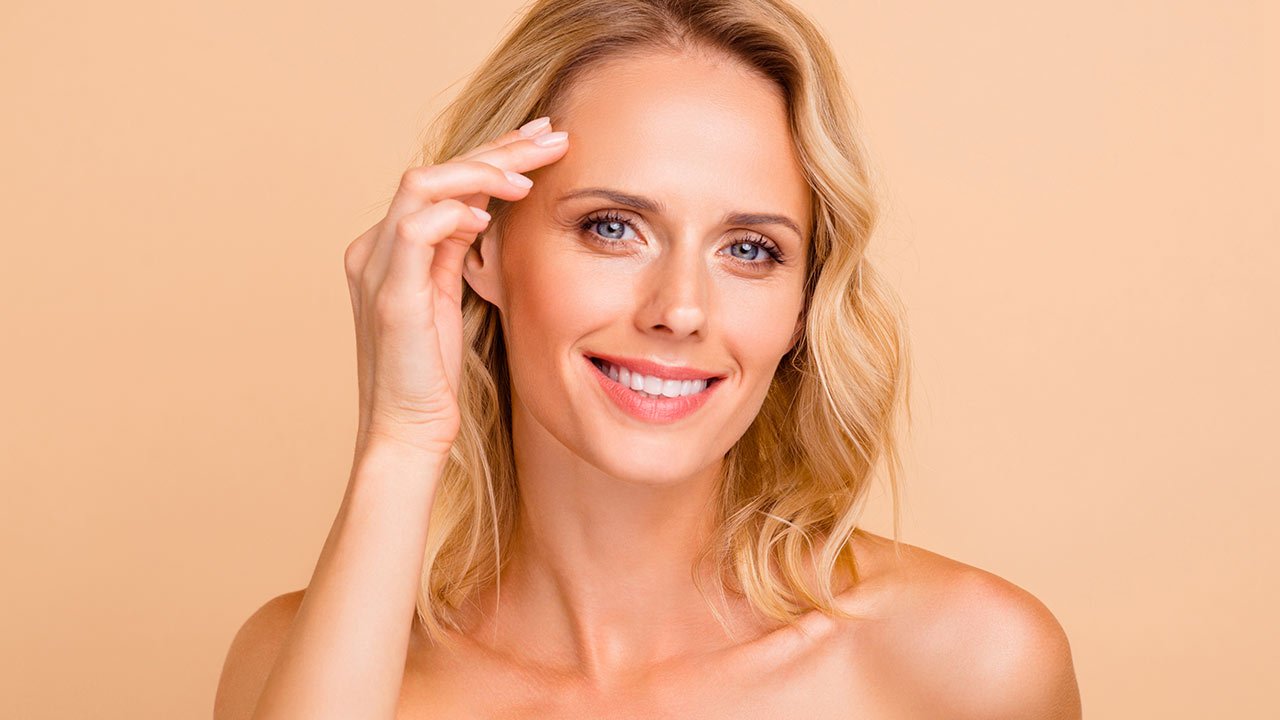 anti aging
Why Collagen is Important for Your Skin
If you're a skin care fanatic like we are, the term collagen likely rings a bell. From collagen face cream to collagen skin supplements, you may be wondering just what skin care concerns people are using collagen to address. Lucky for you, you can exit out of your Google search and find everything you need to know about collagen for skin right here—from collagen benefits to how to add collagen to your skin care routine. Let's get to it!
WHAT IS COLLAGEN?
Ready for a quick biology lesson? We promise to keep it brief! Collagen is the most plentiful protein in the skin, according to the Cleveland Clinic. The protein makes up 75-80% of your skin, so you can understand why it plays a large role in the way your skin looks and ages. The Cleveland Clinic states that collagen, along with elastin (another protein in the skin), is responsible for warding off fine lines and wrinkles. However, as you get older, your body's collagen levels go down. Got it?
WHY COLLAGEN IS IMPORTANT FOR YOUR SKIN
Now that you know a little bit about what collagen is, let's answer this question: What does collagen do for skin? The American Academy of Dermatology (AAD) states that as collagen diminishes, our skin loses its firmness and begins to sag, while wrinkles that used to appear only with a smile or frown become visible all the time—yikes! This is where collagen skin supplements may be beneficial. According to the AAD, one recent study showed that in individuals taking a daily supplement containing collagen peptides, there was a significant reduction in eye wrinkle depth as well as improvement in their skin's collagen and elastin after eight weeks of taking the supplements. However, the studies on these collagen benefits are very limited and would require more studies with a larger number of panelists to ensure there is a way to aid collagen and elastin loss.
There are also other ways to make up for collagen loss, including treatments to stimulate collagen production and collagen formulated skin care products—but we'll dive into those later.
WHAT CAUSES COLLAGEN LOSS?
So, we know that collagen is a protein that's naturally found in our skin and that it decreases as we age, but what are the details? Though loss of collagen can start earlier, it's most significant for women during menopause. Studies show that women's skin loses about 30% of its collagen during the first five years of menopause, according to the AAD. After that, women lose about two percent of their collagen every year for the next 20 years.
The sun can also take a toll on your skin's collagen. According to the Mayo Clinic, exposure to ultraviolet (UV) light breaks down your skin's connective tissue—collagen and elastin fibers, which lie in the deeper layer of skin (dermis). This sun damage and the breakdown of collagen can lead to wrinkles—so don't forget to always use a broad-spectrum sunscreen with an SPF of 30 or more! The Mayo Clinic also states that smoking can lead to changes in blood supply to your skin, which can contribute to wrinkles.
HOW TO COMBAT COLLAGEN LOSS
There are several skin treatments that can help address the loss of collagen. These treatments involve going to a trained professional but may be quite beneficial.
SKIN TREATMENT #1: MICRONEEDLING
According to a study from the National Center for Biotechnology Information, multiple sessions of microneedling—a procedure during which tiny needles are used to poke holes in the skin—can lead to an increase of collagen, reducing fine lines and wrinkles, pore size, and leading to more suppleness and elasticity.
SKIN TREATMENT #2: ULTRASOUND
You're likely familiar with what an ultrasound is, but did you know that it can stimulate collagen? According to the AAD, dermatologists are using ultrasounds to send heat deep into the skin, as heat can cause your body to produce more collagen. With one treatment, most people see modest lifting and tightening within two to six months, the AAD states.
SKIN TREATMENT #3: RADIOFREQUENCY
Just as with ultrasounds, radiofrequency involves a similar concept of heating your skin's tissue to stimulate collagen production. Your dermatologist will place a device against your skin to heat the tissue beneath, according to the AAD. While it can take about six months to see the best results, they can last for two to three years with proper skin care.
SKIN TREATMENT #4: BEE VENOM FACIAL
We're sure you've heard of facials, but have you heard of a bee venom facial? According to the AAD, honeybee venom has properties that stimulate the production of collagen within the skin—though if you're allergic to bee stings, steer clear.
HOW TO ADD PRODUCTS WITH COLLAGEN TO YOUR SKIN CARE ROUTINE
Phew—that's a lot of info! We have one more lesson planned for you: how to add collagen for skin to your routine. According to the Cleveland Clinic, skin creams with synthetic collagen add a film-like layer to your skin to reduce water loss and act as a barrier from environmental elements. Incorporate some (or all) of these collagen creams into your routine.
L'Oréal Paris Wrinkle Expert 35+ Moisturizer: This moisturizing face cream for ages 35+ contains collagen to help strengthen skin's cushion for smoother, plumper skin. The collagen cream visibly reduces the first signs of aging, including fine lines, elasticity loss, and dryness.
How to use it: Every morning and night, smooth gently over the face and neck until thoroughly absorbed.
L'Oréal Paris Age Perfect Day Cream SPF 15: This collagen face cream brightens and smoothes mature skin while reducing the appearance of age spots, fine lines, and surface wrinkles. Innovative soy seed proteins along with beta hydroxy acid (BHA) deeply moisturize and help improve skin's elasticity, while SPF 15 provides broad-spectrum UVA/UVB sun protection. Your skin is left feeling pampered and invigorated.
How to use it: Smooth gently onto face until thoroughly absorbed. Use alone or under makeup daily. For sunscreen benefits, apply prior to sun exposure.
L'Oréal Paris Age Perfect Night Cream: This night cream deeply moisturizes and helps improve skin elasticity with innovative soy seed proteins. They work with skin's nightly recovering process to smooth and reduce the appearance of surface wrinkles and fine lines.
How to use it: Smooth gently onto face nightly until thoroughly absorbed.
L'Oréal Paris Collagen Filler Collagen Moisture Filler Day/Night Cream: This day and night cream provides rich moisture to instantly restore skin's cushion and bounce. Over time, the powerful natural collagen helps fill in lines and wrinkles, leaving your skin smooth and plump.
How to use it: Every night, smooth the collagen face cream gently over the entire face.
Discover more tips & tricks
Keep your skin happy
See all articles