face makeup
L'Oréal Paris Age Perfect Makeup Serum Foundation Swatches
March 27, 2020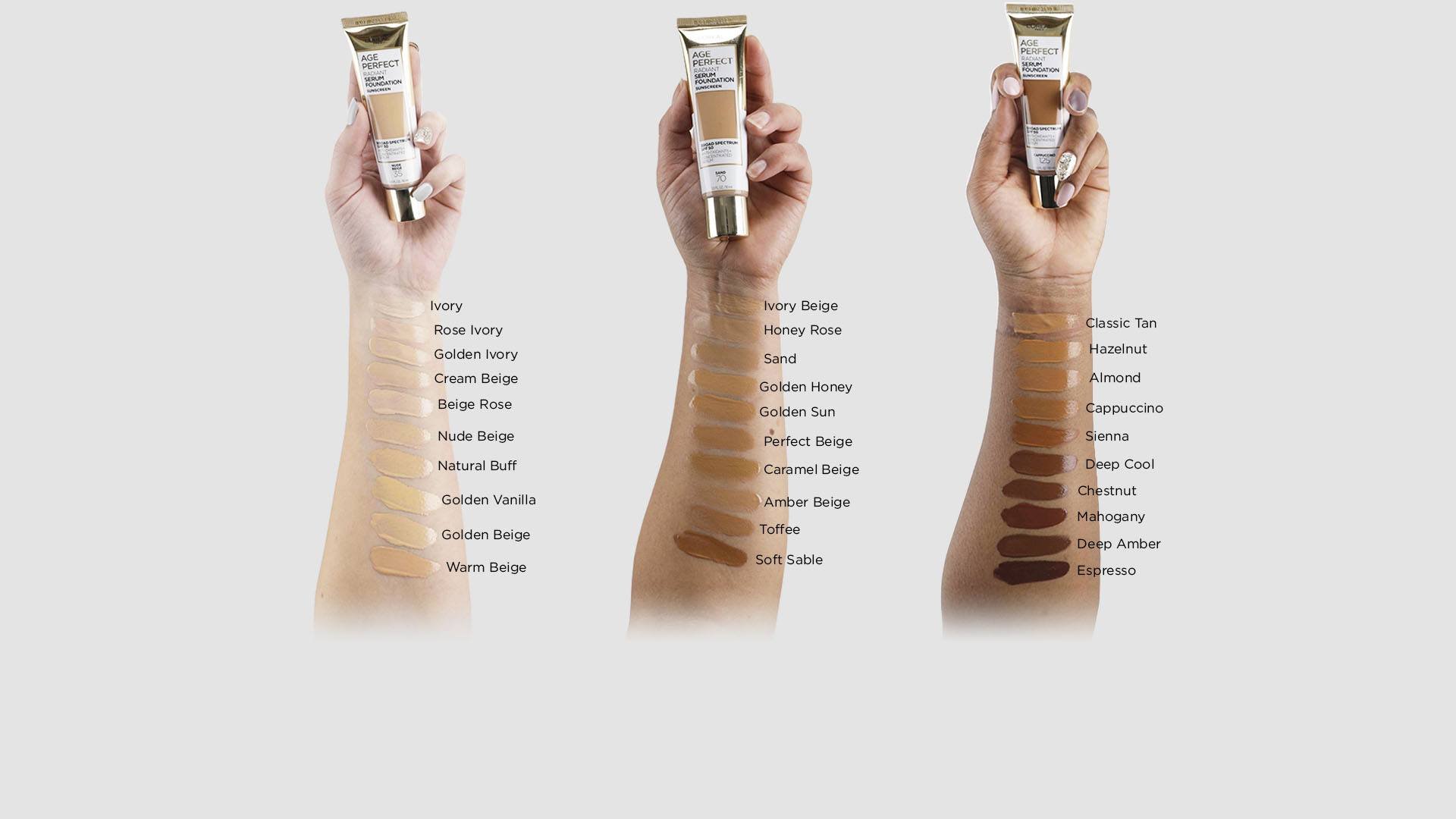 If you have mature skin, you may have noticed that the foundation you swore by back in the day doesn't work for you anymore. The truth is, as you get older, it's best to find a new favorite and switch to a foundation for mature skin. Enter the L'Oréal Paris Age Perfect Makeup Radiant Serum Foundation with SPF 50. This lightweight, liquid foundation contains vitamin B3 and a hydrating serum to provide all the benefits of a foundation with the added advantage of all-day hydration and SPF 50. Not to mention the formula evens tone while giving your skin natural-looking, radiant coverage that won't settle into lines. You could say it's a win-win.
If you're ready to make a change to your beauty routine and try this serum foundation, you'll want to find your perfect shade. Don't worry, we have you covered! Read on for a complete breakdown of our Age Perfect Radiant Serum Foundation swatches, as well as a few bonus tips for finding your match made in foundation heaven.
L'ORÉAL PARIS AGE PERFECT MAKEUP SERUM FOUNDATION SWATCH BREAKDOWN
This foundation is available in a diverse range of 30 beautiful shades, with options for light, medium, and deep skin tones.
The following shades are for light skin tones: Ivory, Rose Ivory, Golden Ivory, Cream Beige, Beige Rose, Nude Beige, Natural Buff, Golden Vanilla, Golden Beige, and Warm Beige
The following shades are for medium skin tones: >Ivory Beige, Honey Rose, Sand, Golden Honey, Golden Sun, Perfect Beige, Caramel Beige, Amber Beige, Toffee, and Soft Sable
The following shades are for deep skin tones: Classic Tan, Hazelnut, Almond, Cappuccino, Sienna, Deep Cool, Chestnut, Mahogany, Deep Amber, and Espresso
4 TIPS FOR FINDING YOUR FOUNDATION MATCH
Now that you have a better idea of which shades could work for you, you might want help narrowing things down to find your perfect match. Here are four tips you can try.
TIP #1. TRY A TESTER
The easiest way to ensure you're buying the perfect shade of foundation is to use a tester at your favorite beauty store. Swatch a few different shades on your own skin to get a better idea of which one is your match. Depending on the store, you may also be able to request a sample so you can get an even better idea of what the foundation looks like on your skin.
TIP #2. KEEP LIGHTING IN MIND
In case you didn't already know, natural lighting is always the best lighting when it comes to makeup. This is because it's the most accurate for seeing what a shade really looks like on you. Foundations can look completely different under different lighting. After testing your foundation shade in stores, be sure to head outside and look in a mirror (or your phone's camera) to make sure the shade you thought was a match actually is.
TIP #3. WORK WITH WHAT YOU'VE GOT
When in doubt, it's always a good idea to use what you have as a jumping-off point. Bring a foundation you currently own (that matches your skin tone) to the store and compare shades bottle to bottle. This will help you narrow down which hues are most similar to the one you already know looks great!
TIP #4. CONSIDER THE SEASON
Unfortunately, most of us won't be bronzed by the sun all year long. It's important to have a lighter foundation on hand for cooler months like fall and winter, and a darker foundation that will match your sun-kissed skin come spring and summer.
HOW TO APPLY THE L'ORÉAL PARIS AGE PERFECT MAKEUP SERUM FOUNDATION
Use your fingertip to apply a dot of foundation onto your cheeks, forehead, chin, and nose, then bounce the L'Oréal Paris Infallible Blend Artist Foundation Blender over your skin to blend the liquid formula in an outward motion. Build as needed until you have a seamless complexion.
Discover more tips & tricks
Keep your skin happy
See all articles
Shop Featured Makeup products
Discover More