face makeup
Our 6 Best Drugstore Concealers to Try in 2020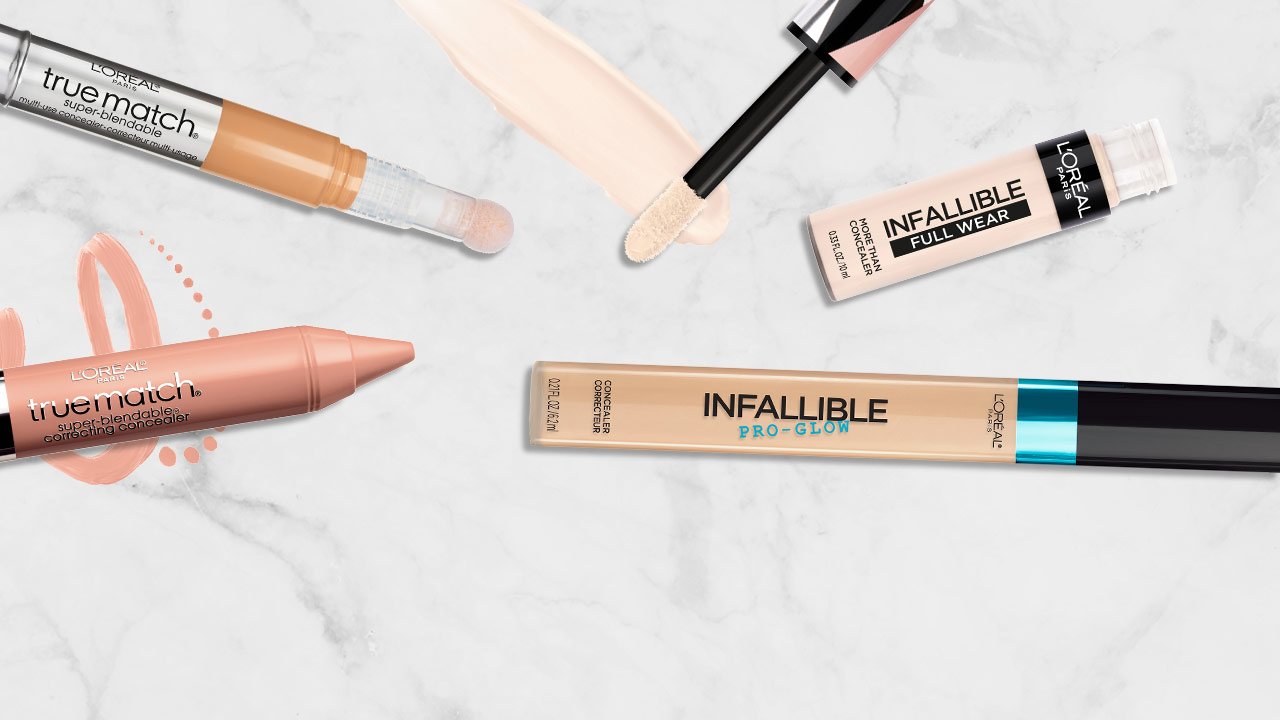 Take a stroll down the makeup aisle of any drugstore, and more than likely, you'll become overwhelmed. With so many products to choose from, how are you supposed to figure out which ones will work best for you? There's one makeup item that can be particularly hard to pick out, especially because you need it to match your skin tone perfectly: concealer. Before you go ahead with blindly buying whichever concealer type and shade catches your eye, read this. Here, we're walking you through our six best drugstore concealers, including our best drugstore under-eye concealer and our best full-coverage option for acne.
Without further ado, allow us to share our best ways to cover-up and camouflage. We know a good drugstore concealer for just about every skin type, skin care concern, and product feature that you can think of!
OUR BEST FULL-COVERAGE DRUGSTORE CONCEALER
When you're in search of a concealer to cover acne, it's a must that it provides full coverage and will last for the long haul. Basically, we're describing the L'Oréal Paris Infallible Full Wear Concealer Waterproof, Full Coverage. The full-coverage formula comes in 25 shades and will stay put all day. It's even waterproof—making it a perfect pick for summer swim sessions. Use this concealer to disguise acne and dark spots—and anything else you want to keep hidden.
OUR BEST DRUGSTORE CONCEALER FOR MATURE SKIN
As your skin starts to age, you have to consider a whole new list of things when hunting down a good drugstore concealer. Will it settle into your wrinkles? Will it draw attention to dry spots? And so on and so forth. Enter the L'Oréal Paris Age Perfect Makeup Radiant Concealer with Hydrating Serum. This drugstore concealer is formulated with a hydrating serum and glycerin and helps illuminate mature skin. The brightening under-eye concealer minimizes imperfections without settling into lines.
OUR BEST DRUGSTORE UNDER-EYE CONCEALER
While concealer is typically used for masking imperfections, not every occasion or complexion concern calls for a heavy-duty concealer. There are also plenty of situations—including covering dark circles—that call for medium coverage and a blendable, buildable formula. It's all too easy for concealer to crease under the eyes, so a buildable formula, like that of the L'Oréal Paris True Match Super-Blendable Multi-Use Concealer, is really a must. Use the built-in cushion applicator to precisely apply our best drugstore under-eye concealer, then blend out for a smooth, seamless final look.
OUR BEST DRUGSTORE CONCEALER FOR A DRY SKIN
Dewy skin is officially in, and it's not going anywhere anytime soon. That's because glowing skin equals healthy-looking, hydrated skin. And who doesn't want that? Whether you have dry skin or simply want to get in on this trend, swipe on concealer that has a radiant (read: not matte) finish, like the L'Oréal Paris Infallible Pro-Glow Concealer. Inspired by professional makeup artists, this concealer allows you to conceal and correct with a lightweight, radiant formula that lasts.
OUR BEST DRUGSTORE CONCEALER FOR COLOR-CORRECTING
If you're not already color-correcting, it might be time to start. Using certain colorful concealer shades can help hide skin imperfections such as dark circles, spots, and blemishes. Our best concealer to color correct with is the L'Oréal Paris True Match Color Correcting Crayon, which comes in five different shades: green to neutralize redness, yellow for age spots, and peach, bisque, and orange for dark circles, dark spots, and hyperpigmentation.
OUR BEST DRUGSTORE CONCEALER FOR CONTOURING
Concealer can be used for more than just hiding imperfections and brightening your under-eye area. You can use a concealer that's darker than your skin tone to contour and one that's lighter to highlight. Pick up the L'Oréal Paris True Match Super-Blendable Crayon Concealer in the shades you need—then get to work!
HOW TO USE CONCEALER IN YOUR MAKEUP ROUTINE
Need a quick refresher on how to use concealer as part of your regular makeup routine? Here's your step-by-step guide.
STEP 1: CLEANSE & MOISTURIZE
Before you even go about applying your face makeup, you need to start with a clean face. Use a gentle facial cleanser, then follow up with your go-to face moisturizer. Once you've thoroughly cleansed and moisturized and your skin is dry, it's time to move on to makeup.
STEP 2: PRIME
In order to help ensure that your face makeup stays put all day long, sans smearing or smudging, you'll want to start your makeup routine off by applying primer. We have options for you here, too! For an overall matte finish, pick up the L'Oréal Paris Infallible Pro-Matte Lock Makeup Primer. For a glowing final result, try the L'Oréal Paris Infallible Pro-Glow Lock Makeup Primer. Whichever one you choose, apply a light layer over your entire complexion.
STEP 3: COLOR CORRECT
Did you decide color correcting was a necessity? Dab whichever colors you chose onto the correct spots, then move onto the next step—more concealer. That's right, you'll need a flesh-toned concealer to cover up any unnatural tints that may be left behind after color correcting.
STEP 4: APPLY YOUR FOUNDATION
This is a common makeup error, so pay close attention: You should always apply your foundation before you put on your skin tone-matching concealer. That's why it's called foundation, after all! When you apply concealer first, there's a solid chance you'll end up applying way too much. So, be sure to apply a thin layer of your foundation first. We recommending blending it with the L'Oréal Paris Infallible Blend Artist Foundation Blender for a smooth finish.
STEP 5: CONCEAL
Now, it's finally time to conceal! Whatever concealer you choose to go with, apply it onto areas that need an extra bit of coverage. Think: under-eyes, blemishes, and dark spots. Grab your concealer and dot it wherever it's needed, then blend out with your makeup blender. Voila!
STEP 6: CONTOUR AND HIGHLIGHT
Whether you want to contour and highlight with concealer or prefer to use separate products, this is your chance to do it. Contour the hollows of your cheeks, temples, and the sides of your nose, then highlight your cheekbones, cupid's bow, and the bridge of your nose.
STEP 7: DUST ON A FINISHING POWDER
As a final face makeup step, dust on a bit of face powder to set it all in place.
STEP 8: COMPLETE YOUR MAKEUP LOOK
Now that your face makeup is in place, it's time to apply your eye makeup and lip color. The options are pretty much endless, so have fun creating a look you love! Once everything is applied, set it all with a few spritzes of a setting spray, like the L'Oréal Paris Infallible Pro-Spray and Set Make-Up Oil-Free Setting Spray. To use, simply shake up the bottle then, holding it about eight to ten inches away from your face, spray four to six times in an "X" and "T" motion.
Discover more tips & tricks
Keep your skin happy
See all articles
Shop Featured Makeup products
Discover More