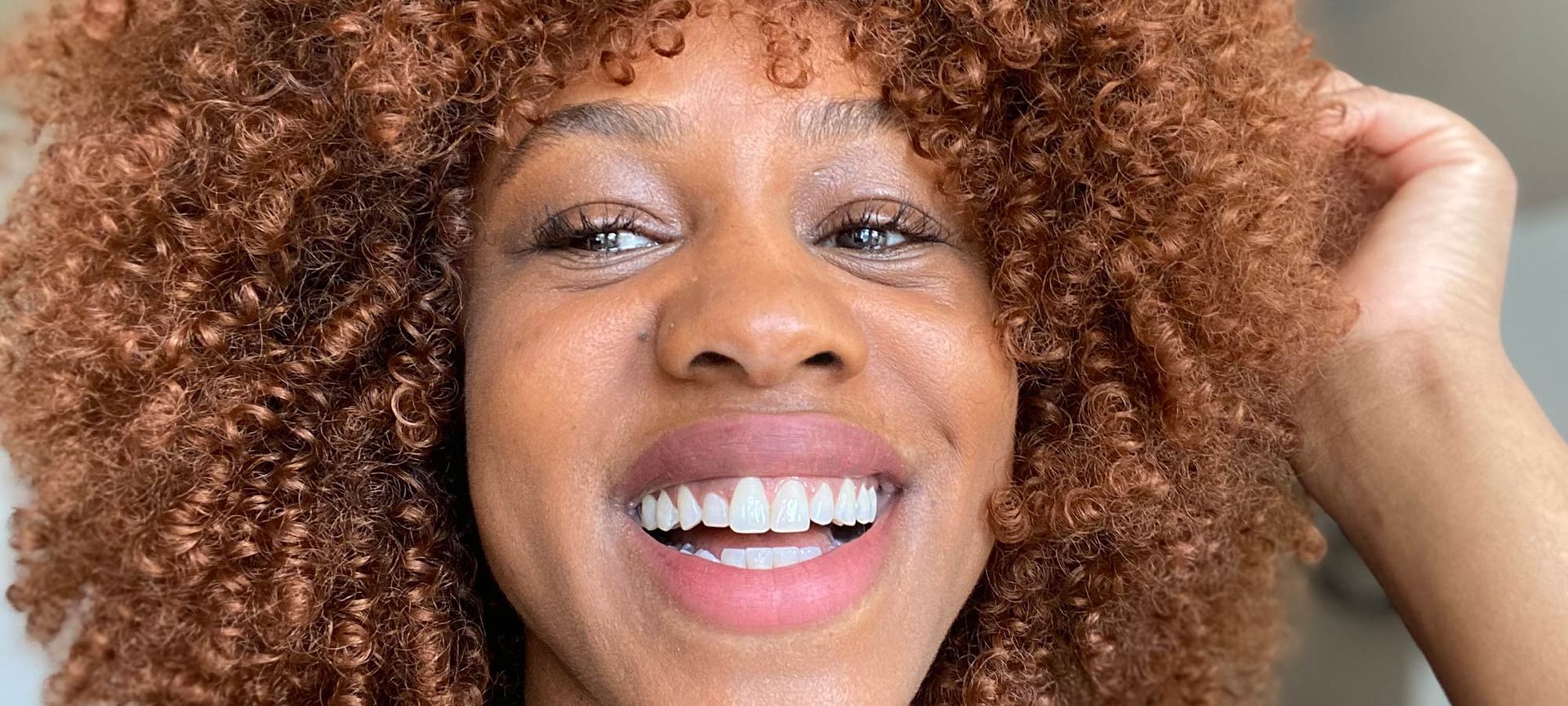 dry hair
8 Low Porosity Hair Care Tips You Need To Know
Plus, the best products for your hair needs.
If you have or know a lot about natural hair then you're likely familiar with the concept of hair porosity. Whether it was during a wash day process, a styling session or a hair care consultation you might have heard about how to test hair porosity and why it's important in the first place. And if you have low porosity hair then you probably have also been told that caring for your hair can be challenging due its typical lack of moisture. But all curl textures are beautiful (and manageable), and the key to mastering low porosity hair care is simply knowing what works for your locks一and what doesn't. You'll want to have the right low porosity hair products and a few tips and tricks on-hand, which is why we're sharing what you need to know to care for your low porosity hair, including some of our best products for low porosity hair.
How Do You Know If You Have Low Porosity Hair?
Porosity refers to your hair's ability to absorb and retain moisture. Think of your hair cuticle like shingles on a roof. When you have low porosity hair, the shingles are laid tightly together, resulting in it being hard for moisture to get in or out. When you have high porosity hair, the shingles are lifted, making it easy for your hair to absorb moisture but equally as difficult to retain it. While it may take some TLC for low porosity hair to absorb moisture, once it penetrates your strands, it stays put for a while, which helps keep damage, breakage, frizz, and static at bay.
A clear indicator of low porosity hair is when you notice that it's difficult to moisturize your strands no matter how much you try to hydrate your hair with water or other hair care products一it will take a while for your hair to get fully hydrated. Other low porosity hair characteristics include your hair taking a long time to air dry and products sitting on your hair instead of being fully absorbed. You can also try the porosity test: Take a strand of your hair and drop it into a glass of water. If it sinks to the bottom right away, you have high porosity hair. If It floats on top, you have low porosity hair.

How To Care For Low Porosity Hair
While it can be hard to get moisture into your strands, as long as you lock down a solid hair care routine, you can keep your low porosity strands healthy. Consider these seven tips below to get started.
1. Get Acquainted With A Pre-Poo
By now, you likely know that getting moisture into low porosity hair is no easy feat. Thankfully, using a pre-shampoo (pre-poo) treatment can help make the process a bit easier. Not only do pre-poo treatments provide your hair with extra protection on wash days, but they also work in your favor to provide your curls with an additional layer of moisture. We love the L'Oréal Paris EverPure Sulfate-Free Scalp Care + Detox Scrub. This exfoliating scalp massage is designed to treat dry and flakey scalp while being gentle on colored hair and creating a purified base for your shampoo.
2. Use A Moisturizing Hair Care System
Another great way to give low porosity hair the attention that it needs is to enlist the help of a nourishing hair care duo. After all, you need to amp up the moisture to help your strands look and feel their very best. Pick up the L'Oréal Paris EverPure Moisture Shampoo and L'Oréal Paris EverPure Moisture Conditioner. This sulfate-free duo comes in handy to deeply moisturize and gently cleanse your curls.
3. Enlist The LCO Method
If there is one natural hair technique that was made with low porosity hair in mind, it's the LCO method. The LCO consists of using a liquid, cream, and oil—in that order—to help your hair retain moisture. A slight spin-off of the popular LOC method, this variation allows you to only use lightweight products that absorb easier. Head on over to our article, Your Guide to the LCO Method, for a step-by-step routine.
4. Use Deep Conditioners
One of the easiest ways to help your low porosity hair get moisture fast is to use a deep conditioner. This beauty staple is one of the best low porosity hair products because it goes the extra mile to provide your hair with a more thorough conditioning that leaves you with long-lasting moisture. Try the L'Oréal Paris Elvive Extraordinary Oil Rapid Reviver Deep Conditioner, formulated to give dry hair extra nourishment. Deep condition your hair once a week or every other week based on your wash day routine.
5. Skip The Hot Water
It's no secret that hot water feels amazing in the shower. But when it comes to dealing with low porosity hair, you'll need to switch it up. Super-hot H2O can dry out your strands, which is the last thing low porosity hair needs. Switch to lukewarm water to help your hair retain moisture.
6. Try A Hair Steamer
On the flip side, a little bit of the right kind of heat can go a long way in helping your hair get some hydration. Incorporating a hair steamer into your hair care routine can help open the hair cuticle, allowing your moisturizing products to better penetrate your strands. Be careful not to steam your hair too often as too much heat can damage your tresses. Pay attention to how your hair responds and modify your usage accordingly.
7. Get Familiar With Hair Serums
If you're not already using a hair serum, it's time to up the ante with your routine and add one. Grab the L'Oréal Paris Elvive Extraordinary Oil Treatment to get the job done. Infused with flower oils, this lightweight serum instantly hydrates and nourishes hair with every use. Rub one to two drops through the length of hair, concentrating the product on the ends.
8. Cover Your Hair At Night
Wrapping up your hair at night is not just for keeping your style fresh, so don't think that if your hair isn't newly done you don't need to cover it. Sleeping on cotton sheets and pillowcases can draw out moisture from your hair so be sure to put on a silk or satin bonnet or scarf before you hit the hay. If you're one of those people who always finds their bonnet on the floor by morning, consider switching to a silk or satin pillowcase as an extra protective measure.
Photo Credit: Shalwah Evans
Discover more tips & tricks
Keep your skin happy
See all articles
Shop Featured Hair Care products
Discover More