hairstyle trends
12 Of The Best Shaggy Haircuts Based On Face Shape
May 21, 2019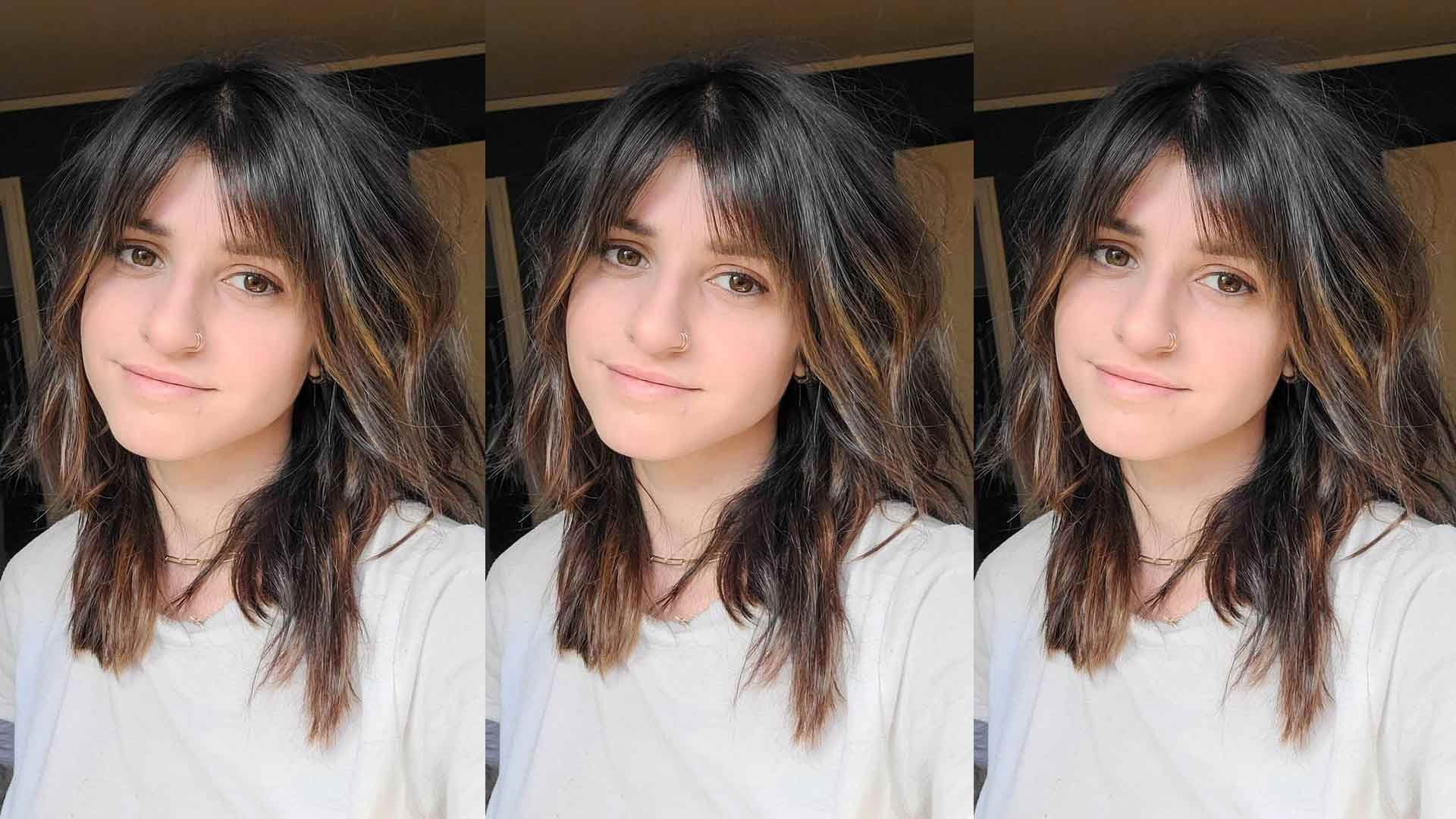 Shaggy hairstyles are making a serious comeback. As we scroll through our social media feeds, we're seeing more and more people swapping their blunt and feathered layers for a stunning shaggy alternative that adds texture and body to their mane. Interested in trying this throwback hairstyle trend for yourself? You've landed in the right place. We've gathered 12 stylish shaggy haircuts for men and women, complete with tips on finding a cut that best fits your face shape and products to help you achieve the look. Whether you have thin or thick hair, short or long strands, straight or curly hair, there's a style for you! So keep reading to get some hair inspiration for your next beauty look.
Shaggy Hairstyles For Round Faces
If you have a round face shape, you can use your hairstyle to get a more sculpted appearance without pulling out a single contour product. Here are two of the best shaggy hairstyles for round faces.
1. Wispy Lob
Keep things on the shorter side with a shaggy lob. Longer in the front, a shaggy lob will help elongate your face shape, creating a slimming effect. Emphasize your texture with the help of a curl cream. Apply a generous amount of the L'Oréal Paris Elvive Dream Lengths Super Curls Cream Leave-In onto towel-dried hair, scrunch, and allow your hair to air dry for loose, effortlessly wavy locks.
2. Long Layers
If you're a long hair guy or gal, opt for a shag with long layers that start past your chin. This will help visually lengthen your round shape without adding to its width. Plus, long layers are excellent for adding movement and dimension to any hairstyle.
Shaggy Hairstyles For Heart-Shaped Faces
Have a heart-shaped face? Your dainty, defined features call for the right shaggy cut to balance out your look—and we have two ideas!
3. Bob With Bangs
Those who love short hair should look no further than a shaggy bob haircut—accompanied by bangs, of course. Instead of your chin being a focal point, long, piece-y bangs will help soften your face shape for a seriously flirty and pretty look. This hairstyle will also help minimize the appearance of your forehead for a more balanced look.
4. Piecey Pixie
Want to go even shorter? Consider trying a shaggy pixie cut, which pairs beautifully with a heart-shaped face as it can help accentuate your defined cheekbones. You can also add in side-swept bangs and plenty of layers, so you can play up the texture and create a more symmetrical appearance.
Shaggy Hairstyles For Square Faces
If you have a square face, you may want to use your shaggy hairstyle to help soften your sharp angles. If that's the case, check out the two hairstyles below.
5. Face-Framing Layers
When it comes to square faces, face-framing layers will be your best friend. This style can help soften the appearance of your jawline and elongate the face. You can pair your shaggy layers with short, medium, or long locks. Try adding some heat-free texture by applying the L'Oréal Paris Advanced Hairstyle CURVE IT Elastic Curl Mousse to damp strands, scrunch, and allow your hair to air dry.
6. Sleek Lob With Curtain Bangs
For a chic look, try going for a lob with curtain bangs. The front layers will help give your face a more extended appearance, while your curtain bangs will help to round out your square forehead. Be sure to keep your strands shiny and sleek by using the L'Oréal Paris Elvive Dream Lengths Frizz Killer Serum. Apply one to two pumps onto your fingertips and run it through your hair before blow drying.
Shaggy Hairstyles For Diamond-Shaped Faces
Diamond face shapes generally feature strong cheekbones that make the forehead and chin appear narrower. Check out these two styles that will help complement your facial features.
7. Center-Parted Shag Haircut with Long Beach Waves
Long shag haircuts are super versatile hairstyles that give off an effortless look. The center part will help lengthen your face's appearance while still keeping your high cheekbones on display. With this style, beachy and textured waves will work great to accentuate your angular features while balancing out a narrow forehead.
8. Short Crop Shag Haircut
We love short hairstyles because they are stylish and easy to maintain. And a cropped shag with ragged edges looks gorgeous on those with diamond-shaped faces. This look gives off a playful and relaxed vibe that will garner compliments all day long. Add some color to jazz up your mane using the L'Oréal Paris Colorista Hair Makeup Temporary 1-Day Hair Color Spray.
Each shade is formulated to allow for vivid color on all hair types, no bleach required. And it will wash out in one shampoo, which means you'll have endless opportunities to experiment with color.
Shaggy Hairstyles For Rectangular-Shaped Faces
Those with rectangular face shapes tend to have longer facial features and often work to soften the appearance of their sharp jaw and forehead without further elongating the face. Try rocking the below hairstyles in your next beauty look.
9. Curly Shag with Bangs
Those with natural curly hair textures can elevate their look by getting a custom layered cut with a halo fringe. The style also looks great during the growing out phase which is an added benefit to those with curly hair (no awkward-looking length phases here). Give your curls some definition by applying a generous amount of the L'Oréal Paris Elvive Dream Lengths Super Curls Cream Leave-In. Apply the product to damp hair and scrunch to gently style.
10. Voluminous, Textured Long Shag
Long shags are the best options for you if you want to look stylish and sport long locks. And the shoulders are a sweet spot that perfectly balances out your square features with a desire to keep longer lengths. Braid your hair overnight, undo them in the morning and then spritz your roots with a generous amount of the L'Oréal Paris Elnett Satin Hairspray Extra Strong Hold Volume. This will help add volume and texture to your hair to create a flirty and easy-going look.
Shaggy Hairstyles For Oval Faces (Since oval faces can wear almost any style let's move them down to last)
Have an oval face shape? You're in luck! You can pull off just about any shag hairstyle, thanks to your symmetrical facial features. Here are two of our favorite shaggy styles for oval faces.
11. Shaggy Bob
To add definition to your face, try switching things up with a shaggy bob that falls at your chin. Be sure to play up your texture with the help of a pomade, like the L'Oréal Paris Studio Line Overworked Hair Putty. Start by working a dime-sized amount throughout your mane, then add more as needed. The messier, the better!
12. Long Layers With Side-Swept Bangs
Prefer a long hairstyle? Keep your length while adding depth via some shaggy layers. Pair your style with a side-swept bang for a flattering look. And pump up the volume with a few spritzes of the L'Oréal Paris Elvive Dream Lengths Air Volume Dry Shampoo, which will give your mane a clean-feeling, full-bodied look.
Photo Credit: Clarice Belle, @ claricebc
Discover more tips & tricks
Keep your skin happy
See all articles
Shop Featured Hair Style products
Discover More