hairstyle trends
17 Biggest Hair Trends Of 2022
Find the hair ideas that'll take you through the next year.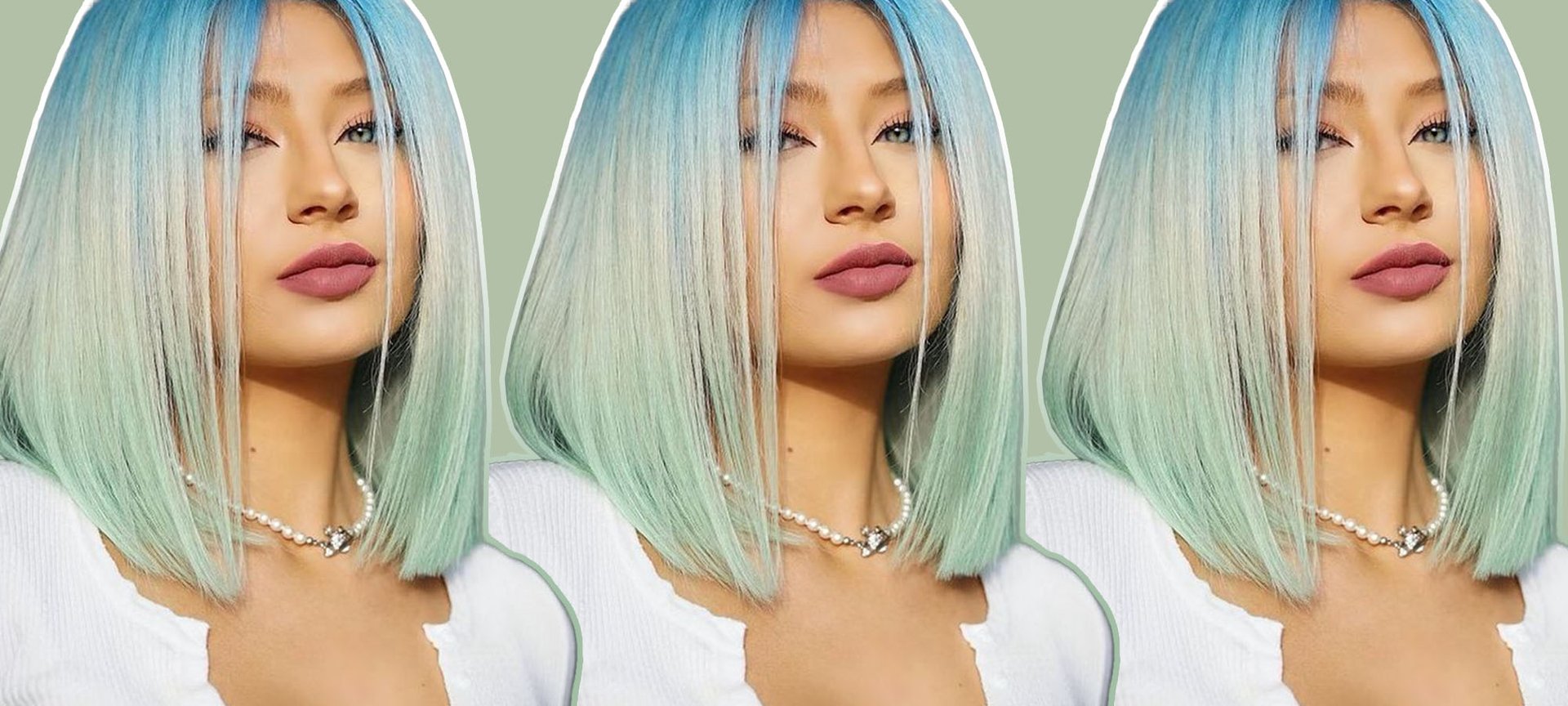 Your tried-and-true 'do may have carried you through the past 365 days, but with 2022 quickly approaching, it may be time for a mane makeover. There are plenty of hair trends to choose from, so you'll be able to embrace the popular mantra, new year, new me. Whether you're flirting with the idea of a new hair color, a trendy cut, or a chic hairstyle that you've never played with before, there's really no limit when it comes to what you can do. We have a few (okay, more than a few) stylish options up our sleeve that can add some panache to your beauty look. Leave your typical go-tos behind and try one (or more) of these 17 best hair trends of 2022.
1. Ombré Bob
Each year some version of the bob makes a reappearance as one of the hottest styles of the year. Well, for 2022, there are a number of bobs that will dominate your timelines, including the curly bob, the blunt cut bob, and our personal favorite, the ombré bob (the bombré — we're hoping that catches on). It lets you play with a haute cut and add dimension to the style with color. Experiment with the look using the L'Oréal Paris Colorista Hair Makeup Temporary 1-Day Hair Color Spray. You don't need any hair coloring skills with this wash out hair color spray.
2. Doobie Wrap Layers
If you were around for the '90s then you might remember the time and effort that went into wrapping your tresses at night to get your layers to fall exactly how they did that first day in the salon. Get your bobby pins ready because the look is back for 2022. Fortunately, if you have skills with a flat iron or curling wand, you can still get the look even if you forget to prep the night before. Just remember to use heat protectant, like the L'Oréal Paris Advanced Hairstyle SLEEK IT Iron Straight Heatspray, and keep your heat tools set to the lowest temperature possible to get the look.
3. Voluminous Blowout
Another '90s style that's making its way back into the fold, the voluminous blowout will reign on the red carpet in 2022. Whether you keep a standing appointment with your favorite stylist at your local salon, or you dare the style on your own, be sure to stock up on some L'Oréal Paris Elnett Satin Extra Strong Hold Volume hairspray for a lightweight finishing touch.
4. Expensive Brunette
You may have seen this vibrant chocolate-hued hair color all over your social media feeds this winter and you can expect it to continue to dominate in the new year, too. This dark shade has depth, dimension and frames the face. It's a
hair color trend
so dazzling that it looks like it can only be done by a professional, but you can actually try it on your own using the
best at-home hair color
. Boost your color between hair dye sessions with a
hair color gloss
, and refresh your strands between washes with the
L'Oréal Paris EverPure Sulfate Free Tinted Dry Shampoo for Brown Hair
. It absorbs oil at your roots while maintaining the richness of your brunette hair color.
5. Wolf Haircut
The wolf haircut, or wolf cut, was super popular this past year and shows no evidence of giving up its spot in the new year. You can expect to see more influencers and celebs sporting this edgy yet chic 'do well into 2022. Head to your stylist to get the look as perfecting the layers of this haircut can be difficult. You don't want to spend most of 2022 trying to grow out a bad cutting catastrophe.
6. Crimped Hair
When we think of crimped hair we think of pop stars and starlets from the '80s, draped in spandex and leg warmers. Don't get us wrong — we love a good spandex moment (and leg warmers aren't so bad either), but those crimped tresses needed an upgrade. The crimped hair of 2022 will have more body, more movement and won't feel crunchy or weighed down by oily hair products.
7. Next Level Ponytails
We will never run out of reasons to praise the ponytail, so we're carrying it into 2022 with confidence. But expect these ponytails to be bigger, badder and better than ever. Textured ponytails, like the natural puff, will get new shapes while complex ponytails will get fresh accessories and placements. While they won't be as easy to do as the messy bun or sleek ponytail, these 2022 ponytails will take your look from simple to stunning.
8. Glass Hair
Don't be surprised if the #shinyhairdontcare begins popping up on your feeds again in the new year. It's all about that high shine glass hair that celebs couldn't get enough of in 2021, but in all lengths for the next 365 days. Since the style has no seasonal loyalties, expect to see it during winter, the warm weather months, and again for the 2022 holiday season.
For a glossy finish that lasts, the right hair care products will go a long way. Grab the L'Oréal Paris EverPure Sulfate-Free Glossing Shampoo, ph Balanced and pair it with the L'Oréal Paris EverPure Sulfate-Free Glossing Conditioner, ph Balanced to leave your hair feeling as silky and smooth as it looks.
9. Golden Caramel Highlights
A deliciously sweet-looking style, caramel highlights are the perfect way to add some dimension to dark hair. The warm-toned highlights look particularly flattering on those with warm undertones but they're absolutely customizable for everyone. If you consider yourself a DIY hair color pro, try your hand at caramel highlights using the L'Oréal Paris La Petite Frost, which comes with an easy pull-through cap so that you only highlight the strands you want lightened.
10.
Rainbow Curls
Curls of any length always look so charming and fun — it's no wonder they're getting a colorful update in the new year. Follow the colors of the season to give your curls some dimension — opt for earth tones in autumn, icy shades for winter, and pastels and bright shades for the warm weather months. To take rainbow curls for a quick spin grab the
L'Oréal Paris Colorista Semi-Permanent Hair Color
, which will gradually fade out with each wash day.
11. Short Shag
Short hairstyles always have a place in our hearts because they're chic but often easy to maintain. It's likely why the cropped shag is back on the must-have list for 2022. It's a look that has edge and can be customized to fit any face shape. It also leaves enough length to blend in extensions when you want to play with longer looks.
12. Wispy Bangs
Getting bangs is an easy way to update your look if you don't want to touch your length or if you're committed to your current color. This coming year, wispy bangs will be so popular you might consider the fringe for yourself. Most stylists will tell you to see a professional to get the soft, lightly feathered fringe. If you must try them on your own, be sure to cut vertically and check out our article, 5 Things To Know Before Cutting Your Own Bangs, before you start snipping away.
13. Side-swept bangs
While we're talking all things trendy bangs for 2022, this is the perfect moment to turn your attention to side-swept bangs. With so many hairstyle options to pair it with, the side-swept bang may be the most versatile throwback fringe for the new year.
14. Blunt Cuts
Expect to see blunt cuts everywhere next year — from bangs to bobs, the blunt cut will make an appearance on countless red carpets and timeline photos. This is also a style that can be done on any length or hair type, but looks especially striking on straight strands (curls and waves typically need to be stretched to get a straight across cut and can experience shrinkage when in their natural state). If you do have curly hair, wigs and extensions offer the opportunity to temporarily experiment with blunt cut hairstyles.
15. Two-tone Undercut
Combining two edgy looks into one, the two-tone undercut is the epitome of a creative hairstyle. This out-of-the-box look isn't for anyone who shies away from the spotlight as it's a true head-turner. Keep in mind, this can be done with subtle elements — not every part has to be bold. If your hair on top is a bright shade, such as platinum blonde or lavender, make your buzzed section (the undercut) a different shade in the same color family so that the contrast isn't so stark. You can also opt to stay closer to your natural hair color for both sections while still adding some dimension to your mane. Just be sure to incorporate hair products made for color-treated hair, like the L'Oréal Paris EverPure Sulfate-Free 21-in-1 Color Caring Spray Leave-In, into your hair care routine.
16. Ultra long hair
From your favorite celebs on the red carpet to your favorite reality show villains that you love to hate, everyone seems to be sporting ultra-long hair right now — and it's sticking around for 2022. If you're on your long hair journey make sure you invest in a hair care system formulated with length retention in mind. The
L'Oréal Paris Elvive Dream Lengths Restoring Shampoo for Long, Damaged Hair
and
L'Oréal Paris Elvive Dream Lengths Conditioner for Long, Damaged Hair
are the duo to add to your hair care routine when you want to strengthen hair so you can save every inch.
17.
Swept Pixie
If you prefer a short 'do you'll be happy to know that the classic pixie you love is getting a slight update in 2022. With piecey bangs swept back to the left or right ear, or straight back to the crown of your head, this edgy style will continue to be a crowd pleaser. If done the right way, your swept pixie just might evoke feelings of our favorite '90s R&B divas.
Next: Your Winter Hair Care Survival Guide


Written by: Shalwah Evans, Photo Credit: Chelsey Ruiz, [email protected]/bangmyhair
Discover more tips & tricks
Keep your skin happy
See all articles
Shop Featured Hair Style products
Discover More