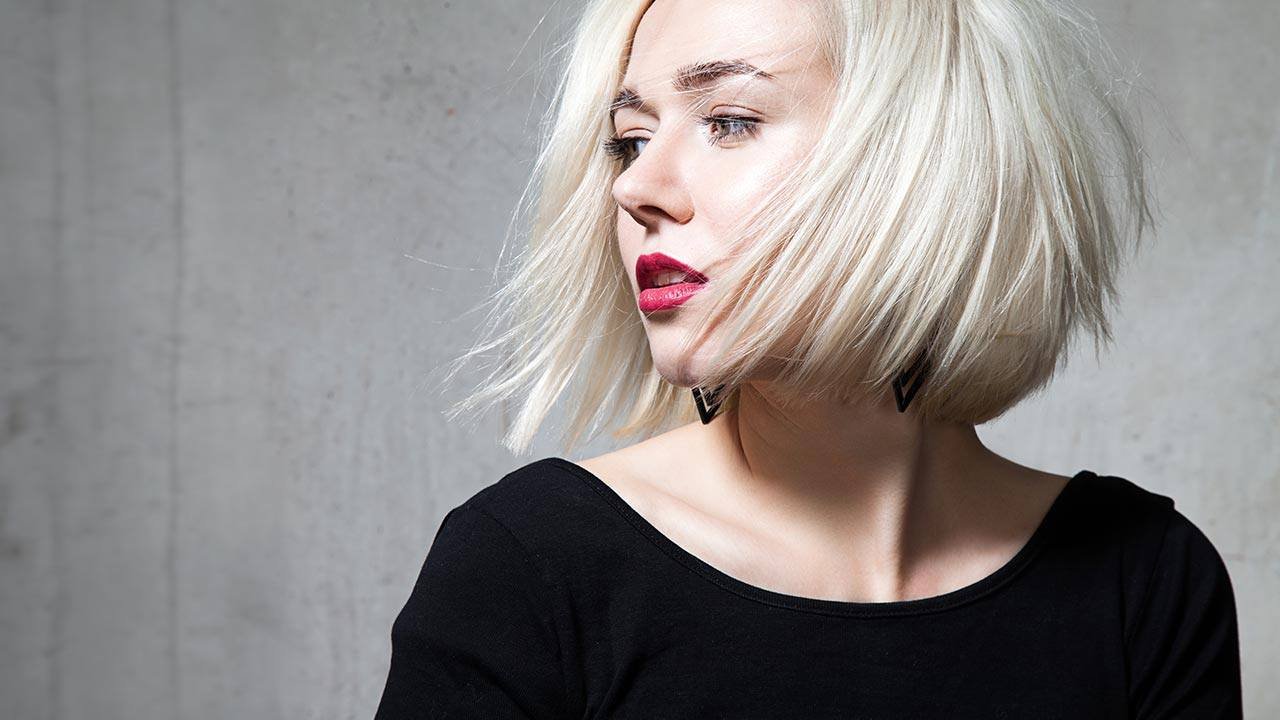 If you've ever wished your round face was just a little less round, the ever-rising popularity of contouring has likely served you well. And while the ability to alter the appearance of your face shape with a bit of makeup is nothing to turn your cheek at, there are other options out there—AKA taking advantage of the best hairstyles and haircuts for round faces. The way you cut or curl your hair could aid in changing how you look. Yes, hair for round faces can help flatter and lengthen the look of your visage—no makeup brush required. Interested? Below, find 30 hairstyles for round faces.
HOW TO DETERMINE IF YOU HAVE A ROUND FACE
Before you start chopping your locks, be positive that your face is really round. Round faces have a shape that's surely circular, with full cheeks and a soft jawline. Still not so sure? Get crafty with a mirror and a dry erase marker. Stand in front of your mirror and use the marker to draw (don't worry, they wipe right off of mirrors!) the outline of your face. See a circle? Well, there you go!
ROUND FACE HAIRSTYLE #1: LONG LAYERS
Long layers are essentially the most foolproof way to wear your mane, and round face shapes are no exception to the rule. By growing your locks longer and adding subtle layers, you can lengthen the look of your face without ending up with limp-looking hair.
ROUND FACE HAIRSTYLE #2: SHOULDER SKIMMING LOB
Short hairstyles for round faces can seem scary, as cuts that sit close to the scalp aren't known for being the most complementary. While there are ways to do it right (more on that, next), there's also the option to go shorter while maintaining a bit of length. Choose a lob that stops right atop your shoulders—trendy without being too tightly cropped.
ROUND FACE HAIRSTYLE #3: VOLUMINOUS PIXIE
For those with round faces who are particularly partial to short hair, that doesn't have to be a problem. While any old pixie might not be quite right, all it takes is leaving your hair longer on top to transform this popular cut into the perfect short haircut for round faces. Ask a stylist to give you a pixie that has lots of volume at the roots; the added height will have your face looking tall (read: less round) in no time.
ROUND FACE HAIRSTYLE #4: WISPY FRINGE
When you want to start rocking bangs, it's important to find the bangs that suit your face shape. Blunt bangs will only emphasize a round face, while a wispy, layered fringe can help create new curves and structure that round face shapes may lack.
ROUND FACE HAIRSTYLE #5: ANGLED BOB
The classic bob isn't for everyone. Blunt ends that fall near your chin will only serve to make a round face and cheeks look fuller. No thanks! Of course, that shouldn't put you off bobs for life—there are other choices for your cut. A bob that's angled, with hair that's longer in the front and shorter in the back, can help to give balance to your face. Yes, please!
ROUND FACE HAIRSTYLE #6: LONG AND STRAIGHT
Create length by sporting a sleek and straight style that draws the eye down. Start by spritzing your strands with a heat protectant, like the L'Oréal Paris Advanced Hairstyle SLEEK IT Iron Straight Heatspray, then break out your flat iron. Finish things off with a shine spray.
ROUND FACE HAIRSTYLE #7: VOLUMIZED ROOTS
Anyone can have hair with lots of volume—those with round faces just need the help of the right styling routine. Cleanse and condition your hair with a volumizing hair care system, containing a shampoo and conditioner. Try the L'Oréal Paris EverPure Volume Shampoo and L'Oréal Paris EverPure Volume Conditioner. When your hair is dry, spritz a volume spray, like the L'Oréal Paris Advanced Hairstyle BOOST IT High Lift Creation Spray, through your hair, focusing on the top of your head.
ROUND FACE HAIRSTYLE #8: WAVY LOB
Make waves with a lob that has some shape. Allow your hair to partially dry post-shower, then apply a wave or sea salt spray to damp hair. Scrunch to define your waves, then finish air-drying for a look that embraces natural texture. No heat required!
ROUND FACE HAIRSTYLE #9: FLUFFY BANGS
Styling bangs doesn't have to be a major struggle. To flatter your round face, give your fringe some volume. Spray bangs with the L'Oréal Paris Advanced Hairstyle BLOW DRY IT Quick Dry Primer Spray, then use a round brush and blow-dryer to give them body.
ROUND FACE HAIRSTYLE #10: DEFINED LAYERS
Round-faced gals are often seeking sharp cheekbones, and the same idea can be applied to their hairstyles—it's all about those angles. Keep styling simple, using a styling cream, like the L'Oréal Paris Studio Line Flexible Strong Hold Cream, to define your layers for a carefree look.
ROUND FACE HAIRSTYLE #11: SHAGGY LAYERS
Shaggy layers will help to elongate your round face while also adding structure to its otherwise soft shape. Consider trying a shaggy lob or long, shaggy layers.
ROUND FACE HAIRSTYLE #12: VOLUMINOUS CURLS
Those with round faces should avoid tight ringlets and spirals, as they tend to add width to the face. Instead, add length with soft, voluminous curls.
ROUND FACE HAIRSTYLE #13: HIGH PONYTAIL
In case you couldn't already tell, the most flattering hairstyles for round faces involve adding length or height to elongate your face shape. Focusing on the latter, a high ponytail will help draw attention upward, giving the illusion of a longer—and thus, less-round—face.
ROUND FACE HAIRSTYLE #14: FAUX HAWK
Speaking of adding height via your hairstyle, a faux mohawk is an edgy way to do just that. While not for the faint-hearted, the faux hawk has been making a serious comeback in the hairstyle world. Here's How to Rock a Faux Hawk Hairstyle.
ROUND FACE HAIRSTYLE #15: WISPY SIDE BUN
For a romantic hairstyle that's also flattering for round faces, pull your strands into a wispy side bun. After creating your bun, pull a few face-framing strands loose to minimize the width of your face length.
ROUND FACE HAIRSTYLE #16: VOLUMINOUS BUN
Remember when we said height is key when it comes to hairstyles for round faces? Bring on all the height—and volume—with a voluminous bun secured at the top of your head. Not only is this hairstyle flattering for your face shape, but it's also a beautiful option for a special occasion. Seal in the style with the L'Oréal Paris Elnett Precious Oil Satin Hairspray.
ROUND FACE HAIRSTYLE #17: SIDE-SWEPT BANGS
Create the illusion of a slimmer face with the help of side-swept bangs. Pro tip: Keep your bangs on the longer side (around cheekbone-length) to avoid emphasizing your round face shape.
ROUND FACE HAIRSTYLE #18: SLEEK MIDDLE PART
Part your hair down the middle and sport a sleek, long 'do for the appearance of an instantly longer face. This is a great option for those who want to keep their hair one length.
ROUND FACE HAIRSTYLE #19: ASYMMETRICAL BOB
Slightly longer on one side and shorter on the other, an asymmetrical bob will get rid of the symmetrical roundness that comes with your face shape.
ROUND FACE HAIRSTYLE #20: FACE-FRAMING LAYERS
Add structure to your round face with face-framing layers. Whether you have short, medium, or long hair, face-framing layers will help accentuate your features and create a more chiseled appearance.
ROUND FACE HAIRSTYLE #21: TOUSELED STRANDS
Grab a hair pomade and make things messy! By tousling your strands, you'll define your hair texture and in turn, define your facial features, drawing the eye to areas like your cheekbones rather than your round face shape. Work the L'Oréal Paris Studio Line Overworked Hair Putty throughout your mane to get the look.
ROUND FACE HAIRSTYLE #22: LONG BANGS
We touched on this earlier, but when it comes to flattering bangs for round faces, the key is to stick to bangs that are on the longer side. Choose a cut that'll cover your forehead and thus draw attention away from your round shape.
ROUND FACE HAIRSTYLE #23: SIDE-SWEPT CURLS
Round faces are full of symmetry, and their most flattering 'dos involve breaking that. Curl your hair, then sweep your strands to one side for the perfect imbalance.
ROUND FACE HAIRSTYLE #24: HALF-UP TOP KNOT
This hairstyle works both ways to elongate your face shape. The top knot will help add height while the remainder of your hair will create length. Talk about a perfect hairstyle for round faces!
ROUND FACE HAIRSTYLE #25: SIDE BRAID
Rather than pulling your hair back to create a braid—which will undoubtedly draw attention to your round face shape—bring your hair to one side for a side-swept braid. This will flatter your face by "getting rid of" its symmetrical appearance.
ROUND FACE HAIRSTYLE #26: BEACHY WAVES
Remember how we said tight ringlet curls are a no-go? Well, beachy waves are a major yes. Bonus points if you have long locks!
ROUND FACE HAIRSTYLE #27: TOP KNOT
One of the most classic updos there is, a top knot will add the height you need to your round face. Throw your strands into one the next time you're headed out the door to run errands.
ROUND FACE HAIRSTYLE #28: SIDE-SWEPT PONYTAIL
You probably get the idea by now. Rather than slicking your strands back into a ponytail, sweep them to the side to create an asymmetrical look that'll flatter your round face.
ROUND FACE HAIRSTYLE #29: BALLERINA BUN
Did we mention updos are a friend of those with round faces? Our motto is the higher, the better! Smooth your strands into a high ballerina bun for a polished look.
ROUND FACE HAIRSTYLE #30: CHOPPY BANGS
Last but not least, let's talk another bangin' option for round faces: choppy bangs. This style of bang is an ideal option for those with round face shapes, as the textured cut will emphasize your facial structure without being too harsh.
Realized your face isn't round? Find the cut and style that's right for you, with help from our article, The Best Haircuts for Every Face Shape.
{ "@context": "https://schema.org/", "@type": "WebPage", "speakable": { "@type": "SpeakableSpecification", "cssSelector": ["speakable-content"] }, "url": "https://www.lorealparisusa.com/beauty-magazine/hair-style/hairstyle-trends/hairstyles-for-round-faces" }
Discover more tips & tricks
Keep your skin happy
See all articles
Shop Featured Hair Style products
Discover More
{ "@context": "http://schema.org", "@type": "BreadcrumbList", "itemListElement": [ { "@type":"ListItem", "position": 1, "item": { "@id": "/", "name": "Home" } } , { "@type":"ListItem", "position": 2, "item": { "@id": "https://www.lorealparisusa.com/beauty-magazine", "name": "Beauty Magazine" } } , { "@type":"ListItem", "position": 3, "item": { "@id": "https://www.lorealparisusa.com/beauty-magazine/hair-style", "name": "Find Your Next Hot Look" } } , { "@type":"ListItem", "position": 4, "item": { "@id": "https://www.lorealparisusa.com/beauty-magazine/hair-style/hairstyle-trends", "name": "Hairstyle Trends" } } , { "@type":"ListItem", "position": 5, "item": { "@id": "https://www.lorealparisusa.com/beauty-magazine/hair-style/hairstyle-trends/hairstyles-for-round-faces", "name": "hairstyles-for-round-faces" } } ] }