short hairstyles
How to Style Short Curly Hair While Growing It Out
February 08, 2019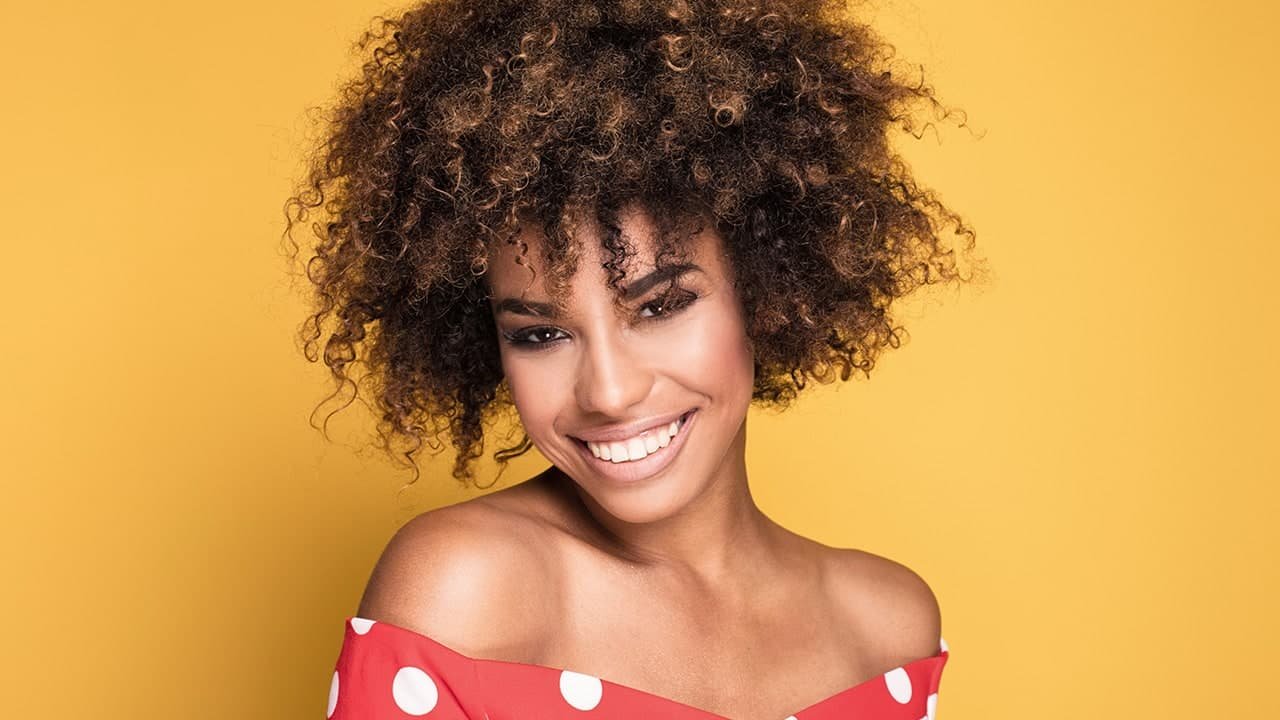 When you have curly hair, you know that it's usually easier to maintain your look when you have long hair as opposed to short hair. That's because short haircuts require major upkeep—and that can be especially tricky when you're dealing with curly hair. That being said, short haircuts—like pixies—can look especially beautiful when paired with a curly texture. But what if you have a short hairstyle that you're looking to grow out? Keep your short curly hair from looking awkward by following our tips—including ideas for a few hairstyles for short curly hair—while growing it out.
8 TIPS FOR GROWING OUT SHORT CURLY HAIR
There are a few key tips to keep in mind when trying to grow out short curly hair—and we've compiled a list of them for you below! Get to reading and before you know it your short curly hair won't be quite so short.
TIP #1: INVEST IN CUTE HAIR ACCESSORIES
One of the easiest ways to bide your time until your curly hair has grown out of its short haircut is by using a few strategic hair accessories. Opt for giant headbands and sparkly hair clips to keep your hair out of your face and mask any pieces that might stick up or out. Throwing on a hair accessory is also an easy way to jazz up even the most basic of outfits. Need a little inspo? Here's How to Wear a Trendy Head Wrap.
TIP #2: KEEP BANGS OUT OF YOUR FACE
If you have bangs that you're trying to grow out, keep them out of your face by pinning or slicking them back. Use one of your new hair accessories or bobby pins (more on those below!) to secure your bangs while they're in the grow-out phase. For a chic look, create a braided headband by braiding your bangs and pinning them back. In a rush? A slicked-back 'do is a quick and totally chic way to get your bangs out of your face.
What you'll need:
L'Oréal Paris Advanced Hairstyle LOCK IT Clean Style Gel
Hair elastic
Hair clips or bobby pins
Get the look:
Ready to slick things back? Here's how:
Step #1: Grab your hair gel
Apply a hair gel starting at your hairline and use it to slick your locks backward. Keep in mind that less is more—you can always add more hair gel but you can't take any away if you apply too much!
Step #2: Pin back any stray hairs
If you have bangs, fly-aways, or other short pieces of hair that won't stay put with gel, use bobby pins or fancy clips to keep them in place.
Step #3: Tame your lengths
If you have super short hair, you can likely stop here. If you have slightly more length to your mane, throw your ends into a low bun or ponytail to complete the look.
TIP #3: STOCK UP ON BOBBY PINS
Seriously, bobby pins are about to become your new BFF. When you're growing out short curly hair, you're going to want to have plenty of bobby pins on hand. That way, you can keep annoying, overly long bangs out of sight in addition to using them to help keep hairstyles in place. Even if you're okay with your bang situation in the AM after getting ready, make sure to throw a few bobby pins into your bag before leaving for the day so that you can pin your hair back later on if you need to.
TIP #4: GET EDUCATED ON HAIR STYLING PRODUCTS
Using the right hair styling products can make all the difference in how your short curly hair looks as it grows out. Want to go smooth and sleek? Use a hair cream, like the L'Oréal Paris BLOW DRY IT Thermal Smoother Cream, before picking up your blow-dryer. To play up your natural texture, spritz the L'Oréal Paris Advanced Hairstyle AIR DRY IT Wave Swept Spray onto damp hair, then let your hair air dry. Either way, your curly hair is sure to look beautiful!
TIP #5: LEARN HOW TO BRAID
When you have curly hair, braids are some of the prettiest hairstyles you can rock—and that's especially the case when you're trying to grow out a short curly hairstyle. For a look that can't be beat, read our article, 6 Heat-Free Ways to Style Curly Hair, which includes tutorials for a variety of braided hairstyles that'll work for any hair length. A braided 'do we can't get enough of? French braid pigtails!
What you'll need:
Rat tail comb
Hair elastics
Get the look:
Ready to French braid? Follow the steps below.
Step #1: Part your hair
Begin by parting your hair down the middle into two, even sections. You can use the end of your rat tail comb to ensure your part is perfectly straight.
Step #2: Begin your braid
Use a hair elastic to loosely secure one half of your mane into a ponytail in order to keep it out of the way when braiding. Then, take a section of hair along your part and separate it into three equally-sized strands. These will be used to begin your braid. Braid as you normally would once to anchor your French braid.
Step #3: Start French braiding
After you've braided normally once, add a bit of hair to your right strand before crossing it over the middle strand. Do the same with the left strand. You've got this!
Step #4: Braid, braid, braid
Continue adding hair to your braid until you reach the bottom of your ear. At this point, continue with a traditional three-strand braid. Secure with a hair elastic and you're good to go!
Step #5: Repeat on the other side
Once you've completed one pigtail, it's time to repeat the process. Follow steps two through four again to complete your French braid pigtail 'do!
TIP #6: KEEP YOUR BLOW-DRYER CLOSE
If you have pieces of hair that aren't lying flat as your short curly hair is growing out, you may want to blow-dry your hair. Before you do that, though, make sure to apply a heat protectant, like the L'Oréal Paris Advanced Hairstyle SLEEK IT Iron Straight Heatspray, which offers 450-degree heat protection and can be used with any heat styling tool.
Editor's tip: Still have pesky fly-aways? Spritz a little hairspray onto a clean toothbrush and brush them back. Trust us—this hair hack will change your short curly hair game!
TIP #7: PROTECT YOUR STRANDS
One of the most important things to keep in mind when trying to grow out short curly hair is to protect your strands from harsh elements that can prevent growth. This is where protective hairstyles for short curly hair come into play. If you aren't familiar with protective styles, here are The 30 Best Protective Hairstyles for Natural Hair.
TIP #8: BE PATIENT!
Above all else, growing out short curly hair is a waiting game. Eventually, your hair will be long again—and then you can experiment with another hairstyle! Until then, follow our tips above.
Once your hair has grown out, it's time to start thinking about what your next haircut will be. We suggest something with lots of layers! Here are The 40 Best Layered Haircuts for you to consider.
Discover more tips & tricks
Keep your skin happy
See all articles
Shop Featured Hair Style products
Discover More