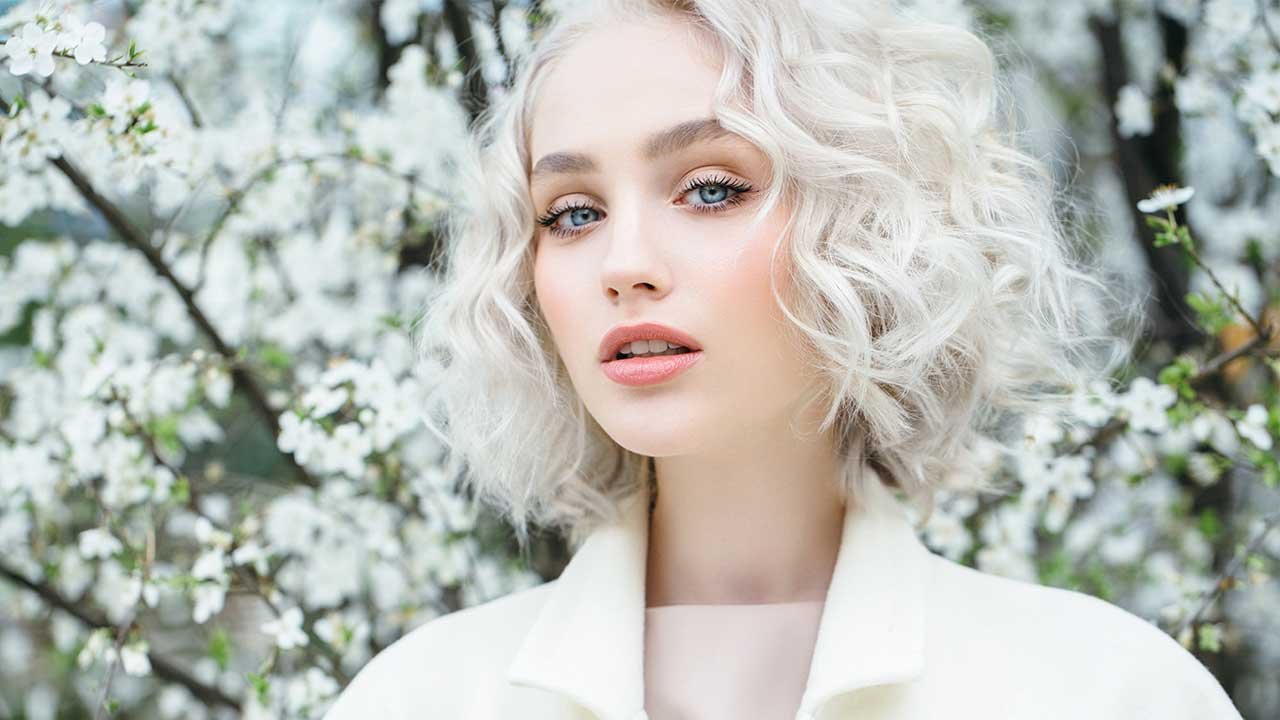 Spring has finally sprung, and you likely want nothing more than to feel lighter and brighter to suit the warming weather. That means it's time to break out the color in your wardrobe and ditch your black polish, moody eye shadow, and vampy lipsticks for pastels. Spring is also the perfect opportunity to try the season's hottest hair color trend and go lighter. And we don't mean just a little lighter—we're talking about white blonde hair! We know: Such a dramatic hair color change can be scary, but with the right plan of action you'll be able to get the hair color you've been seeing all over your fave celebs. Keep reading for everything you need to know about how to achieve and maintain your perfect shade of white blonde hair.
1. MANAGE YOUR EXPECTATIONS
If white blonde hair is what you want, it's important to understand what will go into the process. Going for a white blonde hair color will require bleaching your strands. And if your natural color is dark or you've previously had your hair colored, it could take multiple dyeing sessions to achieve your fantasy shade of white blonde. Not to mention, you'll have to make regular trips into the salon for touchups (or do them on your own), since your root growth will be quite noticeable. Don't think you can make that kind of commitment? You may want to consider going for a less drastic hair color change instead.
2. DECIDE TO DIY OR VISIT A PRO
When you're making such a dramatic change and have decided to try a really stark hue like white blonde, it's often a good idea to visit the salon. Think of good hair coloring like art—and hair colorists as the artists. A colorist can be trusted to get you to a place you'll be satisfied with and to help you come up with a plan to take care of your hair. If you're sure you can tackle lightening your strands at-home, try the L'Oréal Paris Absolute Platinum Extreme Platinum, and make sure to follow the instructions included with the packaging.
3. CHANGE YOUR HAIR CARE ROUTINE
Got that white blonde hair color you've been craving? Time for a trip to the store! Colored hair requires extra special care, and that means you may need to use different hair care products than you had previously. As with any (unnatural) blonde shade, white blonde hair can start to turn brassy over time, which means you'll need a color-safe hair care system that can help reduce the appearance of brassiness. Think about using the L'Oréal Paris EverPure Blonde Shampoo and L'Oréal Paris EverPure Blonde Conditioner. The EverPure Blonde system gently cleanses, conditions, and balances blonde hair, neutralizes brassiness, and deeply hydrates over-processed hair. Apply the shampoo to wet hair and gently massage it into a thick lather, then rinse thoroughly. Follow up by applying the conditioner, leave it on for 1-2 minutes, then rinse. Once a week, apply the L'Oréal Paris EverPure Blonde Shade Reviving Treatment to towel-dried hair after shampooing and leave it on for 3-5 minutes before rinsing.
4. INTRODUCE A HAIR MASK INTO YOUR WEEKLY ROUTINE
Let's be real: Bleaching your hair can do a number on it. That's why it could be a good idea to use a hair mask every week if you're now sporting white blonde hair. After shampooing, use the L'Oréal Paris EverPure Intense Repair Hair Sheet Mask, which is meant for damaged hair.
5. TAKE A BREAK FROM HEAT STYLING
The last thing your lightened locks need is more damage. So, consider giving your blow-dryer, straightener, and curling iron a rest for a while. In their place, try using products meant to enhance air dried hair, like the L'Oréal Paris Advanced Hairstyle AIR DRY IT Wave Swept Spray. A few spritzes and a little bit of scrunching later and you'll have wavy hair, without using any heat.
6. REFRESH YOUR WHITE BLONDE HAIR COLOR
Eventually, you'll have to hit the salon to get your roots back to beautiful white blonde or pick up another box of hair color. Don't hold off too long, you won't want dark roots to compromise your pristine blonde mane.
Next, read up on other blonde hair color options. Head on over to our article, From Platinum to Dirty Blonde: 7 Stunning Blonde Hair Ideas.
{ "@context": "https://schema.org/", "@type": "WebPage", "speakable": { "@type": "SpeakableSpecification", "cssSelector": ["speakable-content"] }, "url": "https://www.lorealparisusa.com/beauty-magazine/hair-color/hair-color-tutorials/how-to-get-white-blonde-hair-for-spring" }
Discover more tips & tricks
Keep your skin happy
See all articles
Shop Featured Hair Care products
Discover More
{ "@context": "http://schema.org", "@type": "BreadcrumbList", "itemListElement": [ { "@type":"ListItem", "position": 1, "item": { "@id": "/", "name": "Home" } } , { "@type":"ListItem", "position": 2, "item": { "@id": "https://www.lorealparisusa.com/beauty-magazine", "name": "Beauty Magazine" } } , { "@type":"ListItem", "position": 3, "item": { "@id": "https://www.lorealparisusa.com/beauty-magazine/hair-color", "name": "Bold Ideas From Hair Color Pros" } } , { "@type":"ListItem", "position": 4, "item": { "@id": "https://www.lorealparisusa.com/beauty-magazine/hair-color/hair-color-tutorials", "name": "Hair Color Tutorials" } } , { "@type":"ListItem", "position": 5, "item": { "@id": "https://www.lorealparisusa.com/beauty-magazine/hair-color/hair-color-tutorials/how-to-get-white-blonde-hair-for-spring", "name": "how-to-get-white-blonde-hair-for-spring" } } ] }