hair color trends
How To Get A Silver Blonde Hair Color
Plus, tips on how to care for it.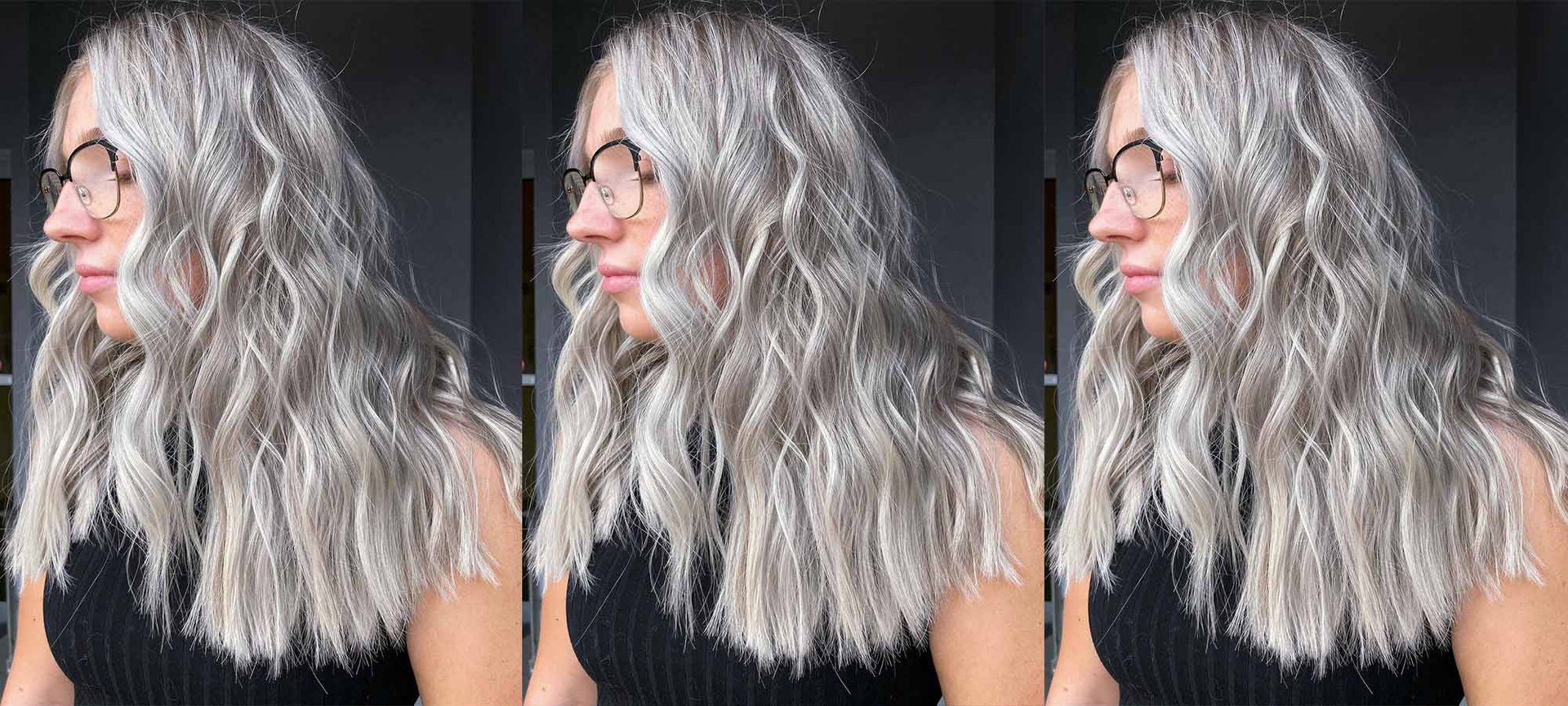 New hair color trends pop up all the time 一 but icy, silver blonde hair has maintained its popularity for quite a few seasons. This ashy, platinum blonde hue is perfect for brightening up the face. It's no wonder why influencers and celebrities have been sporting this shade for years. However, if opting for a silver blonde hair color is on your to-do list, there are a few things to keep in mind. So here, we're sharing how to achieve this gorgeous blonde shade, and what to know before taking the icy plunge.

What To Know Before Getting Silver Blonde Hair
When it comes to the logistics of dyeing your hair 一 especially when going for an ultra-light shade 一 there are a few things you'll want to take into consideration. First, can you be patient? When dyeing your hair a blonde, silver hue, it will take several lightening sessions over the course of a few weeks or months to achieve your desired color. This is essential in order to preserve the health of your hair. It may be best to turn to a professional when opting for this shade because it requires heavy bleaching and toning to get the color right without sacrificing the integrity of your strands.
It's also important to consider whether or not you're willing to put time and effort into maintaining the color. In addition to root touch-ups, you'll likely need to address color dullness, brassiness and potentially even hair damage, like split ends and dryness. This is the furthest thing from a low-maintenance hair color.

How To Achieve The Perfect Silver Blonde Hair Color
If you're heading to the salon to achieve silver blonde hair, be sure to ask for a light blonde shade with very ashy undertones. It always helps to bring inspo pics with you so that your stylist can try to get as close to your desired shade as possible.
If your starting shade is pretty light, or you're a pro at bleaching your own hair, you can get the look at home by using the L'Oréal Paris Superior Preference Fade-Defying Shine Permanent Hair Color in Soft Silver Blonde. This permanent hair color will leave you with a super shiny, luminous hair color—just be sure to follow all directions included with the at-home hair color kit.
You can also enlist the help of a hair color professional using the L'Oréal Paris Hair Color Concierge. You can chat with a live expert who will give you personalized recommendations for the best hair colors for you.

How To Care For Your Silver Blonde Hair
Once you're happy with your icy hair color, it's time to change up your hair care routine, as blonde, color-treated hair needs special care. Keep your hair looking and feeling its best with these three easy to follow tips.

1. Use Color-Safe Hair Care Products
To keep your color looking fresh, it's important to reach for color-safe shampoo and conditioner like the L'Oréal Paris EverPure Sulfate-Free Bond Strengthening Color Care Shampoo and L'Oréal Paris EverPure Sulfate-Free Bond Strengthening Color Care Conditioner. This duo is safe on color and helps to strengthen the hair by reinforcing weak hair bonds that can occur as a result of bleaching and heat damage. It also helps to protect hair from future damage so that you can color with confidence when your silver blonde needs a touch up.

2. Tackle Brass
A key component of silver blonde hair is its cool, ashy undertone. And as you likely know, color-treated blonde hair has a tendency to become brassy and warm over time. When you notice brass making an appearance, it's time to add a purple shampoo and conditioner into your routine. The L'Oréal Paris EverPure Brass Toning Purple Sulfate Free Shampoo and L'Oréal Paris EverPure Brass Toning Purple Sulfate Free Conditioner are great because they hydrate your strands while neutralizing unwanted brassy yellow and orange tones.
Adding a hair gloss into your routine is another great way to maintain your color and enhance the tone. To give your hair color a boost right at home, apply the L'Oréal Paris Le Color Gloss One Step In-Shower Toning Gloss in Cool Blonde. In just 15 minutes, it enhances your hair color and deeply conditions your strands.

3. Limit Heat Styling
Hair that has been bleached often can end up with breakage and dryness. Add frequent heat styling on top of that and you're bound to suffer from damaged strands. Give heatless hairstyles a go, and if you're going to break out the flatiron and blow-dryer, be sure to apply a heat protectant beforehand, like the L'Oréal Paris Elvive Dream Lengths Heat Slayer Pre-Iron Spray Leave-In to protect for up to 450 degrees of heat.
Next: 25 Stunning Shades Of Brown Hair For All Skin Tones

Written by: Alyssa Kaplan, Photo Credit: IG/@nicolehairstylist
Discover more tips & tricks
Keep your skin happy
See all articles
Shop Featured Hair Care products
Discover More