all hair types
14 Questions to Ask Yourself Before Getting a Haircut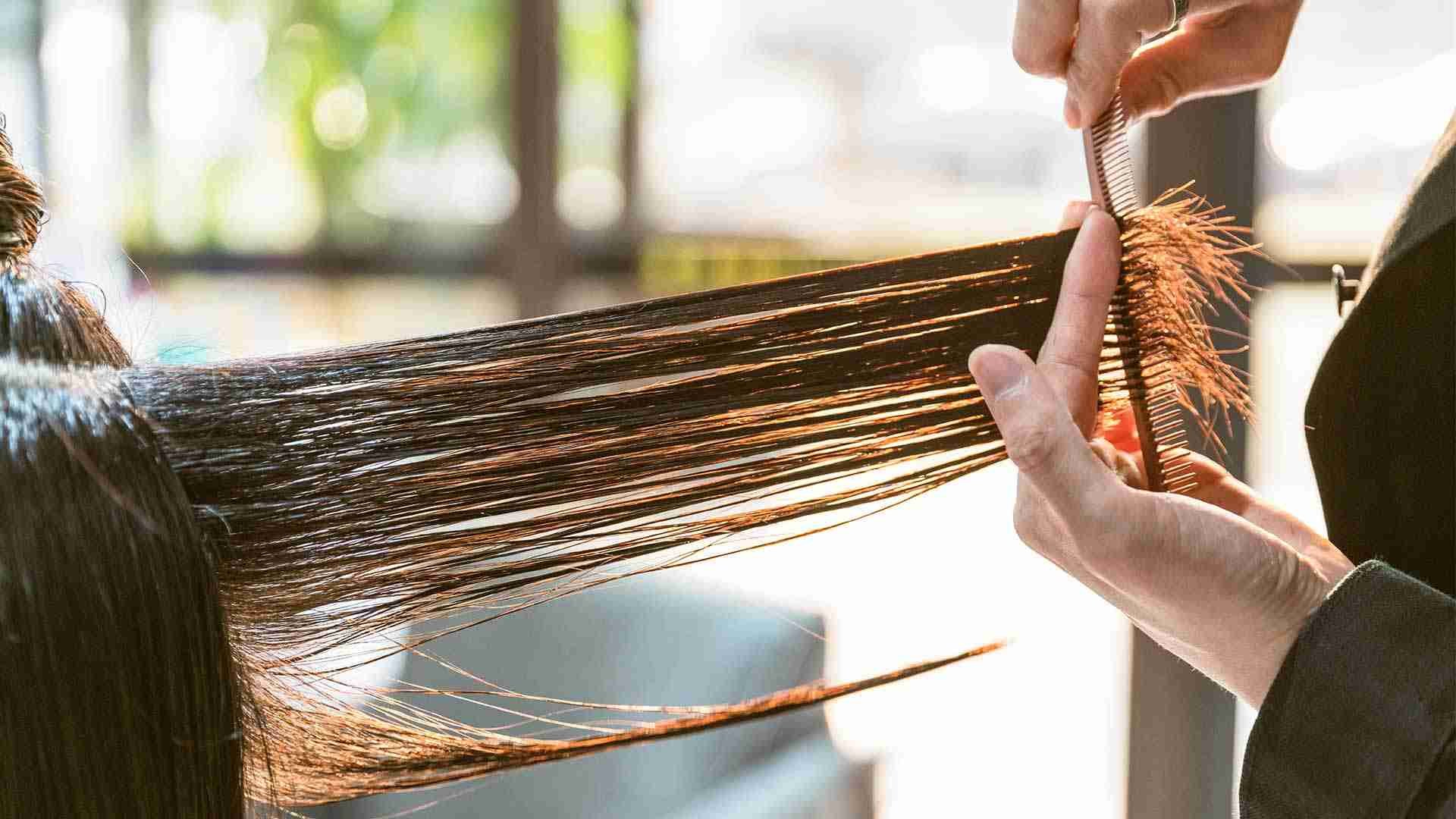 Have you ever gone to the salon with your dream haircut in mind, only to turn around for the big reveal and be disappointed when you catch your reflection in the mirror? We've been there—everyone has a bad haircut story, trust us. That's why, before hopping into your stylist's chair at the salon, it's always a good idea to ask yourself a few simple questions that can help you decide on your new cut. Whether you're considering a short hairstyle, a medium cut, or a long one, or deciding between the latest hairstyle trend and something traditional, make sure to ask yourself these 11 questions before you start chopping your locks.
#1: "AM I CUTTING MY HAIR FOR THE RIGHT REASONS?"
If other people's opinions, a recent breakup, or your favorite celebrity's new 'do is swaying you to get a little scissor happy, consider holding out for a while to think about whether or not you really want to get a new haircut. When you make an impulse decision, you may end up regretting getting that haircut. Long story short: Make sure you want whatever haircut you're thinking of getting because it flatters your face and your personal style. As a general rule of thumb, once you have a new haircut or new hairstyle idea in your mind, hold onto it for a couple of weeks. If you still want to try it out after a bit of time has passed, go for it!
#2: "DOES THIS HAIRCUT FIT MY FACE SHAPE?
You already know that you should think about your sense of style—as well as your skin tone—when coloring your hair or deciding on a makeup look. When it comes to getting a new haircut, it's your face shape that you really need to take into account. That's because depending on the way your hair is cut, certain facial features could end up looking more prominent—and if you choose a cut that's not the most complementary to your face shape, you might end up highlighting features you'd rather not.
To make sure that the cut you choose fits your face shape, sit down with your stylist, and discuss your options. To prepare for your salon visit, you can also read up on The Best Haircuts for Every Face Shape.
#3: "DOES THIS HAIRCUT FIT INTO MY LIFESTYLE?"
Before you get a new cut, you should also think about how much maintenance this style will require. What's most important is to find a haircut that will fit into your lifestyle! If you're a low-key kind of gal, for example, then a super-short pixie cut might not be the right haircut for you, since you'll have to get trims often. Or, if you never use heat tools, you might want a haircut that's more low-maintenance and necessitates minimal styling.
Another example: Do you work out frequently? If so, then you'll probably want a haircut that's easy to pull back into a ponytail. Whatever your lifestyle is like, just be sure to do your research or talk it out with your stylist before they pick up their scissors.
#4: "AM I ABLE TO DONATE WHAT I CUT OFF?"
If you're trying to decide whether or not to make a big chop, one of the best ways to help make up your mind is to find out if you'll be able to donate your locks. A new haircut + contributing to a good cause? Yes, please!
#5: "HAVE I TRIED THIS CUT ON FOR SIZE?"
An easy way to see what a new haircut will look like on—without doing anything drastic just yet—is to download a virtual makeover app where you can upload your picture and try on different styles. Gotta love technology these days!
Editor's note: Love the idea of testing out haircuts without any commitment? You can do the same with makeup and hair color using our Virtual Try-On feature! Read all about it in our article, Our Virtual Try-On is Better Than Any Makeup App You've Seen.
#6: "WILL I BE ABLE TO STYLE THIS CUT DAILY WITHOUT MY STYLIST?"
We've all been in a stylist's chair wondering the same thing: Will I be able to recreate this look on my own? Professionals are able to create bouncy blowouts, sleek-looking strands, and the most beautiful-looking curls with what seems to be almost no effort at all. But will you be able to do the same at home? You want to make sure that you choose a haircut that you'll be comfortable styling by yourself on a daily basis.
If you aren't savvy when it comes to hairstyling, ask your stylist for a cut that only needs a few quick spritzes of wave spray or a dollop of the L'Oréal Paris Studio Line Overworked Hair Putty to style.
#7: "HOW MUCH MAINTENANCE WILL THIS HAIRCUT REQUIRE?"
Similarly, you'll also want to think about how much upkeep this look will require and whether or not you're on board with how frequently you'll need to come in for trims. Are you getting a stacked bob? We love it, but just know that you'll probably be back in the salon for frequent touch-ups. Whatever you choose, much like trying a new hair color trend, it's important to think about the long-term maintenance of the look.
#8: "DO I TRUST MY HAIRSTYLIST?"
Finding the right hairstylist is like finding a significant other—it isn't always easy, but it's so worth it to find someone you're truly comfortable with. If you don't feel comfortable with your hairstylist—for whatever reason—simply part ways and seek someone else's opinion. They are taking scissors to your hair, after all, and even though hair grows back, you don't want to get stuck with a haircut that isn't what you've been envisioning.
#9: "DOES THIS HAIRCUT FIT MY PERSONAL STYLE?"
This one may seem obvious, but when trying out an entirely new or different haircut, take a second to pause and ask yourself if the look you're considering suits your personal style. We're all for trying out new trends and looks, but the reality is that veering too far away from your personal style can make you feel uncomfortable in the long run.
#10: "DOES THIS HAIRCUT FIT MY BUDGET?"
First off, some haircuts are more complex than others, and therefore they could cost more. If your stylist is spending more time on your hair or maintaining lots of length, your bill can go up. How high or low maintenance your style is can also factor into your budget; if you've chosen a more high maintenance look that requires frequent trims, you'll be spending more money. So, do a little math before making a decision!
#11: "DOES THIS HAIRCUT SUIT THE THICKNESS OF MY HAIR?"
This last one is more important than you might think. That's because your hair's thickness—whether you've got thin hair or thick, curly locks—can factor into how well you can pull off some cuts. For example, if you have thick hair (lucky you!), your stylist might suggest that you go with a longer haircut over a short one, and vice-versa. To get a little inspo before you go in for a cut, check out our articles on The 31 Best Haircuts and Hairstyles for Thick Hair in 2020 and the 25 Best Haircuts for Thin Hair.
#12. "DOES THIS HAIRCUT SUIT MY HAIR TEXTURE?"
Along with hair thickness, it's also important to take your natural hair texture into account. Chances are you won't want to be heat-styling your strands every day, so it's important to go for a haircut that will work with your natural strands—not work against them! For example, those with straight hair can easily rock blunt bangs, whereas those with curly hair may have to commit to a styling regimen for the cut.
#13. "DO I KNOW WHAT TO ASK FOR?"
As much as you may trust your stylist, knowing how to ask for the haircut you want properly is so important. It's no secret—you're not a hairdresser, so it can be easy to mix up terms and accidentally give your hairdresser the wrong impression. For tips on how to make sure you explain exactly what you want so you can leave the salon with a mane you love, here's How to Ask for a Haircut and Get the Look You Want.
#14. "IS THIS HAIRCUT JUST A TREND?"
While there's nothing wrong with being inspired by the latest trends, if you base your cut entirely on what's trending at the moment, you might not be taking into consideration whether that particular hairstyle complements your features. And sometimes, when a haircut is super-trendy, it'll fade from popularity pretty quickly—leaving you to deal with that awkward grow-out phase for the next few months.
Now that you know what questions to ask yourself before getting a haircut, how about a little more haircut inspiration? Check out our article on one of the latest haircut trends: What is a V-Shape Haircut?
Discover more tips & tricks
Keep your skin happy
See all articles
Shop Featured Hair Style products
Discover More