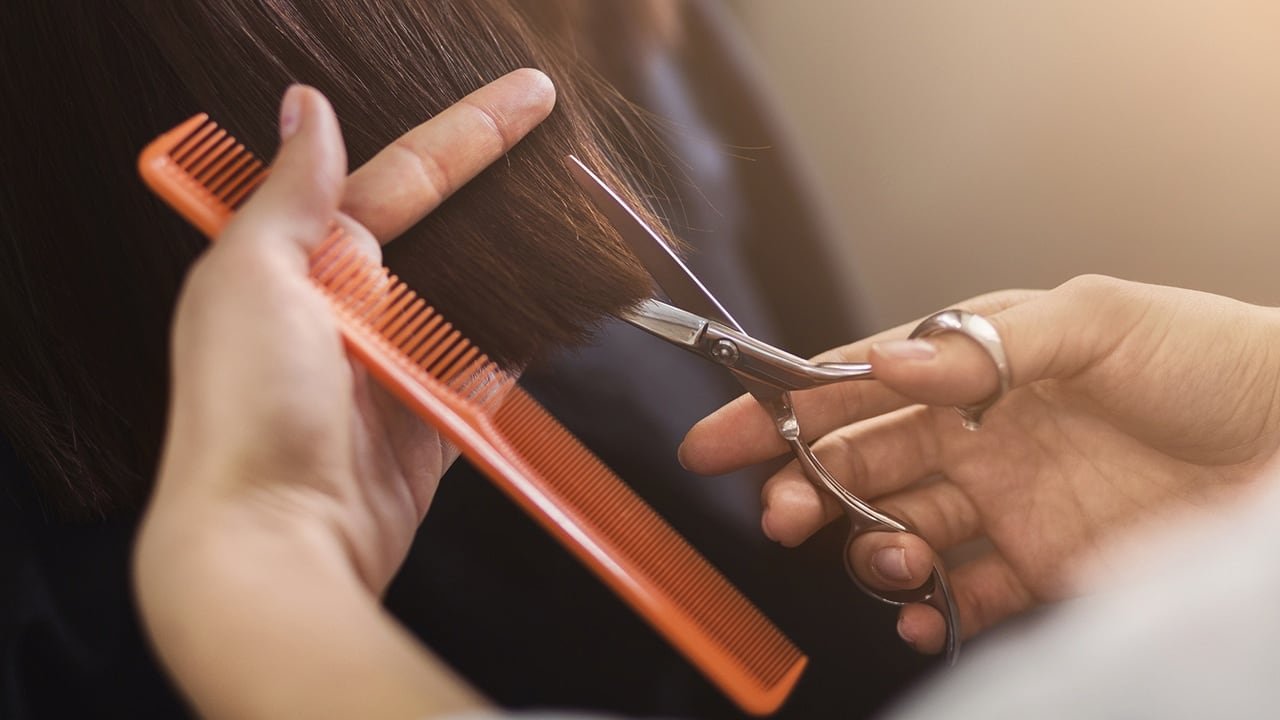 all hair types
Is It Better to Cut Hair When It Is Wet or Dry?
There are a lot of factors that go into taking the plunge and getting a new haircut. For starters, you likely have hours of scrolling through Pinterest in your future, in hopes of finding the perfect inspiration picture to show your stylist. But what happens when you finally get in the salon chair? You may have recently heard of dry cutting as opposed to the wet hair cutting technique most of us have become accustomed to. But which is better? Should you be asking your stylist to use a specific hair cutting technique to get the beauty look of your dreams? Below, we're sharing everything you need to know about dry haircuts vs. wet haircuts, including if it's better to cut hair wet or dry.
DRY CUTTING VS. WET CUTTING: WHAT'S THE DIFFERENCE?
As you can probably guess—the difference between dry cutting and wet cutting is pretty self-explanatory. If your stylist decides to cut your hair when it's dry, it's known as dry cutting. When they decide to cut your hair when it's wet, it's known as wet cutting. Simple, right? The actual difference between the two isn't as much about their technique, but more about the cut they produce. Speaking of…
IS IT BETTER TO CUT HAIR WET OR DRY?
So, is it better to cut hair wet or dry? Spoiler alert: There's no right answer! Rather, there are a few different considerations that can play into the answer, as the better hair cutting technique for you may not be the same as the best option for your BFF. Chances are, your stylist likely knows the best haircutting technique to achieve your desired 'do, but being knowledgeable on the matter is never a bad thing. In fact, you may just impress your stylist with your new-found expertise! Here are some hair factors to consider when deciding between the two techniques.
1. What's your natural hair texture? If you have thin or fine hair that's on the straighter end of the spectrum, a wet haircut is likely ideal—just keep in mind that when your hair dries, the cut will end up a little shorter than when wet. On the other hand, if you have coarse, textured hair that's on the curly end of the spectrum, ask your stylist to give you a dry haircut. This will let them easily work with the pattern of your curls, cutting them in a way that defines their shape.
2. What haircut are you looking to achieve? Are you looking for a cut that's all one length? If you prefer the look of a straight-across cut (think a blunt bob or bangs), wet cutting will be the best option. This technique makes it easier to get the clean, precise haircut you crave. However, if you're aiming for an uneven cut, like an asymmetrical bob, dry cutting will help your stylist more accurately determine how to distribute the length and texture of your mane for a perfectly imperfect 'do.
3. How do you plan to style your hair? Going off of the above factors, the way you plan to style your locks also plays a role in which hair cutting technique will be most beneficial in helping you reach your #hairgoals. If you're a fan of sleek, straight hair, wet cutting—as we mentioned earlier—will give you the precise look you're going for. However, if you prefer to wear your hair natural, dry cutting will give your stylist the ability to work with your natural texture and cut your locks in a way that enhances them.
Next up: Speaking of haircuts, you may be contemplating picking up a pair of sheers yourself. After all, how hard could it be? Before you do, we highly recommend heading over to our article, Is it a Good Idea to Cut Your Own Hair?, for our advice on the matter.
Discover more tips & tricks
Keep your skin happy
See all articles
Improve your routine
Show your new look more love:
makeup