short hairstyles
33 Gorgeous Wedding Hairstyles for Short Hair
The perfect 'do for saying "I do".
April 22, 2022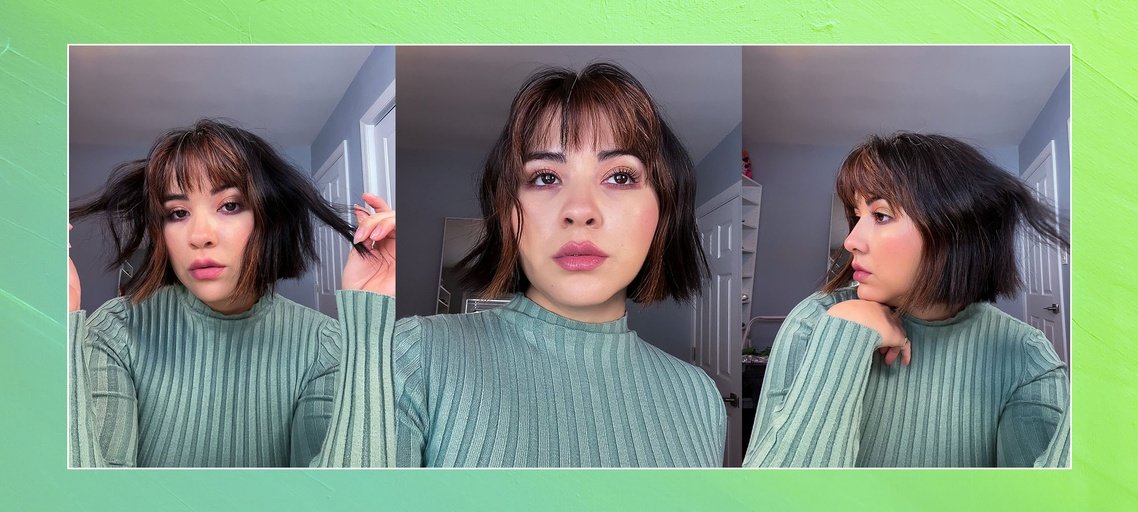 Sometimes it appears that most wedding hairstyles are geared toward those with long hair — think cascading waves and long braids — but there are plenty of pretty wedding hairstyles for short hair, too. It doesn't matter if you have a pixie or a bob, or are looking for a gorgeous updo, there's a style out there that can add the perfect finishing touch to your big day look.
If you're looking for a wedding hairstyle for your short hair, keep reading because we're sharing our favorite short hairstyles perfect for a wedding — from updos for short strands to buns and more.
1. Boho Pixie
Nothing says laidback wedding quite like a boho bride. For brides with short hair, consider the boho pixie. This carefree, tousled look works best with pixie cuts that feature a little extra length on top to shine a spotlight on the bride's natural hair texture.
To maximize your hair's natural curl patterns or to give straight hair a little extra wave, apply the L'Oréal Paris Advanced Hairstyle CURVE IT Elastic Curl Mousse to damp hair.
2. Low Bun
If you're a minimalist, consider wearing a low bun — one of our favorite wedding updos for short hair. Bun hairstyles leave your face in focus and can be pulled together in a matter of minutes.
You can leave it loose and lived-in or slick it back for a sleek look using the L'Oréal Paris Studio Line Mega Gel and an edge brush.
3. Sleek Pixie
This slicked-back look is the ultimate high fashion 'do and is perfect for a black-tie affair. Best of all, the chic style is outrageously simple to do yourself.
After washing and towel-drying your hair, apply a quarter-sized dollop of hair gel and brush your hair back from the hairline to the nape of your neck.
4. Wavy Bob
Bobs are a chic, classic style that work for almost every occasion, including your wedding day. This wavy look serves up the right amount of playfulness with the perfect touch of elegance.
If you have natural waves, let your authentic texture shine. If not, use a curling wand to create loose mermaid waves.

5. Asymmetrical Pixie
An asymmetrical pixie is the perfect wedding hair for edgy brides. This short hairstyle is slightly longer on one side and looks fantastic when flipped to the side.
All you have to do is distribute a dollop of hair mousse, like the L'Oréal Paris Advanced Hairstyle BOOST IT Volume Inject Mousse, through your hair while it's still damp and allow it to air dry. After it's dry and you're rocking your natural texture, use your hand to move the length to one side.
6. Smooth Bob With Blunt Bangs
We're big believers of looking like the best, elevated version of yourself on your wedding day. If you typically rock a bob with bold, eye-skimming bangs, consider getting a blowout for the big day. A blowout will add just the right amount of movement to your hairstyle.
7. Loose Braid
If you have short hair that falls at least beneath your chin, you have enough length to create a loose, boho braid. A loose braid at the back of your neck is a great way to keep your hair out of your face while also giving the back of your look some added dimension.
8. Fishtail Braid Accent
If you like the idea of leaving your hair down but you want to add a special touch to it, consider creating a small fishtail braid as an accent. You can simply take a small section of your hair on one side and create a delicate braid to serve as cute detail.
9. Waterfall Braid
For a whimsical wedding look, let your lob hang loose and rock a gorgeous waterfall braid.
To create this hairstyle, start weaving your hair as if you're planning to wear a French braid. After each link of the braid, drop the left-hand strand, and grab a new piece of hair to replace it. Keep repeating this until you've reached the other side of your head and secure the braid with a small elastic or bobby pin.
10. Hidden Braids
If bold braids aren't really your thing, but you love the way plaits can add intricacy to any style, try adding a few hidden braids — tiny braids that peek out from behind the rest of your hair — into the mix. Whether you opt for traditionally woven or fishtail braids, you'll be able to add just enough boho chicness to your big day look.
11. Short, Defined Afro
For brides with curly, wavy, or tightly coiled hair, you can't go wrong with a short Afro.
Moisturize and define your curls with the L'Oréal Paris Elvive Dream Lengths Curls Refresh & Reshape Leave-in Spray. Spray it all over your hair and use your fingers to shape your curls.
12. Natural Curls
The last thing you want to stress about on your big day is your hair, and this natural curly look will take all the stress away.
Simply apply a curl-enhancing hair cream, like the L'Oréal Paris Elvive Dream Lengths Curls Non-Stop Dreamy Curls Leave-in Conditioner, to your damp hair and then scrunch it before letting your curls air-dry.
13. Low, Piecey Bun
If your hair is long enough to pull into a low bun, you'll want to try this updo style. This look walks the line between an ultra-polished look and something more relaxed.
Simply create a low bun at the back of your head and pull out a few small sections of hair near your hairline to give it the piecey look. You can also curl these front pieces for added volume.
14. Side Swept Curly Bob
If you like vintage-inspired hair, style your short strands in a stunning, side swept curly bob. This smooth style looks amazing from all angles — and it's easy to manage.
Start by adding curls to your hair with the help of a small curling wand. Then, create a side part for your bangs, comb to the side, and secure with a bobby pin.
15. Half-Up, Half-Down Waves
Switch up your look with a half-up, half-down style — it's truly the best option if you're torn between sporting an updo or letting your hair down.
Part your hair from ear to ear, secure the top section with a hair tie and fluff the bottom half. You can create a ponytail or a bun with the top section depending on your preference.
16. Low Ponytail
Highlight your texture with a gorgeous low ponytail. This hairstyle will speak to the stylish minimalist who wants to keep their hair out of their face.
To achieve the look, pull your hair back and tie it into a ponytail at the base of your neck. Pull out a few strands near your face for a casual look, or slick the hair back for a more polished finish.
17. Side Bun
The side bun hairstyle is a timeless look. You definitely don't need a salon appointment to achieve a wedding updo for short hair, and this style is proof, as you can pull it together all on your own.
Part your hair with a deep side part. Then pull all of your hair to one side and secure your length into a small bun. If some of your short strands aren't quite long enough to make it into the bun, place bobby pins along the nape of your neck to keep everything together.

18. Caged Veil
Whether you have a pixie cut or a wavy lob, a caged veil is a quick and easy way to give your short hair a chic upgrade for your wedding day. Falling just over your eye, a caged veil is our pick for brides with a vintage aesthetic. You can wear one with your hair down or atop a loose chignon.
19. The Up Tuck
The up tuck adds a unique touch of glamor to an otherwise simple look. All you need to create this look is hairspray, a brush, and a few pins—so don't be afraid to give it a try.
Brush your locks toward the nape of your neck, roll under, and secure with pins. Finish off with hair spray, or you can also use hair gel to smooth the front and back of your style.
20. Braided Pompadour Updo
A sophisticated take on the classic pompadour hairstyle, this look will keep your hair in place from morning to night.
To get the look, start with a French braid at the nape of your neck. Once you reach the top, loosen your grip with each link of the braid to create volume. Roll your hair underneath and pin in place.
21. Doobie Wrap With Pearls
For brides looking for an unexpected yet glamorous style, a doobie wrap with pearl pins is a great option. While a doobie wrap is a protective hairstyle typically worn at home, certain celebrities have turned it into a special occasion style that can even be worn for a wedding — especially when adorned with the right pins. The best part? When you take out this sleek hairstyle, your tresses will look even better, just in time for your honeymoon — or the after-party.
To get the look, grab a hair cream, apply it to damp hair, and blow dry your hair with a round brush. Part your hair on the side, brush your hair around your head, and secure with bobby pins. Continue with the rest of your hair until your strands are perfectly wrapped around your head. Place the pearl hair pins around your head for a sophisticated finish that will also help hold everything in place.
22. Retro Flipped Ends
If you're looking to add some spice to your straight hair on your wedding day, you can't go wrong with a retro, '60s-inspired hairstyle featuring flipped ends. Stylish, sleek, and low maintenance, this look is easy to create on your own, but stylish enough to look like you spent hours in the salon.
After washing your hair, apply a quarter-sized amount of hair cream and blow dry with a round brush. Once you reach the ends of your hair, brush your hair in a flipped motion and hold for five seconds to secure the shape.
23. Curly Faux Hawk
A curly faux hawk may be the perfect finishing touch for your edgy wedding day look. Low maintenance when it comes to styling, this 'do is great for brides that would like to define their natural texture.
If you're ready to bring this look to life, start with a strong hold gel and smooth the sides of your hair toward the top of your head and pin it in place. Use a hair putty to define your curls and build volume.
24. Spiky Pixie
If you want a bold wedding day hairstyle, the spiky pixie is a great choice. Just use a hair gel and spike up your hair as you please. No heavy styling necessary, just rub the gel in your hands, work through your hair and shape.
25. Chignon
If you're interested in trying out a bun variation, the chignon is an elegant choice. Chic and sophisticated in every way, you can master the style in five easy steps.

26. Classic Lob
If you like a timeless look, you won't have to worry about looking back on photos and regretting your decision if you opt for a classic lob. This gorgeous style features hair that falls between the chin and shoulders, and can be worn with a variety of different hair textures.
27. Wavy Lob
Wavy lobs have been one of the trendiest hairstyles for a while now, but don't assume they're reserved only for daily life — they're equally suited to your bridal beauty look. This relaxed hairstyle is easy to maintain and surprisingly easy to style — especially if you're already rocking natural waves.
To get the look, apply a dollop of hair cream to damp hair from root to tip. Scrunch your hair, air dry, and you're good to go.
28. Low Ponytail With a Jeweled Clip
Adding a little glitz and glamor to your short hairstyle can be as simple as clipping in a bedazzled barrette. Hair clips have come a long way from their days on the schoolyard — now complete with elegant rhinestones and gems that can make for a gorgeous focal point for your style. Add a little something special to a low ponytail by accentuating it with a fun clip.
29. Finger Waves
Finger waves are great for adding texture to your hair and keeping it out of your face to highlight your features. Plus, it works on almost any hair length, including if you have a pixie style.
Finger waves can take a bit of effort, but it's absolutely worth it for those perfect old school beauty vibes.
30. Shag With Textured Waves
If you're looking to stay away from bob and lob hairstyles, a shag with textured waves is the way to go. This layer-packed cut adds volume to your hair and has tons of body and movement.
To style your strands when the big day comes, add a generous amount of hair mousse to your hair to emphasize wavy texture, then apply hairspray, like the L'Oréal Paris Elnett Satin Extra Strong Hold, Light Hairspray Unscented, once almost dry to lock in those waves and create a slightly sleeker look.
31. Lob With a Flower Crown
Top your lob hairstyle with a gorgeous flower crown that makes for a perfect, romantic touch. Whether you opt for white buds to match your dress or colors that complement your bridal party, you're sure to bloom with beauty as you walk down the aisle.

32. Blunt Cut Bob
If you're a fan of a traditional bob style sans the bangs, consider taking your look to the next level with a blunt cut bob. This sharp look provides movement and skims your jaw for a sophisticated and edgy hairstyle.
Start with a hair cream on damp hair and blow dry with a rounded brush to add volume. Mist your hair with a stronghold hairspray to soften and smooth your bob.
33. Textured Bob
Although a textured bob style is low maintenance, it's stylish enough to wow your guests on your wedding day — and it's the perfect style if you typically wear your hair down with tons of texture.
Get the look by using a texturizing spray on damp hair. Apply a generous amount evenly from root to tip, scrunch, and air dry. Follow up with hairspray to add shine.
Next: 8 Elegant and Modern Wedding Nail Art Designs to Copy
Edited by:Alyssa Kaplan, Photo Credit: Melissa San Vicente-Landestoy
Discover more tips & tricks
Keep your skin happy
See all articles
Shop Featured Hair Style products
Discover More