thin hair
5 Haircuts To Make Hair Look Thicker
Get the appearance of thick hair without all the work.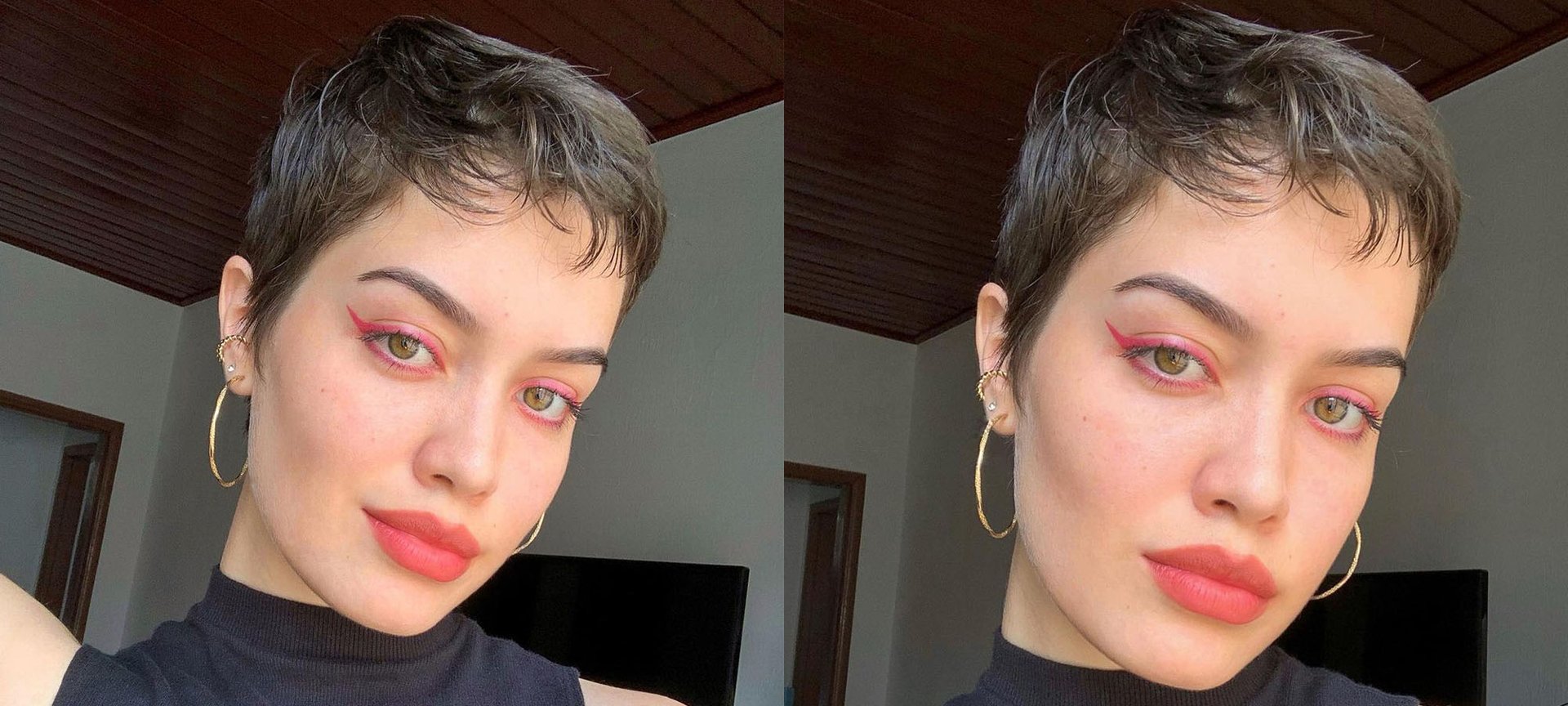 If you have thin hair, you know that most hairstyles don't turn out the way you hope they will — even after multiple tries. And it's not your fault — some styles just don't hold when done on limp strands. Thankfully, all hope isn't lost. Even if you've tried everything from a new shampoo to hair serums and hair masks, there's one thing that can fix your flat hair woes instantly: a new haircut. Certain cuts can actually make your thin hair appear fuller.
We've eliminated the guesswork and put together a list of the five best haircuts that add volume to thin hair. So, book an appointment at the salon and wave goodbye to lifeless locks. These cuts offer the appearance of volume and are universally flattering. We've also added in hair care products that will make your thin strands look better than ever.
Haircut 1: Choppy Pixie
If you want a fuss-free 'do, a pixie with layers is the way to go. Timeless and easy to style, this haircut makes it impossible to know your hair is thin. Try using L'Oréal Paris Advanced Hairstyle BOOST IT Volume Inject Mousse for the perfectly imperfect tousled look.
Haircut 2: Shag Haircut
If you want to get in on the ultra-long hair trend, you may want to think again. When thin hair grows super long, it has a tendency to look extra fine and stringy towards the ends. Try a mid-chest length or above cut because hair tends to appear thinner as it grows past that point. A shag is perfect because it offers the length you want with layers that keep the hair looking full. Think light, slightly feathered layers that don't weigh your strands down. You can also ask your hairstylist to add a bit of texture on the ends.
Haircut 3: Wavy Bob
Waves can go a long way in adding beautiful volume to your strands. Whether your hair is longer (but not too long, of course) or on the shorter side (the shorter the hair, the thicker it will look), a wavy bob can look full and voluminous with barely any styling at all. It's the ultimate go-to for easy styling that always looks effortlessly polished.

Haircut 4: Asymmetrical Bob
A slightly angled bob adds body and shape to thin hair. Add side swept bangs or feathery layers for added texture and body. Adding different lengths makes the style piecier without compromising the texture.
Even on straightened hair, an asymmetrical bob creates the illusion of volume. And if you do curl it, add a wave in the middle of the strand, leaving the ends straight. This will not only make your hair appear thicker but also gives you an effortless style that looks like you just rolled out of bed. As always, apply a heat protectant, like the L'Oréal Paris Advanced Hairstyle SLEEK IT Iron Straight HeatSpray, before using any heat styling tools.
Haircut 5: Side Bangs
We know, a bang isn't a haircut per se, but a set of bangs can take any hairstyle for thin hair to the next level. Whether you have a blunt bob, wavy lob, or layers, bangs are transformative. They create a distraction and help avert the eye from the thinness of your strands. Additionally, bangs give an instant fullness to the front, where the eye automatically goes at first glance. Side bangs, namely, can frame the face, especially if you style them with texturizing products. If you have layers, go for a pair of soft, eye-grazing bangs. If your cut is blunt, keep it consistent and opt for blunt bangs.
Editor's tip: The perfect product for making your bangs look fresh and alive? Dry shampoo. Try the L'Oréal Paris Elvive Dream Lengths Air Volume Dry Shampoo to add life and body to your bangs.
Next: These Shampoos Will Give Thin Hair Instant Volume
Written by: Shalwah Evans, Photo Credit: Carol Cardoso Gusmão,IG/@acaroucardoso
Discover more tips & tricks
Keep your skin happy
See all articles
Shop Featured Hair Style products
Discover More