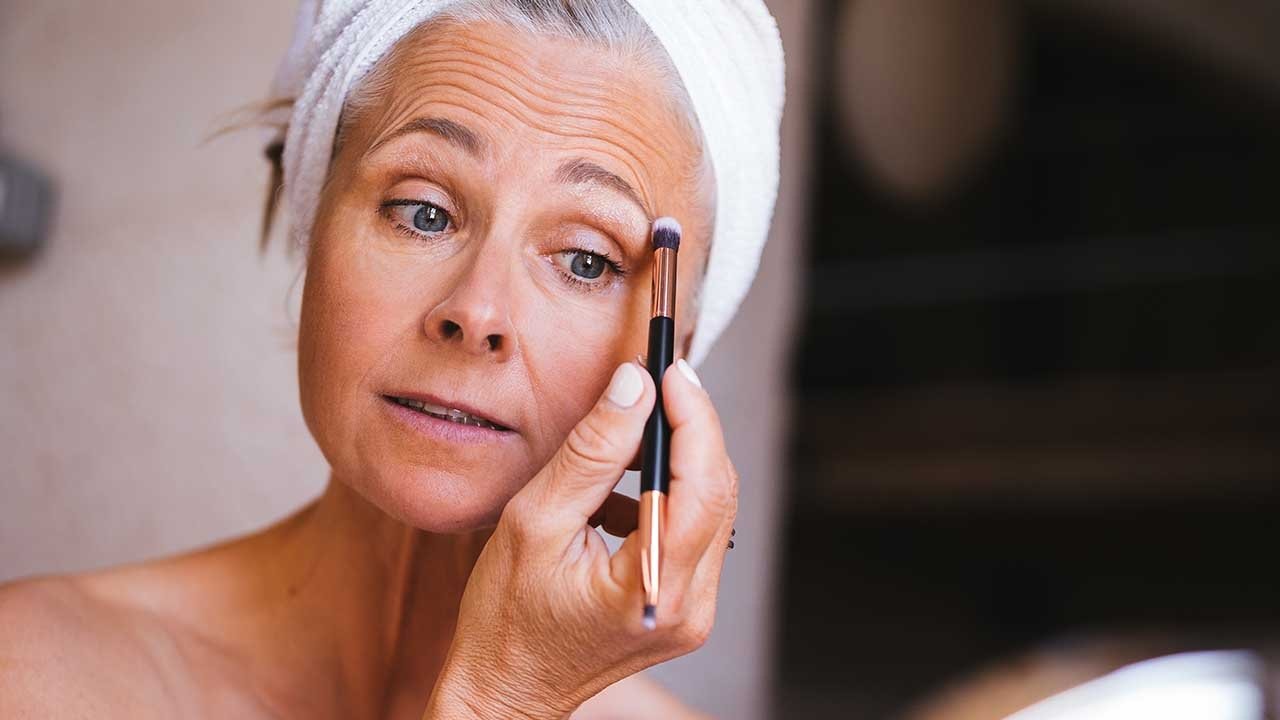 makeup looks
10 Makeup Tips for Women Over 50
Making your skin look amazing at any age doesn't start and stop with skin care—although it's certainly important—what comes after your skin care routine matters, too. If you think that flawless-looking makeup for older women is not a thing, it's time to think again! Sure, you may have to revamp your application techniques to complement your aging skin, but it's definitely doable. Applying makeup for women over 50 is all about finding the products and tips that will keep your mature skin looking its best. Here, we're sharing eight anti-aging makeup tips for older women. Ready, set, makeup!
MAKEUP TIP #1: RESTORE THE LOOK OF RADIANCE WITH A PRIMER
As you age, you may notice that your skin has started to lose some of the radiance and luminosity that once marked your youth. To help bring back your complexion's vibrancy, begin with your base. Smoothing on a makeup primer can not only help create a smooth canvas for the rest of your makeup application, but using one with a radiant finish can also give you a brighter look.
MAKEUP TIP #2: HIDE VISIBLE SIGNS OF AGING
Don't assume your days of a flawless-looking complexion are behind you. With the right base (aka foundation), you can get a perfect finish any day. Of course, with everything from fine lines and wrinkles to age spots becoming concerns as your skin matures, not just any formula will do. Try the L'Oréal Paris Age Perfect Makeup Radiant Serum Foundation with SPF 50, which has a lightweight, creamy formula that provides intense hydration and excellent coverage. The foundation also offers sun protection thanks to a formula containing SPF 50 and doesn't settle into lines—which are both makeup over 50 musts.
To apply, grab the L'Oréal Paris Infallible Blend Artist Foundation Blender, and use it to bounce and blend a thin layer of foundation onto your skin. Be sure to blend the color seamlessly under your chin and onto your neck to avoid a harsh, unnatural-looking line.
MAKEUP TIP #3: CONCEAL AND CORRECT DARK CIRCLES
Your eyes are the first thing people notice, and unfortunately, the skin around them is often the first spot to show signs of aging. By choosing the correct concealer, and using the right amount, you can hide various imperfections ranging from dark circles to under-eye bags. Just keep your application light for seamless coverage. After all, less is more.
We love the L'Oréal Paris Age Perfect Makeup Radiant Concealer with Hydrating Serum, which is formulated with glycerin and a hydrating serum and can be used to conceal, hydrate, and brighten your skin. Available in 16 shades, you'll be sure to find your match and conceal your under-eye area with ease. Gently apply the product under your eyes and use a makeup blender to blend carefully until even.
MAKEUP TIP #4: TRY ON THE FULL BROW TREND
In case you missed the memo, full brows are definitely on-trend. Not only are full brows totally en vogue, but they can also help give an overall more youthful look. To define and shape your brows, we like the L'Oréal Paris Age Perfect Makeup Brow Magnifying Pencil with Vitamin E. Formulated with vitamin E and mineral pigments, this eyebrow pencil will softly define your arches for a subtle finish. Complete with a spoolie on one end and an ultra-fine tipped pencil on the other, you can easily draw on tiny brow hairs and blend them out for a natural look.
MAKEUP TIP #5: BRING COLOR BACK TO YOUR CHEEKS
There's a reason round, rosy cheeks are associated with youth. Adding a touch of color to the apples (hey, it's even a cute, youthful-sounding name) of your cheeks can help instantly perk up the look of your entire face. Reach for the L'Oréal Paris Age Perfect Makeup Radiant Satin Blush with Camellia Oil to give your cheeks a healthy touch of color sans a cakey or dry finish. Using a blush brush, swipe the blush onto the centers of your cheeks (smile to get a better idea of the placement), blending outward until even.
MAKEUP TIP #6: HIGHLIGHT KEY SPOTS
As you know by now, losing your glow can be a serious hit to how youthful your skin looks. Adding shine to a few specific spots on your face can help brighten your appearance and bring back some of your youthful radiance. Instead of reaching for an illuminating highlighter, use a concealer instead. See, anything with a shimmer effect can draw attention to lines and wrinkles, and that's not what you want!
To highlight your mature skin, use a concealer that's two shades lighter than your complexion. Apply it to the highpoints of your face—your cheekbones, brow bones, and the bridge of your nose. Be sure to blend out for natural-looking illumination.
MAKEUP TIP #7: LINE YOUR LIPS
Now, it's time to show your pout some love. Before you reach for your lipstick, it's essential to prep your lips to keep your color in place. This calls for a lip liner like the L'Oréal Paris Age Perfect Makeup Anti-Feathering Lip Liner – Smooth Application. Made with a transfer-free and anti-feathering formula, the liner will shape and define your lips while helping to ensure your lip look will last.
MAKEUP TIP #8: COLOR YOUR POUT
When it comes to giving your pout a burst of color, your best bet is to reach for a lipstick that packs on pigment and provides lasting hydration. When it comes to lip makeup for older women, the L'Oréal Paris Age Perfect Makeup Luminous Hydrating Lipstick + Nourishing Serum is our pick. Formulated with pro-vitamin B5 and a nourishing serum, the lipstick will provide your pout with long-lasting moisture. Just swipe the color of your choice across your lips, and you're all set!
MAKEUP TIP #9: PUMP UP THE VOLUME ON YOUR LASHES
Bear with us; you're almost at the finish line! No makeup look is complete without a touch of mascara. Give your eyes a stunning pop with the help of the L'Oréal Paris Age Perfect Makeup Lash Magnifying Mascara with Conditioning Serum. Designed with mature lashes in mind, this mascara is formulated with conditioning serum and jojoba oil and will help soften, lengthen, and volumize your eyelashes with just a few coats.
MAKEUP TIP #10: SEAL THE DEAL
Powders may seem like an obvious choice for finishing off a makeup look, but when it comes to makeup for women over 50, that might not be the best idea. Going too heavy with powder can end up highlighting all the things you want to hide, as powders can settle into lines and creases. Eek! Instead of using powder to lock in your makeup, pick up a setting spray. Spritz your face in first an "X" motion and then a "T" shape. Now, you're all set—literally.
Editor's note: Find yourself still drawn toward powder products? Well, you don't have to rule them all out. If you want to use a powder, there are a few things to consider. First, we'd recommend still skipping setting powder. Instead, you can use a powder foundation and continue to use a setting spray as your final step—this can keep your look light.
Second, you'll want to make sure you're using a powder that's specifically formulated not to draw attention to lines and wrinkles, like the L'Oréal Paris Age Perfect Makeup Creamy Powder Foundation with Minerals. Use a powder brush to apply the foundation after priming, then complete the rest of your routine as normal.
Since you have the best makeup for aging skin down pat, what's next? Making sure your skin care routine is up to par, of course. Next, check out our article, The Best Skin Care Routine for Aging Skin, for age-appropriate skin care tips.
Discover more tips & tricks
Keep your skin happy
See all articles
Shop Featured Makeup products
Discover More