face makeup
The Best Foundations For Mature Skin
These formulas are hydrating and wrinkle hiding.
June 22, 2022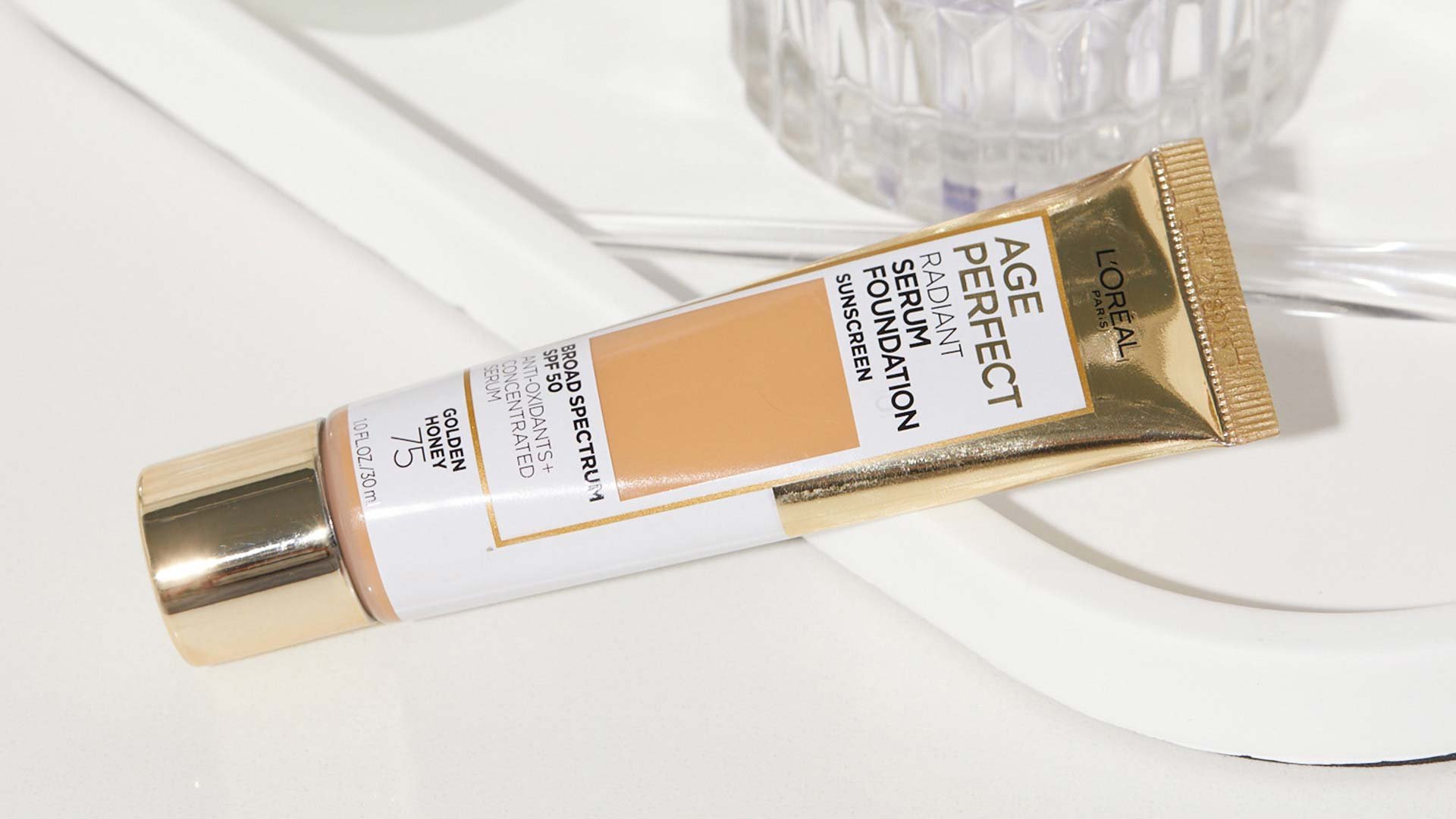 It's no secret that the skin changes as we age — so our makeup routines should change along with it in order to incorporate products that can address our new needs. Just like everyone else, those with mature skin want to achieve a healthy, radiant look, and makeup can play a huge part in that.
Choosing the wrong foundation for mature skin can draw attention to fine lines and wrinkles or even emphasize a dull complexion. For flawless-looking skin at any age, finding the right base is essential — as you age that means finding a formula that isn't drying and won't settle into lines. Finding that may be easier said than done, but lucky for you, we're sharing three of the best foundations for aging or mature skin.
What Type of Foundation Is Best for Mature Skin?
When looking for a foundation for mature skin, one of the most important factors to consider is hydration — skip formulas that are drying and reach for something moisturizing. Another thing that's extremely important is to incorporate SPF into your routine. All skin types need sunscreen, but it's crucial for those with mature skin to continue to avoid sun damage or dark spots.
Looking for a moisturizer with SPF? Try the L'Oréal Paris Age Perfect Collagen Expert Day Moisturizer with SPF 30,
While applying SPF should be a regular step in your daily routine, it doesn't hurt if your foundation can offer extra sun protection, too. Sun damage can be a major contributor to visible signs of aging, so consider this essential.
The Best Foundations For Mature Skin
If you're ready to find the best foundation for mature skin, read on for our best foundation picks below.
Finding a foundation that's packed with skin care benefits is always great, and this tinted balm foundation has lots to offer. Formulated with a firming serum, it works to firm the skin over time while smoothing lines and concealing imperfections. With a single swipe, light to medium coverage melts into the skin for a noticeably even complexion and a radiant finish. use your fingers to melt the product into the skin until you reach your desired level of coverage.
As we mentioned above, mature skin requires SPF to keep it looking its best and this foundation offers that and so much more. Formulated with SPF 50 and vitamin B3 for hydration, this lightweight foundation provides radiant, serum-like coverage that doesn't settle into lines.
Designed with mature skin in mind, the formula helps to even your skin tone while offering all-day hydration. Gently apply the product on your face and use a makeup sponge to bounce and blend until the coverage is even.
If powder foundations are more your style, this cream-to-powder foundation is sure to suit your needs. Infused with minerals and a ceramide antioxidant complex, this hydrating formula is able to offer buildable coverage that never looks cakey. It also works to blur pores and lines thanks to a satin, shine-free finish. grab a makeup brush or sponge and blend in an outward motion until you reach your desired level of coverage.
How to Maximize the Wear Of Your Foundation
No matter your skin type , figuring out how to make your foundation last throughout the day is a universal concern. We recommend prepping your skin for foundation with a primer that creates an even, hydrated canvas. The L'Oreal Paris Age Perfect Blurring Face Primer is a great option as it visibly blurs pores and gives skin a universal rosy hue that leaves it looking even and radiant.
As always, no matter the formula of your foundation, the last step to ensuring it looks good and stays put is setting it. Finish your look with a setting spray like the L'Oreal Paris Infallible Pro-Spray and Set Make-Up Oil-Free Setting Spray for a long-lasting, flawless finish.
Next: How to Apply Makeup On Mature Skin
Edited by: Témi Adebowale and Reece Andavolgyi, Photographer: Eric Yuhsing Lin, Art Director: Hannah Packer, Associate Creative Producer: Becca Solovay, Prop Stylist: Katrina Rozeville, Prop Assistant: Emily Ramirez
Discover more tips & tricks
Keep your skin happy
See all articles
Shop Featured Makeup products
Discover More