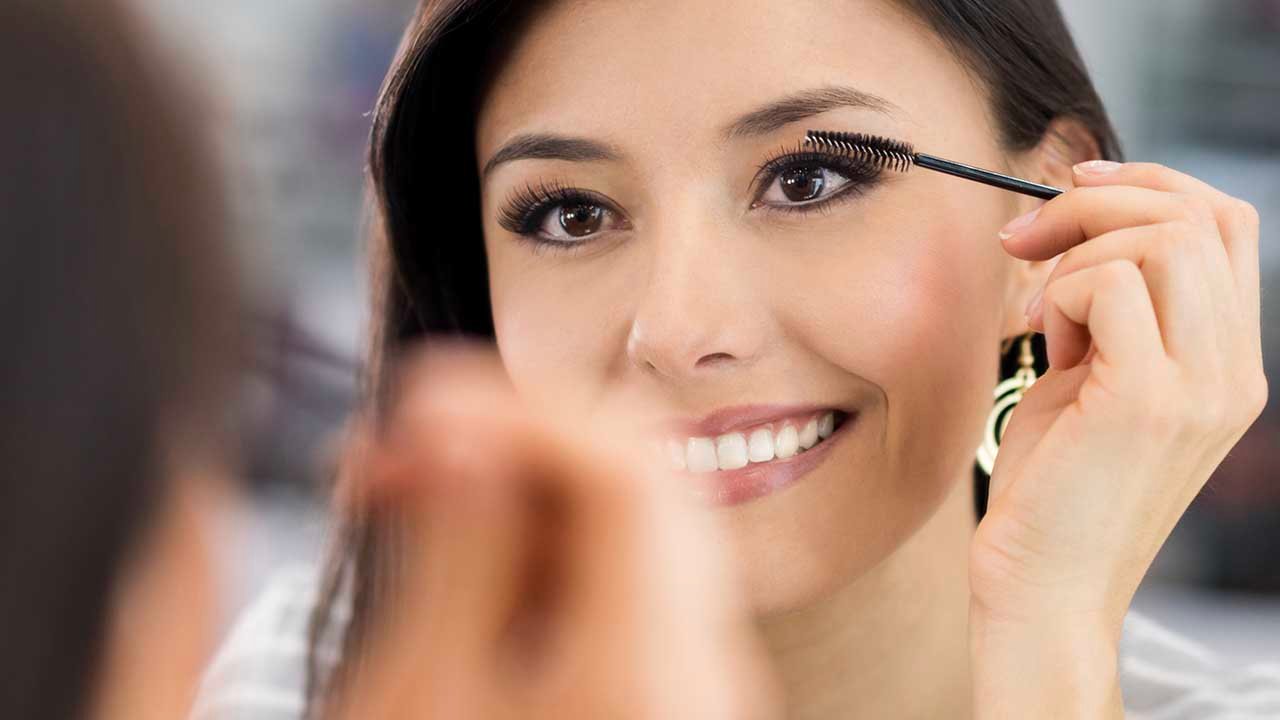 eye makeup
How to Avoid Mascara Clumping
Mascara: It's a beautiful thing to perfect, and yet it's a tricky thing to master. Sound about right to you? Since we know we're not the only ones who have expertly blended a statement eye shadow look only for it to be smudged with clumped mascara. We figured it was about time to write home about how to avoid mascara clumping. Here, learn about our best non-clumping mascaras as well as tips you can try to avoid mascara clumping in your eye makeup routine.
WHAT CAUSES MASCARA CLUMPING?
So, you've swiped on a few coats of mascara, and all of a sudden, you have a gigantic clump on your lower lashes, and another on your upper lashes that's threatening to ruin your eye makeup. What gives? Believe it or not, it's not a one and done simple answer—there are actually quite a few things that can contribute to clumping mascara. Here, we walk you through the most common reasons why, so you'll never have to worry about clumps, smudges, or smears again!
CLUMP CAUSE #1: YOU HAVE TOO MUCH MASCARA ON YOUR WAND
Most mascaras come with a little grip insert that's supposed to ensure your wand only comes out with the perfect amount of product. Unfortunately, it can sometimes still be easy to get too much on your wand. If you ever find that your brush looks a tad too coated, simply swipe it against the edge of the container to rid yourself of the excess product.
CLUMP CAUSE #2: YOU'VE APPLIED TOO MANY COATS
Sure, it seems impossible, but when you apply coat after coat of volumizing mascara—especially if it's a fiber mascara—one outcome is bound to happen: clumps. Since you definitely don't want a clumping catastrophe on your hands, it's important to really look at your lashes after every coat to make sure you're not overdoing it.
CLUMP CAUSE #3: YOU DIDN'T USE A PRIMER
The same way your face makeup never looks as flawless without first using a face primer, it goes without saying that if you want your lashes to look their best, you should start with a lash primer, like the L'Oréal Paris Voluminous Lash Paradise Mascara Primer/Base. Designed to condition your lashes with rose oil, this primer can help enhance any mascara you layer on after for a full flutter (sans clumps!) every time.
CLUMP CAUSE #4: YOU'RE APPLYING IT ALL WRONG
While applying mascara to your top lashes is pretty obvious—start from the base and brush out to the tips—applying it on your lower lashes can be a bit less straightforward. That's because when you're working with ultra-short lashes, it can be tough to brush them out. Instead, you should try using a little side-to-side zig-zag motion to adequately coat your lashes and get as close to your lash line as possible. Trust us—it works.
CLUMP CAUSE #5: YOU DIDN'T WASH ALL YOUR MASCARA OFF FROM THE DAY BEFORE
You might think you've done a wonderful job at removing your makeup, but one look at your lashes will tell the truth. Since mascara is one of the most stubborn makeup products to remove, there's a good chance you'll find residue on your lashes that could be leading to clumping. The best way to achieve a clump-free finish is to start with a super-clean base. So before applying any eye makeup, soak a cotton pad with some of the L'Oréal Paris Micellar Cleansing Water Complete Cleanser Waterproof - All Skin Types, and gently swipe it over your eyes to remove every last trace of mascara residue. Now you're ready to apply your mascara for a clump-free beauty look!
CLUMP CAUSE #6: THE FORMULA YOU'RE USING DOESN'T AGREE WITH YOUR LASHES
We all love the look of long, thick, curled lashes, but we can't all use the same formula to get the job done. Just like you have to find the best facial cleanser and moisturizer for your skin concerns, the same is true of finding your ideal mascara. If you already have long lashes, your goal should more so be volumizing and curling, whereas if you have short lashes, you want to find a lengthening formula. By finding your perfect mascara, you'll be able to enhance your lashes without having to concern yourself with clumps. It just takes a little trial and error!
CLUMP CAUSE #7: YOUR MASCARA IS EXPIRED
Yep, that's right, your mascara can expire. While this may be news to you, you've certainly had a time in your life where you've noticed that your favorite mascara no longer delivers, having dried out and lost its luster. Typically mascara expires within three to six months, so stay within that time frame, and your lashes should be in the clear.
OUR BEST NON-CLUMPING MASCARA FORMULAS
Ready to choose your next mascara? Choose one of our best clump-free mascaras, below.
If you like to keep it classic with modern colors…try the L'Oréal Paris Voluminous Original Washable Bold Eye Mascara. This volumizing mascara is one of our most classic beauty products, standing the test of time and continuing to leave you with clump-free lashes. The best part? You have the option of keeping it truly classic with black, brown, or soft black, but you can also have fun with cobalt blue, deep burgundy, and deep green mascara shades.
If you want to really add the look of volume…try the L'Oréal Paris Voluminous X Fiber Waterproof Mascara. Designed to give your lashes the look of amplified length, volume, and curl without the use of falsies or extensions, this fiber mascara uses a two-step process of lash primer and fiber-infused mascara to perfect your look.
If you want added length…try the L'Oréal Paris Unlimited Lash Lifting and Lengthening Washable Mascara. This lengthening mascara will give your fringe an instant lash-lift effect.
If you want volume that lasts…try the L'Oréal Paris Bambi Eye Washable Mascara, Lasting Volume. This holy grail mascara pumps up volume and curl for a gorgeous makeup look that can't be beat.
Now that you know what causes clumping and which mascaras are least likely to do so, it's time for you to give your lashes some love. Why not Start Caring for Your Lashes with a Lash Serum?
Discover more tips & tricks
Keep your skin happy
See all articles