eye makeup
How To Avoid Mascara Clumping
Your guide to preventing this eyelash catastrophe.
January 10, 2020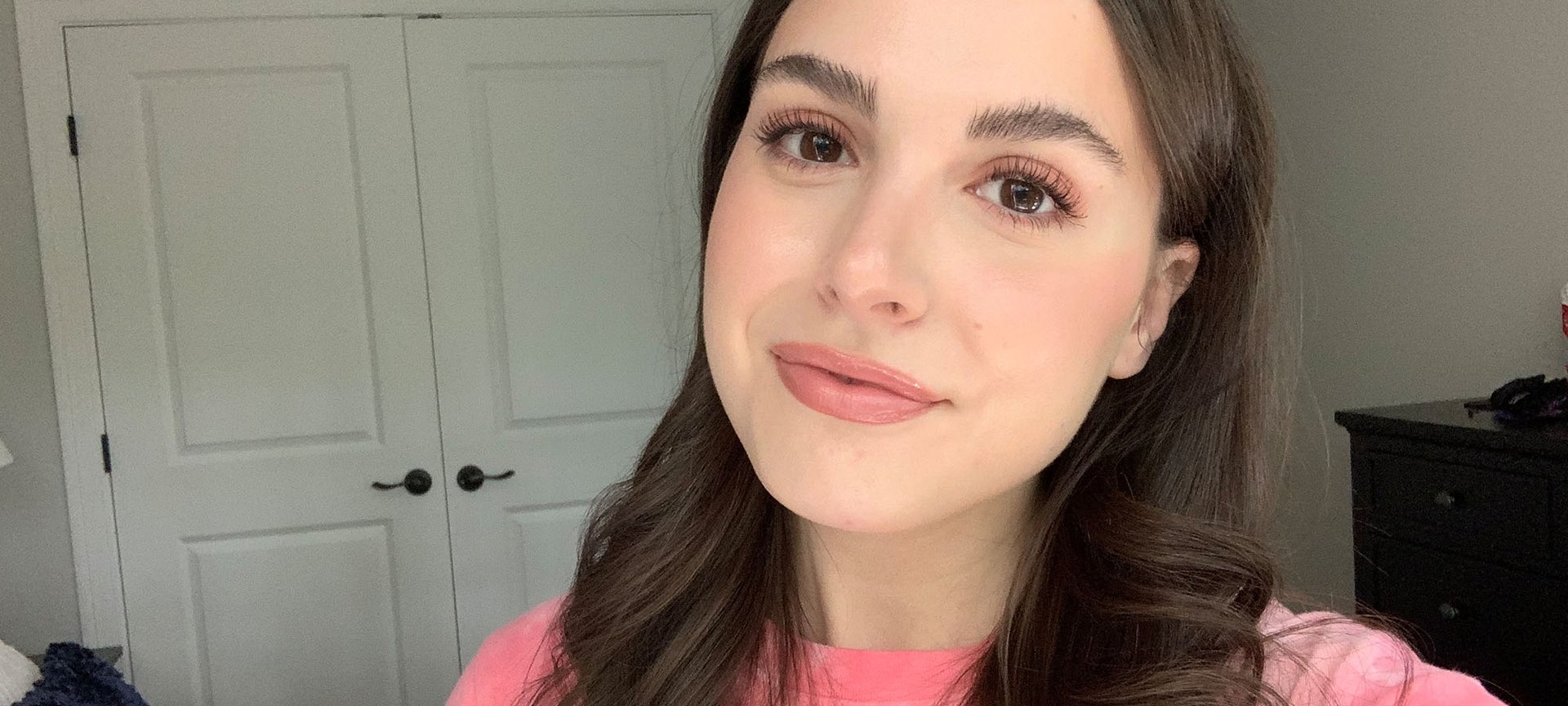 Clumpy mascara is the enemy of a gorgeous makeup look and yet it happens to all of us at some point. It's incredibly frustrating to have expertly blended a statement eyeshadow look only for it to be smudged with clumpy mascara. Starting over is a non-starter most days. So here, learn about what causes mascara to clump as well as how to avoid it so your lashes complement your look rather than distract from it.

What Causes Mascara Clumping?
Believe it or not, the culprit behind clumpy mascara is not one simple thing — there are actually quite a few factors that can contribute to this makeup mishap. Read on to find out the seven most common reasons why mascara clumps and how to avoid it.

1. There Is Too Much Mascara On The Wand
Most mascaras come with a little grip insert that's supposed to ensure your wand only comes out with the perfect amount of product. Unfortunately, there are instances where too much product builds on the wand regardless of the insert. If you ever find that your brush looks a tad too coated, simply swipe it against the edge of the container to rid yourself of the excess product.

2. You've Applied Too Many Coats
When you apply coat after coat of volumizing mascara — especially if it's a fiber mascara — clumps can form. Since you definitely don't want a clumping catastrophe on your hands, it's important to build slowly and only add more when needed to make sure you're not overdoing it.

3. You Didn't Use A Primer
The same way your face makeup might not look as flawless without first using a primer, if you want your lashes to look their best, you should start with a lash primer, like the L'Oréal Paris Voluminous Lash Paradise Mascara Primer/Base. Designed to condition your lashes with rose oil, this primer can help enhance any mascara you layer on after for a full flutter (sans clumps).

4. You're Application Method Is Wrong
While applying mascara to your top lashes is pretty obvious — start from the base and brush out to the tips — applying it on your lower lashes can be a bit less straightforward. That's because when you're working with ultra-short lashes, it can be tough to brush them out. Instead, you should try using a delicate side-to-side zig-zag motion to adequately coat your lashes and get as close to your lash line as possible.

5. You Didn't Wash Off All Of Your Mascara From The Day Before
You might think you've done a wonderful job at removing your makeup, but one look at your lashes will tell the truth. Since mascara is one of the most stubborn makeup products to remove, you might find residue on your lashes that could be leading to clumping. The best way to achieve a clump-free finish is to start with a super-clean base. So before applying any eye makeup, soak a cotton pad with some of the L'Oréal Paris Micellar Cleansing Water Complete Cleanser Waterproof - All Skin Types, and gently swipe it over your eyes to remove every last trace of mascara residue. This way when you apply a fresh coat, there will be no residue to contribute to clumping.

6. You're Using The Wrong Mascara Formula
We all love the look of long, thick, curled lashes, but we can't all use the same formula to get that result. Just like you have to find the best facial cleanser and moisturizer for your skin concerns, the same is true of finding your ideal mascara. If you already have long lashes, opt for something volumizing like the L'Oréal Paris Air Volume Mega Mascara, Lightweight Mega Volume Washable. If you have short lashes, you'll want to find a lengthening formula like the L'Oréal Paris Telescopic Original Mascara. By finding your perfect mascara, you'll be able to enhance your lashes without having to concern yourself with clumps. It takes some trial and error to find the best fit, so experiment with different formulas.

7. Your Mascara Is Expired
Like other beauty products, mascara can expire. In fact, it's one of the makeup products that goes bad the fastest. If you've noticed that your favorite mascara no longer delivers, and it seems to have dried out and lost its luster, chances are that it's expired. Typically mascara expires within three to six months, so stay within that time frame of use to help keep your lashes clump free.
Next: Why The L'Oréal Paris Voluminous Original Mascara Is A Cult Classic

Edited by: Alyssa Kaplan, Photo Credit: Alyssa Kaplan
Discover more tips & tricks
Keep your skin happy
See all articles
Shop Featured Makeup products
Discover More