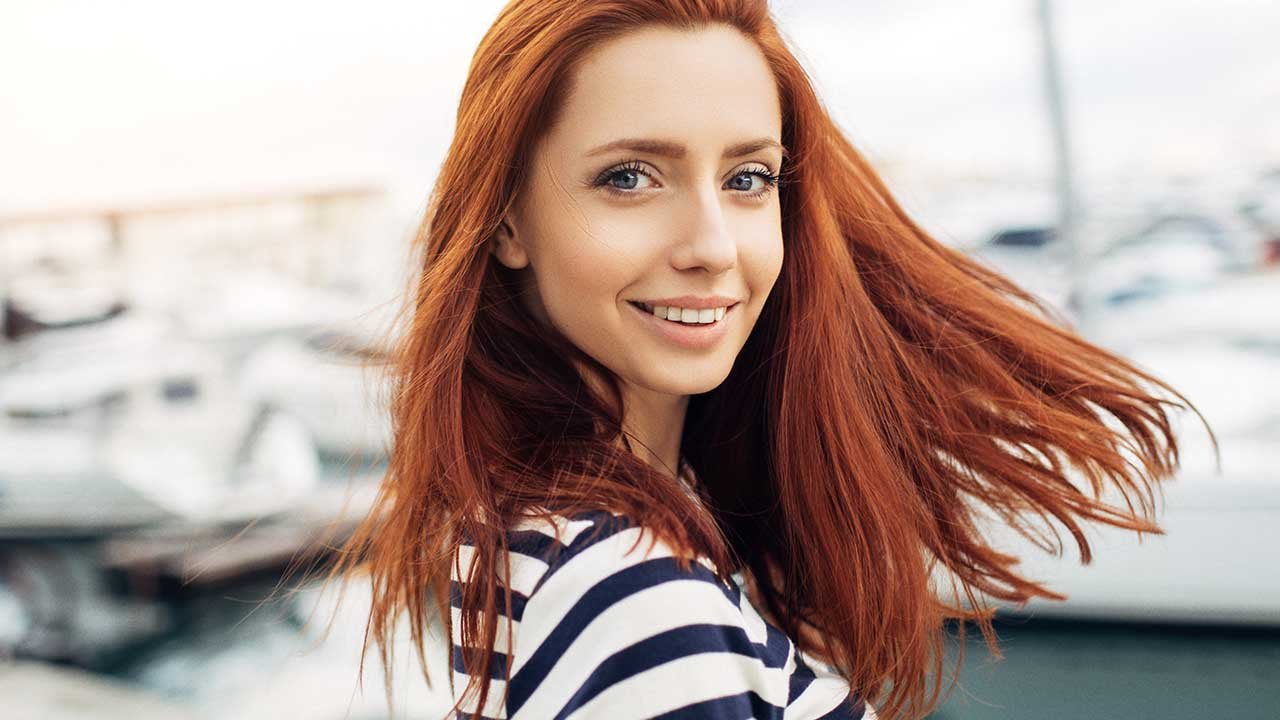 hair color tutorials
10 Hair Color Tips for Red Hair
Have you recently come to the conclusion that your hair color is in need of a major update—and red hair is the only shade for you? In that case, whether you're switching from one unnatural hair color to another, or deciding to dye your virgin strands, you'll need a little help. A big change, such as becoming a redhead, requires a little know-how about hair care products and coloring. And yes, that holds true even if you're an old pro at hair dyeing, because red locks often have different needs than blonde hair or brown hair. So, before you book that salon appointment or buy a boxed dye, let us help you in the form of sharing our top 10 hair color tips for red hair.
Red Hair Color Tip #1: DIY Your Hair Color
Good news, dyeing your hair red doesn't necessitate breaking the bank. You can actually DIY your color with an at-home hair color kit. Choose one of the L'Oréal Paris Féria, L'Oréal Paris Superior Preference, or L'Oréal Paris Excellence Creme dyes in a shade that suits you—more on that next—and be sure to closely follow the directions.
Red Hair Color Tip #2: Choose the Right Shade of Red
You may have taken inspiration from a celebrity's red hair but there's a chance their chosen color won't look quite as good on you. And it isn't because you aren't a rich and famous celeb. The real reason is, you might have a different skin tone. Different shades of red will suit different people, depending on their skin tones. To find a shade that's suitable for your tone, follow this simple guide:
If you have fair skin…try auburn hair. Such a vibrant shade will create a beautiful contrast against your pale complexion.
Get the look at home: L'Oréal Paris Féria in Rich Auburn True Red
If you have medium skin…try copper-colored hair. A rich, on-trend metallic pairs perfectly with a medium skin tone.
Get the look at home: L'Oréal Paris in Superior Preference Intense Red Copper
If you have dark skin…try deep burgundy hair. Bright reds typically look too harsh set against dark skin tones, a dark, blue-based shade is more flattering.
Get the look at home: L'Oréal Paris Féria in Deep Burgundy
If you have any skin tone …try rose gold hair. Not satisfied with the option that best suits your skin tone? There are a select few shades that actually work on any skin tone, and rose gold hair is one.
Get the look at home: L'Oréal Paris Colorista 1-Day Spray in Rosegold
Red Hair Color Tip #3: Use a Hair Care System that Prevents Fading
Red hair colors often fade fast, making it essential to only use shampoo and conditioner that are meant for color-treated hair. Swap out your regular old shampoo and conditioner for a sulfate-free, color-safe hair care system, like the L'Oréal Paris EverPure Repair & Defense Shampoo and L'Oréal Paris EverPure Repair & Defense Conditioner. Massage the shampoo into wet hair, lather, then rinse out using lukewarm water. Follow up by applying the conditioner and leaving it on for 1-3 minutes, then it's time to rinse again.
Red Hair Color Tip #4: Make Masking a Habit
Shampoo and conditioner aren't the only hair care products you should be using regularly. If you haven't already started to treat your mane to a hair mask on a weekly (or bi-weekly) basis, it's time. Once or twice a week, shampoo your hair as per usual. After rinsing out, reach for the L'Oréal Paris EverPure Repair Remedy Balm, instead of conditioner. Slather on the mask, wait 3-5 minutes, then wash out.
Red Hair Color Tip #5: Try Color-Depositing Conditioner
If your red hair is fading at a crazy pace, you want to refresh your color with a color-depositing conditioner. These special conditioners will boost your shade and extend the life of your hair color, meaning you won't have to break out the hair dye again just yet.
Red Hair Color Tip #6: Freshen Up with Dry Shampoo
Need to freshen up your hair in general—not just your color? That's what dry shampoo is for! The L'Oréal Paris Elvive Extraordinary Clay Dry Shampoo is formulated with three refined clays to instantly refresh hair between shampoos. Spray the dry shampoo directly onto your roots, then brush through your hair. You'll be left behind with fresh, lightweight hair, with no visible residue. It's just that easy!
Red Hair Color Tip #7: Protect Strands from the Sun
It isn't only your skin that requires sun protection. UV rays won't do color-treated tresses any favors either. In addition to wearing a broad-brimmed hat, which can help protect your hair and your skin, trade your current hair spray for one with UV protection. Try the L'Oréal Paris Elnett Satin Hairspray Extra Strong Hold with UV Filter for Color-Treated Hair.
Red Hair Color Tip #8: Change Your Eyebrow Makeup
Chances are, after going red, your old eyebrow makeup won't coordinate with your new hair color. Thankfully, replacing an eyebrow pencil or eyebrow gel isn't too challenging. Simply look for products with warm undertones that will complement your red hair. You can also consider getting your eyebrows tinted to match your red hair. Then, all you'll need to is a little L'Oréal Paris Brow Stylist Boost & Set Brow Mascara in Clear to keep stray hairs in place.
Red Hair Color Tip #9: Conceal New Growth with Root Cover-Up
Visible roots aren't exactly our favorite look, but they also aren't cause to hide yourself away until you can book a touch-up or get your hands on another box of hair dye. Instead of becoming a temporary shut-in, you can conceal any new growth with root cover-up. Spritz roots with the L'Oréal Paris Magic Root Cover Up in Red, and they'll be hidden until your next shampoo.
Red Hair Color Tip #10: Get Ready for Touch-Ups
Root cover up can tide you over for a few days, but eventually your red hair will require a real touch-up. Since you know that day is sure to come, be prepared and keep a backup box of your favorite red hair dye on hand.
Need a little help deciding how to style your red hair? Check out these 4 Easy Hairstyles That Don't Require Bobby Pins.
Discover more tips & tricks
Keep your skin happy
See all articles