hair color ideas
Hair Gloss May Be The Secret To Beautiful Strands—Here's What You Should Know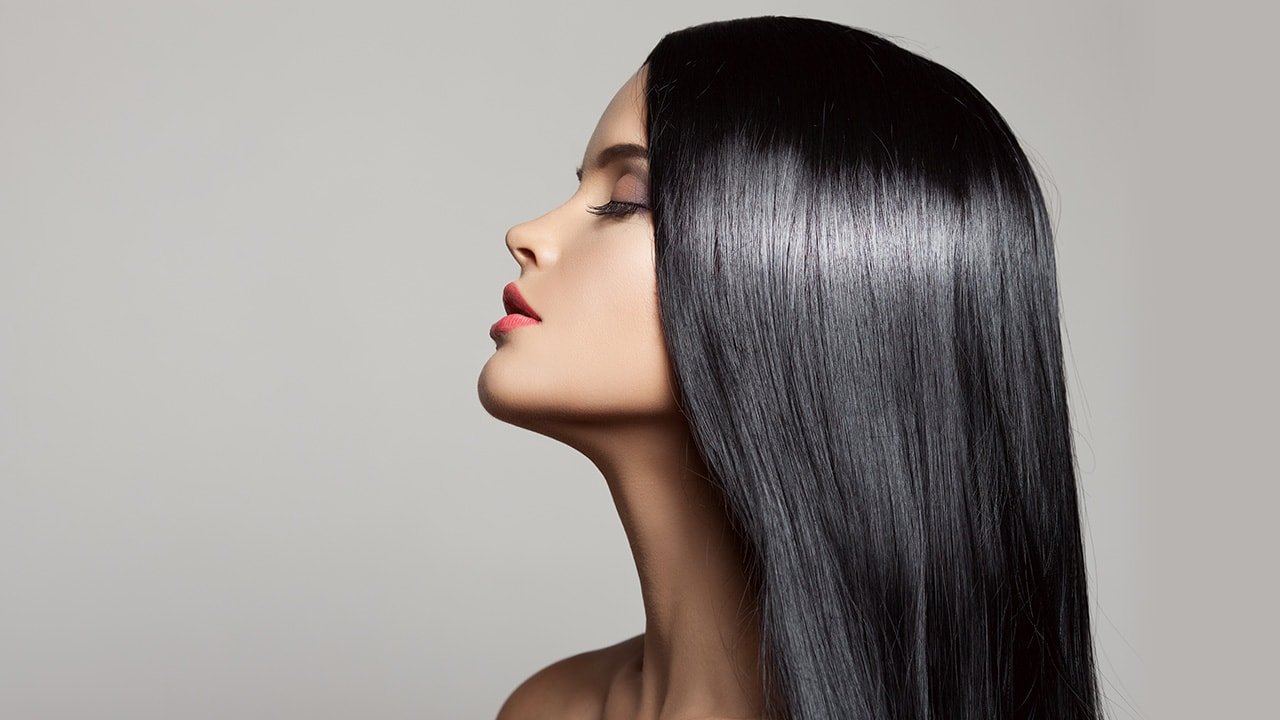 If you have color-treated hair, you've probably wondered what you can do to help keep your color looking its best for as long as possible. Considering that coloring your hair can make it feel dry and look dull, it makes sense why you'd want to seek out products and treatments that can help bring your hair back to its former shiny glory. Enter: Hair glossing. Using a hair color gloss can help keep your hair from becoming dull and appearing damaged. Keep reading to learn more about hair gloss treatments, including what they are and how to use them, how they differ from hair glazes, and other hair-care tips and styling products that can help your color look its most vibrant.
WHAT IS A HAIR GLOSS?
A hair gloss is basically a shine treatment for colored-strands. The intended outcome of using a hair gloss is a longer-lasting and more vibrant hair color, as well as reducing split ends, frizzy hair, and overall dryness. Hair gloss treatments, depending on the type, can also sometimes be used to tone your color. That means they can be used to reduce brassiness or bring out undertones. Hair glosses are specifically formulated for use on color-treated strands because the chemicals used in some hair dyes can cause weakness, dryness, and damaged hair. Think of a hair color gloss as a sort of refresher treatment for your current color, helping enhance and revive both your shade and your strands.
There are two ways to go about using a hair gloss. You can book an appointment with your colorist, which we recommend for first-timers. Your other option is to use a hair gloss at home. Either way, the goal is the same: to maintain your hue and add shine. Consulting a professional for your gloss treatment, however, can result in a more customized formula, because many times they will mix up a different gloss for each individual client. If you go the at-home route, be sure to triple check your gloss color choice to make sure it's suited to your current color; otherwise, you won't get the results you want. Lastly, if you do use an at-home gloss formula, remember to follow the instructions included in the box down to a T to avoid any mishaps.
If you're prepared to tackle an at-home gloss, allow us to point you in the direction of our L'Oréal Paris Le Color Gloss One Step In-Shower Toning Gloss. The gloss is available in nine different shades ranging from clear to auburn to cool blonde to deep black. There's no mixing or mess involved—simply evenly apply it to damp hair in the shower, wait 15 minutes, then rinse thoroughly until the water runs clear. Your mane will be toned, neutralized, shiny, and feeling luxurious.
WHO SHOULD USE A HAIR GLOSS?
If you have colored hair of any kind—bleached, highlighted, or dyed all over—hair glossing could be for you! Anyone with colored strands that are showing damage or looking dull to any degree can benefit from a hair gloss treatment. You can also always consult with your stylist about whether they'd suggest you use a hair gloss.
As for whether hair glossing can work for someone with virgin hair, the answer is yes. While many glosses are intended for color-treated hair, if you want to make a subtle change to your hue, you can use certain hair gloss formulas on locks that have never been colored. Try using one to bring out your hair's undertones or simply add shine to your strands.
HAIR GLOSS VS. HAIR GLAZE: WHAT'S THE DIFFERENCE?
Now, what is a hair glaze? Hair glazes and glosses often end up being lumped together, so what's the difference? While the goal of these two hair treatments is essentially the same—to provide shine and smooth color-treated strands—there is a difference between the two. A hair gloss penetrates the hair cuticle, allowing for longer-lasting and more effective results. Typically, these last for around a month. A hair glaze, however, is sort of like the nail equivalent of an ultra-shiny nail polish top coat or lip gloss/topper. It'll coat your strands, but won't penetrate, leaving you with temporary results that usually last for one to two weeks.
3 ADDITIONAL TIPS FOR MAINTAINING YOUR COLOR
If you don't take care of your tresses but occasionally use an at-home hair gloss, you won't really be doing your mane any favors. While glosses are great, it's also important to follow a consistent hair-care routine for colored hair. Keep these tips in mind if you have dyed strands.
TIP #1: CHANGE YOUR SHAMPOO AND CONDITIONER
If you have colored hair and you're not already using a shampoo and conditioner system that's formulated specifically for color-treated strands, you need to make the switch ASAP. After all, once you've spent time and effort (and money!) achieving your desired hue, why wouldn't you take all the necessary measures to keep your color intact? Beyond using a hair-care system for colored hair, consider using one that suits your specific hair color. For example, if you've dyed your hair blonde, reach for the L'Oréal Paris EverPure Blonde Shampoo and the L'Oréal Paris EverPure Blonde Conditioner.
In addition to tailoring your hair care routine to your color, pick a shampoo and conditioner that will work to manage your biggest hair care concern. If your colored hair is prone to frizz, use the L'Oréal Paris EverPure Frizz-Defy Shampoo and the L'Oréal Paris EverPure Frizz-Defy Conditioner. Or, maybe your scalp is your biggest issue, in which case you should use the L'Oréal Paris EverPure Sulfate Free Scalp Care + Detox Shampoo and the L'Oréal Paris EverPure Sulfate Free Scalp Care + Detox Conditioner.
TIP #2: TREAT YOUR HAIR TO A DEEP CONDITIONER
We love regular ol' conditioners, but deep conditioners are also a must. Next time your strands need a little extra TLC, reach for the L'Oréal Paris Elvive Color Vibrancy Rapid Reviver Deep Conditioner. It works in just one minute, so no excuses—using deep conditioner won't make your shower routine too long.
TIP #3: BE RELIGIOUS WITH HEAT PROTECTION
Hopefully, anyone who uses heat styling tools frequently already knows this tip, but it doesn't hurt to repeat: You need to protect your strands with a heat protectant spray or treatment before picking up your blow-dryer or curling iron—or any heat tool, for that matter. Better yet, use a hair treatment that will protect against heat and also help heal everyday damage, such as the L'Oréal Paris Elvive Total Repair 5 Protein Recharge Treatment.
Next: Learn How To Protect and Sleep on Your Hair.
Discover more tips & tricks
Keep your skin happy
See all articles
Shop Featured Hair Color products
Discover More