hair color application
What's Inside Your Hair Color Kit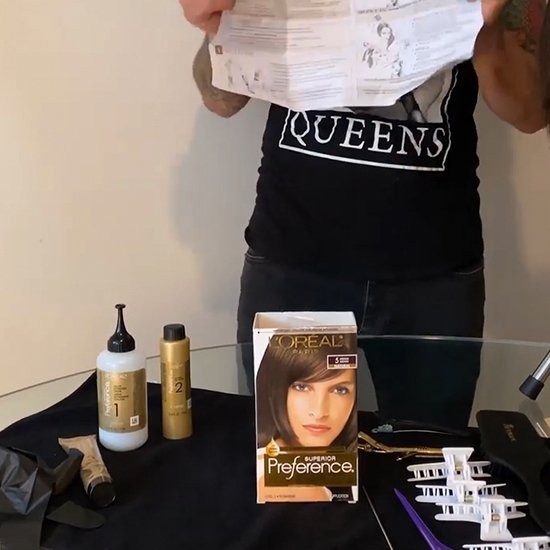 Dyeing your hair at home can be intimidating. Aside from making sure you don't end up with orange hair—or worse, hair that falls out from damage—simply not knowing what to expect from an at-home hair color kit can be overwhelming. After all, how are you supposed to commit to coloring your strands yourself without knowing what hair color products you'll be equipped with? That's where we come in. Instead of jumping into the unknown, we're sharing exactly what's inside one of our favorite at-home hair color kits, the L'Oréal Paris Superior Preference Fade-Defying Shine Permanent Hair Color. Let's get to it!
ITEM #1. DEVELOPER
The first thing you're likely to pull out of the box is the developer. The developer, also known as the Color Optimizing Crème, is labeled with a large number one. It's the only clear bottle in the hair color kit, and will be mostly empty. This is where your color will be mixed and created, and what you will eventually use to apply your color.
ITEM #2. HAIR COLOR
Next up, we have the hair color—or, more specifically, the Color Gel. Labeled with a large number two, this gold bottle contains the dye to match the hair color you've chosen. When you start the dyeing process, this will be combined with your developer in bottle one to create your hair color formula.
ITEM #3. HAIR COLOR CONDITIONER
After coloring your strands, it's important to give them some extra TLC. That's where the third item in your hair color kit comes in. Labeled with a large number three, the included hair color conditioner, more specifically known as the Color & Shine Conditioner, is raved about for a reason. Formulated with camelina oil, vitamin E, and a UV filter, the conditioner will help preserve your color and boost shine for gorgeous, healthy-looking locks.
ITEM #4. INSTRUCTIONS
Debatably the most important item in your box, you'll want to make sure you take the time to read your instructions carefully. They will explain in detail how to mix your color, how to apply it based on if you want an all-over color or a root touch-up, and how long to leave the color on your hair.
ITEM #5. GLOVES
Inside your instruction packet, you'll find a pair of black gloves. You'll want to wear these while coloring your hair to avoid getting dye on your fingers and palms.
Now that you know more about what you're getting, do you want to put it to use? Follow the step-by-step tutorial in our article, How to Dye Your Hair, to make at-home coloring a breeze.
Discover more tips & tricks
Keep your skin happy
See all articles
Shop Featured Hair Color products
Discover More