skin care essentials
What Does Toner Do and How to Use It
May 29, 2020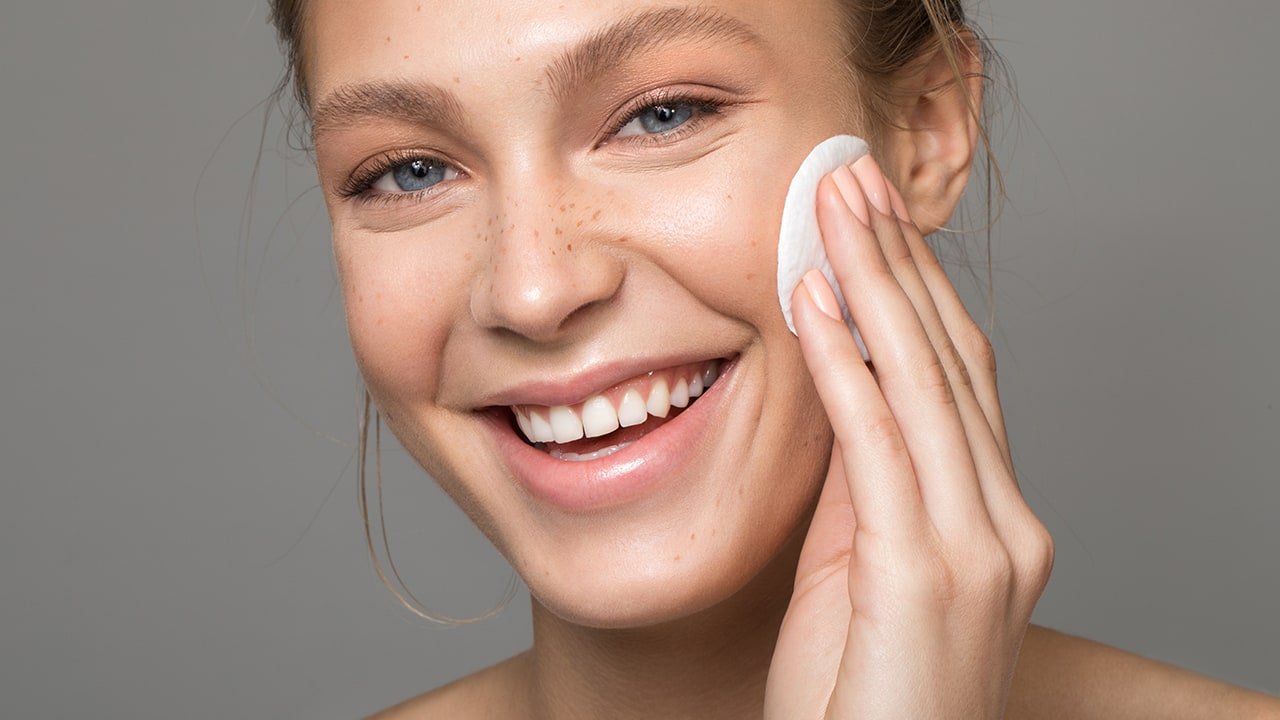 With a million different types of skin care products out there, doesn't it seem like your skin care routine is constantly expanding? Well, it turns out that despite this, you may be overlooking one skin care product that's been around for quite a long time: face toner. Yes, toner! You probably remember using the stuff in your middle school days, but did you know that it's still worth considering as part of your current skin care routine, whether you have dry skin or oily skin? Yep, that's right! And if you're reading this and still wondering, 'what is face toner?' then get ready for a course on skin toner. Here, we're breaking down exactly what toner does for skin, how to use it, and—possibly most importantly—sharing our best face toner.
WHAT IS FACE TONER?
Simply speaking, toner is a skin care product with a liquid consistency that's meant to be used right after cleansing and before applying serum and moisturizer. In other words, think of it as a way to prep your skin to absorb your moisturizing products. Toner is usually intended to be used on only the face and can be applied via a saturated cotton pad. It may also come in spray, gel, and cream formulas.
WHAT DOES TONER DO FOR SKIN?
Known for removing dirt, excess oil, leftover facial cleanser, and any other impurities from your skin's surface after cleansing, toners are a skin care essential for a good reason. Some formulas strictly hydrate the skin, while others can also refresh, brighten, and leave skin feeling soft and smooth. Some also claim to help tighten and shrink the appearance of pores and help even out skin tone. Pretty neat, right? Versatile in nature, this skin care step can be customized to suit your skin care needs and concerns. Best of all, many of today's formulas aren't formulated with alcohol and, therefore, won't dry out your skin.
IS TONER REALLY NECESSARY?
Now that you know all about the benefits of skin toner, you may be wondering whether or not it's necessary for your skin care routine. And…the answer is yes. As we mentioned above, facial toner ensures that dirt and impurities are removed from your skin, which can help prevent breakouts from occurring. With the right formula, it can also work to hydrate your skin. Remember, the key to using toner effectively is to find the best formula for you.
IS IT GOOD TO USE TONER EVERY DAY?
While some skin care products should only be used a few times a week, toner is typically meant to be used every day. Formulated to work hand in hand with your cleanser and moisturizer to remove leftover dirt, debris, and other impurities after your cleansing step, skin toner allows you to get the most out of the other products in your skin care routine.
IS TONER BAD FOR YOUR SKIN?
Is using toner bad for your skin? According to the National Center of Biotechnology Information (NCBI), there are studies that share that alcohol-based products can decrease your skin's hydration, so it's often recommended not to use toners formulated with alcohol. Sometimes this causes confusion, and people assume all toners are formulated with alcohol and thus are bad for the skin. Of course, in actuality, there are lots of alcohol-free toners and even super-hydrating formulas. So, no, you can't make a blanket statement that toner is bad. While some formulas may not work for certain skin types, toner itself is a skin care staple.
IS ROSE WATER A TONER?
If you're privy to the wonders of rose water, then you may be wondering if rose water toner is a thing. The answer is a resounding yes! According to the NCBI, rose water comes from the plant, rosa damascena, which has been widely used in the Middle East. Rose water is known to have antimicrobial, antioxidant, anti-inflammatory effects along with hydration abilities to help soothe the skin, which makes for a great facial toner. For this reason, rose water toners are becoming increasingly popular as a part of multi-step skin care routines. You'll also often see rose water face sprays that can multi-task as toners and as a means for refreshing your face midday.
OUR BEST FACE TONER
Intrigued by hydrating toner and want to add one to your skin care routine? Turn your attention to our best toner, the L'Oréal Paris HydraFresh Toner, which is alcohol-free and has a gentle, non-drying formula. Formulated with beta hydroxy acid and pro-vitamin B5, it helps gently sweep away dull, tired-looking skin, protect against moisture loss, and refresh and brighten the skin for a soft and supple finish. To use, apply it to your skin with a cotton ball in the morning and at night.
Now, if you're waiting for our best toner for oily skin—you've already found it. The HydraFresh toner can be considered our best toner for dry, oily, and combination skin. Everyone can benefit from a gentle, non-drying face toner.
HOW TO USE TONER
So, you've decided you want to start using a hydrating toner—but when, exactly, do you apply it? Below, we're breaking down the right skin care routine order for days when you're using toner.
STEP 1: DO AN INITIAL CLEANSE WITH MICELLAR WATER
Kick things off by cleansing your face to help remove makeup, dirt, excess oils, and impurities that are on the surface of your skin. As for which cleanser to use, the L'Oréal Paris Micellar Cleansing Water Waterproof – All Skin Types intensely purifies all in one step and leaves skin hydrated. Pour some micellar water onto a cotton pad and gently wipe the pad across your face.
STEP 2: USE A RINSE-OFF FACIAL CLEANSER
After you've done an initial cleanse with micellar water, pick up a rinse-off facial cleanser. Try the L'Oréal Paris Pure-Clay Detox & Brighten Facial Cleanser or the L'Oréal Paris Pure-Clay Exfoliate & Refine Facial Cleanser, both of which are formulated to rid the surface of your skin of impurities and seamlessly transform from clay to mousse. Squeeze a small amount of facial cleanser into your hands, add water to transform it from clay to mousse, then gently massage it onto your skin before rinsing off thoroughly and patting dry.
STEP 3: SWIPE TONER ACROSS YOUR FACE
Now for the star of the show: face toner! Using a cotton ball or pad, gently sweep toner across your face to help rid the surface of your skin of any impurities that might still remain. Most toners can be used twice a day, morning and night, to prep your complexion for the rest of your skin care routine.
STEP 4: APPLY FACIAL SERUM
Typically, facial serums are highly concentrated formulas that address specific issues, like fine lines and wrinkles or dark spots. Facial serums can also help to improve the overall appearance of your skin. If you're new to using serums, too, check out your options below:
L'Oréal Paris Age Perfect Cell Renewal Golden Serum: This serum can help revitalize dull skin and also minimize the appearance of fine lines and wrinkles with continued use over time.
L'Oréal Paris Revitalift Derm Intensives 1.5% Pure Hyaluronic Acid Serum: Perfect for dry skin, this powerful serum works to visibly plump and nourish skin with continued use over time.
STEP 5: DAB ON EYE CREAM
Next up: Eye cream! The skin around your eyes is very delicate, so it requires special care. Use an eye cream to help address the appearance of skin care concerns such as dark circles, crow's feet, or puffiness. If fine lines and wrinkles are your biggest concern, reach for the L'Oréal Paris Age Perfect Eye Renewal Eye Cream. For general de-puffing and hydration, try the L'Oréal Paris Age Perfect Hydra Nutrition Manuka Honey Eye Gel instead.
STEP 6: SMOOTH ON MOISTURIZER
Look for a moisturizer designed for your specific skin type—and yes, you should use one even if you have oily skin. Try the L'Oréal Paris Hydra Genius Daily Liquid Care for Normal to Oily Skin, L'Oréal Paris Hydra Genius Daily Liquid Care for Normal to Dry Skin, or L'Oréal Paris Hydra Genius Daily Liquid Care for Extra Dry Skin. These water-based moisturizers are formulated with hyaluronic acid and aloe vera water to help provide long-lasting hydration.
STEP 7: APPLY BROAD-SPECTRUM SUNSCREEN IN THE MORNING
When it comes to your morning beauty routine, broad-spectrum sunscreen is crucial. Spending time out in the sun, sans protection can lead to damage, which can show up down the road as visible signs of aging like fine lines and wrinkles and dark spots. The Food & Drug Administration recommends wearing a broad-spectrum sunscreen with an SPF value of 15 or higher every day. Sunscreen should be the last step in your morning skin care routine, so apply it as directed after your moisturizer and about 15 minutes before you go outside—and remember to reapply at least every two hours!
Of course, sunscreen isn't the only sun protection measure you should take in the morning. You should also limit your amount of time in the sun during peak hours (10 a.m. to 2 p.m.), seek shade when you're outside, and cover up exposed areas in long sleeves, pants, a broad-brimmed hat, and UV-blocking sunglasses.
BONUS STEP: USE A FACE SCRUB OR FACE MASK
While there are some steps you should take in your skin care routine every day, there are others that you only need to do a couple of times a week, like using face scrubs and face masks. To help perfect the appearance of your skin, reach for a gentle sugar scrub, like the L'Oréal Paris Pure-Sugar Smooth & Glow Grapeseed Scrub, L'Oréal Paris Pure-Sugar Purify & Unclog Kiwi Scrub, or L'Oréal Paris Pure-Sugar Nourish & Soften Cocoa Scrub, and exfoliate three times a week.
To show your skin a little TLC, you can also reach for a face mask. Use the L'Oréal Paris Pure-Clay Detox & Brighten Face Mask, L'Oréal Paris Pure-Clay Exfoliate & Refining Face Mask, L'Oréal Paris Pure-Clay Clear & Comfort Face Mask, or L'Oréal Paris Pure-Clay Clarify & Smooth Face Mask two to three times a week for best results.
DO YOU WASH OFF TONER?
If you've been washing off your toner, consider this your sign to stop. Toner is meant to absorb quickly and be left on—it isn't a rinse-off facial cleanser. Think of toner as being similar to astringent or micellar water in this way, which also shouldn't be washed off.
5 OTHER WAYS TO USE TONER
That's right—the uses of facial toner go beyond what we've already covered! Keep reading to get all the benefits.
1. CHILL OUT
On a hot day, there's nothing better than cooling down your skin. Simply store your skin care essentials like toner in your fridge (or a designated skin care fridge) and pop it out for a few minutes before you want to use it. Pour some onto a cotton pad and sweep the pad over your complexion in circular motions to refresh your skin.
2. CLEANSE YOUR NECK AND CHEST
Toner doesn't have to be reserved solely for your face, spread the love and cleanse your neck and chest, too. Extending your skin care routine past your jawline is important—your neck and chest are likely to be the first areas to show signs of aging if you don't take care of them. So, post-cleansing, apply toner on your neck and chest as well as your face.
3. REFRESH ON THE GO
When you're traveling, you may notice that your skin becomes drier. If you're flying, the air in a plane can dry out your complexion, making refreshing whenever you can a necessity. Be sure to bring a (travel-sized) bottle of hydrating toner with you for your next flight—along with a couple of cotton balls.
4. PREP FOR MAKEUP
A soft, moisturized base sets the stage for flawless makeup application, and toner gets the job done. Prep your skin for foundation and concealer by toning after cleansing. Then follow up with a thin layer of primer to create an even canvas for the rest of your makeup.
Now you know how to use toner as part of your skin care routine! For your next skin care lesson, head on over to our article, What Is Cica Cream?
Discover more tips & tricks
Keep your skin happy
See all articles
Shop Featured Skin Care products
Discover More