anti aging
How to Manage Under-Eye Wrinkles
February 03, 2020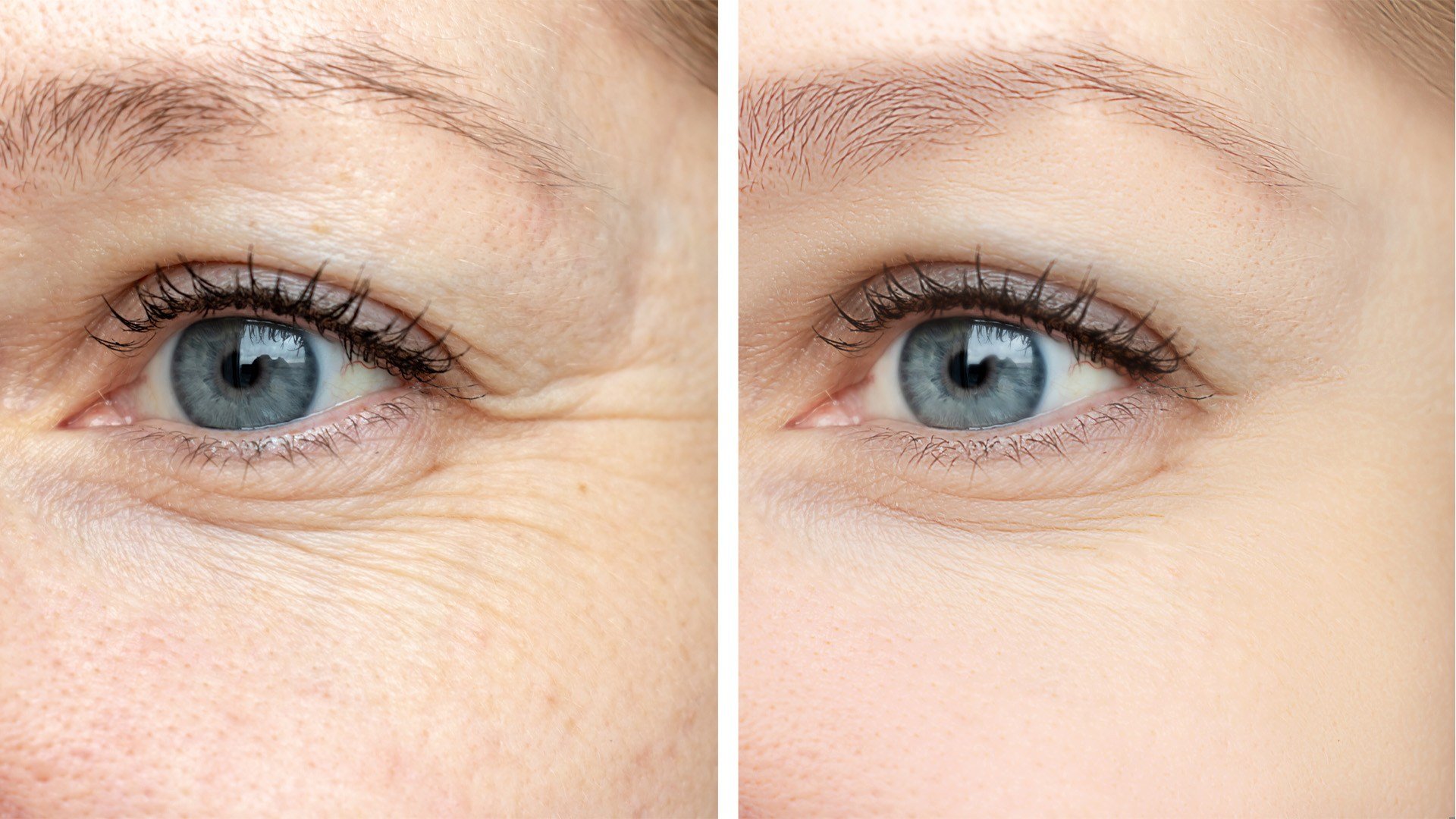 There's no denying that as you age, your skin starts to change. And with those changes, visible signs of aging like under-eye wrinkles and lines under your eyes can pop up. While it's easy to fall into a panic, what this really means is that you need to pay extra attention to your mature skin. The key is to use skin care products that will address those wrinkles and help you maintain youthful-looking skin—eye cream, we're looking at you!
If you've been asking yourself how to get rid of under-eye wrinkles, we're here to help. While you can't get rid of wrinkles like magic, there is a way to manage them. Keep reading to learn about our best under-eye cream for wrinkles, plus additional tips you can add to your skin care routine to reduce the look of fine lines under eyes.
WHAT CAUSES UNDER-EYE WRINKLES?
Like it or not, as your skin ages, it naturally becomes less elastic and more fragile, per the Mayo Clinic. In turn, decreased production of oils dries out your skin, which causes your complexion to look and feel less firm, making visible signs of aging like under-eye wrinkles more prominent. They also reveal that smoking, genetics, and exposure to UV light all play a role in the development of wrinkles. Not to mention, the skin around your eyes is much thinner than the rest of your face, so it's one of the first areas to reveal signs of aging.
HOW TO MANAGE UNDER-EYE WRINKLES
Now that you're educated on the causes of lines under eyes, it's time to take action. Below, we're sharing five tips to help whip your eye area back into shape.
TIP #1: USE AN EYE CREAM
One of the easiest ways to help minimize the look of under-eye wrinkles is with the help of eye cream. As we mentioned before, the delicate skin around your eyes needs major TLC, and the right eye cream will get the job done. Have your pick of our best under-eye creams for wrinkles below.
L'Oréal Paris Revitalift Anti-Wrinkle + Firming Eye Cream: While your skin naturally starts to lose firmness as you age, this eye cream can help turn things around. Formulated with Pro-Retinol A and Stimuplex, this offering provides 360-action around the eyes to reduce wrinkles and firm skin with continued use over time. After your toner, use the eye cream morning and night, then follow up with your moisturizer.
L'Oréal Paris Wrinkle Expert 55+ Anti-Wrinkle Eye Treatment: Once you reach your 50s, it's smart to take things up a few notches to better suit your mature skin. This eye cream works wonders to nourish and soften your skin over time. Formulated with calcium, the treatment strengthens thinning skin around the eye and improves smoothness to reduce the appearance of under-eye wrinkles in as little as four weeks. Apply a small amount around your entire eye using your fingertips and pat gently until fully absorbed. Use morning and night.
L'Oréal Paris Revitalift Triple Power Eye Treatment: Give your eyes a little extra TLC with the help of this eye cream. This lightweight cream is formulated with caffeine, hyaluronic acid, and Pro-Xylane, for a formula that works to reduce wrinkles and brighten the under-eye area for a radiant finish. Simply massage the eye cream gently around your eyes with the metal tip until thoroughly absorbed.
L'Oréal Paris Age Perfect Eye Renewal Eye Cream: Since surface skin cell renewal slows down as you age, achieving radiant and moisturized skin can be a bit difficult. Switch things up with the help of this eye cream, which works to hydrate your skin and immediately diminish signs of aging, including lines under eyes. Using your fingertips, apply a small amount around your eyes, and pat gently until absorbed.
TIP #2: USE A NOURISHING CREAM CLEANSER
Contrary to popular belief, eye cream is not your only line of defense when it comes to tackling under-eye wrinkles. Adding nourishing skin care products to your daily routine is a great way to replenish the surface of your skin with moisture, which helps to reduce the look of visible signs of aging. Kick things off with the help of a cream cleanser, like the L'Oréal Paris Age Perfect Nourishing Cream Cleanser. Formulated with replenishing oils, this offering gently removes all traces of makeup and cleanses skin without over-drying for a supple finish.
TIP #3: REACH FOR A FACIAL MOISTURIZER
Moisture is the key to minimizing the look of lines under eyes. So, naturally you'll want to add a facial moisturizer to your routine. However, not any facial moisturizer will do. You need an offering that goes the distance to hydrate your skin all day long. We love the L'Oréal Paris Revitalift Triple Power Anti-Aging Moisturizer Fragrance Free, which is formulated with three of the top proven anti-aging ingredients: Pro-Retinol, vitamin C, and hyaluronic acid. Working to visibly reduce wrinkles and brighten skin, you can't go wrong with giving this moisturizer a try.
TIP #4: GRAB A FACE SERUM
While facial moisturizer may be your go-to for providing your skin with endless hydration, you may want to consider a face serum, too. A hydrating facial serum takes things to the next level to immediately restore your skin with moisture­, which is great for dealing with under-eye wrinkles. Pick up the L'Oréal Paris Revitalift Derm Intensives 1.5% Pure Hyaluronic Acid Serum, which works quickly to replenish hydration and visibly reduce wrinkles in just two weeks for more youthful-looking skin.
TIP #5: PROTECT YOUR SKIN FROM THE SUN
We can't say this enough, sun protection is an absolute must! Spending prolonged periods in the sun without adequate protection can lead to visible signs of aging like fine lines under eyes. Make sure to apply a broad-spectrum sunscreen with an SPF of 30 daily as directed, limit your amount of time in the sun (especially between 10 a.m. to 2 p.m., which are the sun's peak hours), seek shade, and cover up exposed areas in long sleeves, pants, a broad-brimmed hat, and UV-blocking sunglasses.
Now that you know a few tips for managing under-eye wrinkles, why not expand your knowledge on taking care of mature skin? Head on over to our article, 10 Skin Care Rules for Mature Skin, to do just that.
{ "@context": "https://schema.org/", "@type": "WebPage", "speakable": { "@type": "SpeakableSpecification", "cssSelector": ["speakable-content"] }, "url": "https://www.lorealparisusa.com/beauty-magazine/skin-care/anti-aging/how-to-get-rid-of-under-eye-wrinkles-and-lines" }
Discover more tips & tricks
Keep your skin happy
See all articles
Shop Featured Skin Care products
Discover More
{ "@context": "http://schema.org", "@type": "BreadcrumbList", "itemListElement": [ { "@type":"ListItem", "position": 1, "item": { "@id": "/", "name": "Home" } } , { "@type":"ListItem", "position": 2, "item": { "@id": "https://www.lorealparisusa.com/beauty-magazine", "name": "Beauty Magazine" } } , { "@type":"ListItem", "position": 3, "item": { "@id": "https://www.lorealparisusa.com/beauty-magazine/skin-care", "name": "Skin Care For Every Age" } } , { "@type":"ListItem", "position": 4, "item": { "@id": "https://www.lorealparisusa.com/beauty-magazine/skin-care/anti-aging", "name": "Anti Aging Skin Care" } } , { "@type":"ListItem", "position": 5, "item": { "@id": "https://www.lorealparisusa.com/beauty-magazine/skin-care/anti-aging/how-to-get-rid-of-under-eye-wrinkles-and-lines", "name": "how-to-get-rid-of-under-eye-wrinkles-and-lines" } } ] }