anti aging
Our 3 Best Skin Firming Products For Sagging Skin
July 05, 2016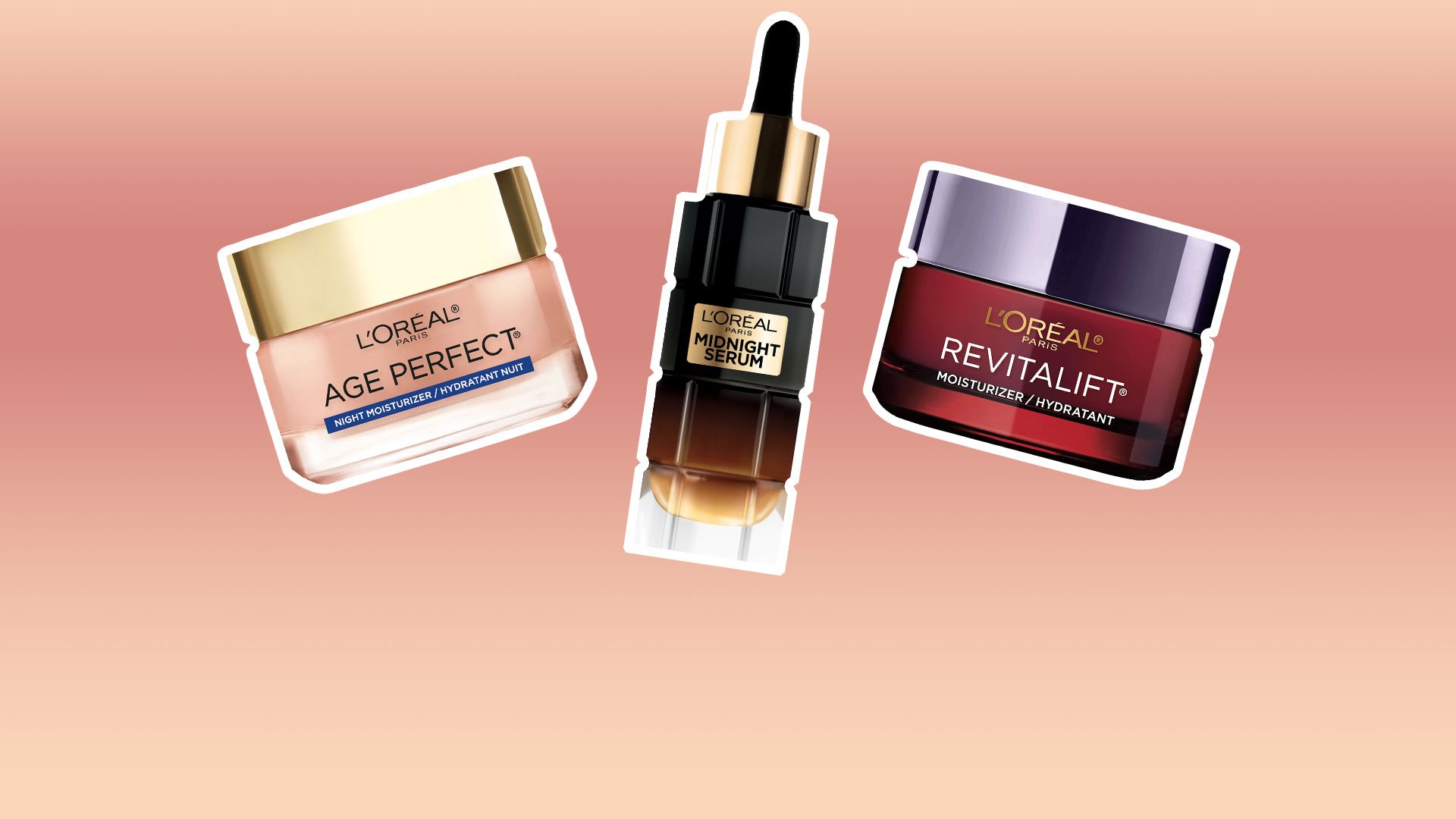 Sagging skin can be one of the most challenging signs of skin aging to address. As you get older, the skin produces less plumping proteins, leading to a lack of firmness and elasticity. This can then make your skin more susceptible to drooping and sagging, especially in the areas around your eyes, mouth, jawline, and neck. Fortunately, there are certain preventative measures you can take to help improve your skin's appearance—that won't cost you a ton of money. Keep reading to learn more about three products you can incorporate into your skin care routine that may help improve your skin's firmness.
A Facial Serum For Sagging Skin
A serum formulated with antioxidants like vitamin C and vitamin E can offer your skin an extra line of defense against skin aging factors that can contribute to the development of sagging skin. The L'Oréal Paris Age Perfect Cell Renewal Midnight Serum is formulated with an exclusive L'Oréal patented antioxidant recovery complex, which works to replenish the skin's antioxidant levels which boost the skin's renewal process overnight and help minimize the appearance of sagging skin. Its formula also works to smooth out wrinkles and lock in moisture thanks to its dose of hyaluronic acid.
This product is also designed to be used in the morning, providing antioxidants day and night, which work to block out and shield the skin from the sun's harmful rays and external aggressors such as pollution and smoke. With continued use, you'll begin to notice softer, visibly younger, firmer-looking skin.
Editor's Tip: Be sure to add this serum into your daytime and nighttime skin care routines. Apply three to four drops of the serum into your hands and massage it gently onto cleansed skin. Follow up with a moisturizer to help seal in hydration.
A Daytime Moisturizer For Sagging Skin
Free radicals aren't the only environmental factor that can damage your skin's collagen and elastin fibers, according to the American Academy of Dermatologists UV damage can also contribute to sagging skin. So be sure to protect your skin against further damage by applying a moisturizer with broad-spectrum protection on a daily basis. To simplify your skin care routine, reach for an anti-aging face moisturizer formulated with SPF 30 or higher, like the L'Oréal Paris Revitalift Triple Power Anti-Aging Moisturizer Fragrance Free. It's formulated with ingredients that will help firm and tighten the skin like pro-retinol, vitamin C, and hyaluronic acid. Smooth it over your face and neck at least 15 minutes before heading outside. This will give your skin time to absorb the product and get the most benefits out of it.
Editor's Note: The formula also layers well under makeup, so there's no need to worry about any lumpy textures.
A Nighttime Moisturizer For Sagging Skin
A deeply hydrating night cream is essential for mature skin as added moisture can help the skin appear more plump, thus reducing the appearance of sagging skin. And a cooling moisturizer is a great product to use at night to keep your skin hydrated and plumped. The L'Oréal Paris Age Perfect Rosy Tone Cooling Night Moisturizer includes good-for-you skin ingredients like imperial peony and LHA (lipohydroxy acid) to gently exfoliate and stimulate surface cell renewal, reviving the skin's natural pink tone. It's formulated to quickly absorb into the skin to help address puffiness, elasticity, and other aging skin concerns.
It also works to instantly cool the skin and provide lasting hydration with a non-greasy feel. Over time, the skin's firmness and radiance should be noticeably improved. After cleansing and applying a facial serum, layer on a generous amount of this moisturizer and massage it into your face and neck every night.
Photo Credit: Chaunte Vaughn
{ "@context": "https://schema.org/", "@type": "WebPage", "speakable": { "@type": "SpeakableSpecification", "cssSelector": ["speakable-content"] }, "url": "https://www.lorealparisusa.com/beauty-magazine/skin-care/anti-aging/3-anti-sagging-skin-care-products-to-try" }
Discover more tips & tricks
Keep your skin happy
See all articles
Shop Featured products
Discover More
{ "@context": "http://schema.org", "@type": "BreadcrumbList", "itemListElement": [ { "@type":"ListItem", "position": 1, "item": { "@id": "/", "name": "Home" } } , { "@type":"ListItem", "position": 2, "item": { "@id": "https://www.lorealparisusa.com/beauty-magazine", "name": "Beauty Magazine" } } , { "@type":"ListItem", "position": 3, "item": { "@id": "https://www.lorealparisusa.com/beauty-magazine/skin-care", "name": "Skin Care For Every Age" } } , { "@type":"ListItem", "position": 4, "item": { "@id": "https://www.lorealparisusa.com/beauty-magazine/skin-care/anti-aging", "name": "Anti Aging Skin Care" } } , { "@type":"ListItem", "position": 5, "item": { "@id": "https://www.lorealparisusa.com/beauty-magazine/skin-care/anti-aging/3-anti-sagging-skin-care-products-to-try", "name": "3-anti-sagging-skin-care-products-to-try" } } ] }