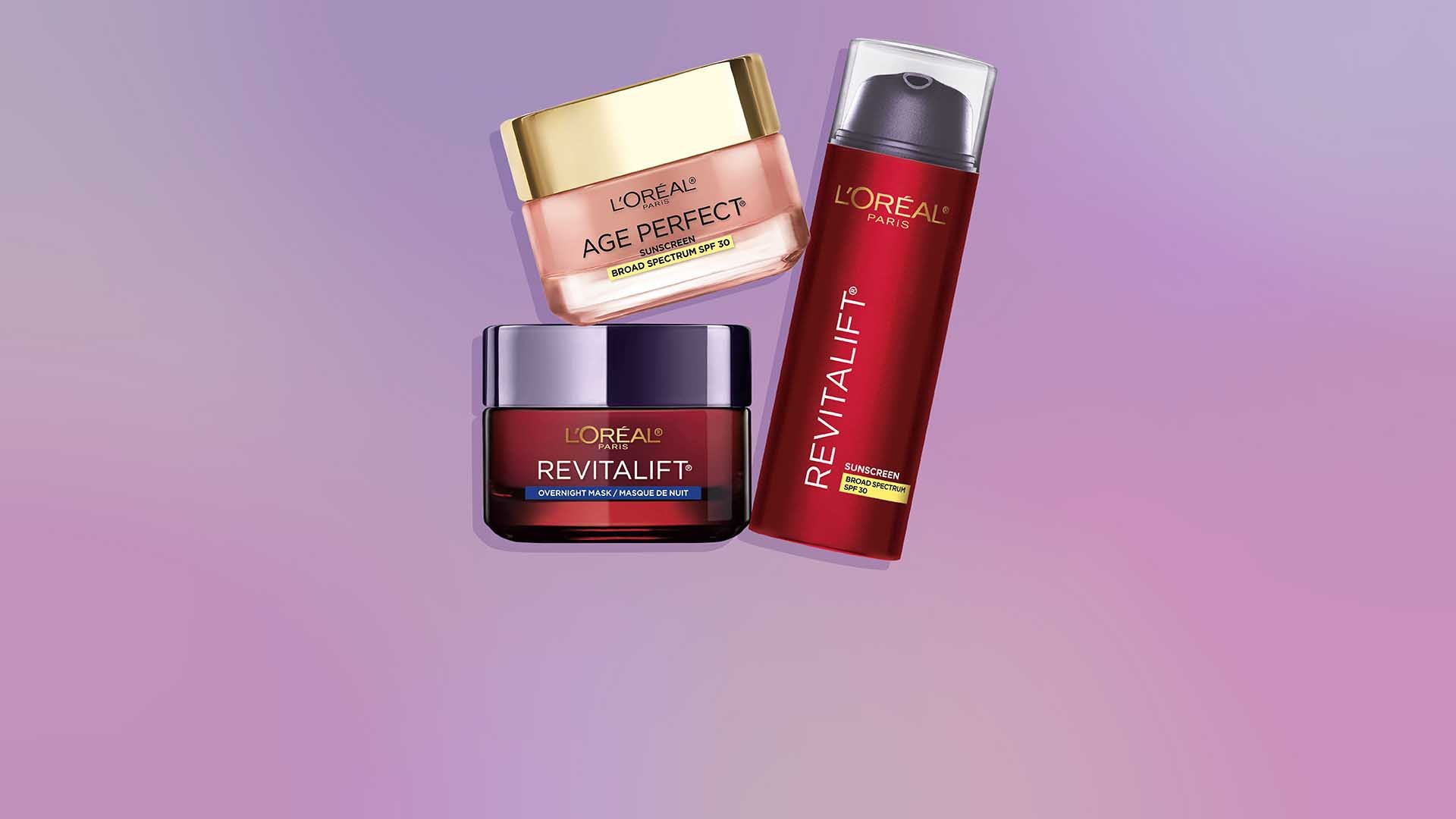 anti aging
4 Must-Have Anti-Aging Creams and Moisturizers
As the years go by, it's safe to say you may notice a few changes in the appearance of your skin, including increased dryness and dullness. And that means it could be a good idea to switch up how you take care of your complexion. When you have mature skin, it's wise to use formulas that protect your skin while also staving off fine lines and wrinkles. The good news is, putting together an anti-aging skin care routine is pretty easy, with one of the key products to build your routine around being an anti-aging face cream. Keep reading to find our best anti-aging creams and moisturizers for men and women, broken down by skin care concern so you can find your best match.
OUR BEST ANTI-AGING CREAM FOR DULL SKIN TONE
As skin matures, it can start to appear duller. The L'Oréal Paris Age Perfect Rosy Tone SPF 30 Sunscreen Face Moisturizer is an intense daily anti-aging moisturizer that's enhanced with rosy pigments to instantly revive the look of skin's rosy tone. The rich, non-greasy formula smooths gently over skin to nourish it with moisture, while the rosy pigments help to reveal a younger look. Bonus: It's also formulated with broad-spectrum SPF 30 for built-in sun protection. After cleansing in the morning, smooth this anti-aging cream over your face and gently massage into your skin in a circular motion.
OUR BEST ANTI-AGING CREAM FOR SUN PROTECTION
Speaking of built in sun protection—broad-spectrum sunscreen is a skin care must year-round no matter your age. The L'Oréal Paris Revitalift Triple Power Day Lotion SPF 30 is an anti-aging moisturizer formulated with broad-spectrum SPF 30 that works to reduce the appearance of wrinkles and firm and brighten skin. Keep in mind, according to the Food and Drug Administration (FDA), you should also reapply sunscreen every two hours (or immediately after swimming or sweating), limit your amount of time in the sun (especially during peak hours), seek shade, and wear protective clothing and sunglasses.
OUR BEST ANTI-AGING CREAM FOR VERY DRY OR SENSITIVE SKIN
Both dry and sensitive skin types need special care, which means you'll want to be strategic with your moisturizer choice. The L'Oréal Paris Age Perfect Hydra Nutrition Manuka Honey All Over Balm - Face, Neck, Chest and Hands is formulated with nourishing manuka honey and helps envelop skin with a replenishing layer of long-lasting, non-sticky hydration. In addition to being ideal for very dry and sensitive skin types, it's also paraben-free. Apply a light layer onto clean skin every morning, and at night.
OUR BEST ANTI-AGING CREAM FOR OVERNIGHT NOURISHING
Sometimes, it pays to use a different moisturizer at night than what you used in the morning. If you're looking for an anti-aging night cream, try the L'Oréal Paris Age Perfect Cell Renewal Night Cream. The rich creamy texture comforts and nourishes skin. Skin feels nourished immediately, and also appears renewed with continued use over time. Every night, smooth this cream onto your face in an upward motion until thoroughly absorbed. For best results, first apply the L'Oréal Paris Age Perfect Cell Renewal Golden Serum over cleansed skin then layer the moisturizer on top.
OUR BEST ANTI-AGING CREAM FOR OVERNIGHT RADIANCE
Turn your AM and PM moisturizing routine into a spa-like experience with this top-rated anti-aging night mask. The L'Oréal Paris Triple Power Triple Power Anti-Aging Overnight Mask is formulated with three of the most effective anti-aging ingredients: Pro-Retinol, vitamin C, and hyaluronic acid to visibly reduce wrinkles, firm, and brighten skin. Overnight, skin is visibly more radiant and resilient. Smooth over your face and neck every evening as the last step in your nightly skin care routine.
OUR BEST ANTI-AGING CREAM FOR MULTIPLE AGING SKIN CONCERNS
Not everyone has just one concern they're looking to address. If you want to tackle more than one need your skin has, the L'Oréal Paris Revitalift Anti-Wrinkle + Firming Moisturizer Fragrance Free is a perfect choice. Formulated with Pro-Retinol and centella asiatica, the anti-aging moisturizer helps smooth, firm, and hydrate areas of your skin that can be prone to visible signs of skin aging, like wrinkles and loss of elasticity. Smooth it over your neck and jawline after cleansing in the morning and evening.
Photo Design: Sarah Duvivier
Next: 10 Skin Care Rules For Mature Skin
Discover more tips & tricks
Keep your skin happy
See all articles
Shop Featured Skin Care products
Discover More