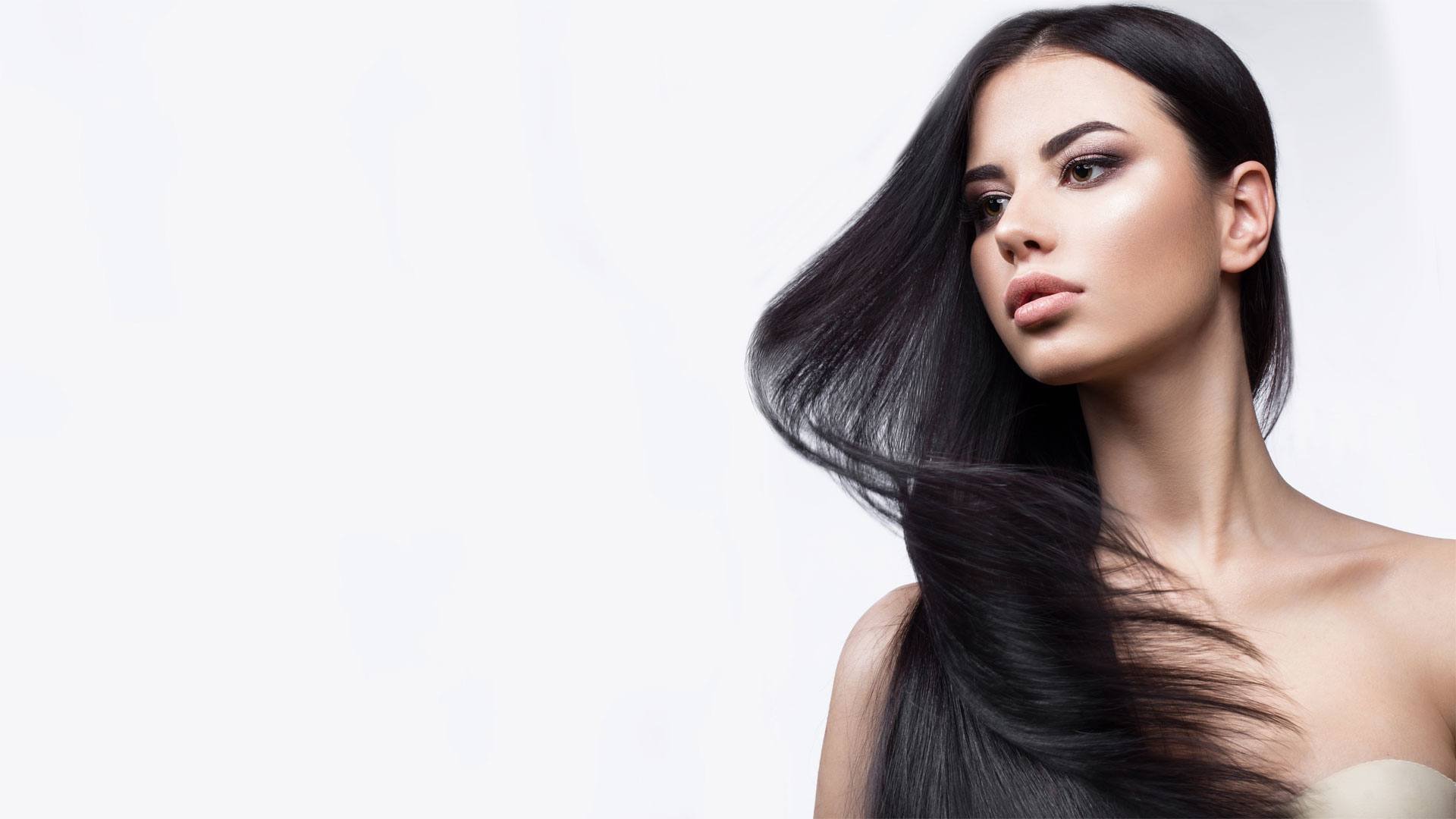 Whether you're working with curly, coily, or wavy strands, achieving straight locks usually means spending some time with a flat iron. While the results can certainly be worth it, using heat tools on your mane consistently can take a toll on your strands. So, what's a girl to do? Well, what if we told you that you could score natural straight hair without heat? That's right, long gone are the days of your heat styling tools being the sole source of smooth, straight strands. All you need are the right tips and tricks to help bring your straight hair dreams to life. Want in? Keep reading learn how to straighten hair naturally with seven different heat-free techniques.
HOW CAN I STRAIGHTEN MY HAIR AT HOME WITHOUT A STRAIGHTENER?
Ah, it's time to answer the age-old question: Can you straighten your hair without a flat iron? Contrary to popular belief, it's actually easier than you would think. Depending on the hair texture that you're working with, there is a myriad of ways you can transform your strands. From tweaking your wash day routine to getting creative with your hairstyling accessories, the possibilities are numerous for getting straight hair. Speaking of which…
7 WAYS TO NATURALLY STRAIGHTEN HAIR
Ready to learn how to straighten hair naturally? Here are seven ways to make it happen.
1. WRAP YOUR HAIR AT NIGHT
For those working with wavy textures, one of the easiest ways to score straight hair is to wrap your hair at night. Since this method is all about keeping your strands nice and snug around your head, you can totally smooth out your texture in no time. Sounds like an idea you can get behind? Head on over to our article, How to Wrap Your Hair at Night, for a step-by-step tutorial.
Editor's note: Keep in mind, this method only works if you have a slight curl or wavy texture to your hair. For those with tighter curl patterns, you'll need to use other methods to achieve straight strands.
2. WET WRAP YOUR HAIR
By now, you're likely familiar with the trend of wrapping your hair, but you may not be as knowledgeable about the art of wet-wrapping. Typically used by African-Americans, wet-wrapping is all about using a leave-in conditioner and medium-hold setting lotion on your hair to help smooth it and add body.
To start, apply a generous amount of leave-in conditioner and setting lotion to your hair. Using a wide-tooth comb, part your hair as you usually would and wrap your hair. Make sure to secure your strands with bobby pins. Once complete, cover hair with a silk scarf and allow your hair to dry overnight. In the morning, remove your scarf and comb through your strands to enjoy straight hair.
3. BLOW-DRY WITH COOL AIR
Have you mastered how to give yourself an at-home blowout? If so, you can achieve straight hair by using the cold air setting on your blow dryer. This simple trick is a great way to eliminate the risk of heat damage and will go a long way in the overall health of your hair.
To start, you'll want to make sure that your hair is detangled to prevent any breakage. Allow your hair to air dry about halfway through before reaching for a blow dryer. Then, divide your hair into two sections and clip the top half out of the way. Split the bottom half into two further sections and clip one side out of the way. Using a boar bristle brush, start blow-drying your hair on the cool setting from the roots to ends. Repeat on the rest of your mane until dry. Top it off with one to two pumps of the L'Oréal Paris EverSleek Frizz Finish Oil-in-Serum, working the serum evenly through your strands.
Editor's note: This method may take a bit longer than using heat, but after trying it, you may never go back to your traditional blowout.
4. OPT FOR LARGE ROLLERS
Hair rollers may be the last thing on your mind to straighten your strands, but you'd be surprised by how great they work to get the job done. The key is to use really large rollers, so your hair isn't wrapped around them a bunch of times. To start, apply a leave-in conditioner like the L'Oréal Paris EverStrong Break Proof Lotion. Next, create a one-inch section in your hair, place the large roller at the end of the section and roll up toward your roots. Secure the roller in place with the clip it comes with. Repeat until you have a head full of rollers. Leave them in overnight and unravel in the morning. Voila!
5. TRY THE BANDING METHOD
Calling all natural hair girls! It's time to transform your textured strands into straight locks. And thanks to the banding method, the process is oh so easy. Sure, you may think that this method is only for stretching your hair, but you can totally use it to straighten your hair, too. To start, you'll want to part your hair vertically down the middle and clip one side out of the way. Split the remaining hair into three even sections and clip them into place, so they're not in the way.
Starting with one section, place a hair elastic at the root. Continue to wrap hair elastics down your hair shaft, spacing them out as you work your way down. Repeat on the rest of your sections. Leave the elastics in your hair overnight, and in the morning, gently comb through with a wide-tooth comb to be left with straight, elongated strands.
6. STYLE HAIR IN A TWIST HAIR BUN
For individuals with slightly straight and looser wave patterns, the twist hair bun method may be just what you need. An excellent technique for those who are pressed for time, you can work your way to straight hair with minimal effort. Start by creating a ponytail with your damp strands and secure with a hair elastic. Starting at the base of your ponytail, twist from the top to the ends. Next, wrap the length of the ponytail around its base to form a bun and secure it with a hair elastic. Let your hair air dry then brush out to reveal straight locks.
7. USE SMOOTHING HAIR CARE PRODUCTS
Last but certainly not least, the right hair care products can give you the straight hair you've been dreaming of. If you're already working with straight hair, then you know that frizz and flyaways can ruin your look. So, it's essential to use a hair care line that goes the distance to keep your strands in shape.
Consider adding the L'Oréal Paris Elvive Smooth Intense Smoothing Shampoo, L'Oréal Paris Elvive Smooth Intense Smoothing Conditioner, and L'Oréal Paris Elvive Smooth Intense Frizz Taming Serum to your routine. When used together, this line works to soften, tame rough hair texture, and reduce frizz for a salon-quality finish. You can also pair these products with one of the other natural straight hair techniques we've shared to help smooth and polish your strands.
To use, massage the shampoo onto wet hair, suds up, and rinse with lukewarm water. Next, apply the conditioner and let it sit for one to three minutes. Once time is up, rinse out. Follow up with one to two pumps of the hair serum, applying it evenly through your hair, then style as desired.
HOW TO MAINTAIN YOUR STRAIGHT HAIR
Once you've achieved natural straight hair, it's essential to take proper measures to maintain your locks. Like it or not, merely hopping into bed without protecting your hair can ruin your straight strands. Play it safe by swapping out your cotton pillowcases for a silk or satin alternative that won't disrupt your tresses while you snooze.
For those with naturally curly, wavy, or coily textures, consider dry wrapping your hair at night to allow your straight hair to go the distance.
HOW OFTEN CAN I NATURALLY STRAIGHTEN MY HAIR?
Since you've put your hot tools on ice, you can naturally straighten your hair whenever your please. While some of these techniques can be a bit time consuming, it's definitely a better alternative for your hair if you want to sport strand strands frequently.
Next: How to Get Shiny Hair
{ "@context": "https://schema.org/", "@type": "WebPage", "speakable": { "@type": "SpeakableSpecification", "cssSelector": ["speakable-content"] }, "url": "https://www.lorealparisusa.com/beauty-magazine/hair-style/hairstyle-trends/natural-straight-hair-tutorial" }
Discover more tips & tricks
Keep your skin happy
See all articles
Shop Featured Hair Care products
Discover More
{ "@context": "http://schema.org", "@type": "BreadcrumbList", "itemListElement": [ { "@type":"ListItem", "position": 1, "item": { "@id": "/", "name": "Home" } } , { "@type":"ListItem", "position": 2, "item": { "@id": "https://www.lorealparisusa.com/beauty-magazine", "name": "Beauty Magazine" } } , { "@type":"ListItem", "position": 3, "item": { "@id": "https://www.lorealparisusa.com/beauty-magazine/hair-style", "name": "Find Your Next Hot Look" } } , { "@type":"ListItem", "position": 4, "item": { "@id": "https://www.lorealparisusa.com/beauty-magazine/hair-style/hairstyle-trends", "name": "Hairstyle Trends" } } , { "@type":"ListItem", "position": 5, "item": { "@id": "https://www.lorealparisusa.com/beauty-magazine/hair-style/hairstyle-trends/natural-straight-hair-tutorial", "name": "natural-straight-hair-tutorial" } } ] }