hair color tutorials
15 Gorgeous Ash Brown Hair Color Ideas We Love
Cool tones are in.
July 30, 2020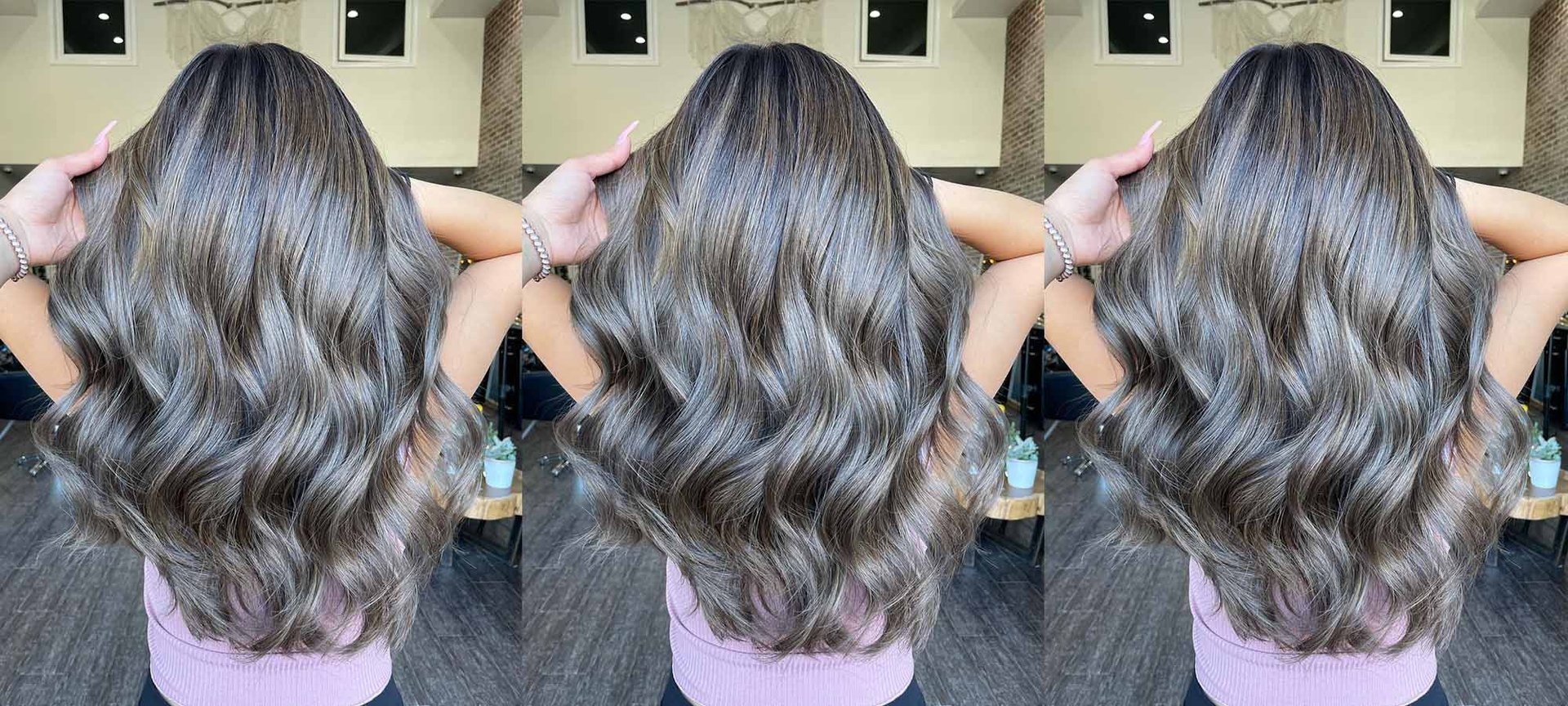 Don't let anyone tell you that brown hair color is boring. There are plenty of stylish brunette shades you can sport — including ash brown hair, which we're seeing lots of these days. Whether you're already a brunette or are currently sporting a different hair color, ash brown hair allows you to play with gray hues. While lots of brown hair colors lean warm, with notes of red or caramel blended throughout, ash brown is the ultimate cool-toned shade. This hair color looks amazing on tons of skin tones and can be customized to suit your needs.
Ready to hop on the ash brown hair color bandwagon? Here, we're giving you the lowdown on how to get ash brown hair, plus sharing hair care tips to keep your mane in mint condition.

How To Get Ash Brown Hair Color At Home
When considering getting an ash brown hair color, keep your starting shade in mind. If you have dark brown or black hair, you're likely going to have to lighten your strands using a hair color bleach before you can achieve your desired ash brown color.
When it comes to DIY, it's all about using the right hair dye. If you need to lighten your hair first, try the L'Oréal Paris Féria Hyper Platinum Advanced Lightening System Bleach. After bleaching, use an ash brown at-home hair color kit and be sure to follow the instructions included in the box. If you're not sure which shade of ash brown hair would suit you best, check out our Hair Color Concierge where you can consult with an expert to give you personalized color recommendations.
Have your pick of our best ash brown hair dyes below:
L'Oréal Paris Féria in Cool Medium Brown: This multi-faceted shimmering color won't wreck hair. Your strands will be left with a shiny, vibrant color.
L'Oréal Paris Superior Preference Fade-Defying Shine Permanent Hair Color in Medium Ash Brown: This at-home coloring kit will leave you with shiny, luminous hair color that's resistant to fading for up to eight weeks. If you want an ultra-deep, cool brown shade, try Cool Darkest Brown.
L'Oréal Paris Excellence Creme Permanent Triple Protection Hair Color in Mocha Ash Brown: If you're looking to achieve ash brown hair while covering gray roots, this is the product for you. It's a gorgeous, medium ash brown shade and the formula will give you 100 percent gray coverage.

15 Ash Brown Colors We Love
Now that you have the details on how to score ash brown hair, we're sharing 15 iterations of this gorgeous hue you can try right now.

1. Ash Brown Highlights
While highlights often lean warm or blonde, consider switching things up with ash brown highlights. Not only do they add dimension to your hair, but you can also try out the shade without having to commit to all-over color.

2. Medium Ash Brown Money Piece
Speaking of steering away from an all-over dye job, you may want to consider trying out the money piece trend. This look is all about flaunting face-framing strands that work to lighten your hair while allowing your medium ash brown shade to be the center of attention.

3. Mushroom Brown
Mushroom brown hair has been a popular 2021 hair color trend. Featuring different shades of brown and gray that emulate portobello mushrooms, this neutral shade relies on a series of lowlights and highlights to get the job done. As a result, you'll sport a multidimensional hair color that won't go unnoticed.

4. Ash Chocolate Brown
If you prefer to keep your hair color on the dark side, ash chocolate brown hair is right up your alley. This hair color provides your strands with a rich and vibrant hue, all while staying true to the cool-toned aesthetic for an unforgettable look.

5. Medium Ash Brown Balayage
If you're looking for a low-maintenance style, medium ash brown balayage is for you. As the low-maintenance sister to traditional highlights, this trend uses a freehand technique that allows your colorist to paint highlights onto specific areas that will help call attention to your features.

6. Ash Brown Ombrè
Another low-maintenance hair color idea we can't get enough of, ashy brown ombré sports dark roots that build to lighter ends for a gorgeous finish.

7. Ash Brown Sombrè
If subtle hair colors are your vibe, you may want to test the waters with ash brown sombré. A spin-off of the ombré trend, this look allows you to play with color without taking a dramatic approach. Basically, the switch between the shade at your roots and on your ends will be ultra-subtle for a seamless gradient of color.

8. Gray Ash Brown
If you're thinking about going gray but aren't quite there yet, opting for a gray-leaning, ash brown hair color is a great way to dip your toes in. It combines gray and silver tones with a cool brown base color.

9. Ash Brown Hair With Pastel Highlights
If you're game for testing out the pastel hair trend, ash brown hair with pastel pink or purple highlights may be just what you need. Blending a light, pastel shade throughout your cool-toned brown base adds a bit of playfulness to your look. Test it out by using the L'Oréal Paris Colorista Hair Makeup Temporary 1-Day Hair Color Spray in Pastel Lavender which will wash out with your next shampoo.

10. Ash Bronde
If you're toying with the idea of blending two hair colors, it's only right that we put ash bronde hair on your radar. The perfect mix of ashy blonde and brown highlights and lowlights, this hair color works wonders to balance out cool tones in your strands for a happy medium with a touch of sunshine.

11. Dark Ash Brown
A dark ash brown hair color is an excellent choice if you have naturally dark hair and want to play with color sans the maintenance that comes with a lighter hue. Not to mention, this hair color looks sensational on olive and deep skin tones.

12. Light Ash Brown
If you're hoping to sport light strands, light ash brown hair may be your perfect match. This super pretty shade allows you to bring light to your features while adding just a hint of warmth for a seriously stunning result.

13. Medium Ash Brown
If you can't decide between light or dark ash brown hair, the choice is pretty simple—medium ash brown hair. This gorgeous hair color is versatile and full of dimension. Not to mention, this cool-toned hue gives dark skin tones a gorgeous pop.

14. Smokey Ash Brown
Tempted to try a hybrid hair color? Give smokey ash brown hair a go. This hue blends hints of mauve, silver, and brown for the ultimate multi-faceted effect. We also love that you can totally customize this look for a perfect shade match.

15. Chunky Ash Brown Highlights
If you're ready to take your highlights to the next level, give chunky ash brown highlights a go. Serving as a nice change of pace from traditional highlights, this option allows you to add contrast and dimension to your hair without completely leaving your natural hair color behind. To make the highlights appear as natural as possible, opt for an ash brown shade that's close to your base color.

Once you have your ash brown hair color, keep it looking fresh with the L'Oréal Paris Elvive Color Vibrancy Purple Shampoo For Color Treated Hair and the L'Oréal Paris Elvive Color Vibrancy Purple Conditioner For Color Treated Hair. This duo contains rich purple pigments that help to counteract brassy tones that could muddy your cool-toned hair.
Excessive heat can also cause your hair color to fade, so be sure to wash your hair with warm – not hot – water and always use a heat protectant like the L'Oréal Paris Elvive Dream Lengths Heat Slayer Pre-Iron Spray Leave-In before styling with hot tools.
Next: How To Get A Natural-Looking Blonde Hair Color

Written by: Alyssa Kaplan, Photo Credit: Valerie Nguyen, IG/@hairbyvalerien
{ "@context": "https://schema.org/", "@type": "WebPage", "speakable": { "@type": "SpeakableSpecification", "cssSelector": ["speakable-content"] }, "url": "https://www.lorealparisusa.com/beauty-magazine/hair-color/hair-color-tutorials/how-to-get-ash-brown-hair" }
Discover more tips & tricks
Keep your skin happy
See all articles
Shop Featured Hair Color products
Discover More
{ "@context": "http://schema.org", "@type": "BreadcrumbList", "itemListElement": [ { "@type":"ListItem", "position": 1, "item": { "@id": "/", "name": "Home" } } , { "@type":"ListItem", "position": 2, "item": { "@id": "https://www.lorealparisusa.com/beauty-magazine", "name": "Beauty Magazine" } } , { "@type":"ListItem", "position": 3, "item": { "@id": "https://www.lorealparisusa.com/beauty-magazine/hair-color", "name": "Bold Ideas From Hair Color Pros" } } , { "@type":"ListItem", "position": 4, "item": { "@id": "https://www.lorealparisusa.com/beauty-magazine/hair-color/hair-color-tutorials", "name": "Hair Color Tutorials" } } , { "@type":"ListItem", "position": 5, "item": { "@id": "https://www.lorealparisusa.com/beauty-magazine/hair-color/hair-color-tutorials/how-to-get-ash-brown-hair", "name": "how-to-get-ash-brown-hair" } } ] }