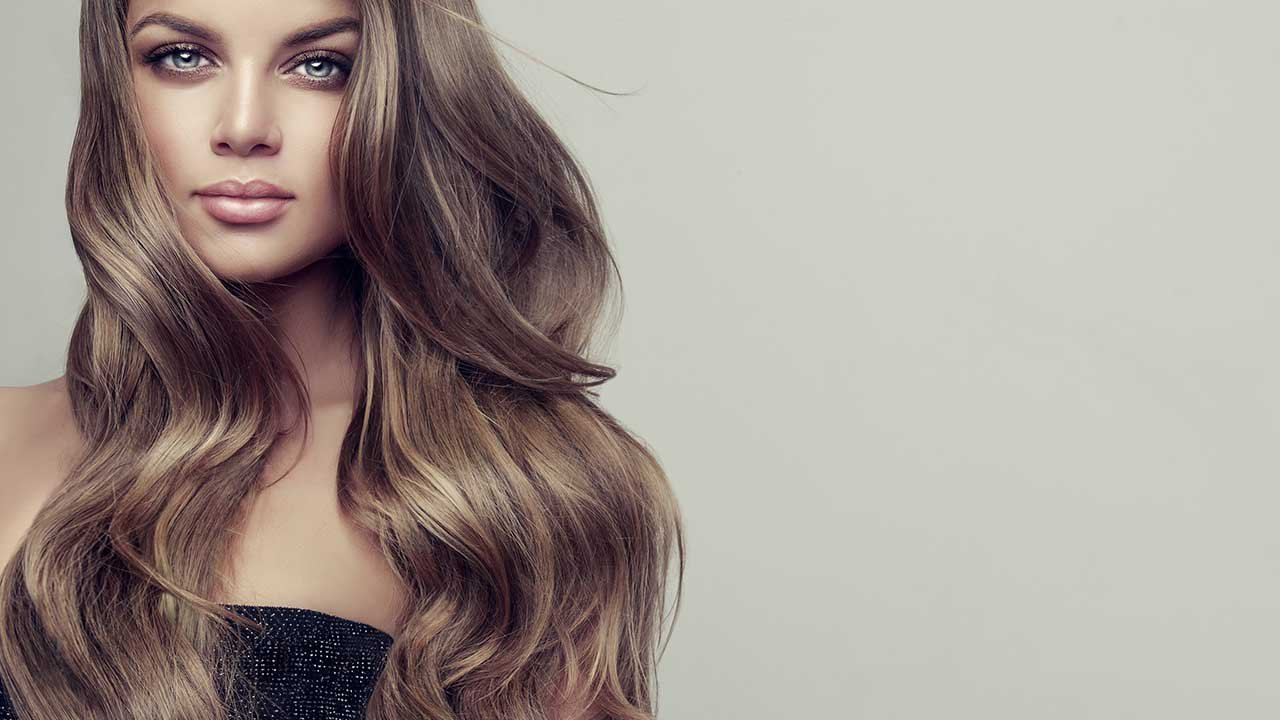 hair color tutorials
How to Get Ash Brown Hair
Don't let anyone tell you brown is a boring hair color! There are plenty of stylish brunette shades you can rock—including ash brown hair. Whether you're already a brunette or are currently sporting a blonde shade, ash brown hair allows you to play with gray hues for a cool-toned appearance. Ready to hop on the ash brown hair color bandwagon? Here, we're giving you the lowdown on how to get ash brown hair, plus sharing hair care tips to keep your mane in mint condition. Here's everything you need to know.
WHAT IS ASH BROWN HAIR?
As we mentioned above, an ash brown hair color features a stunning combination of brunette and gray shades. While lots of brown hair colors are warmer, with notes of red or caramel blended throughout, ash brown is the ultimate cool-toned shade. This hair color is a fabulous option that looks amazing on all skin tones and can be customized to suit your needs. Whether you're a blonde baddie looking to explore the dark side or a brunette looking to shake things up with some dimension, you can bring your ash brown hair color dreams to life.
WHAT TO KNOW BEFORE GETTING ASH BROWN HAIR
When considering ash brown hair, keep your starting shade in mind. If you're starting with dark brown or black hair, you're likely going to have to lighten your strands using a hair color bleach before you can achieve your desired ash brown color. If you're starting with lighter locks, you'll be able to go straight to coloring your hair ash brown.
Another thing to be aware of is that this hair color has cool undertones, which will complement those with cool undertones best. Of course, there's something to be said for lots of contrast too, though.
If you think ash brown is the shade for you, you'll need to decide whether you want a light or dark ash brown hue as your end result. If you're unsure about your perfect shade, go to a professional colorist and bring a few pictures along as color inspo. A pro will be able to help you determine which shade will suit your best. You can also consult the list of ash brown hair ideas we're sharing below.
HOW TO GET ASH BROWN HAIR AT HOME
If you want to dye your hair ash brown at home, it's all about using the right hair dye. If you need to lighten your hair first, try the L'Oréal Paris Colorista Bleach. After bleaching, use an ash brown at-home hair color kit and be sure to follow the instructions included in the box. Have your pick of our best ash brown hair dyes below:
L'Oréal Paris Féria in Cool Medium Brown: This multi-faceted shimmering color won't wreck or ravage your locks. Rather, your mane will be left with brilliant color.
L'Oréal Paris Superior Preference Fade-Defying Shine Permanent Hair Color in Medium Ash Brown: This at-home coloring kit will leave you with shiny, luminous locks and long-lasting color. Other ash brown shades to try include Hi-Lift Ash Brown, Light Ash Brown, and Dark Ash Brown.
L'Oréal Paris Excellence Creme Permanent Triple Protection Hair Color in Mocha Ash Brown: This hair color line also offers a variety of ash brown hair dyes to choose from, including Light Ash Brown and Dark Ash Brown. What's more, the formula will give you 100% gray coverage.
16 ASH BROWN HAIR COLORS WE LOVE
Now that you have the details on how to score ash brown hair, it's time to find your hair color match. You might be surprised by how many options there are! Here, we're sharing 16 of our favorite ash brown hair color ideas to upgrade your beauty look.
1. ASH BROWN HIGHLIGHTS
Love the look of highlights? Consider switching things up with ash brown highlights. Not only do ash brown highlights add dimension to your mane, but you can also try out the shade without having to commit to all-over color. Keep in mind, you'll need to carefully bleach select strands to bring this hair color to life, so it's best to enlist the help of a colorist.
2. MEDIUM ASH BROWN MONEY PIECE
Speaking of steering away from an all-over dye job, you may want to consider trying your hand at the money piece trend. This look is all about flaunting face-framing strands that work to lighten your mane while allowing your medium ash brown hair to be the center of attention. What's not to love?
3. CARAMEL ASH BROWN
While ash brown hair is considered a cool-toned hue, that doesn't mean you can't add some brightness into the mix. Amp up the warmth with caramel ash brown hair. Offering the perfect balance of cool and golden, sun-kissed tones, this hair color provides the ultimate touch of sweetness for a head-turning look.
4. MUSHROOM BROWN
In the mood for a semi-ashy brown hair color? Mushroom brown hair makes for a great option. Featuring different shades of brown and gray that emulate portobello mushrooms, this neutral shade relies on a series of lowlights and highlights to get the job done. As a result, you'll sport a multidimensional hair color that won't go unnoticed. Head on over to our article, How to Rock the Mushroom Brown Hair Color Trend, to bring this chic hair color to life.
5. ASH CHOCOLATE BROWN
If you prefer to keep your hair color on the dark side, it may be time to get acquainted with ash chocolate brown hair. This hair color provides your strands with a rich and vibrant hue, all while staying true to the cool-toned aesthetic for an unforgettable look. Best of all, you can totally transform your strands without having to step foot into a salon.
6. MEDIUM ASH BROWN BALAYAGE
Fancy the idea of low-maintenance hair color? Look no further than medium ash brown balayage! A far cry from classic highlights, this trend uses a freehand technique that allows your colorist to paint highlights onto specific areas that will help call attention to your features. We also dig that you don't have to worry about frequent touch-ups or an awkward grow-out phase, making this the ultimate no-fuss hair color.
7. ASH BROWN OMBRÈ
For individuals looking to take a bold approach in the hair department, you can't go wrong with ash brown ombré. Another low-maintenance hair color idea we can't get enough of, this trend sports dark roots that build to lighter ends for a gorgeous finish.
8. ASH BROWN SOMBRÈ
If subtle hair colors are your forte, you may want to test the waters with ash brown sombré. A spin-off of the ombré trend, this look allows you to play with color without taking a dramatic approach. Basically, the switch between the shade at your roots and on your ends will be super subtle for a seamless gradient of color.
9. BRONZE ASH BROWN
Care to share your love for metallic tones with your hair? Bronze ash brown hair will certainly meet your standards. Ideal for those who want to add a radiant touch to their strands, this hair color blends golden and brunette hues into one for a swoon-worthy look.
10. ASH BRONDE
Now that you're playing with the idea of blending two hair colors, it's only right that we put ash bronde hair on your radar. The perfect mix of blonde and brown highlights and lowlights, this hair color works wonders to balance out cool tones in your mane for a happy medium with a touch of sunshine.
11. DARK ASH BROWN
Not in the mood to go too light? A dark ash brown hair color is an excellent choice for those who want to play with color sans the maintenance that comes with a lighter hue. Not to mention, this hair color looks sensational on olive and deep skin tones.
12. LIGHT ASH BROWN
For those who love the idea of lighter strands, light ash brown hair may be your perfect match. This super pretty shade allows you to highlight your features while adding the right amount of warmth for a seriously stunning result. What else could a girl ask for?
13. MEDIUM ASH BROWN
If you can't decide between light or dark ash brown hair, the choice is pretty simple—medium ash brown hair! This gorgeous hair color adds brightness and mystique to your look for a sultry pick. Not to mention, this cool-toned hue gives dark skin tones a gorgeous pop.
14. SMOKY ASH BROWN HAIR
Tempted to try a hybrid hair color? Feast your eyes on smoky ash brown hair! This glorious trend blends hints of mauve, silver, and brown for the ultimate multi-tonal effect. We also love that you can totally customize this look for a perfect shade match.
15. CHUNKY ASH BROWN HIGHLIGHTS
If you're ready to take your highlights to the next level, give chunky ash brown highlights a go. Serving as a nice change of pace from the traditional trend, this option allows you to add contrast and dimension to your mane without completely leaving your natural hair color behind.
16. ASH BROWN HAIR WITH PASTEL PINK HIGHLIGHTS
If you're game for testing out the pastel hair trend, ash brown hair with pastel pink highlights may be just what you need. A fabulous way to spice up your Instagram feed, this hair color flaunts a soft blush shade throughout your cool-toned brown base for a fun and playful look. Pick up the L'Oréal Paris Colorista Semi-Permanent Hair Color in Soft Pink to transform your strands.
HOW TO CARE FOR ASH BROWN HAIR
Now that you have your ash brown hair color, it's essential to keep your new 'do looking its very best! Here are three hair care tips to add to your routine.
TIP #1: USE A COLOR-TREATED HAIR CARE SYSTEM
It's time to swap out your go-to hair care system for an option for color-treated tresses. The L'Oréal Paris EverPure Repair & Defend Shampoo and L'Oréal Paris EverPure Repair & Defend Conditioner are prime picks. To show your strands some extra love, swap your conditioner for the L'Oréal Paris EverPure Repair Remedy Balm once or twice a week to restore brilliance and strength to your mane.
TIP #2: ALWAYS USE HEAT PROTECTANT
We totally get it! Some hairstyles call for your heat tools, but that doesn't mean you shouldn't protect your strands. After all, if you don't use a heat protectant, split ends, heat damage, and breakage can become a factor. Play it safe and always use a heat protectant before styling your hair.
TIP #3: PREPARE FOR TOUCH-UPS
Depending on the ash brown hair color you're working with, you may need to touch-up your locks once grays or your natural hair color start to peek through. Keep a box or two of ash brown hair dye on hand to tackle any new growth. You can also try the L'Oréal Paris Magic Root Precision Pen to conceal grays while on the go.
HOW TO STYLE ASH BROWN HAIR
Now that you have ash brown hair care down pat, you'll want to properly show off your new hair color with a gorgeous hairstyle. Keep the following tips in mind when styling:
1. GET INSPIRED
For inspiration, look to the most recent hairstyle trends. You can get ideas from your favorite celebrities, influencers, and fashion shows to ensure you have the coolest look in town.
2. OPT FOR HEAT-FREE STYLING
Besides using a heat protectant, you can limit heat damage by wearing heat-free styles, like heatless bouncy curls. After all, who doesn't love a mane full of gorgeous curls? Apply an egg-sized amount of the L'Oréal Paris Advanced Hairstyle CURVE IT Elastic Curl Mousse throughout damp hair, scrunch, and let air dry. Once dry, you'll have soft, fluffy curls to play with. Another option would be to use a texturizing pomade, like the L'Oréal Paris Studio Line Overworked Hair Putty, for a piece-y, messy look.
Discover more tips & tricks
Keep your skin happy
See all articles