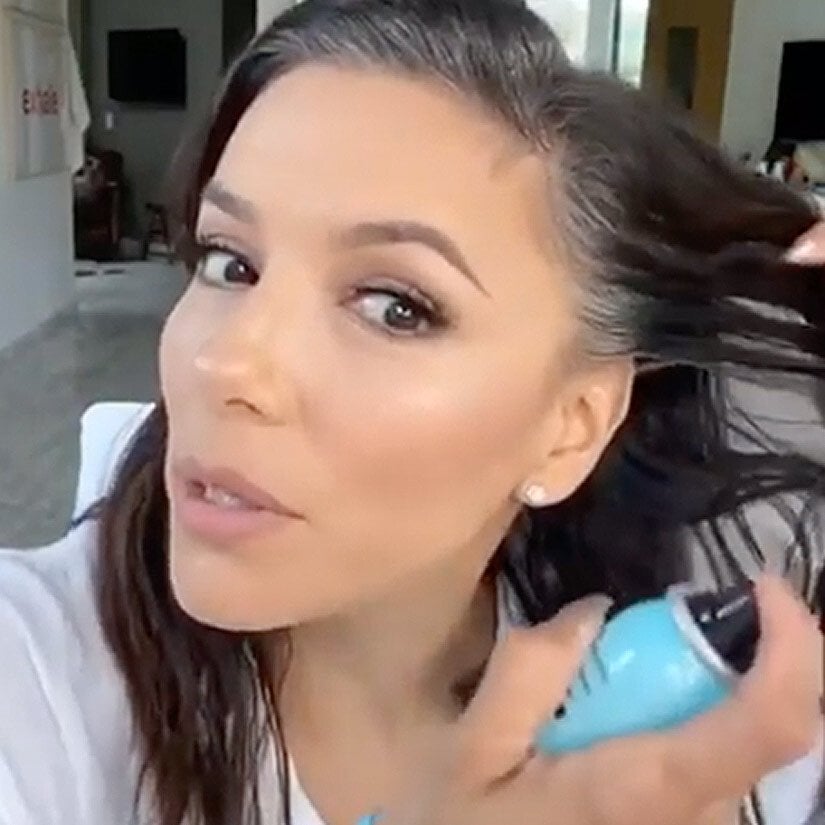 Walking out of the salon with a fresh dye job—whether it's rose gold or your perfect shade of brown—is one of the best feelings ever. A shiny new coat for your mane is like an instant confidence boost and can put you in a seriously happy mood. But sadly, all good things come to an end—and why does it always feel like, before you know it, your gray roots are showing again? Annoying! Whether you have a colorist who you visit on the regular or you're a DIY dyer, consistently having to touch up your hair color when your roots grow in takes serious dedication (and money). The good news is, there's a super-simple way to mask your gray roots in between dye jobs: root cover-up spray.
WHY YOU SHOULD USE A ROOT COVER-UP SPRAY FOR GRAY ROOTS
Unfortunately, you can't always make it into the salon—or carve out time to dye your own mane—at the first sign of new growth. That means you may be sporting gray roots for a few days or weeks before there's time for a total touch-up. Thankfully, in the meantime, you can use a root cover-up spray. The L'Oréal Paris Magic Root Cover Up is a convenient root concealer that temporarily hides gray roots in just a matter of minutes. You can use it in the AM to keep your roots undercover all day long or toss it in your bag for quick touch-ups before happy hour.
HOW TO FIND THE RIGHT ROOT COVER-UP FOR YOUR HAIR COLOR
When using root cover-up, the last thing you want is an accidentally two-toned hair color. It's safe to say you'd like your roots and your lengths to look seamless, right? Lucky for you, our root cover-up spray comes in a variety of shades, so you can find one that closely matches your hue.
If you have blonde hair…try the L'Oréal Paris Magic Root Cover Up in Light to Medium Blonde or Dark Blonde.
If you have brown hair…try the L'Oréal Paris Magic Root Cover Up in Light Golden Brown, Light Brown, Medium Brown, or Dark Brown.
If you have red hair…try the L'Oréal Paris Magic Root Cover Up in Red.
If you have black hair…try the L'Oréal Paris Magic Root Cover Up in Black.
HOW TO USE ROOT COVER-UP SPRAY
Ready to get to work? You can do it! Our lightweight spray dries quickly, doesn't smudge, won't leave behind any sticky residue, and lasts until your next shampoo. Here's how to apply it in four simple steps:
Step #1: Shake. Start by giving the can of root cover-up a good shake.
Step #2: Spray. Hold the can four to six inches from your hair and spray onto new growth, instantly covering grays.
Step #3: Wait. Let your hair have a minute to air dry, giving the root cover spray time to dry down.
Step #4: Brush. For a more natural look, gently brush through your hair to help blend your color.
2 HAIRSTYLES TO HELP HIDE YOUR GRAY ROOTS
In addition to temporarily masking your roots with a root cover-up spray, you can also rock a new hairstyle to help hide them. The best part is, no one will have a clue when your last color appointment was—in fact, we bet you'll get tons of compliments on these pretty hairstyles!
HAIRSTYLE IDEA #1: ROCK A HEADBAND
One word: Accessorize! Why not throw on a large headband? Not only will this make it impossible for anyone to see your roots, but it'll also keep your hair off your face. Plus, a sparkly headband can take your look from day to night.
Love the headband look but want to add a twist? Wear a trendy head wrap instead! You'll get the same instant gray root coverage while rocking a totally stylish 'do. Whether you're headed to the gym or the bar, head wraps are all the rage in the beauty scene.
HAIRSTYLE IDEA #2: CHANGE YOUR PART
Another idea we love: Flip your hair to one side for a deep side part. Switching up your part will help hide your gray roots for the time being. To take this hairstyle to the next level, create beachy waves using a curling wand for a soft, romantic feel. So simple, yet so chic.
Want more gray hair hacks? Read our article, How to Blend Gray Hair with Highlights and Lowlights.
{ "@context": "https://schema.org/", "@type": "WebPage", "speakable": { "@type": "SpeakableSpecification", "cssSelector": ["speakable-content"] }, "url": "https://www.lorealparisusa.com/beauty-magazine/hair-color/gray-hair-coverage/how-to-hide-gray-roots" }
Discover more tips & tricks
Keep your skin happy
See all articles
Shop Featured Hair Color products
Discover More
{ "@context": "http://schema.org", "@type": "BreadcrumbList", "itemListElement": [ { "@type":"ListItem", "position": 1, "item": { "@id": "/", "name": "Home" } } , { "@type":"ListItem", "position": 2, "item": { "@id": "https://www.lorealparisusa.com/beauty-magazine", "name": "Beauty Magazine" } } , { "@type":"ListItem", "position": 3, "item": { "@id": "https://www.lorealparisusa.com/beauty-magazine/hair-color", "name": "Bold Ideas From Hair Color Pros" } } , { "@type":"ListItem", "position": 4, "item": { "@id": "https://www.lorealparisusa.com/beauty-magazine/hair-color/gray-hair-coverage", "name": "Gray Hair Coverage" } } , { "@type":"ListItem", "position": 5, "item": { "@id": "https://www.lorealparisusa.com/beauty-magazine/hair-color/gray-hair-coverage/how-to-hide-gray-roots", "name": "how-to-hide-gray-roots" } } ] }