hair color trends
How To Get Golden Copper Hair 
It's warm, bright, and truly unique.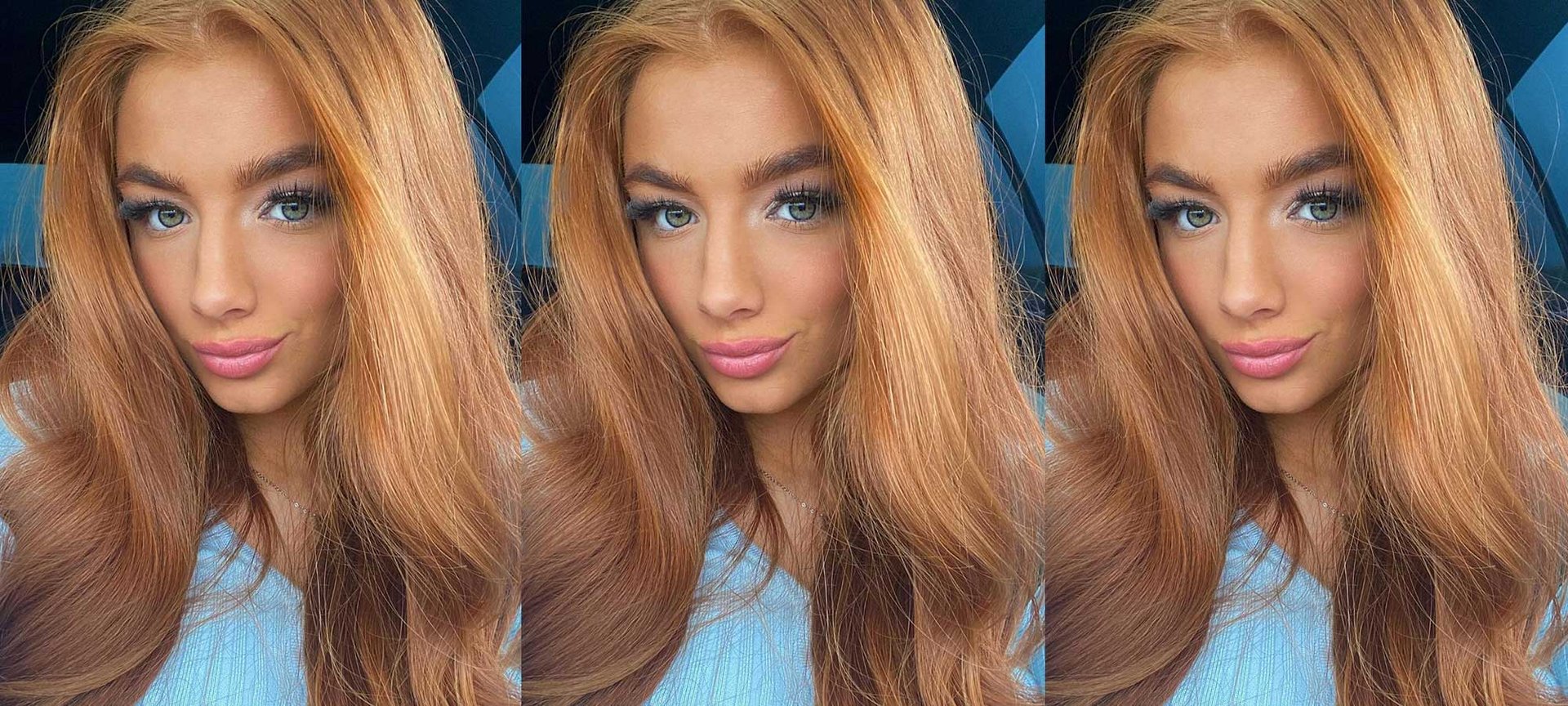 Once upon a time choosing a new hair color was as simple as picking between basic
blonde hair
,
brunette hair
, black hair, and
red hair
. Nowadays, buzzworthy
hair color trends
have made room for shades like
mushroom brown hair
and, one of our personal favorites, copper hair colors like copper brown, copper red, and golden copper. Speaking of the latter, instead of lightening your strands into a common blonde shade, you might want to consider opting for something more unique like a gorgeous, golden copper hue. This beautiful shade is warm with hints of strawberry blonde and red. Keep reading to learn how to sport this beloved golden copper hair color trend.
What Is Golden Copper Hair?
Golden copper hair is a pale copper red color often revved up with lighter babylights that blend effortlessly for a warm hair color that borders on the edge of rose gold. Similar to strawberry blonde hair, golden copper hair mixes red and blonde tones for a shimmering, light-bending effect that instantly warms the complexion and brings attention front and center.
What Should You Ask Your Colorist Before You Get Started?
First and foremost, it's always a good idea to bring an inspiration picture that illustrates exactly what you want. From there, discuss with your colorist the different methods for obtaining a golden copper hair color, and keep in mind that if you're adding golden highlights to your hair, this will require bleaching. The darker your starting shade, the more sessions it may take to achieve your desired level of golden copper hair.
How to Customize Golden Copper Hair
Depending on your skin's undertones, your colorist will be able to determine which copper hair dye shades will best flatter your complexion. Where warm reds and blondes pair well with warm undertones, cool undertones are better suited with icy, neutral hues. Regardless of your starting hair color or your undertones, your colorist will be able to tailor the look to your specific needs to create a multi-faceted approach to the trendy look.
Editor's Tip: If you want to get a feel for which shade will flatter you most in advance, check out our Virtual Hair Color Try-On tool which allows you to upload a photo of yourself or use the live try-on feature to see how various shades would look on you. You can also use the L'Oréal Paris HairColor Concierge to consult with a color expert who can give you personalized recommendations.
How to Get Golden Copper Hair at Home
You can take the golden copper hair color trend for a spin right at home by using the L'Oréal Paris Féria in Power Copper which provides a beautiful, shimmering color full of dimension. If you have stubborn grays you're looking to address while also achieving your new shade, try the L'Oréal Paris Excellence Creme Permanent Triple Protection Hair Color in Medium Reddish Blonde. Make sure to follow the instructions included with the copper hair dye for the best results.
How to Care For Golden Copper Hair
Like all shades in the red hair color family, golden copper hair will require an updated hair care routine. Here, we share a few simple ways to make the most of your pretty new hair color.
Use Products for Color-Treated Hair
When you color your hair, you need hair care products that are formulated to be gentle and protect your color. Try the L'Oréal Paris Elvive Color Vibrancy Protecting Shampoo and the L'Oréal Paris Elvive Color Vibrancy Protecting Conditioner which contain UV filters that shield the hair color from fading.
If you notice that your hair is showing signs of brassiness, use the L'Oréal Paris EverPure Sulfate Free Purple Shampoo for Colored Hair and the L'Oréal Paris EverPure Sulfate Free Purple Conditioner for Colored Hair which work to neutralize unwanted yellow and orange tones.
Turn Down the Heat
Keeping your color vibrant is not only achieved through the products you use. Show your strands some love by lowering the water temperature when washing your hair—after all, scalding hot water can strip your hair of essential oils, leaving your hair feeling dry and looking dull. Rinse off in lukewarm water instead.
Use Caution When Heat Styling
Heat styling can not only cause damage like split ends and breakage, but it can also cause your color to fade. Be sure to use a heat protectant like the L'Oréal Paris Elvive Dream Lengths Heat Slayer Pre-Iron Spray Leave-In which protects against heat damage of up to 450 degrees. You can also play with heatless hairstyles to give your strands a break.
Next: How to Bleach Your Hair at Home


Photo Credit: Summer Harte-Felce/[email protected]_
Discover more tips & tricks
Keep your skin happy
See all articles
Shop Featured Hair Care products
Discover More