all hair types
Everything You Need to Know About Getting a Silk Press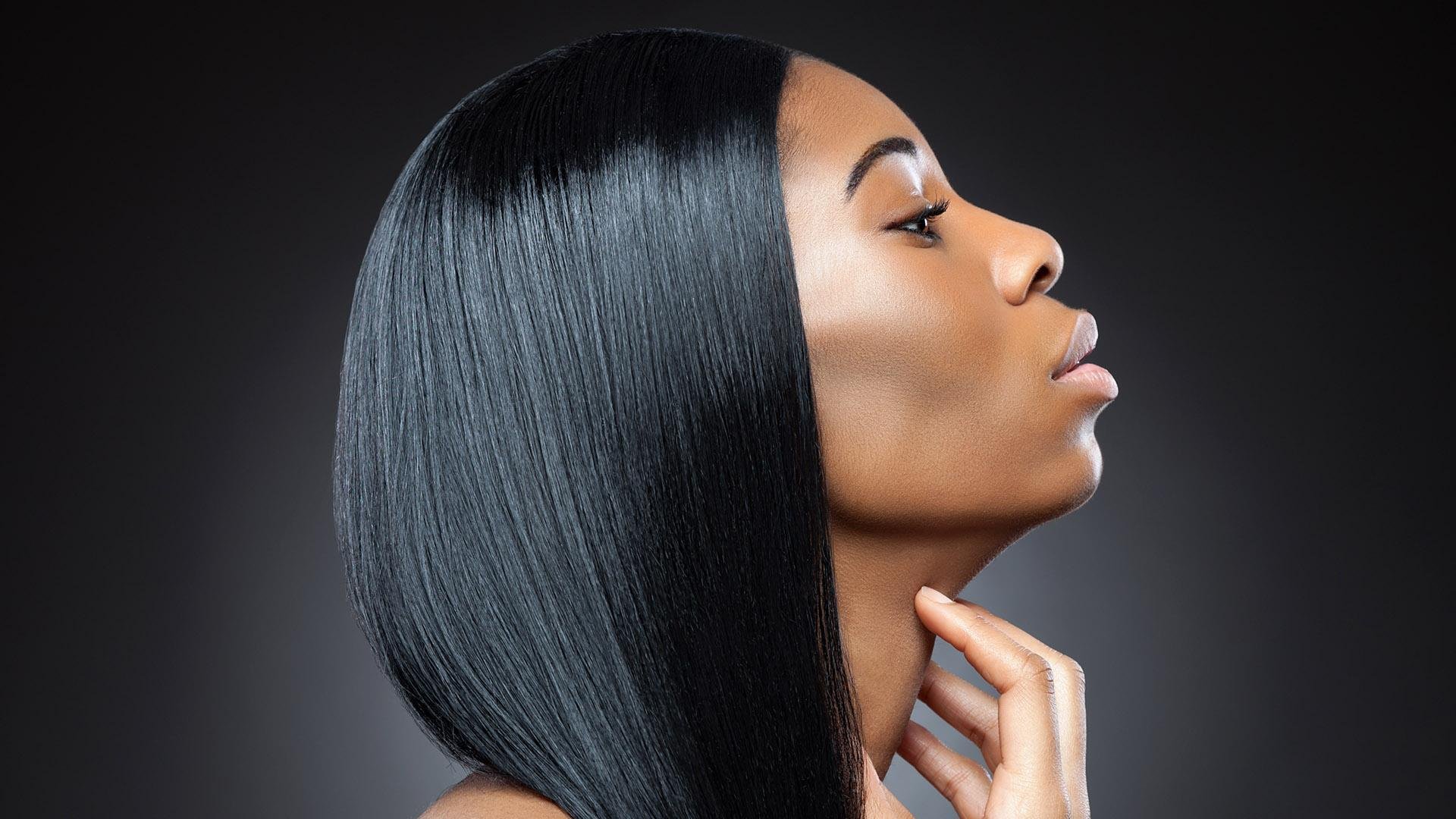 Calling all natural-haired gals! No matter how much you love your textured strands, there is one hairstyle you're likely to try as part of your natural hair journey: a silk press. Sure, twist outs and pineapple looks are super pretty, but silky smooth strands are a nice change of pace. Think you're ready to give silk press hair a go? That's what we thought! Keep reading to learn the 4-1-1 on how to do a silk press, plus get hair care tips for keeping your new, silky 'do in tip-top shape.
WHAT IS A SILK PRESS?
First things first, it's time to answer the obvious question: "What is a silk press?" A silk press is a hairstyling technique that uses a blow-dryer and flat iron to straighten your hair without a chemical relaxer. While it's easy to think that a silk press for natural hair is the same as a traditional press and curl, this style ups the ante. Silk press hair is all about applying less heat to your strands to give your mane movement, body, and a shiny finish—sans the weighed down look a standard press and curl can provide. Stiff hair is officially a thing of the past.
HOW TO DO A SILK PRESS
Ready to flaunt a smooth and silky mane? Keep reading as we walk you through the proper steps on how to do a silk press like a pro!
STEP #1: START WITH CLEAN HAIR
In order to bring a gorgeous silk press to life, you need to make sure that your strands are nice and clean. Kick things off with the L'Oréal Paris EverPure Frizz-Defy Shampoo and the L'Oréal Paris Frizz-Defy Conditioner. Formulated with marula oil, this duo deeply conditions your hair and keeps frizz at bay for a super-smooth finish.
STEP #2: USE A LEAVE-IN CONDITIONER
Next, you want to boost your strands with moisture to allow your 'do to go the distance. Reach for the L'Oréal Paris EverStrong Break Proof Lotion, which works to soften your strands and provide slip for a seamless detangling process. Simply distribute a dime-sized amount of lotion evenly through your strands and detangle your hair section by section. Once complete, you're ready for the next step.
STEP #3: APPLY YOUR HEAT PROTECTANT
Since this style requires the use of heatstyling tools, you'll want to protect your strands with a heat protectant. Reach for the L'Oréal Paris Advanced Hairstyle SLEEK IT Iron Straight Heatspray, which helps to calm frizz, seal in shine, and protect your strands from heat damage.
STEP #4: PART YOUR HAIR
Part your hair into two even sections, and secure the top half with a hair clip. Next, split the bottom layer into two more sections, and clip one out of your way.
STEP #5: BLOW DRY YOUR HAIR
Attach the concentrator nozzle to your blow dryer and dry your hair with a brush, making sure to work from the roots to the ends. Repeat the process on each section of your hair until your mane is fully dry.
STEP #6: PREP YOUR HAIR FOR THE SILK PRESS
Just as you prepped your strands for blow-drying, you'll need to do the same for your silk press but with a slight twist. Start by dividing your hair into two sections. Split the bottom section in two and secure one side with a hair clip. Now, this is where things take a turn. Instead of leaving your hair as is, create a part that's about an inch in size to ensure that the heat from your flat iron will be distributed evenly through your hair. Clip the rest of your hair out of the way.
STEP #7: SILK PRESS YOUR HAIR
It's time to create some silk press magic! Starting as close to the root as possible, slowly flat iron your hair all the way to the ends to make each pass count. Repeat this on one-inch sections of hair, passing over each one with your flat iron until you have a silky-soft mane. Remember, too many passes on the same section of hair can cause damage, so take things slow for desired results.
STEP #8: SEAL THE DEAL
Once your mane is flat-ironed to perfection, all you need is a touch of hairspray to lock it all in. Grab the L'Oréal Paris Elnett Precious Oil Satin Hairspray and mist the spray evenly over your hair. Voila!
HOW TO MAINTAIN YOUR SILK PRESS
Now that you have a stunning silk press to rock, you don't want all of your hard work to go to waste. Keep reading for a few tips to add to your hair care routine.
TIP #1: PROTECT YOUR HAIR AT NIGHT
One of the easiest ways to keep your silk press intact is to pin-curl your hair at night to maintain a bouncy mane. Simply part your hair into sections that are about an inch in size. Take the end of one of the sections, tuck your hair around one of your fingers and roll up until you reach the roots. Secure it with a bobby pin and repeat until you have a mane full of pin curls. Cover your hair with a satin scarf every night, and you're all set.
TIP #2: STAY AWAY FROM HEAT
While it may be tempting to apply more heat to your hair, we'd advise you not to do so. Too much heat can offset your mane's moisture levels and leave you with stiff strands. Not cool!
TIP #3: AVOID WATER
When you have a silk press, you should avoid H2O at all costs—that means water, steam, and sweat. Even a drop of water can cause your smooth strands to revert to their natural texture.
TIP #4: GIVE YOUR STYLING PRODUCTS A BREAK
There is no need to apply additional hair products to your mane. The goal is to keep your hair shiny and bouncy, and excess product can give your hair a weighed down look and feel.
Next up: Interested in learning about more natural hair techniques? Head on over to our article, How to Stretch Natural Hair, for the full scoop.
Discover more tips & tricks
Keep your skin happy
See all articles
Shop Featured Hair Care products
Discover More