dry hair
What is Coily Hair?
July 16, 2020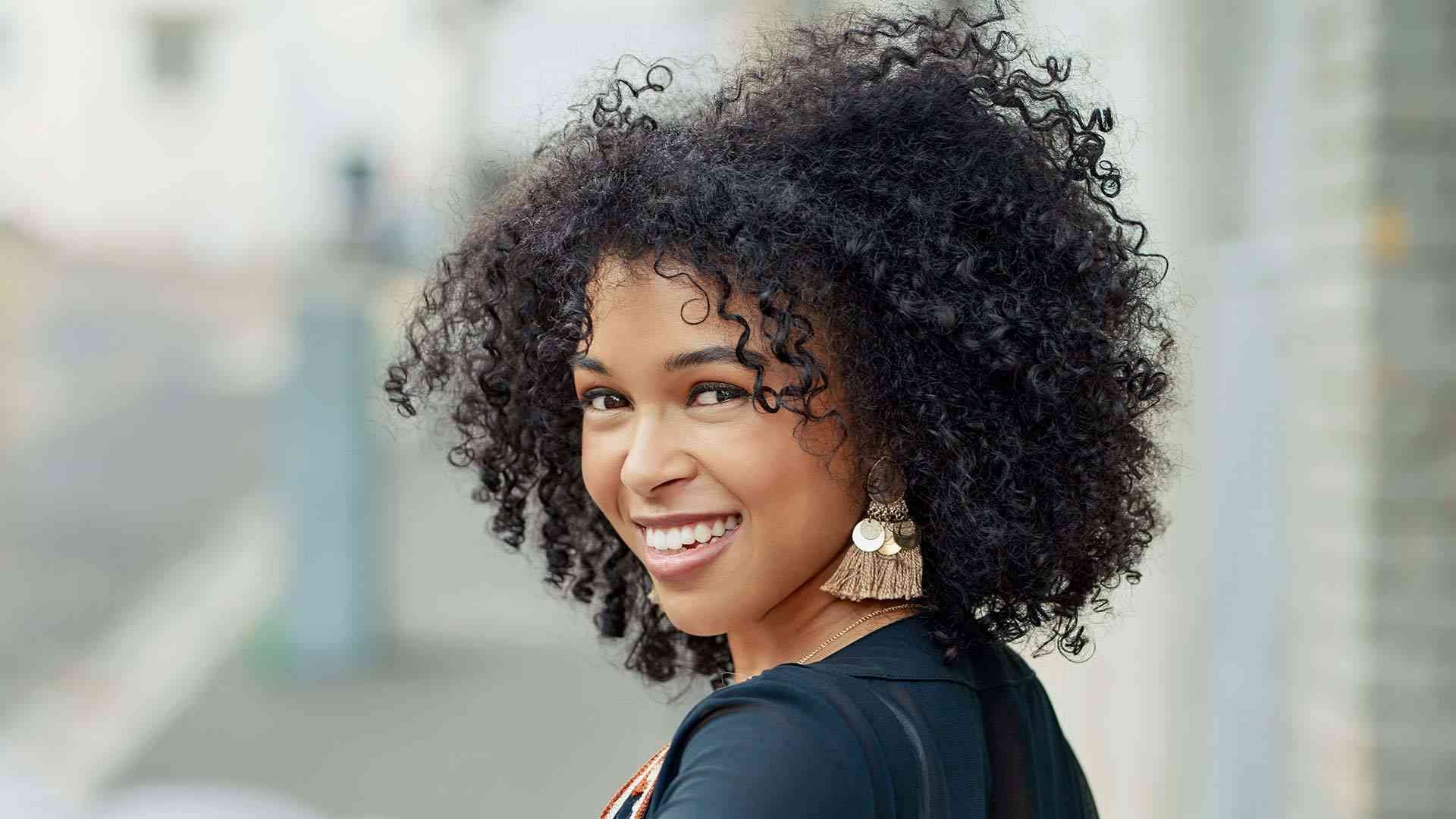 If you have naturally curly hair, you may be wondering what exactly makes curly, kinky, and coily hair different. With so many hair terms, it can be difficult to determine which term best describes your hair type. Lucky for you, we're here to fill you in on what coily hair is—clearing up the differences between the various curly hair types in the process—and share the best hair care and hair styling products and tips for short and long coily hair.
WHAT IS COILY HAIR?
So, what does coily hair look like? Coily hair is a type of curly hair that is super voluminous. Also known as Type 4, coily hair refers to strands that form tight curls in a zig-zag pattern from the scalp. To answer your earlier question on coily vs kinky hair, coily hair is also sometimes referred to as kinky hair. This naturally curly hair type has a very dry and spongy texture. Within the coily hair type, there are three subcategories based on the size of the hair pattern. Here's how to determine which of the three different types of coily hair you have:
You have 4A coily hair if…your strands form S-shape coils that are super small, dense, and springy.
You have 4B coily hair if…your strands are in a "Z" shape, bending at sharp angles. Your mane is also densely packed.
You have 4C coily hair if…your hair has a similar texture to type 4B but has tighter coils that are more fragile.
WHAT IS THE DIFFERENCE BETWEEN CURLY AND COILY HAIR?
Like we mentioned, coily hair is a type of curly hair. There are many different types, and sub-types like those we listed above, that fall under curly hair. So, there really isn't a difference between the two—one is just an umbrella term, and the other falls under that umbrella.
Editor's note: Find yourself asking, "Is 3C hair curly or coily?" The answer isn't so black and white. 3C hair is actually known as curly hair—with coils. So, you could consider it a combination of the two.
OUR BEST HAIR CARE PRODUCTS FOR COILY HAIR
When it comes to deciding on a hair care routine for coily hair, you want to keep in mind that your strands are naturally dry, so keeping them hydrated is key. How do you keep coily hair moisturized? It's all about finding a hair care line that is specifically formulated for curly locks to help ensure your hair gets all the moisture it needs to look its best! Here are our best hair care products for coily hair:
L'Oréal Paris EverCurl HydraCharge Shampoo: This shampoo, which is formulated with coconut oil, pairs with the L'Oréal Paris EverCurl HydraCharge Conditioner to help quench your mane for soft, manageable curls. Your hair will be left without frizz, and your curls will be defined. This shampoo is also super gentle on your hair thanks to its sulfate-free, salt-free, and surfactant-free formula.
L'Oréal Paris EverCurl HydraCharge Sculpt & Hold Cream-Gel: This hair treatment will condition and shape your curls without weighing them down. Your coils will be smooth, hydrated, and defined.
L'Oréal Paris Elvive Extraordinary Oil Curls Shampoo: This shampoo will give your coily hair the TLC it deserves when used in combination with the L'Oréal Paris Elvive Extraordinary Oil Curls Conditioner. The formula hydrates and nourishes curly strands to leave you with defined, bouncy locks. The hair care system will work to improve dryness in a single wash.
L'Oréal Paris Elvive Extraordinary Oil Curls Re-Nourish Mask: To complete your coily hair care routine, you'll need a hair mask. This mask will rehydrate, restore, and reinfuse bounce into your curls.
OUR BEST HAIR STYLING PRODUCTS FOR COILY HAIR
One of the best ways to style your coily mane is to embrace your curls and rock them au naturel. Of course, doing that involves using the right hair styling products to maintain and manage the coily shape of your strands. Small braids and dreads are also great options to tame your coils while allowing your hair to be totally on-trend. Here are our best hair styling products for coily hair:
L'Oréal Paris Advanced Hairstyle CURVE IT Elastic Curl Mousse: This hair mousse will define your curls without leaving them sticky. Instead, you'll be left with soft, bouncy curls.
L'Oréal Paris Advanced Hairstyle BLOW DRY IT Thermal Smoother Cream: This lightweight cream will de-frizz and smooth out your curls! Apply it to damp hair before blow-drying.
HOW TO STYLE COILY HAIR, BASED ON YOUR LENGTH
Whether you have short coils or long coily hair, here are our top tips for styling your locks and defining your natural texture, based on your hair length.
If you have short coily hair…try finger coils. This involves twirling or coiling small strands of hair (with the help of plenty of product) around your finger to create defined, lasting coils throughout your mane. These can last quite a few days with the right care. Wear a satin bonnet to bed to keep them in shape!
If you have medium coily hair…try flat-twist outs. The process is similar to that of cornrows but instead involves flat twisting sections to create defined coils. This method can also be used on long hair. As with finger coils, you'll want to wrap your hair in a satin bonnet before bed.
If you have long coily hair…try a braid out. This involves creating small sections of hair and braiding them, adding more hair as you go. In the morning, remove the braids and show off your coily texture! Repeat nightly. You can do a braid out on medium hair.
Ready to show off your coily hair? For more styling ideas, here are The 4 Best Hairstyles for Curly Hair.
Discover more tips & tricks
Keep your skin happy
See all articles
Shop Featured Hair Care products
Discover More