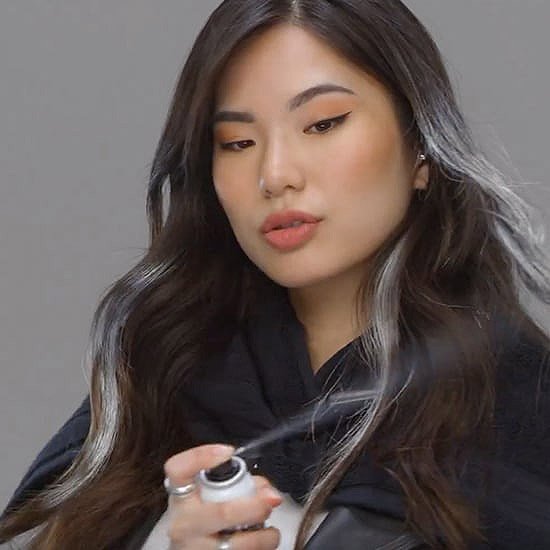 hair color trends
How to Use a Temporary Hair Color Spray
Maybe you've been considering a hair color change, but you aren't quite ready to use permanent hair color. Well, that's where a temporary hair color spray comes in. We understand leaving behind your natural blonde hair, brown hair, or red hair can be a difficult choice to make—even if you love the way rose gold hair and coral hair look on your friends. But thankfully, switching up your hair color doesn't necessarily have to be a major commitment—you can take an out-there shade for a test drive with the help of a wash out hair color spray. Keep reading to learn how to use a temporary hair color spray, different trends to try with one, and how to style your colored hair while you have it.
WHAT IS A TEMPORARY HAIR COLOR SPRAY?
So, what exactly is a temporary hair color spray? Hair color sprays are, as you may have guessed, spray on hair colors that aren't permanent. Usually, these sprays can be expected to last until you wash your strands. The L'Oréal Paris Colorista 1-Day Spray lasts for one shampoo, allowing you to get the look of a new hair color trend without having to make a full-time change.
HOW DO YOU USE A TEMPORARY HAIR COLOR SPRAY?
Now that you're familiarized with our temporary hair color spray, you surely want to know how to use one, right? Well, that's what we're here for. Follow these simple steps to give your hair a (temporary) hair color change.
Step 1: Choose your hair color(s). If it wasn't already obvious, you won't be able to color your hair temporarily without first picking out which color, or colors, you want to use. Try picking one shade that suits your look or a few that will blend beautifully together. You can also seek out pictures for inspiration and consider whether you want your updated color all-over or if you prefer peek-a-boo hair or dip-dyed hair.
Step 2: Protect your clothes. Place a towel around your shoulders to protect your clothing.
Step 3: Shake, shake, shake. Shake the can well before each use.
Step 4: Get ready to spray. Hold the can four to six inches away from dry hair and spray. What to keep in mind: Less is more! Over-spraying your hair may cause hair to feel dry. Also, if you're looking for all-over color, you may need to use more than one can, depending on the length and thickness of your mane.
Step 5: Be patient. Wait a few minutes for the color to dry completely.
Step 6. Style. Style your hair as you wish (more on that later) and seal the deal with the L'Oréal Paris Elnett Satin Hairspray Extra Strong Hold Unscented.
5 LOOKS TO CREATE WITH A TEMPORARY HAIR COLOR SPRAY
Want a few ideas for putting your hair color spray to use? Here are five looks to try with a temporary hair color spray.
Temporary Hair Color Idea #1: Rainbow. More color, more fun! Why pick a single color when you can paint your mane the colors of the rainbow? Not sure what rainbow hue is best for you? Here's How to Find the Best Rainbow Hair Color for You.
Temporary Hair Color Idea #2: Silver. Want a seriously on-trend mane? Silver happens to be one of the biggest hair color trends for 2019. We love the contrast of this hue on brunette locks, though anyone can rock it! Just grab the L'Oréal Paris Colorista Spray 1-Day Color in Silver to get the look.
Temporary Hair Color Idea #3: Faux Highlights. Love the look of highlighted hair? You don't have to turn to bleach to give lightened locks a try. Instead, reach for the L'Oréal Paris Colorista Spray 1-Day Color in Gold for some instant, at-home highlights. Want a step-by-step tutorial? Here's How to Get Easy Highlights At Home with a Hair Color Spray.
Temporary Hair Color Idea #4: Blackberry Hair. Give your mane a fruity twist with a blackberry hair color. Spritz the L'Oréal Pairs Colorista Spray 1-Day Color in Purple onto your locks to transform your mane into this trendy hue.
Temporary Hair Color Idea #5: Pastel Pink. Another on-trend hair color, we love pastel pink on both blonde and brunette hair. Rather than giving yourself an all-over wash of color (though you totally can), spray the L'Oréal Paris Colorista Spray 1-Day Color in Pastel Pink onto your roots for a stylish one-day mane makeover.
HOW SHOULD YOU STYLE YOUR HAIR POST-TEMPORARY HAIR COLOR SPRAY?
Who needs heat? Not you! Rocking a temporary hair color makes for the perfect opportunity to embrace your natural texture and go heat-free. Whether you have straight hair, wavy hair, or curly hair, there's an air-dried style that'll work for you. Have your pick from three of our favorites, below.
1. Beachy waves. Anytime you're sporting freshly-colored hair, beachy waves are a solid style choice. To achieve this almost-effortless style, you'll need the L'Oréal Paris Advanced Hairstyle AIR DRY IT Wave Swept Spray, which enhances hair's natural shape and definition without leaving residue behind. The lightweight hair spray helps provide hold for a textured wavy look. Spritz it throughout towel-dried hair, then scrunch and allow to air dry. If your hair is naturally straight, put it into a braid or two after applying the wave spray to create more defined waves.
2. Voluminous curls. When you're working with hair that has more shape and texture, there's no need to try and tame it. Instead, take it to the next level. For curls with volume, reach for a hair mousse, like the L'Oréal Paris Advanced Hairstyle BOOST IT Volume Inject Mousse. The rich, lightweight hair mousse builds body, provides heat protection, and has an extra strong hold. To use, shake well and dispense hair mousse into your palm. Apply to clean, damp hair, evenly distributing product from roots to ends. Scrunch hair, then allow to air dry. For added body, try flipping your head upside down to scrunch!
3. Soft texture. Super-defined texture isn't right for everybody. If it's not exactly your style, you can opt for a look that's more "undone." Seriously, a hairstyle that loosely resembles your best bed head is totally on trend! To get the look, use the L'Oréal Paris Studio Line Overworked Hair Putty. The hair pomade adds thickness and texture without weighing hair down. Work the pomade through dry hair, scrunching as you go to create definition and body. Make your 'do as messy and textured as your heart desires!
Ready for a look that'll last a little longer? No problem, we have you covered there, too. Check out our article on How to Dye Your Hair with Semi-Permanent Hair Color.
Discover more tips & tricks
Keep your skin happy
See all articles