all hair types
How to Wrap Your Hair at Night
June 05, 2020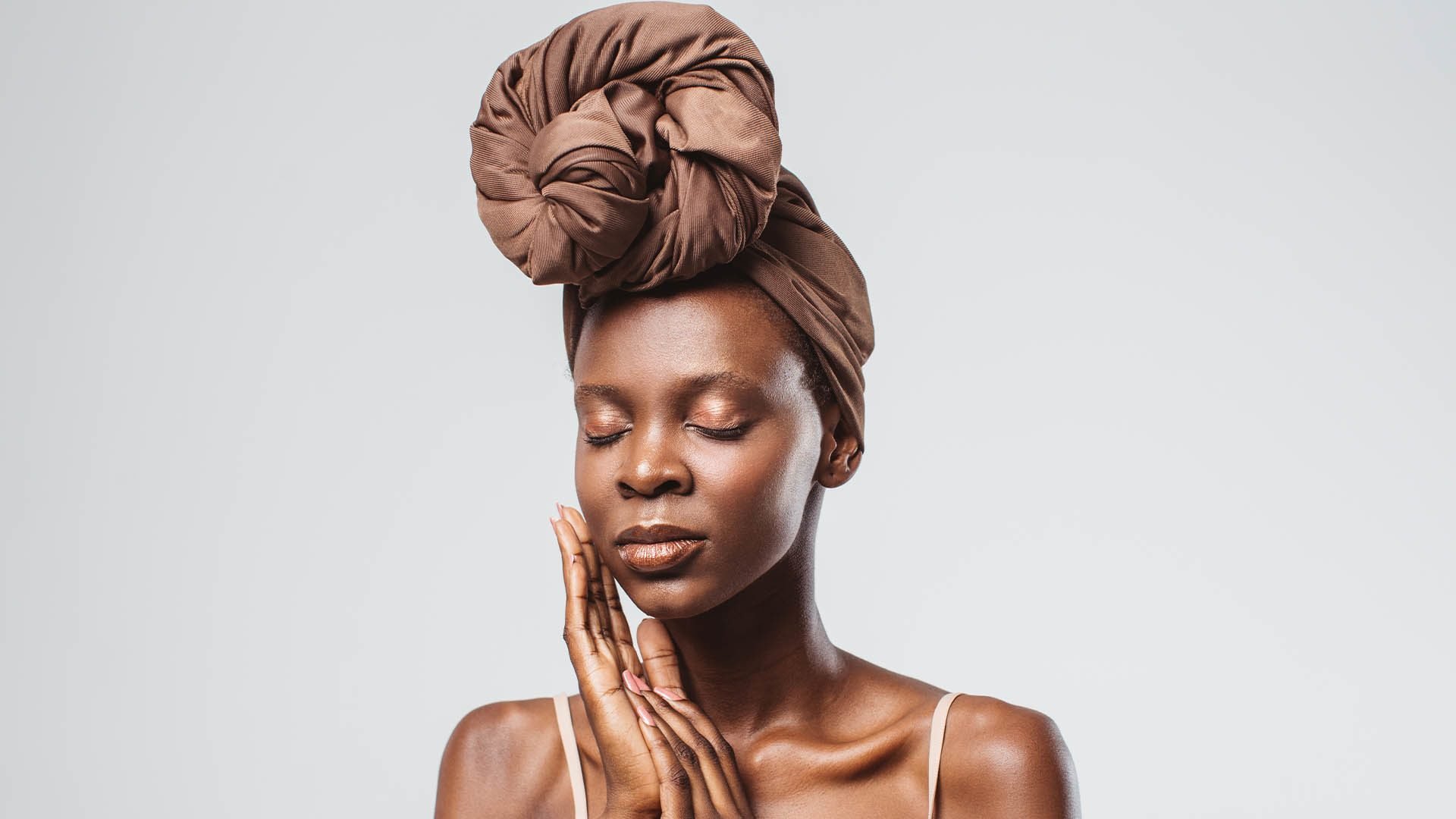 If you have relaxed strands or are working with a silk press, you're likely familiar with hair wraps for sleeping. Since coily, curly, and wavy hair can easily revert back to its natural pattern, knowing how to preserve your style is key for long term success. A popular styling technique for Black women, this method allows your sleek strands to go the distance. If you aren't in the know about how to wrap hair, we're here to help. Keep reading for a step-by-step tutorial on how to wrap your hair so you can keep your strands in tip-top shape while you're getting shut-eye.
WHAT IS A HAIR WRAP?
Before we turn you into a hair wrap pro, it's important to know exactly what this technique entails. As the name suggests, a hair wrap is all about smoothing your strands around your head for a sleek finish. This technique lays hair against the scalp by brushing it in a circular motion around the head. A silk scarf is then placed around your head to keep your strands in place. Depending on how thick your hair is, you may need to use bobby pins to secure your hair, too.
WHY SHOULD YOU WRAP YOUR HAIR AT NIGHT?
There are many reasons why you should wrap your hair. For starters, learning how to master this method can help you protect your ends at night and make your sleek hairstyles last. Since the hair wrap for sleeping technique works to keep strands strategically tucked away, you don't have to worry about any friction or loss of moisture when you're tossing and turning in your sleep. Not to mention, you don't have to deal with fixing messy strands or using hot tools in the morning to perfect your look.
If you've been asking yourself, "Does wrapping your hair make it straight?", you're in for a real treat! This styling method keeps your strands nice and snug around your head, so when you unravel your strands in the a.m., you'll have straight hair to play with. Instead of having to rely on heat tools to achieve straight strands, learning how to wrap your hair can totally make it happen sans the damage. Just keep in mind, this method only works if you have a slight curl or wavy texture to your hair. Individuals with thicker and tighter curl patterns will need to use other methods to achieve straight strands.
HOW TO WRAP YOUR HAIR AT NIGHT
Ready to learn how to wrap your hair? Here's what to do.
STEP #1: SMOOTH OUT YOUR STRANDS
Instead of jumping straight to wrapping your strands around your head, you'll need to ensure that your hair is tangle-free to reap all of the benefits from this way to sleep on your hair. Start by combing your hair from the ends up to the roots until smooth. Top it off with nourishing hair serum, like the L'Oréal Paris Elvive Extraordinary Oil Treatment to give your strands a boost of shine and softness. Simply rub a few drops of oil between the palms of your hands and apply it throughout the lengths of your hair, concentrating on your ends.
STEP #2: PART YOUR HAIR
Next, divide your hair into two even sections, so your hair wrap is easier to complete.
STEP #3: START WRAPPING YOUR HAIR
Starting on either side of your head, use a paddle brush and smooth hair from the front of your head around to the side. If you notice that your hair is falling out of place, secure the section with a bobby pin. Continue brushing the section of your hair in a circular motion until you reach the back of your head or as far as the hair will reach, depending on your length.
STEP #4: REPEAT
On the other side of your head, start brushing your hair from the back of your head, combining hair from the first section for a uniform look. Feel free to use bobby pins to secure your strands as you work your way up the side of your head. Once you reach the last few strands of hair, release the first bobby pin you used and smooth your hair over the section.
STEP #5: SECURE YOUR HAIR WRAP WITH A SCARF
Now that your hair wrap is set, it's time to learn how to wrap hair in a scarf. Place the scarf on top of your head and wrap the ends around the sides of your head. Once you have both ends at the back of your head, crisscross the ends of the scarf. Finally, pull the ends of the scarf toward your forehead and create a small knot. Ta-da!
Now, do you want to explore another popular hair technique? Head on over to our article, How to Stretch Natural Hair, to show off your real length.
Discover more tips & tricks
Keep your skin happy
See all articles
Shop Featured Hair Care products
Discover More