all hair types
Our Do's and Don'ts Guide To Using Hairspray
Flyaways and frizz, be gone!
January 18, 2019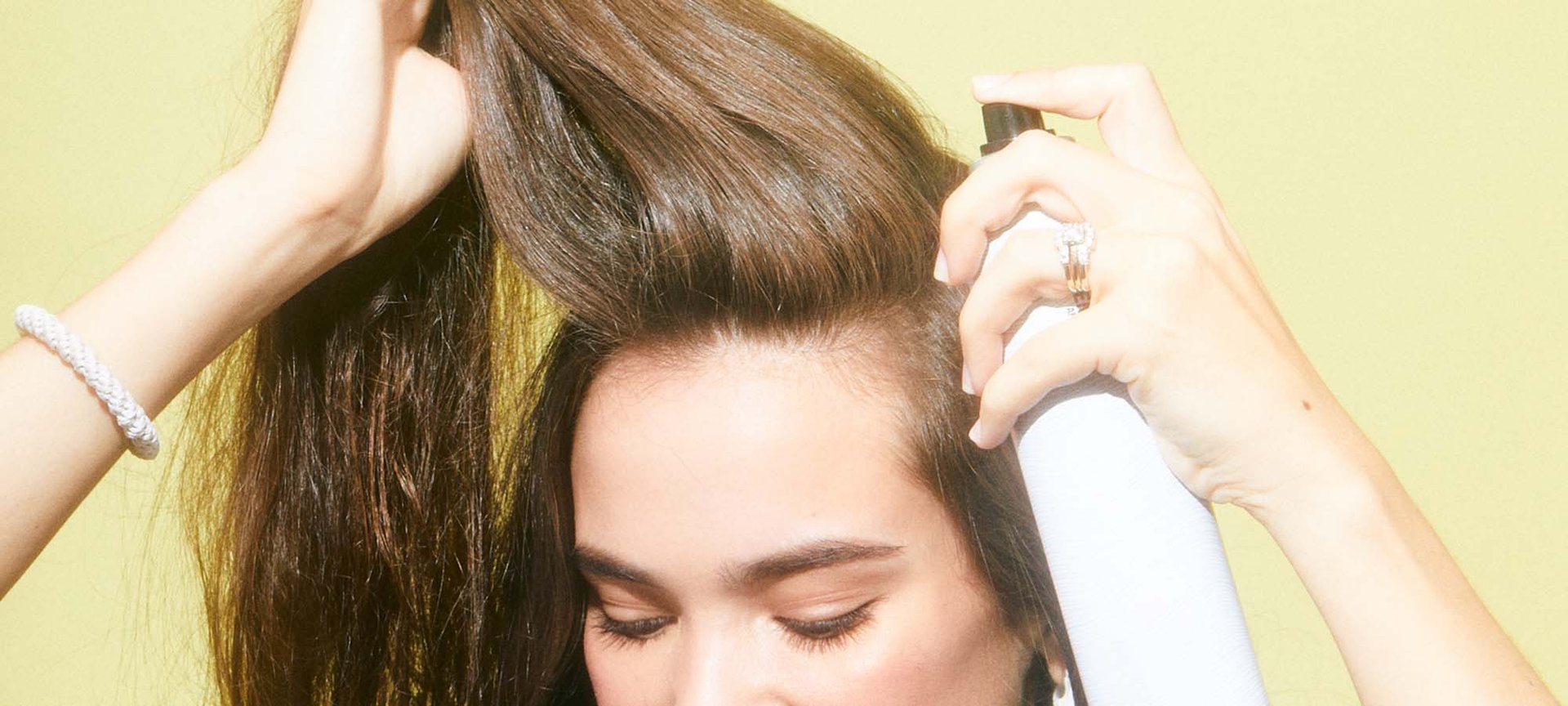 With tons of different varieties of hairspray on the market, trying to figure out which one is right for the hairstyle you're going for — not to mention how to use it properly — can be enough to make your head (or your hair) spin. From a lightweight hold to an extra-strong hold to a shiny finish or matte finish, there is a seemingly never-ending selection to choose from. Luckily, we're here to help guide you.
The next time you find yourself wondering how to use hairspray or looking for the best hair-holding products, keep these tips about picking out and using our L'Oréal Paris Elnett Satin Hairsprays in mind. Our iconic line of hairsprays (seriously, even royals are fans of it!) are perfect for creating the appearance of shiny, bouncy hair. Hair fit for a princess? Sign us up!
1. Keep Your Distance When You Spritz
In case you didn't know, you're not supposed to spray hairspray directly on your roots in an up close and personal fashion. When you do that, you risk saturating your hair and achieving an almost greasy look and not the shine you'd probably prefer. Not to mention, it will dispense too much product onto one small area, which can result in hardening or weigh down — and nobody wants that. So, when spraying your strands, be sure to hold the can at least six inches away from your head (or read the product's instructions for an exact distance) for optimum hold.
A good option to try is the L'Oréal Paris Elnett Precious Oil Satin Hairspray. Infused with argan oil, the legendary hairspray is specifically formulated to soften, smooth and add shine to dry, damaged hair, while also taming strands.
2. Use Hairspray To Add Volume
Big hair reigned supreme in the '70s and '80s. Hairspray was a go-to product for so many women who wanted to achieve incredible hair height. And we all know what was once old becomes new again. If you're looking to recreate that voluminous 'do for yourself, simply spray a volume-boosting hairspray — like the L'Oréal Paris Elnett Satin Hairspray Extra Strong Hold Volume — in between the layers of your hair when you're sealing in your look. Just use a comb or your fingers to part each layer, then add a spritz or two. Voilà!
3. Look For A Brushable Hold Formula
While you want your hairspray to offer volume and hold, you probably don't want your strands to feel all stiff and crunchy after using it. To prevent this, use a hairspray that has a brushable and flexible hold. These types of formulas will lock your hair into place all day long, but you should still be able to run a brush or comb (very gently) through your hair to smooth things over.
4. Be Gentle After Using An Strong-Hold Formula
When you try to brush through hair that has been sprayed with a strong or extra strong-hold hairspray, you could potentially cause some strand wear and tear, since your style has been locked in place. For the ultimate last-all-day hair, we recommend L'Oréal Paris Elnett Satin Hairspray Strong Hold. It's strong enough to withstand any rain, wind or humidity.
5. Be Mindful Of Your Curls
If you have curly hair, it's best to lightly spray each individual curl as opposed to spraying your whole head of ringlets. When you spray your entire head of curls, they may stick together and possibly lose some of their bounce. Conversely, when you go section by section, you enhance your look with tons of texture, movement and definition. After you've spritzed each section with a light coating of hairspray, use your hands to scrunch each section.
6. Use Your Hands To Tame Flyaways
There's nothing more of a hair downer than flyaways. The good news is that hairspray can work wonders in helping to tame them. Instead of applying hairspray directly onto your locks, try spraying a little into your hands first and then lightly patting it onto the flyaways you want to manage. This is an especially good trick to use if you're trying to apply hairspray onto specific or small areas, such as touching up one single curl or taming your trendy bangs.
7. Choose Your Strength Wisely
With so many options to choose from, it can be daunting to determine which hairspray is going to actually help you achieve the look you're aiming for. Here's a good rule of thumb: If you're looking for a hairspray to keep your hair straight and maintained, opt for a low-hold spray. Need a bit more hold for your half-up bun or braided crown? Medium-hold hairsprays will do the trick. And if you're going out on the town, be sure to choose an extra strong-hold hairspray, like the L'Oréal Paris Elnett Satin Hairspray Extra Strong Hold to maintain your 'do through the entire night.
8. Use Hairspray To Tame Static
A dry scalp and brittle hair aren't the only issues you might be dealing with during the winter. Hair static is also caused by the cold weather. When hair becomes full of static, it tends to fray in all different directions. Using a bit of hairspray, however, can help prevent static from happening in the first place. Simply spray the hairspray onto your hair brush, then run it through your strands lightly. The hairspray will help neutralize any future static.
9. Use A Toothbrush To Tame Small Areas
When you want to use hairspray on just a small area of hair, such as the wisps around your face, consider using a toothbrush. Spritz some hairspray onto a toothbrush (not the one you actually use on your teeth, of course), then run the toothbrush lightly over the areas you want to tame down.
Editor's Tip: If you own an edge brush, it's a great tool to turn to for this part as it's specially created for styling small, delicate sections of hair with hold products.
10. Use Hairspray To Prep Your Strands
Hairspray isn't solely intended to be the finishing touch for your beauty look, it can also help prep your strands before you even begin styling. Using a lightweight hairspray to prep your hair can also help boost volume and prevent your curls from drooping before you even make it into work for the day.
To try this technique, simply spray a light layer of hairspray onto dry hair, remembering to hold the can six to eight inches away and not use a heavy hand. Run your fingers through your hair to disperse the product evenly, then move on to using your curling iron or go-to hot tool to style as usual.
Next: 6 Hairspray Hacks Every Woman Should Know
Edited by: Sophie Dweck, Photo Credit: Chaunte Vaughn
{ "@context": "https://schema.org/", "@type": "WebPage", "speakable": { "@type": "SpeakableSpecification", "cssSelector": ["speakable-content"] }, "url": "https://www.lorealparisusa.com/beauty-magazine/hair-care/all-hair-types/hairspray-advice" }
Discover more tips & tricks
Keep your skin happy
See all articles
Shop Featured Hair Style products
Discover More
{ "@context": "http://schema.org", "@type": "BreadcrumbList", "itemListElement": [ { "@type":"ListItem", "position": 1, "item": { "@id": "/", "name": "Home" } } , { "@type":"ListItem", "position": 2, "item": { "@id": "https://www.lorealparisusa.com/beauty-magazine", "name": "Beauty Magazine" } } , { "@type":"ListItem", "position": 3, "item": { "@id": "https://www.lorealparisusa.com/beauty-magazine/hair-care", "name": "All Things Healthy Hair" } } , { "@type":"ListItem", "position": 4, "item": { "@id": "https://www.lorealparisusa.com/beauty-magazine/hair-care/all-hair-types", "name": "All Hair Types" } } , { "@type":"ListItem", "position": 5, "item": { "@id": "https://www.lorealparisusa.com/beauty-magazine/hair-care/all-hair-types/hairspray-advice", "name": "hairspray-advice" } } ] }