damaged hair
How to Take Care of Brittle Hair
June 21, 2019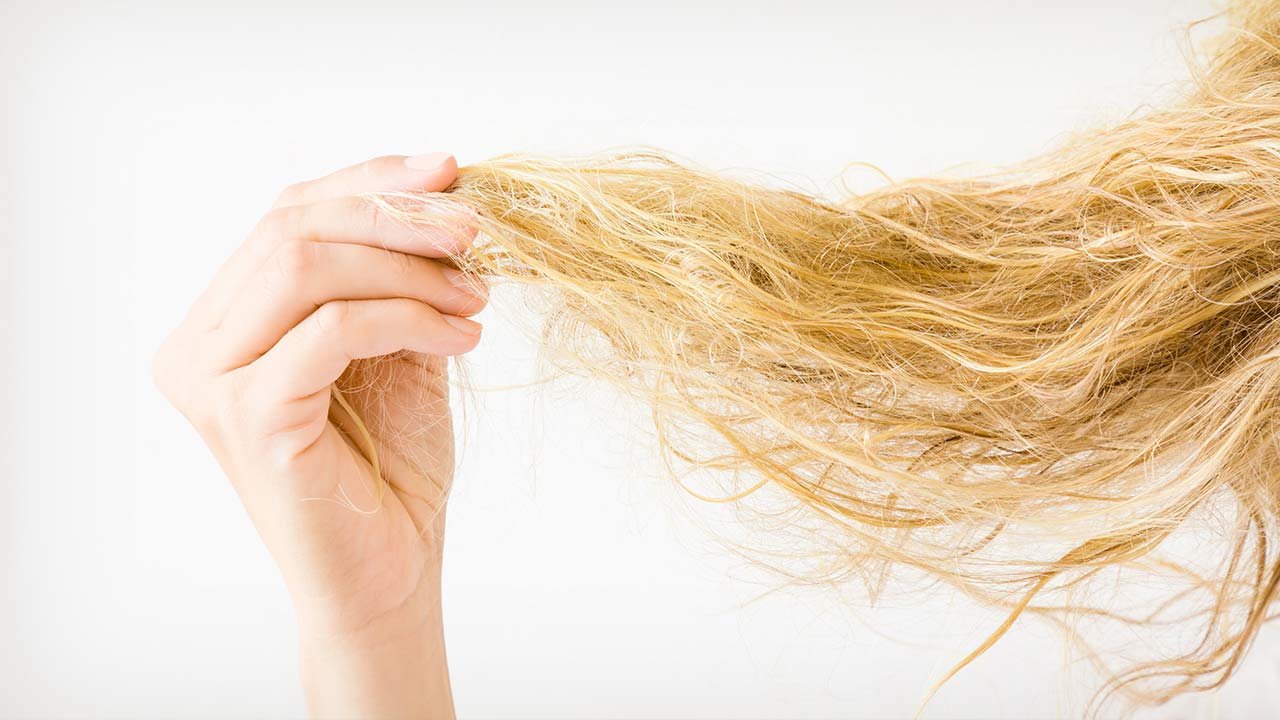 Damaged hair can result in split ends, frizz, dryness, and brittle hair—yikes! The fact of the matter is, no one wants a high level of hair damage, but sometimes it's so easy to get carried away with hairstyling and new hair colors that we neglect a proper hair care routine. If you have dry, brittle hair, you may be wondering if there are steps you can take to bring life and moisture back to your mane. Don't stress—there are! Take notes on the following seven hair care tips for brittle hair.
BRITTLE HAIR CARE TIP #1: SWITCH YOUR SHAMPOO AND CONDITIONER
Brittle hair requires extra TLC, as it tends to be dry and coarse. This means swapping your go-to shampoo and conditioner for a system that's formulated to nourish your brittle strands. The L'Oréal Paris EverCreme Deep Nourish Shampoo and the L'Oréal Paris EverCreme Deep Nourish Conditioner, both of which are formulated with apricot oil, replenish dry, brittle hair with vital nourishment and deep moisture for silky-soft texture and healthy shine without weigh down. Bonus: The system contains no harsh sulfates, salts, or surfactants that can strip, dull, and damage hair.
BRITTLE HAIR CARE TIP #2: HYDRATE YOUR STRANDS
As you can imagine, brittle hair is typically in desperate need of hydration. To help add moisture back into your mane, reach for a hair treatment, like the L'Oréal Paris EverCreme Renourishing Butter. This hair mask is rich in gardenia and flower oils to intensely nourish and smooth your hair, reviving lifeless locks and restoring hair's natural radiance. As needed, use in place of your conditioner after shampooing. Apply focusing on lengths and ends, leave on for three to five minutes, then rinse thoroughly.
BRITTLE HAIR CARE TIP #3: CHOOSE THE RIGHT HAIRSTYLES
According to the American Academy of Dermatology (AAD), continuously wearing certain hairstyles—including braids, cornrows, ponytails, and hair extensions—can pull on the hair and cause tension that leads to breakage. While you don't have to give up these styles entirely, try to give your mane a break every now and then.
Editor's tip: Not only is it a good idea to avoid some styles, but brittle hair can also benefit from wearing certain styles. A little pro-tip? If it's a good style for damaged hair, it'll be good for your brittle tresses, too! Here are 20 Hairstyles for Damaged Hair.
BRITTLE HAIR CARE TIP #4: SKIP THE BLOW-DRYER
When it comes to drying your hair, let your blow-dryer sit out on this one. Post-shower, the AAD recommends drying your hair by wrapping it in a towel or allowing it to air dry. If you opt to towel dry your hair, be sure to avoid any harsh rubbing!
BRITTLE HAIR CARE TIP #5: HANDLE WITH CARE
As you can probably guess by now, brittle hair has to be handled with care—particularly when it comes to brushing it. The AAD suggests allowing your hair to partially air dry before brushing or styling, as well as limiting the amount you brush your hair. All that talk about brushing your hair 100 times? Forget that!
BRITTLE HAIR CARE TIP #6: USE FLEXIBLE STYLING PRODUCTS
The hair styling products you use can also take a toll on your strands, particularly if they're long-lasting. This is because, per the AAD, using a comb to style your hair after you apply a long-lasting product can cause your hair to break and lead to hair loss over time. No, thank you! Instead, look for styling products that offer a flexible hold, like the L'Oréal Paris Studio Line Flexible Strong Hold Cream or the L'Oréal Paris Elnett Satin Hairspray Strong Hold.
BRITTLE HAIR CARE TIP #7: BE MINDFUL OF YOUR HOT TOOLS
Last but not least, you'll want to limit the use of hot tools on your brittle strands. According to the AAD, flat irons should be used every other day at most on a low or medium heat setting. Curling irons should be held in place only for a second or two to prevent excessive heat damage.
If you have brittle hair, whether it was caused by overusing heat tools or something else, you're likely no stranger to hair breakage. That's why, next, you'll want to read up on 10 Ways to Stop Hair Breakage.
Discover more tips & tricks
Keep your skin happy
See all articles
Shop Featured Hair Care products
Discover More