frizzy hair
10 Tips To Tame Flyaways
Don't let stray hairs ruin your style.
April 01, 2022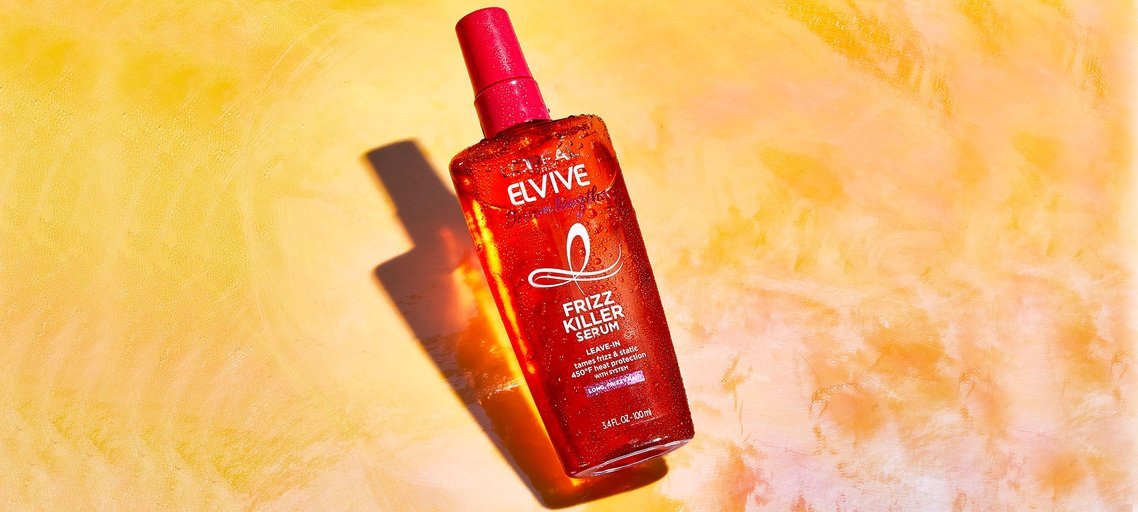 If you've ever spent time creating a selfie-worthy hairstyle, only to end up having it ruined by a bunch of flyaway hairs — we feel for you. Flyaway hair is a notorious hair styling nuisance that makes us want to spritz on tons of hairspray or reach for a pair of tweezers (desperate times, call for desperate measures).
But before you slather on products or attempt to pluck flyaways, learn more about what causes these small frizzy hairs to stand up in the air, along with tips and products you can incorporate into your hair care routine to fix them.
Is it Normal to Have Flyways?
Like many other hair care concerns, there are a plethora of reasons why flyaway hair can come about, and it's pretty typical to have some. One of the main culprits is product buildup. Failing to properly clean and moisturize your hair can keep it from having a smooth appearance and give your locks a weighed-down feel.
Other causes of flyaway hair include chemical damage, dry strands, split ends, hair breakage, static, and humidity. On the bright side, flyaways usually do grow out over time, but it all depends on how you style and care for your hair.
How To Tame Flyaways
Flyaway hair doesn't have to become your new normal. Consider these hair care tips below to help fix your flyaways.
Tip 1. Use A Frizz-Fighting Shampoo And Conditioner
Fixing flyaways should start at the very beginning of your hair care routine — not after you've already finished styling your mane. And since flyaways and frizz are closely related to dry hair issues, use a moisturizing hair care system like the L'Oréal Paris EverPure Sulfate-Free Frizz Defy Shampoo and L'Oréal Paris EverPure Sulfate-Free Frizz Defy Conditioner.
Both products are formulated with marula oil which helps condition, smooth, and gently cleanse the hair while providing humidity protection, frizz control, and luminosity.
Tip 2. Use A Deep Conditioning Treatment
Lots of flyaways may be a sign that your strands are parched and craving moisture. So, try adding a deep conditioning treatment to your hair care routine to better the health of your mane. Reach for the L'Oréal Paris Elvive Total Repair 5 Power Restore Multi Use treatment, formulated with repair concentrate proteins to strengthen the hair against damage.
This treatment mask can be used as a leave-in conditioner or rinse-out. Its formula will work to fight various signs of hair damage, including split ends, weakness and brittleness.
Tip 3. Don't Dry Your Hair With A Regular Towel
Wet hair tends to be super fragile (because the proteins form weaker bonds), and using regular bath towels to dry your strands can cause damage. Bath towels are generally made with thicker fibers that can be rough on wet strands, leading to more flyaways and frizz. So swap out your regular towel for a microfiber option that has ultra-fine fibers, which will help reduce hair damage when drying. Or you can also use a soft cotton t-shirt to dry your hair since its fibers are not too harsh.
Editor's tip: If you're using a t-shirt, make sure it doesn't contain any embellishments that might tug or pull at your strands.
Tip 4. Use A Hair Serum
Hair serums work to treat many mane concerns, including frizziness, dryness, and static. And the L'Oréal Paris Elvive Dream Lengths Frizz Killer Serum Leave-In will be your flyaway hair serum savior. This product provides heat protection for up to 450 degrees and has an ultra-lightweight water-based formula. Apply one to two pumps of product onto your flyaways to help smooth them out. You can also apply it to damp hair before blow drying to prevent frizz and static.
Tip 5. Use An Edge Brush With Hairspray
It can be quite a predicament if you spot flyaways after styling. Thankfully, there's a quick and easy fix for this. Grab a clean toothbrush or edge brush and spritz it with the L'Oréal Paris Advanced Hairstyle LOCK IT Bold Control Hairspray, then gently brush down your flyaways.
This high-performance hairspray is designed to lock your style in place for up to 48 hours. And using an edge brush will allow you to apply just the right amount of hairspray without going overboard. Just remember, if you're using a clean toothbrush, don't store it with the one you use for your pearly whites.
Tip 6. Take A Break From Heat Styling
Constantly blasting your strands with a blow dryer or overdoing it with heat styling tools could multiply the number of flyaways you have to deal with. So give your hair (and arms) a break by scaling back on the use of hot tools. Look for heat-free hairstyles you can create and be sure to use the Elvive Dream Lengths Frizz Killer Serum Leave-In to help tame your flyaways.
Tip 7. Don't Brush Your Hair While It's Dry
We know this may sound odd, but there's a legit reason as to why we mention it. Brushing through dry strands — especially on curly hair, can cause frizz and flyaways. Try using a comb, preferably while your hair is still wet or damp. This will help get rid of knots and tangles without creating frizz. Start detangling at the tip, slowly and gently working your way up to the roots, section by section.
Tip 8. Smooth Flyaways With Dryer Sheets
Just as dryer sheets help reduce static electricity in your laundry, they can do the same for your hair. As we noted above, flyaways can be caused by static, so try zapping them down with a few swipes of a clean dryer sheet. Grab an unscented sheet (unless you like to smell like a freshly washed load) and gently rub it along your strands until you get the results you want.
Tip 9. Get A Haircut
Getting a haircut can help control your flyaways, and it's best to snip them if they are caused by split ends, chemical damage, or hair breakage. After all, there is no use in keeping unhealthy strands. Make an appointment to see your stylist who can ensure your hair is properly cut and cared for.
Tip 10. Wear A Headband
No matter how many tips and hair hacks you have at your disposal, plain old bad hair days are bound to happen from time to time. Keep your routine simple and accessorize instead. When all else fails, wear a headband that can hold down or disguise your flyaways. It's a quick and fashionable solution that's perfect for when you're in a hurry to get out the door.
Next: The Best Products to Fix 7 Types of Hair Damage
Edited by: Shalwah Evans, Photo Credit: Crystal Simone
Discover more tips & tricks
Keep your skin happy
See all articles
Shop Featured Hair Care products
Discover More