hairstyle trends
21 '80s Hairstyles That Offer Major Nostalgia
High-volume hair is back on trend.
January 26, 2022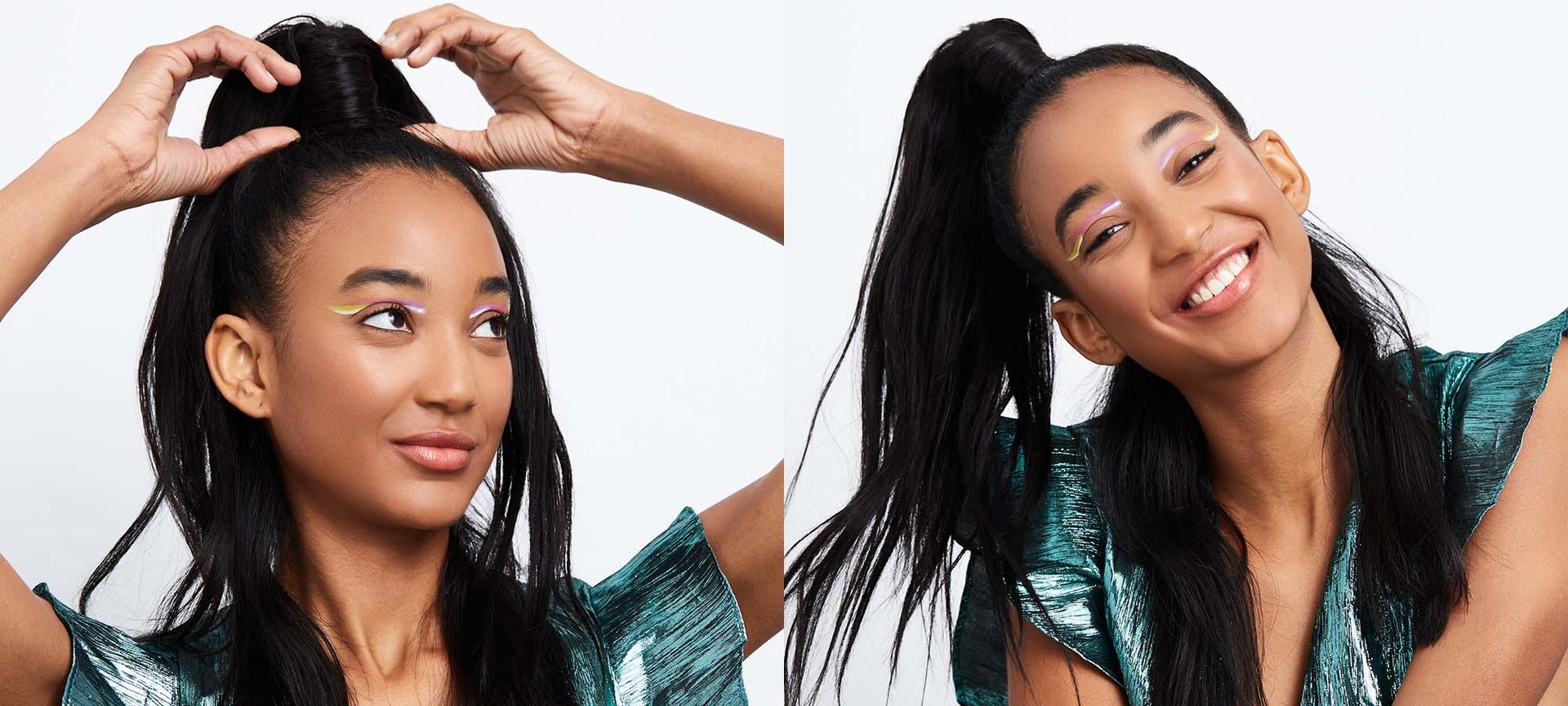 You may be thinking that modern hairstyles are where it's at 一 curtain bangs, wolf cuts, shullets and more 一 but '80s hairstyles are getting a lot of attention in the hair world these days. Plus, contemporary styles often take inspiration from retro looks. While you might have looked back at your parents' hairstyles in horror 一 or your own 一 there are ways to put a modern spin on these once popular looks. So whether you're hoping to take a trip down memory lane, or perhaps recreate a nostalgic 'do, keep reading because we're diving into 21 '80s hairstyles that will have you ready to whip out some hairspray.

1. Crimped Hair
The '80s was all about volume and texture, and crimped waves dominated the decade. While they used to feature tiny zig-zag waves, they're now often created with a wider crimping tool which makes for more modern, loose waves.

2. Curly Bangs
One of the most common hairstyles during the '80s was curly bangs. A go-to style for natural and curly-haired people, this hairstyle brings volume front and center (literally), and makes for effortless movement. The best part? It's a versatile look that can be paired with half-up, half-down styles or worn with your hair down.
3. Teased Bangs
Speaking of bang hairstyles, teased bangs were also a major '80s hair look. This hairstyle is all about rocking teased front strands layered with a strong-hold hairspray for a voluminous look that lasts. To try the trend, spritz the L'Oréal Paris Elnett Satin Extra Strong Hold, Light Hairspray Unscented onto your bangs for an instant lift, tease your hair, and you're good to go.

4. Shag Haircut
One of the most notable haircuts of the '80s, the shag cut features choppy ends and layers for a style that has tons of body and movement. The best part about this style's renaissance is that it can be worn on almost every hair texture and length for a super flattering option.

5. Bowl Cut
There's no question that the bowl cut is an '80s hairstyle that received a lot of attention 一 and not always the positive kind. Featuring a uniform length all around, it was a staple for children. Nowadays, adults take inspiration from this cut when rocking blunt bobs. While similar to the bowl cut, blunt bobs are more flattering because they often feature a bit more length.

6. High Side Ponytail
We mentioned that this decade put emphasis on volume, but height was important too when it came to hairstyles. Ponytails were placed high up on the head for a lifted look, side ponytails were no exception. In addition to being a statement look, this was also a popular hairstyle to exercise in 一 think popular aerobics workout videos, equipped with spandex leotards and leg warmers.

7. The Bubble Ponytail Or Braid
In case you haven't noticed, '80s hairstyles weren't just voluminous, they were oftentimes bold and playful, too. The bubble ponytail features hair elastics wrapped around the length of your pony for a little something special. It can be created with any ponytail no matter the placement on the head. While it used to be created with scrunchies or large ponytail holders, the style is now created with sleek clear elastics for a more modern look.
8. Half-Up Ponytail
Half-up, half-down styles were all the rage in the '80s. The half-up ponytail allows you to show off your length while getting hair out of your face. And like many other styles during that time, it was created with an ultra-high ponytail.

9. High Ponytail With Bangs
High ponytails and bangs were individually popular back in the day, but when combined, they were next-level. No matter the hair texture, anyone could rock a super high ponytail with a flowing fringe to complement it.

10. Feathered Layers
If you love flowy strands, you may want to ask for feathered layers at your next haircut appointment. Known as one of the defining looks of the '80s and inspired by a major Hollywood angel, this hairstyle flaunts a middle part and lots of curled layers for a look that's equal parts glam and feminine.

11. Long And Curly
With big '80s hair on the brain, we'd be remiss not to talk about long, curly hair. Because volume and bounce was where it was at back then, people rocked their natural, curly texture proudly (some even faked it with perms — more on that). Spice up your mane with the help of a curl mousse like the L'Oréal Paris Advanced Hairstyle CURVE IT Elastic Curl Mousse. Scrunch an egg-sized amount through your strands and let them air dry. Once complete, add a touch of hairspray to keep your curls intact.

12. Jheri Curls
We couldn't talk about our favorite curly '80s hairstyles without highlighting Jheri curls. Known as one of the most popular hairstyles for African-American men and women, Jheri curls are a wavy hairstyle that uses a chemical treatment to give hair a looser curl pattern. It's an excellent alternative for those looking to improve the manageability of their curls, and it makes for a gorgeous, voluminous style. The recent social media Jheri curl challenge has sparked contemporary interest in this throwback style which now can be mimicked sans the chemicals.

13. Tapered Afro
The tapered Afro was a favored, natural hair style in the '80s. A variation of the '70s afro style, this look shapes your natural texture with pinned sides and a tapered cut for a more structured look.

14. Asymmetrical Haircut
If you're game for experimenting with shorter strands, an '80s asymmetrical cut will fall right in line. Sporting a deep side part, an asymmetrical cut gives one side of your hair a longer length than the other. Perfect for round face shapes, this look highlights your features and gives your face a slimmer look. Today, it's usually created as an asymmetrical bob.
15. Permed Hair
Permed hair was arguably the most iconic hairstyle of the '80s. This hairstyling technique uses a chemical treatment to alter the natural texture of your hair 一 in this case, to make it curly. So, if you would prefer to skip curling your hair over and over, a hair perm may be your saving grace. Take a peek back at an '80s yearbook, and you're bound to see tons of people rocking this look.

16. Teased Hair
If you're looking to take your '80s hair recreation to new heights, then turn your attention to teased hair. A fabulous option for those who believe that you can never have enough volume, this hairstyle gives your mane the ultimate fullness. Plus, it helps to add texture and body to thin hair.

17. Mohawk
The definition of edgy, this hairstyle boasts shaved sides and has length at the top for a unique, centered look. If you're planning on giving it a go, be sure to add a spritz of hairspray to your strands to lock your style in place and secure the volume.

18. Mullet
With bold looks in mind, it's only right we mention the infamous mullet. This 'do flaunts short hair at the front and sides with longer strands at the back. Love it or hate it, you can't argue that it isn't a statement look. The newfound love for the style comes from an update to the "business in the front" section that's now styled as a piecey pixie, a shag cut or even stylish curls.

19. Middle Parts
While hair parts were often hidden by teased styles and high ponytails, when they were visible, a middle part was incredibly popular. Middle parts were seen throughout the '70s, and the trend carried over well into the '80 with women parting their mane down the middle when wearing rocking, voluminous strands.

20. Hair Bows
Not a hairstyle but an important '80s must-have not to be overlooked, Big hair bows were some of the most well-loved '80s hair accessories. Whether they were wrapped around ponytails, or adorned on the head, front and center, they made quite the statement with minimal effort required.

21. Headbands
Perhaps the easiest way to represent '80s hair trends is by reaching for a headband. While it's not technically a hairstyle, it was certainly a style game changer. Back then, headbands were worn with ponytails, bangs, or cascading strands for a practical and polished look. And in case you haven't noticed, chunky and padded headbands have made a major comeback recently.
Discover more tips & tricks
Keep your skin happy
See all articles
Shop Featured Hair Style products
Discover More