all hair types
How to Help Static Hair This Winter
March 12, 2020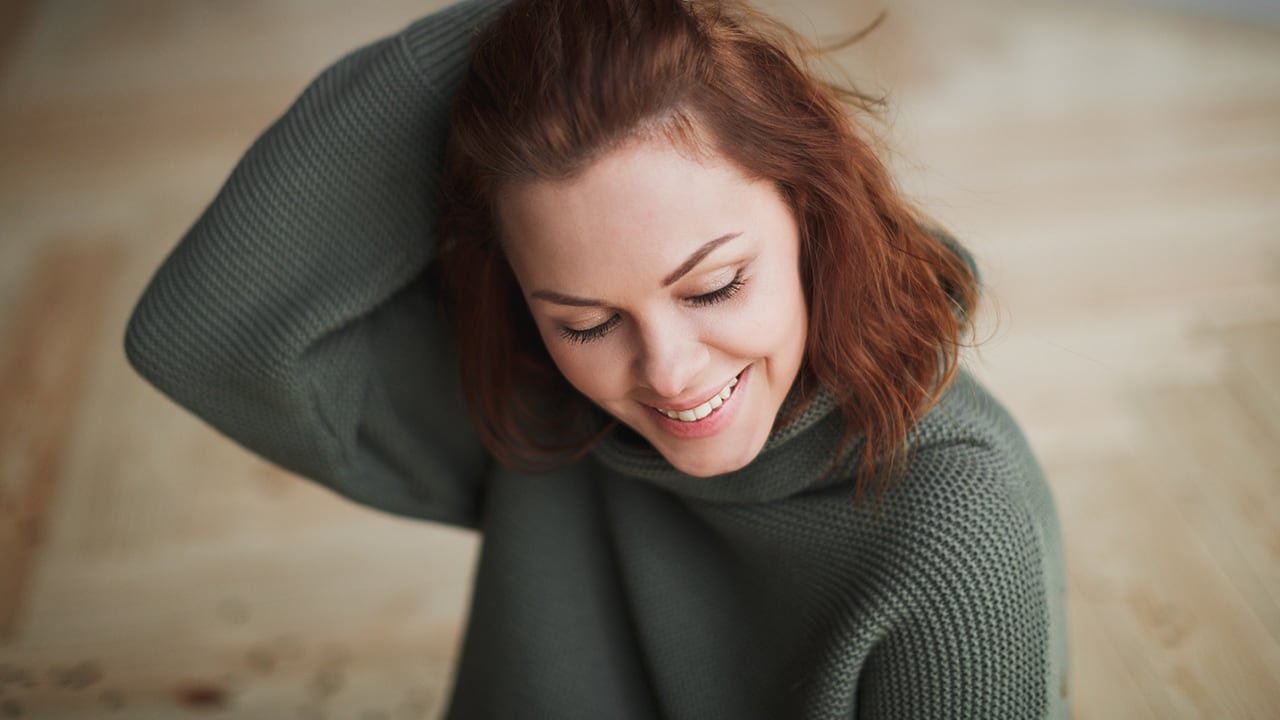 Alongside dry skin, one of the most annoying side effects of winter is static hair. You know what we're talking about: Hair that sticks up every which way, made worse by cold-weather clothing like turtlenecks and hats. So, is there anything you can do as part of your hair care routine to help smooth down static this season? It turns out there are quite a few strategies when it comes to how to get rid of static hair. Keep reading for our best tips on how to get static out of hair, including product recommendations (like hair serum and hair spray) and hairstyles that can hide static (like our favorite braided updo).
WHAT CAUSES STATIC HAIR?
Before we talk about how to help static hair, you may be wondering what causes static hair. You've likely heard the phrase 'static electricity' in the past, and that's essentially what's behind your static hair. Simply put, when your hair rubs against another object, electrons are transferred from one to the other, resulting in an electric charge. That charge is what causes your strands to stand up! Rubbing your hair against certain things will be more likely to make your hair get staticky than others. For example, we all know rubbing a balloon against your head can result in static hair. Static can also be caused by something that's more of an everyday occurrence: brushing your hair. Electrons can be transferred from the brush to your hair, causing static.
Now, why is getting rid of static hair more of a concern in the winter? Well, the answer is pretty simple! Static becomes more of an issue because the air is drier in the winter—something you likely know all too well—and this causes more static electricity to build up.
7 WAYS TO HELP GEET STATIC OUT OF HAIR
Without further ado, allow us to share seven ways to help static hair, including tips for preventing and removing static.
STATIC HAIR TIP #1: USE SMOOTHING SHAMPOO AND CONDITIONER
This may seem obvious, but that's because it really works! When it comes to experiencing hair static, it's important to remember that dry strands will only exacerbate static. During the winter months, when the outdoor and indoor air tends to be extra dry, try switching your shampoo and conditioner system to a hydrating formula that can help smooth out frizz. We love the L'Oréal Paris EverPure Frizz-Defy Shampoo and L'Oréal Paris EverPure Frizz-Defy Conditioner, which provide lasting humidity and frizz control and are also sulfate-free.
Editor's tip: When you're in the shower, turn down the dial and wash your hair in lukewarm water instead of super-hot H2O, which can strip your strands of essential moisture, leaving it feeling drier and looking duller.
STATIC HAIR TIP #2: APPLY HAIR SERUM TO TAME FLYAWAYS
Beyond shampoo and conditioner, a hair serum can also help tame static hair. Use the L'Oréal Paris EverSleek Frizz Finish Oil-in-Serum with the above shampoo and conditioner pairing. This hair serum instantly polishes and smooths frizz strand-by-strand, while creating a humidity barrier to help block out frizz and lock in shine. After shampooing and conditioning, apply one to two pumps to damp hair and distribute evenly, then style as usual. You can also use a small amount on dry hair to smooth flyaways and add shine.
STATIC HAIR TIP #3: CHECK YOUR HAIR DRYER
You already know that before you reach for your blow-dryer, you need to protect your damp strands with a heat protectant, such as the L'Oréal Paris Advanced Hairstyle SLEEK IT Iron Straight Heatspray. But did you also know that using an ionic blow-dryer can help reduce heat damage that can dry out your strands? It's true! And like we mentioned before, dry strands = more static, so this is definitely the way to go.
STATIC HAIR TIP #4: WEAR A BRAIDED UPDO
When all else fails, rocking a braided updo is a great way to hide static hair. Also, braids are super trendy at the moment! Our favorite? The crown braid. Not sure how to do this style? No worries! We've got a tutorial for you below.
Get the look by following these simple steps:
STEP 1: SPRAY WITH DRY SHAMPOO
Dry shampoo can help add some texture to your hair. Spritz one onto your roots, then distribute through the lengths of your hair.
STEP 2: PART YOUR HAIR DOWN THE MIDDLE
Use your hands—not a comb—to create your part.
STEP 3: CREATE A DUTCH BRAID ON EACH SIDE OF YOUR PART
To do Dutch braids, you have to weave over, not under. Once you're done with each Dutch braid, secure with clear elastics.
STEP 4: TUG AT YOUR BRAIDS
Create the appearance of thicker braids by gently tugging at them.
STEP 5: PIN YOUR BRAIDS
Take your left braid and secure it a couple of centimeters back from your hairline with a bobby pin, then secure your right braid.
STEP 6: PULL OUT A FEW STRANDS
The crown braid is a total boho style—so pull out a few face-framing strands to complete this hairstyle. Static hair, what static hair?
STATIC HAIR TIP #5: FINISH WITH HAIR SPRAY
One of the best static hair products you can use this winter is hair spray. Here's an easy beauty hack: Spritz your comb with the L'Oréal Paris Advanced Hairstyle LOCK IT Weather Control Hairspray, then gently glide it through your hair. This hair spray comes out in a lightweight mist that locks out humidity while locking in your smooth style—or any hairstyle you choose to rock.
STATIC HAIR TIP #6: RETHINK YOUR HAIR BRUSH
Does your hair always get staticky when you break out your hair brush? Try giving your brush a few spritzes of water with a spray bottle before running it through your mane. It doesn't have to be super wet but just enough to counteract the dry conditions that static loves.
STATIC HAIR TIP #7: USE A STATIC-REDUCING PRODUCT
Sometimes the best tips are the most obvious ones! If you want a straight and to-the-point way to remove static, use a product that has that purpose in mind. At the beginning of winter, you can stock up on a static-reducing hair spray. Spritz it onto a round hair brush, then brush it over your mane to tame static hair. So easy and so effective!
Congrats: You officially know how to stop static hair. Already have another hair care concern on your mind? If it happens to be flyways, click right over to our article on How to Tame Flyaways.
Discover more tips & tricks
Keep your skin happy
See all articles
Shop Featured Hair Care products
Discover More