thin hair
Our Best Volumizing Hair Care and Styling Products
January 31, 2020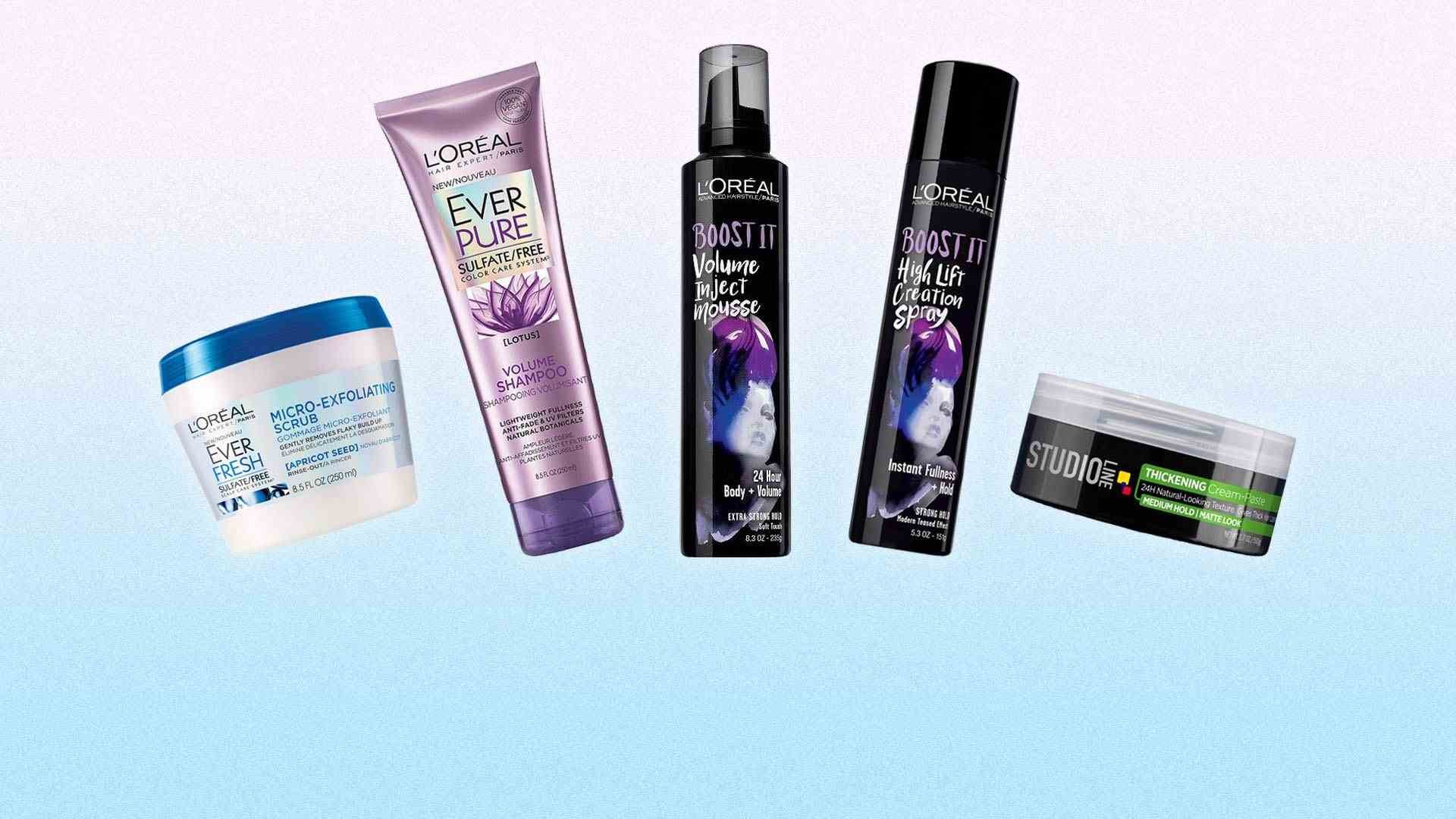 Hair falling flat? If you're on the hunt for the best volume hair products, you've come to the right place. From hair care to hairstyling, there are quite a few noteworthy bottles you should consider adding to your routine. Below, we're sharing our seven best volumizing hair products, from shampoo to hairspray. Let's dive in!
OUR BEST VOLUMIZING HAIR CARE PRODUCTS
Good hair starts with your hair care routine. If you want lots of body and bounce throughout your strands, consider adding the following to your shower routine.
L'Oréal Paris EverFresh Micro-Exfoliating Scrub: Over time, buildup of dirt and excess oil can cause hair to be weighed down. This pre-shampoo treatment with apricot seeds gently removes impurities and flakes for healthy-looking, more voluminous hair.
How to use it: Wet hair and apply. Gently massage onto scalp and throughout hair. Rinse thoroughly.
L'Oréal Paris EverPure Volume Shampoo: Formulated with lotus flower, this shampoo revives fine, flat hair by infusing your strands with luminous shine and lasting volume. No wonder it's one of our best shampoos for thinning hair! The formula is especially gentle on color-treated hair, with no harsh sulfates, salts, or surfactants that can strip, dull, and damage hair.
How to use it: Apply to wet hair and massage gently into a thick lather. Rinse thoroughly.
L'Oréal Paris EverPure Volume Conditioner: The companion of the shampoo we mentioned above, this conditioner is also formulated with lotus flower. The formula is safe for colored hair and provides a lush, luxurious experience for your strands.
How to use it: After using your volume shampoo, apply to wet hair and massage gently. Leave on for one to two minutes. Rinse.
OUR BEST VOLUMIZING HAIRSTYLING PRODUCTS
So, you've prepped—now it's time to style! The right hairstyling products can take lifeless strands and turn them into a voluminous, envy-worthy mane. Need some recs? We've got you covered.
L'Oréal Paris Advanced Hairstyle BOOST IT Volume Inject Mousse: This lightweight, aerated mousse gives hair a lasting volume injection and doubles as a heat protectant. Infused with thickening agents, the mousse boosts hair for a long-lasting, bouncy, and volumized look.
How to use it: Shake well. Hold can upside down and dispense into palm. Apply evenly throughout damp hair. Style as usual with a blow-dryer.
L'Oréal Paris Advanced Hairstyle BOOST IT High Lift Creation Spray: This high-performance finishing spray is the perfect way to add an extra dose of volume to your mane. Get targeted root application with the unique fan spray for instant lift and fullness. The strong-hold formula pumps up body on any style for a voluptuous, textured look that lasts.
How to use it: Spray eight to 12 inches from dry hair to add lift and texturize for all over fullness, or spray directly on roots for targeted root lift. For amplified lift and fullness, you can also use a comb to tease the hair.
L'Oréal Paris Elnett Satin Hairspray Extra Strong Hold Volume: This hairspray has been specially adapted to create voluminous styles. The formula builds effortless volume for fresh, natural-looking styles that hold all day. The micro-diffuser sprays an ultra-fine mist that disappears at the stroke of a brush, leaving hair clean and shiny with a satin touch.
How to use it: Remove the security tab and shake can. Spray onto roots of hair, then style hair with your fingers or a brush. For perfect hold, complete your hairstyle with an all-over mist from 12 inches away.
L'Oréal Paris Studio Line Thickening Medium Hold Cream Paste: This medium-hold hair pomade is formulated with beeswax to leave your hair with a matte finish and natural-looking texture—not to mention it'll boost thickness. The product has the density of a solid, with the easy application of a cream that invisibly blends with your hair for an all-day workable hold.
How to use it: Start with a dime-sized amount of cream and rub between your palms. Work through hair to shape.
Next up: Clearly, you love a mane that's full of volume. Check out our tutorial, How to Create Voluminous Curls on Any Hair Type, to learn how to create one of the most classic, volumized hairstyles there is.
{ "@context": "https://schema.org/", "@type": "WebPage", "speakable": { "@type": "SpeakableSpecification", "cssSelector": ["speakable-content"] }, "url": "https://www.lorealparisusa.com/beauty-magazine/hair-care/thin-hair/best-volumizing-hair-products-for-volume" }
Discover more tips & tricks
Keep your skin happy
See all articles
Shop Featured Hair Care products
Discover More
{ "@context": "http://schema.org", "@type": "BreadcrumbList", "itemListElement": [ { "@type":"ListItem", "position": 1, "item": { "@id": "/", "name": "Home" } } , { "@type":"ListItem", "position": 2, "item": { "@id": "https://www.lorealparisusa.com/beauty-magazine", "name": "Beauty Magazine" } } , { "@type":"ListItem", "position": 3, "item": { "@id": "https://www.lorealparisusa.com/beauty-magazine/hair-care", "name": "All Things Healthy Hair" } } , { "@type":"ListItem", "position": 4, "item": { "@id": "https://www.lorealparisusa.com/beauty-magazine/hair-care/thin-hair", "name": "Thin Hair" } } , { "@type":"ListItem", "position": 5, "item": { "@id": "https://www.lorealparisusa.com/beauty-magazine/hair-care/thin-hair/best-volumizing-hair-products-for-volume", "name": "best-volumizing-hair-products-for-volume" } } ] }