skin care essentials
Our Best Skin Brightening Serums
July 30, 2020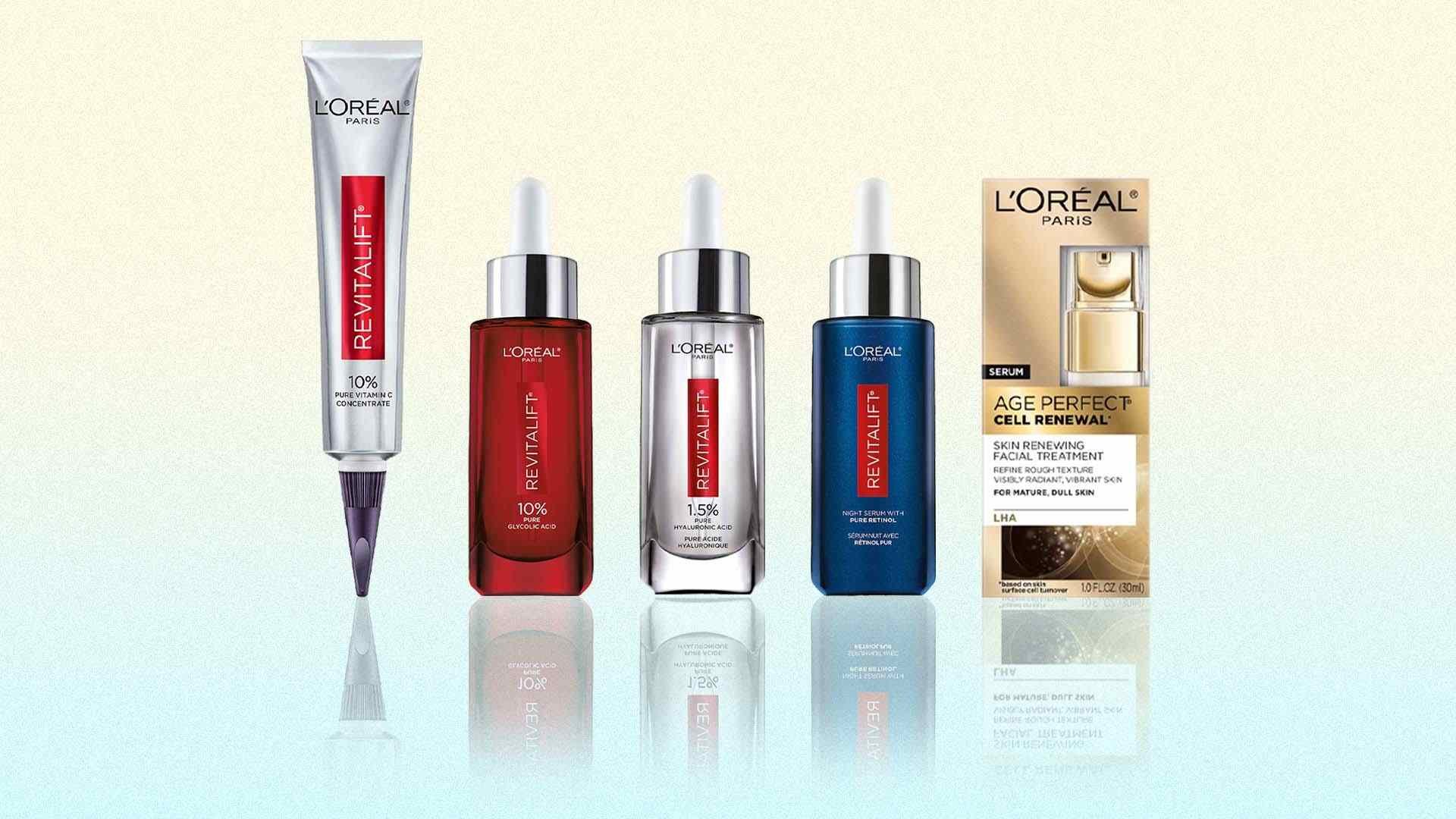 It's safe to say that radiant, healthy-looking skin is the ultimate skin care goal. Thankfully, even if dull skin has become your new normal, there is a light at the end of the tunnel. With a quick Google search on the best skin brightening tips, you've probably already discovered that adding a face serum—more specifically, a brightening serum—to your skin care routine is a must.
That being said, if you're on the hunt for the best serum for glowing skin, we've got you covered! In fact, we have more than one option to choose from so you can transform your skin and rock the glowy visage you've dreamed of. Below, we're sharing our five best skin brightening serums to add to your skin care arsenal.
OUR BEST SKIN BRIGHTENING SERUMS
Ready to add a brightening serum to your routine? Take your pick from our best glow serums to do just that!
L'Oréal Paris Revitalift Derm Intensives 10% Pure Glycolic Acid Serum: In case you weren't already aware, glycolic acid is an alpha hydroxy acid (AHA) recognized by dermatologists as an effective resurfacing agent for younger-looking skin. Aside from leaving you with a younger-looking skin, it also helps to visibly even skin tone and dark spots over time—hello, brighter skin!
This daily-use serum is specially blended with aloe—a botanical extract renowned for its soothing benefits. Immediately, skin feels smoother and visibly refined and resurfaced—not to mention wrinkles are visibly reduced. The serum is also fragrance-free, paraben-free, mineral oil-free, dye-free, and allergy-tested.
Editor's tip: Keep in mind that products with glycolic acid may increase photosensitivity, so be sure to apply an SPF the following morning! We recommend using a face moisturizer formulated with SPF the morning after use.
How to use it: Apply four to five drops to clean, dry skin every evening before moisturizing. For sensitive skin, start by using two to three times per week and build to nightly use. Like the other skin brightening serums, be sure to follow up with sunscreen in the a.m.
L'Oréal Paris Revitalift Derm Intensives 10% Pure Vitamin C Serum: If you don't already have a vitamin C serum in your bathroom cabinet, we recommend you add one to your collection ASAP. Vitamin C is a vital antioxidant naturally found in skin, proven to boost radiance and neutralize free radicals that lead to skin aging—so it's no wonder why this serum is included in the list of our best serums for glowing skin. This lightweight, yet highly potent serum contains 10% pure vitamin C.
Specially formulated without water, packaged in an air-tight metal tube sealed until ready to use, and produced in controlled conditions to minimize oxygen exposure— it allows for optimal potency. The formula effortlessly glides onto skin to restore skin's radiance in one week while reducing wrinkles. Not to mention it's fragrance-free, paraben-free, and free of mineral oils or synthetic dyes.
How to use it: Every morning and evening, apply dime-size onto fingertips and apply to face and neck, gently smooth into skin. Avoid the eye area.
L'Oréal Paris Derm Intensives 1.5% Pure Hyaluronic Acid Serum: There's nothing worse than dry skin that takes away any natural luster, shine, and glow. That's where a hyaluronic acid serum comes into play. Hyaluronic acid is a potent hydration-attracting molecule naturally found in skin that enhances the skin's moisture-retention for lasting hydration. As we mentioned, the more hydrated your skin is, the more it'll glow!
This glow serum scientifically blends 0.5% high molecular weight hyaluronic acid and 1% low molecular weight hyaluronic acid for best results. The formula absorbs quickly to replenish hydration immediately and visibly reduce wrinkles in two weeks for visibly plumped, youthful-looking skin. And, like the aforementioned brightening serums, it's fragrance-free, paraben-free, and free of mineral oils or synthetic dyes.
How to use it: Every morning and evening, apply two to three drops to the face and neck, and gently smooth onto skin. Avoid the eye area.
L'Oréal Paris Revitalift Derm Intensives Night Serum, 0.3% Pure Retinol: While retinol is known first and foremost for its wrinkle-fighting powers, it certainly deserves attention when it's formulated into a glow serum, too. Specially formulated to remain stable, this retinol serum works in your favor to give you powerful anti-aging results with every use. Featuring our highest concentration of pure retinol, the derm-validated serum works to address common signs of aging, such as wrinkles and dull-looking skin. This formula absorbs quickly, leaving you with skin that feels moisturized with a refined texture. Over time, skin will also appear smoother, with a brighter, luminous and glowing complexion.
How to use it: Since skin care products formulated with retinol can be drying and increase your skin's sensitivity to the sun, it's best to introduce this serum into your routine gradually to achieve your desired results. During week one, apply two to three drops to clean dry skin twice a week. Follow with a broad-spectrum sunscreen. Week two, use every other night. Week three, you can use nightly if your skin tolerates it.
L'Oréal Paris Age Perfect Cell Renewal* Golden Serum: Last but not least, this skin brightening serum is specifically formulated for mature skin. The lightweight formula absorbs quickly to maximize the skin's power of rejuvenation by stimulating surface skin cell renewal to reveal more youthful-looking skin. Instantly, skin appears refreshed, vibrant, and radiant. In one month, the skin feels firmer and appears visibly replumped.
How to use it: Apply daily to cleansed skin in the morning and evening.
Next: 5 Facial Serum Hacks to Upgrade Your Skin Care Routine
Discover more tips & tricks
Keep your skin happy
See all articles
Shop Featured Skin Care products
Discover More