skin care essentials
Why The L'Oréal Paris Pure Retinol Serum Is Still A Must-Have
Your skin needs vitamins, too.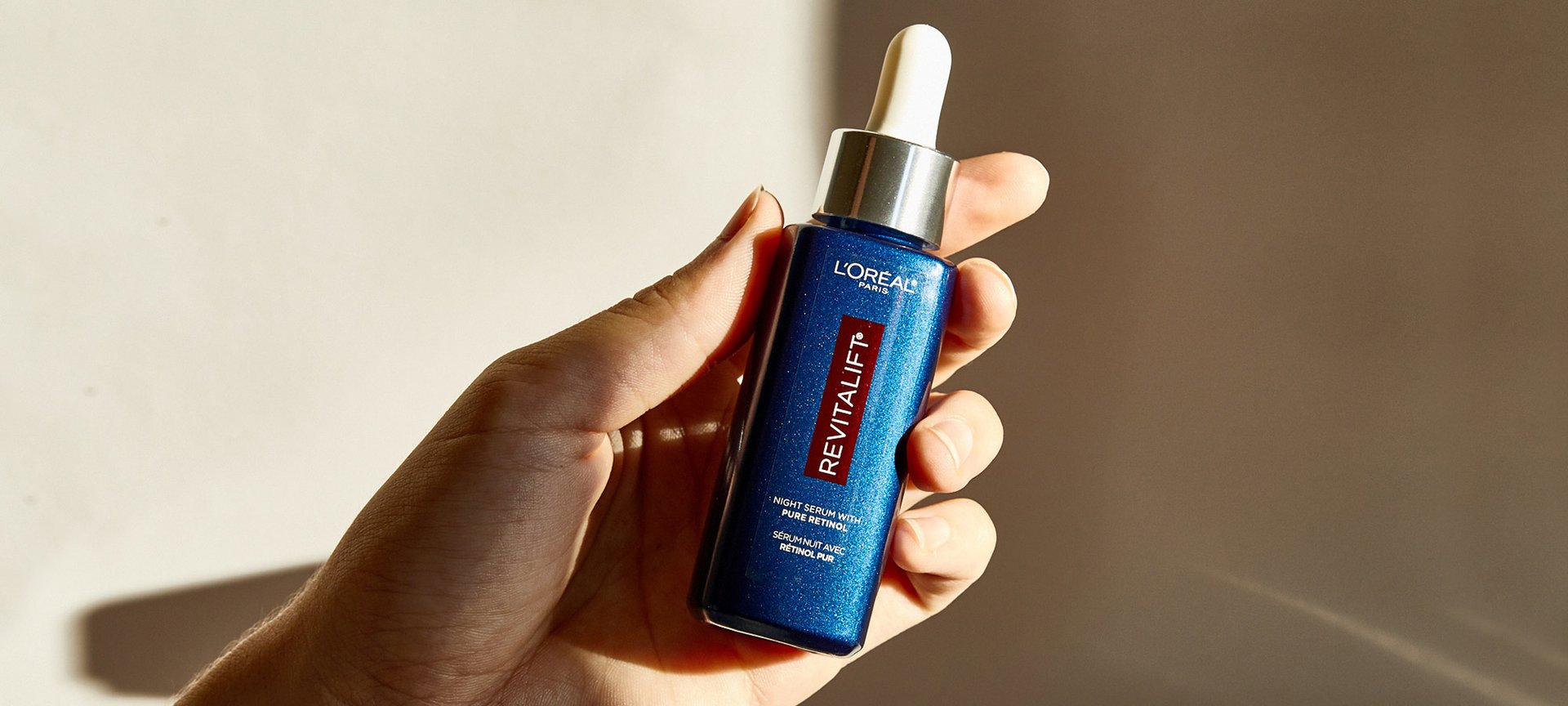 If you've ever scoped out top skin care ingredients recommended by dermatologists, there's a good chance you've stumbled upon retinol. According to the Mayo Clinic, retinol is a form of vitamin A that has been proven to help repair sun-damaged skin and reduce fine lines and wrinkles. With such high claims, it's no wonder retinol is one of the most researched molecules in skin care, as well as one of the most recommended ingredients by dermatologists. Read on for a breakdown of how our dermatologist-validated pure serum can transform your skin.

Why You Need The L'Oréal Paris Pure Retinol Serum
According to the Journal of Cosmetic Dermatology, applying retinol topically impacts cellular and molecular properties of the epidermis and dermis. Per another study from the NCBI, this can be seen in the improvement of the appearance of fine wrinkles associated with natural aging. According to the American Academy of Dermatology (AAD), retinol also works by unclogging pores, which can make your skin look brighter. Beyond that, the Mayo Clinic states that retinol also works as an antioxidant to help neutralize free radicals that can break down skin cells and result in dull skin.

How To Use This Pure Retinol Serum At Night
One of our favorite ways to get started with retinol is to use a retinol serum. We love the L'Oréal Paris Revitalift Derm Intensives Night Serum, 0.3% Pure Retinol. This dermatologist-validated serum is part of the Derm Intensives Collection and contains our highest concentration of pure retinol, to help fight key signs of aging, such as fine lines and wrinkles. The night serum also smooths and brightens your complexion for a luminous finish. Here's how to start using retinol serum in your nighttime skin care routine.

Step #1. Prep Skin For Serum
Start by removing any buildup of impurities, dirt, and oils from your skin with a cleanser. Try the L'Oréal Paris Revitalift Derm Intensives 3.5% Glycolic Acid Cleanser, which removes excess oils and makeup to reveal smoother, brighter skin and preps skin for serum application.

Step #2. Smooth On Your Serum
When applying retinol, you'll need to give your skin time to adjust. During the first week, apply two to three drops to clean and dry skin twice a week. The second week of use, apply the serum every other night. By week three, you can use the serum nightly if tolerated.

Step #3. Layer With Other Serums
Layering your skin care is important. So you'll want to use a serum and then a moisturizer in your routine. Serums are structured to penetrate deeply into your skin and then the cream seals it all in.

We recommend using the retinol serum in combination with the L'Oréal Paris Revitalift Derm Intensives 1.5% Pure Hyaluronic Acid Serum for intense hydration and a plumping effect. The key when layering serums is to apply from the thinnest to the thickest formula. Start with hyaluronic acid, then apply the retinol serum.

Step #3. Apply A Moisturizer
Finish your routine by applying a moisturizer. "Moisturize the skin immediately after showering, while your skin is still damp. It will help trap the water on the surface of the skin and keep the skin hydrated," says Dr. Flor A. Mayoral, a board-certified dermatologist of Coral Gables, Florida.


Smooth on the L'Oréal Paris Revitalift Triple Power Anti-Aging Overnight Mask, which is formulated with three of the top proven anti-aging ingredients: pro-retinol, vitamin C, and hyaluronic acid.

How To Complete Your Routine In The Morning
When you start using retinol at night, your morning routine should change, too, since retinol can increase your skin's sun sensitivity, says The Mayo Clinic. "If you want to fight the signs of aging, change your sun exposure habits and use skin care products that help rejuvenate the skin," says Dr. Flor Mayoral, who also recommends sticking to a skin care regimen that includes sunscreens and antioxidants.


We recommend a vitamin C serum for those antioxidants. Try the L'Oréal Paris Revitalift Derm Intensives 10% Pure Vitamin C Serum. Get a dime-sized amount on your fingertips and smooth it onto your face and neck. Then follow up with the L'Oréal Paris Revitalift Triple Power Day Lotion SPF 30, which offers anti-aging benefits with a built-in layer of sun protection.
Next: Our Best Skin Care Products with Retinol


Photo: Chaunte Vaughn
Discover more tips & tricks
Keep your skin happy
See all articles
Shop Featured Skin Care products
Discover More