makeup trends
The Best Waterproof Makeup For Summer
September 11, 2020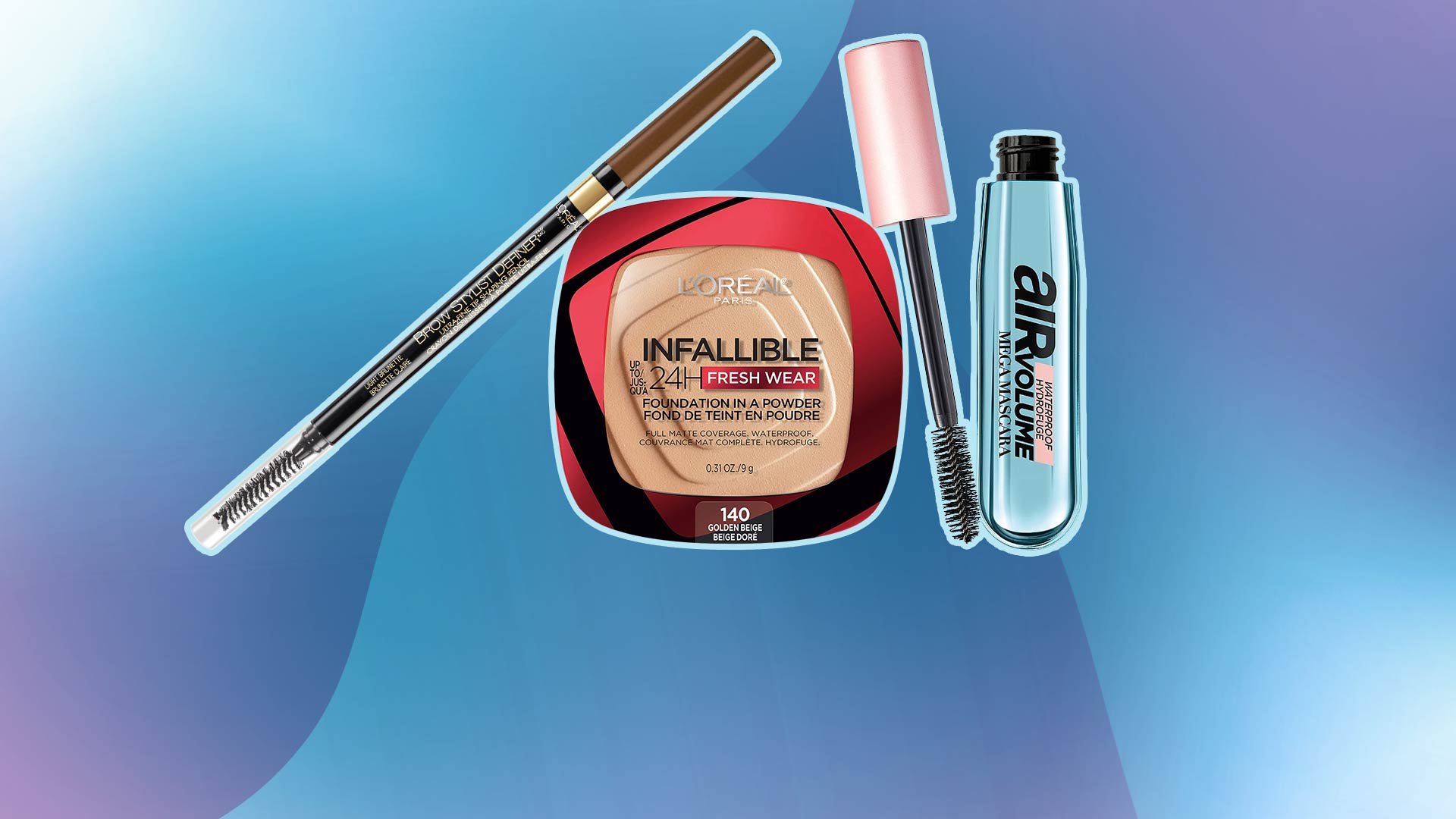 Summer is the season where you get to loosen up and kick back by the pool or beach, and the same should apply to your beauty routine. However, if you don't swap out your go-to beauty products for waterproof formulas, you may encounter a few stressful situations, like dealing with runny mascara and smudged foundation. This is why it's important to keep waterproof makeup essentials on hand to help keep your look intact all day long. And if you want to get your hands on the best waterproof makeup picks, you've come to the right place. Ranging from longwear brow pencils to transfer-proof mascaras, we've rounded up a few of our favorite waterproof makeup products to try right now.
1. Waterproof Foundation
The key to creating flawless makeup looks begins with your base. And foundation will be your beauty staple to creating a smooth and radiant-looking complexion. Reach for the L'Oréal Paris Infallible 24H Fresh Wear Foundation in a Powder. This longwear powder foundation provides a full-coverage, matte finish without looking cakey. Its formula is also waterproof, heatproof, sweatproof, and transfer-proof, so there's no need to be wary about masking up while wearing it. It comes in 14 shades and is suitable for all skin types, including oily and acne-prone skin. You can use the sponge applicator included to smooth the powder across your entire face until you get your desired look.
If you prefer liquid foundations, grab the L'Oréal Paris Infallible 24 Hour Fresh Wear Foundation, Lightweight. It also features a waterproof formula and comes in 40 shades. The ultra-thin foundation goes on smoothly to give a fresh, healthy-looking complexion that lasts for up to 24 hours. We also dig that it's formulated with broad-spectrum sunscreen for the ultimate level of sun protection (essential for summer). To get a natural finish, apply a few drops of the foundation directly onto your skin and use a damp makeup blender to blend it out seamlessly across your face.
Editor's Tip: Need help picking out the right foundation shade? Use our L'Oréal Paris Virtual Makeup Try-On Tool, which allows you to try shades from any of the L'Oréal Paris foundation lines. That's more than 100 shades you can test right from the comfort of your home! All you have to do is upload a selfie or click on the live try-on button, which will automatically connect to your computer's camera.
2. Waterproof Eyebrow Makeup
Eyebrows have the power to make or break your makeup look, especially since they're of the few features not hidden away by your protective face mask. And nothing ruins a look like smudging and fading eyebrows. To prevent brow mishaps on humid days (or whenever water hits your face), reach for a waterproof brow pick like the L'Oréal Paris Brow Stylist Definer Waterproof Eyebrow Mechanical Pencil. It has an ultra-fine tip that makes sculpting your desired brow shape a breeze and the waterproof formula will help keep your brows intact. Use the pencil to outline your eyebrow shape, then fill it in with light feathered strokes and comb through them using the soft blending brush to set the hairs in place.
For a more intense and bolder eyebrow look, opt for the L'Oréal Paris Unbelievabrow Longwear Waterproof Gel. Designed to last up to 48 hours, this brow gel can be used to fill in and thicken your brows, making it one of our favorite waterproof eyebrow makeup options. Lightly apply the product using the doe-foot applicator to fill in sparse areas. Then, use the angled brush to outline and define the shape of your brows. Finish up by combing through your brows with the spoolie, and boom—your look is complete!
3. Waterproof Concealer
Concealer is a multi-purpose makeup essential that belongs in every makeup bag. And you can count on it to disguise skin imperfections, discolorations and to help brighten up your under-eye area. Reach for the L'Oréal Paris Infallible Full Wear Concealer Waterproof, Full Coverage—not only is the formula waterproof and sweat-resistant, but it also provides full coverage without any chance of fading or flaking. Apply the concealer directly onto target areas and use a damp makeup blender to dab it gently onto your skin until you get an even layer of coverage.
4. Waterproof Eyeliner
Another waterproof makeup offering that should be a permanent fixture in your routine is none other than eyeliner. And after spending time creating the perfect graphic eyeliner look, the last thing you'll want to deal with is cleaning up smudged liner. Luckily, you'll be able to make a stunning statement and keep eyeliner mishaps at bay using the L'Oréal Paris Infallible Pro-Last Waterproof, Up to 24HR Pencil Eyeliner. This waterproof pencil comes in 15 shades and has a creamy formula that glides on effortlessly for a long-lasting, smudge-proof look. The best part? It's also suitable to use on your waterline—making it a go-to for nearly any eyeliner look.
Editor's Tip: Check out a few more eyeliner options in our article, Our Best Waterproof Eyeliners for Smudge-Proof Eye Makeup.
5. Waterproof Mascara
Last but certainly not least, we have waterproof mascara. And if you've used mascara before, you've likely fallen victim to a smeared and smudged eye makeup look once or twice in your life. The good news is, all you have to do is find a mascara that delivers the volume, length, and definition you want. And that can all be achieved using the L'Oréal Paris Air Volume Mega Mascara Waterproof, Lightweight. This mascara features a cushioned double-bristle brush—the short side catches lashes from the root and the long side helps spread the formula evenly for a fully blown out lash look. Thanks to the air whipped formula your lashes won't feel weighed down. It's also smudge and flake resistant, so you don't have to worry about getting mascara all over your face. Feel free to apply three coats to the entire lash for a superbly dramatic look.
Photo Credit: Sarah Duvivier
Next: 5 Makeup Swaps For Radiant Skin
Discover more tips & tricks
Keep your skin happy
See all articles
Shop Featured Makeup products
Discover More