face makeup
This Waterproof Foundation Is Perfect for Sweat Sessions and Pool Days
May 22, 2020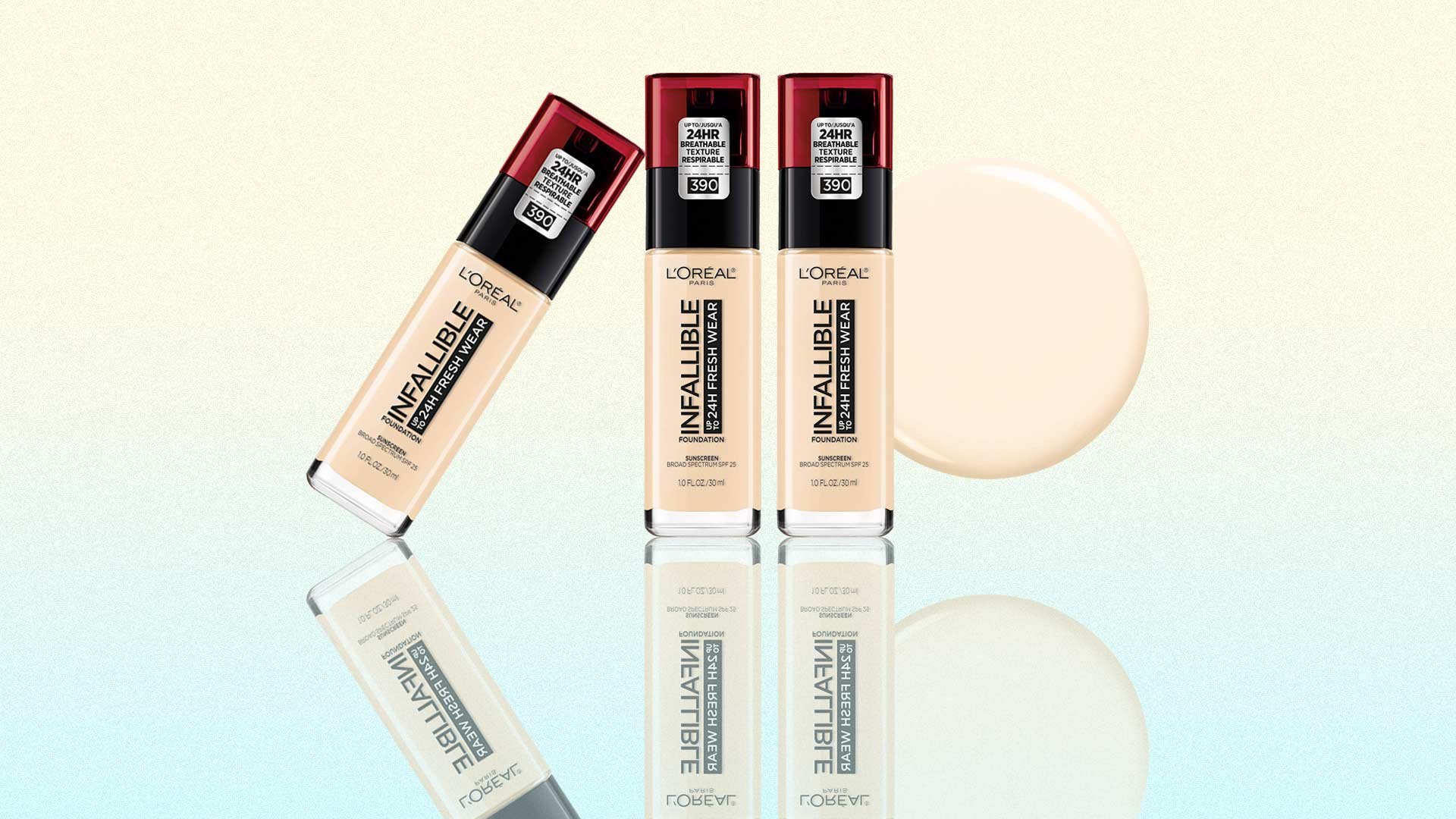 Sure, you may not always wear makeup to the gym or the pool, but there are some days where a bit of foundation seems more like a necessity than an option. Whether your skin just isn't cooperating or you're trying to look good for the cute lifeguard that's on duty, we're sure the last thing you want is for your perfectly applied face makeup to melt off due to a bit of moisture. Luckily, with the right waterproof foundation formula, you don't have to sweat it—literally. Grab your makeup bag and get ready to stock it with our favorite waterproof foundation. It's one that will outlive your sweatiest workouts and hottest pool days, so we know you want to hear more.
OUR BEST WATERPROOF FOUNDATION
Allow us to introduce you to the L'Oréal Paris Infallible 24 Hour Fresh Wear Foundation, Lightweight. This long-lasting foundation has a lightweight formula that's waterproof, transfer-resistant, and sweat-resistant. Need we say more? Probably not, but we will! Aside from being able to withstand any sweat and water that comes its way, it also offers medium-to-full buildable coverage, meaning you can customize how you wear it based on your activities.
The ultra-thin liquid goes on smoothly, is non-comedogenic, and formulated with broad-spectrum SPF 25—not to mention it comes in 40 shades, so there's one for every skin tone. Needless to say, there's a good chance it'll be your go-to this summer and beyond.
HOW TO COMPLETE YOUR WATERPROOF MAKEUP LOOK
Of course, you know that choosing a waterproof foundation is only half the battle when it comes to your makeup look outlasting a sweat session or day at the pool. Follow the steps below, and you won't have to worry about any aspect of your look moving an inch.
STEP #1. PRIME YOUR FACE
First, you'll want to apply a makeup primer to boost the lifespan of your look. Smooth on the L'Oréal Paris Studio Secrets Professional Magic Perfecting Base, which will leave your skin with a flawless matte finish.
STEP #2. APPLY YOUR WATERPROOF FOUNDATION
You know what to do—reach for a makeup sponge, like the L'Oréal Paris Infallible Blend Artist Foundation Blender, and buff and blend the waterproof foundation over your complexion. Build to your desired level of coverage.
STEP #3. BOOST YOUR BROWS
There are few things worse than imagining your expertly applied eyebrow makeup coming off after a dive in the pool, only to be left with patchy, half-there brows. Yikes! That's where the L'Oréal Paris Brow Stylist Definer Waterproof Eyebrow Mechanical Pencil comes in. With its waterproof formula, you won't have to worry about your brows smudging or fading while working up a sweat or taking a dip.
Start with clean, brushed brows, then use the ultra-fine tip pencil to draw the outline of your brow shape. Fill in the gap with light, feathered strokes. Use the spoolie to comb through and blend your arches for a more defined look.
STEP #4. PRIME YOUR EYES
You don't have to skip eye makeup out of fear that it'll wash away! Start by applying an eye primer to create an even canvas and increase the lifespan of the products to follow.
STEP #5. COLOR YOUR LIDS
Give your lids a wash of color that'll last with a waterproof eyeshadow, like the L'Oréal Paris Infallible 24 HR Eye Shadow. Choose from the 21 pretty shades, ranging from neutral to statement hues. A bright aqua is perfect for a pool day, while a soft brown can work for the gym.
STEP #6. LINE YOUR WATERLINE
Want to give your eyes an extra pop? Line your waterline with a bright shade of waterproof eyeliner, like the L'Oréal Paris Infallible Pro-Last Waterproof, Up to 24HR Pencil Eyeliner in True Teal.
STEP #7. COAT YOUR LASHES
Of course, you can't complete your eye makeup without applying a few coats of waterproof mascara. Layer on the L'Oréal Paris Bambi Eye Waterproof Mascara, Lasting Volume for an instant eye-opening effect.
STEP #8. SET YOUR LOOK
One more step, and you'll be ready to take on even the sweatiest, hottest summer day. What is it? Setting spray! Spritz the L'Oréal Paris Infallible Pro-Spray and Set Make-Up Oil-Free Setting Spray over your complexion to seal in your makeup look.
Next: How to Remove Waterproof Mascara and Other Water-Resistant Makeup
{ "@context": "https://schema.org/", "@type": "WebPage", "speakable": { "@type": "SpeakableSpecification", "cssSelector": ["speakable-content"] }, "url": "https://www.lorealparisusa.com/beauty-magazine/makeup/face-makeup/waterproof-foundation" }
Discover more tips & tricks
Keep your skin happy
See all articles
Shop Featured Makeup products
Discover More
{ "@context": "http://schema.org", "@type": "BreadcrumbList", "itemListElement": [ { "@type":"ListItem", "position": 1, "item": { "@id": "/", "name": "Home" } } , { "@type":"ListItem", "position": 2, "item": { "@id": "https://www.lorealparisusa.com/beauty-magazine", "name": "Beauty Magazine" } } , { "@type":"ListItem", "position": 3, "item": { "@id": "https://www.lorealparisusa.com/beauty-magazine/makeup", "name": "Makeup Tips For Every Look" } } , { "@type":"ListItem", "position": 4, "item": { "@id": "https://www.lorealparisusa.com/beauty-magazine/makeup/face-makeup", "name": "Face Makeup" } } , { "@type":"ListItem", "position": 5, "item": { "@id": "https://www.lorealparisusa.com/beauty-magazine/makeup/face-makeup/waterproof-foundation", "name": "waterproof-foundation" } } ] }