eye makeup
The Best Waterproof Eyebrow Products Of 2021
February 04, 2021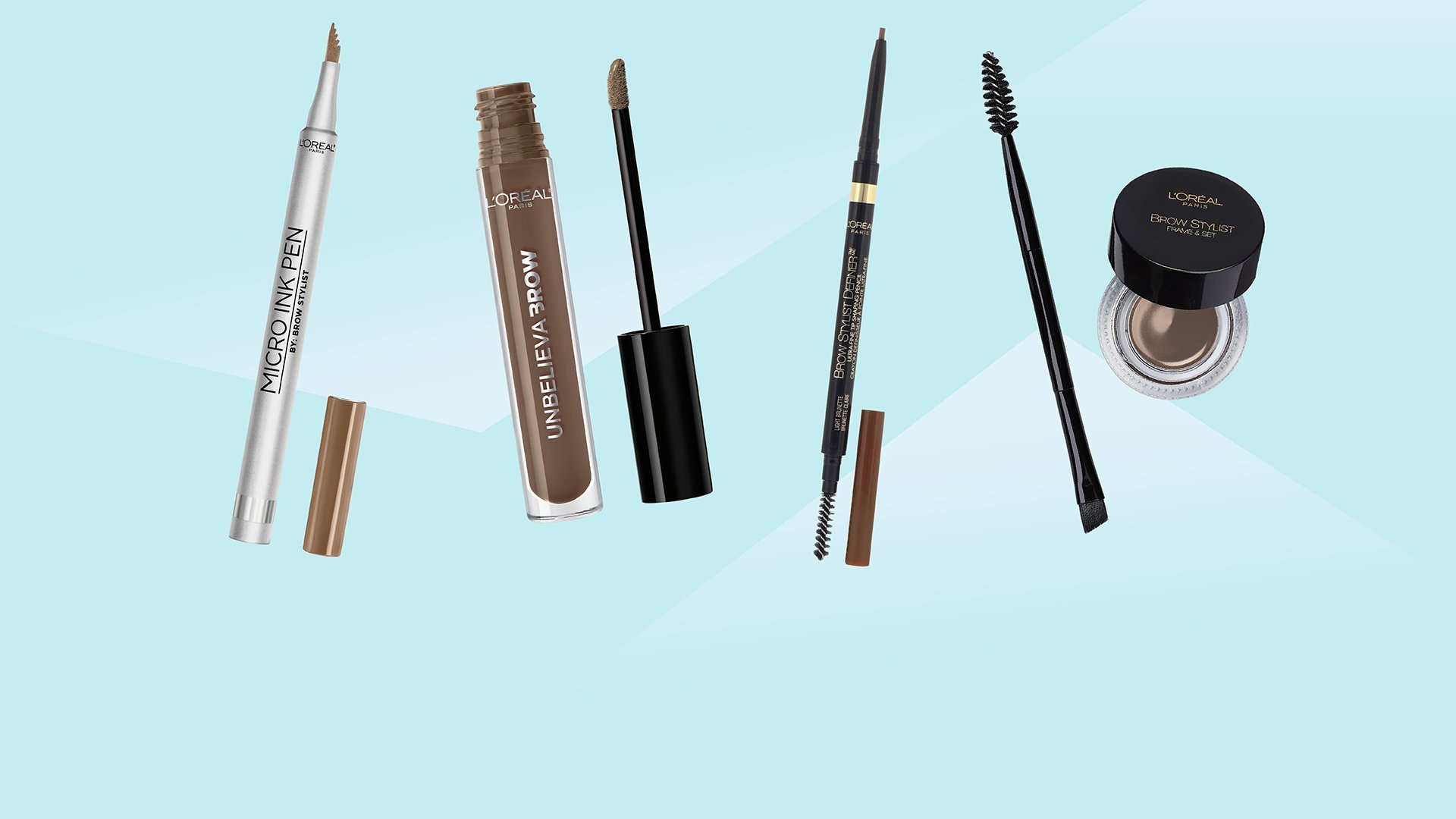 Eyebrows have the power to make or break your makeup look, especially since they're of the few features not hidden away by your protective face mask. Nothing ruins a look like smudging and fading eyebrows. That's why waterproof formulas are key in keeping your brows in place throughout the day while you're out and about. And if you're looking to get your hands on the best waterproof eyebrow makeup you've come to the right place. Read on as we share our best waterproof eyebrow products, ranging from brow gels to eyebrow pencils, so you can keep your brows intact all day—rain or shine.
Best Waterproof Eyebrow Pencil
If you love to sport defined brows sans the drawn-on look, you'll need to find an eyebrow pencil that will provide you with a natural finish. The L'Oréal Paris Brow Stylist Definer Waterproof Eyebrow Mechanical Pencil will be your best friend. It has an ultra-fine tip that makes sculpting your desired brow shape a breeze. Start by using the pencil to outline your eyebrow shape, then fill in your brows with light feathered strokes. Lastly, comb through your brows using the soft blending brush to set the hairs in place.
Best Waterproof Eyebrow Pomade
When it comes to eyebrow makeup, some people prefer a more sharp and defined look. To achieve that, you'll need to up the ante with your eyebrow makeup products to bring this look to life. Consider giving the L'Oréal Paris Brow Stylist Frame & Set a try. This waterproof brow pomade comes equipped with a double-ended brush featuring a spoolie that works to blend, set, and shape your brows. To use, just dip the flat angled brush into the pomade and outline your brows. Use the tip to draw hair-like strokes in sparse areas, and fill it into your desired intensity. Comb and blend using the spoolie to style and set your brows after.
Best Waterproof Eyebrow Gel
Can't get enough of big and bold brows? We don't blame you! So to ensure your brows don't budge throughout the day, we recommend using the L'Oréal Paris Unbelievabrow Longwear Waterproof Gel to get the job done. It lasts for up to 48 hours, and it can be used to fill in and thicken your brows, making it one of our favorite waterproof eyebrow makeup options. Lightly apply the product using the doe-foot applicator to fill in sparse areas. Then, use the angled brush to outline and define the shape of your brow. Finish up by combing through your brows with the spoolie, and boom—your look is complete!
Best Waterproof Eyebrow Pen
If you love going to the salon to get your eyebrows tinted, you'll definitely want to try out the L'Oréal Paris Brow Stylist Micro Ink Pen by Brow Stylist, Up to 48 HR Wear. The tinted brow pen comes equipped with a comb-tip applicator to give your brows a natural-looking, hair-like effect. Its long lasting formula is smudge-proof, and the color will not fade throughout the day. For the best results, place the comb-tip applicator at the anchor of your brow, then brush upward and outward toward the tail of your eyebrows.
How To Remove Waterproof Eyebrow Makeup
Waterproof eyebrow makeup is meant to be long-lasting, so it will take some extra effort to remove it. Make sure you have the right makeup remover on hand, like the L'Oréal Paris Micellar Cleansing Water Complete Cleanser Waterproof – All Skin Types which will lift and remove dirt and makeup to leave you with refreshed skin. Saturate a cotton pad and gently massage it into your brow area to remove the product.
{ "@context": "https://schema.org/", "@type": "WebPage", "speakable": { "@type": "SpeakableSpecification", "cssSelector": ["speakable-content"] }, "url": "https://www.lorealparisusa.com/beauty-magazine/makeup/eye-makeup/waterproof-eyebrow-makeup" }
Discover more tips & tricks
Keep your skin happy
See all articles
Shop Featured Makeup products
Discover More
{ "@context": "http://schema.org", "@type": "BreadcrumbList", "itemListElement": [ { "@type":"ListItem", "position": 1, "item": { "@id": "/", "name": "Home" } } , { "@type":"ListItem", "position": 2, "item": { "@id": "https://www.lorealparisusa.com/beauty-magazine", "name": "Beauty Magazine" } } , { "@type":"ListItem", "position": 3, "item": { "@id": "https://www.lorealparisusa.com/beauty-magazine/makeup", "name": "Makeup Tips For Every Look" } } , { "@type":"ListItem", "position": 4, "item": { "@id": "https://www.lorealparisusa.com/beauty-magazine/makeup/eye-makeup", "name": "Eye Makeup" } } , { "@type":"ListItem", "position": 5, "item": { "@id": "https://www.lorealparisusa.com/beauty-magazine/makeup/eye-makeup/waterproof-eyebrow-makeup", "name": "waterproof-eyebrow-makeup" } } ] }