eye makeup
How to Prevent Smudged Mascara
August 29, 2019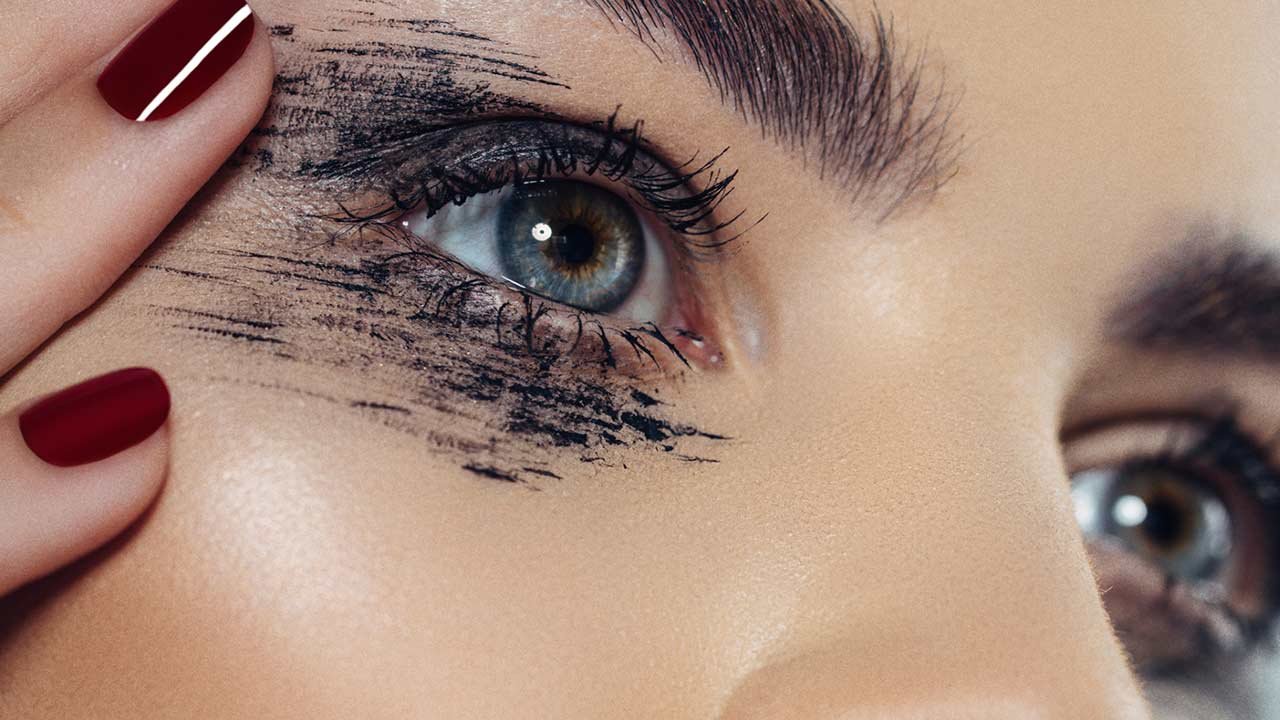 There are few things worse than finishing a killer eye makeup look—only for it to fall victim to smeared eyeliner or mascara a few hours into wearing it. Unintentionally smudged makeup is no joke, and running mascara is one of the most common makeup mishaps that can take a toll on your makeup look. If you've ever dealt with smudged mascara, we're sure you've taken the time to Google the best smudge-proof mascara and the best waterproof mascara formulas. While using the right mascara is certainly important in avoiding a mascara murder scene, smudge-proof mascara isn't the only thing to consider. Wondering how to prevent smudged mascara? Find seven tips to do just that, below.
SMUDGED MASCARA TIP #1: AVOID CREAMS
While we love cream formulas, they aren't exactly your BFF when it comes to running mascara. You see, cream eye shadows, eyeliner, and even eye creams can create an oily, slippery base for your mascara—leading to the dreaded smudged appearance you're aiming to avoid. If you're prone to smudged mascara, skip out on applying creams to your lids and opt for powder or matte formulas instead.
SMUDGED MASCARA TIP #2: TURN TO BLOTTING PAPERS
Have you considered you may have oily lids? They're a lot more common than you may think, and can create that same slippery platform on your eyes that results in smudged mascara. An easy solution? Dab blotting papers onto your lids and under your eyes prior to applying makeup to soak up any excess oil.
SMUDGED MASCARA TIP #3: USE EYE PRIMER
Speaking of slippery lids, using an eye primer is a must to prep your eyelids for all of your eye makeup and create a long-lasting, smudge-free zone. Apply one as the first step in your eye makeup routine and reap the benefits.
SMUDGED MASCARA TIP #4: CHOOSE A WATERPROOF MASCARA
Like we hinted at earlier, the best smudge-proof mascara is a waterproof one. Take your pick from one of our three best H2O-proof options, below.
L'Oréal Paris Voluminous Lash Paradise™ Waterproof Mascara: With its soft wavy bristle brush and silky-smooth formula, this waterproof mascara will leave your lashes with voluptuous volume and intense length sans flaking, smudging, and clumping.
L'Oréal Paris Unlimited Lash Lifting and Lengthening Waterproof Mascara Blackest Black: Love the look of lifted lashes? This mascara's bendable wand and stretchable formula work together to provide an instant lash-lift effect and intense length with no clumps or flakes!
L'Oréal Paris Telescopic Original Waterproof Lengthening Mascara: All about long, never-ending lashes? The waterproof formula of this classic mascara enhances lashes with intense length and unique lash-by-lash separation while the flexible precision brush separates lashes for a clump-resistant result. Bonus: It's suitable for sensitive eyes and contact lens wearers.
SMUDGED MASCARA TIP #5: SET YOUR MAKEUP
After you've applied your eye makeup—including your mascara—it's important to set your makeup to avoid any smudging and budging throughout the day (or night). You can do so with the help of a makeup setting spray, like the L'Oréal Paris Infallible Pro-Spray & Set Makeup Extender Setting Spray.
Additionally, you should set the makeup under your eyes with a translucent powder, like the L'Oréal Paris Infallible Pro-Sweep & Lock Loose Setting Face Powder. Here's What Is Baking Makeup and How to Do It Like the Pros for more info.
SMUDGED MASCARA TIP #6: OPT FOR LONGWEAR FACE MAKEUP
Just like you should stay away from creamy eye makeup products, your best bet is to steer clear of cream face makeup, too. Instead, look for longwear formulas, like the L'Oréal Paris Infallible Pro-Matte Makeup Lock Primer and the L'Oréal Paris Infallible Up to 24HR Fresh Wear Foundation, Lightweight. This will help prevent mascara running and mixing with your face makeup.
SMUDGED MASCARA TIP #7: APPLY BOTTOM TO TOP
The order you apply your mascara can make all the difference! While you may be tempted to coat your top lashes first, we advise working from bottom to top. Think about it: If you apply mascara to your top lashes, you'll likely end up lifting your lids as you apply to your bottom lashes, which can cause mascara that isn't fully dried to transfer from your lashes to your brow bone. Thus, stick to coating your lower lashes first, then finish with the top. You can also wait a minute or two between coats to give your mascara time to dry and prevent transferring.
Want more mascara application tips? Here's How to Apply Mascara for Your Fullest-Looking Lashes Yet.
{ "@context": "https://schema.org/", "@type": "WebPage", "speakable": { "@type": "SpeakableSpecification", "cssSelector": ["speakable-content"] }, "url": "https://www.lorealparisusa.com/beauty-magazine/makeup/eye-makeup/smudge-proof-mascara" }
Discover more tips & tricks
Keep your skin happy
See all articles
Shop Featured Makeup products
Discover More
{ "@context": "http://schema.org", "@type": "BreadcrumbList", "itemListElement": [ { "@type":"ListItem", "position": 1, "item": { "@id": "/", "name": "Home" } } , { "@type":"ListItem", "position": 2, "item": { "@id": "https://www.lorealparisusa.com/beauty-magazine", "name": "Beauty Magazine" } } , { "@type":"ListItem", "position": 3, "item": { "@id": "https://www.lorealparisusa.com/beauty-magazine/makeup", "name": "Makeup Tips For Every Look" } } , { "@type":"ListItem", "position": 4, "item": { "@id": "https://www.lorealparisusa.com/beauty-magazine/makeup/eye-makeup", "name": "Eye Makeup" } } , { "@type":"ListItem", "position": 5, "item": { "@id": "https://www.lorealparisusa.com/beauty-magazine/makeup/eye-makeup/smudge-proof-mascara", "name": "smudge-proof-mascara" } } ] }