skin care essentials
Our Best Eye Makeup Remover for Waterproof Makeup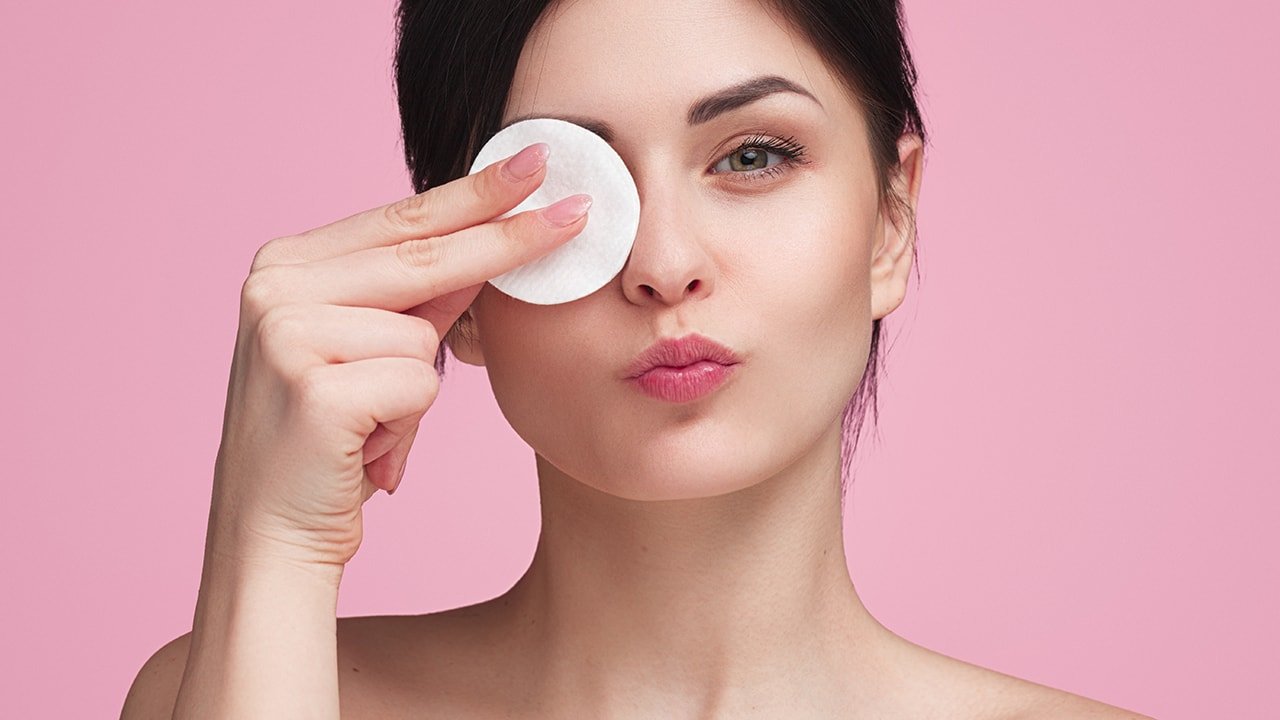 Waterproof makeup can be super-useful. Going to a wedding and have a feeling you're going to tear up? Then waterproof makeup is a great option. Know you'll be walking around somewhere hot and humid? Waterproof makeup can help ensure you're not dealing with the dreaded midday makeup melt. That being said, if you've ever worn waterproof makeup, then you know that it can be challenging to remove at the end of the day—especially waterproof mascara. It's all about finding the best eye makeup remover for waterproof makeup—and luckily, we've got just the option for you. Keep reading to get our product rec and learn about why it's essential to remove your makeup before bed!
WHY IT'S IMPORTANT TO REMOVE YOUR MAKEUP AT NIGHT
Before we tell you about our best makeup remover for waterproof makeup, let's cover the basics. Going to bed in your makeup—waterproof or not—is a total skin care no-no. That's because when you snooze in your makeup, it can mix with the dirt and oils that have built up on the surface of your skin—and this can lead to clogged pores, which can lead to breakouts. Yikes! The good news is, the makeup remover we're about to talk to you about can be stored on your nightstand for easy access—you don't even need to go to the bathroom to use it.
OUR BEST MAKEUP REMOVER FOR WATERPROOF MAKEUP
Ready to say goodbye to your smoky eye? Reach for the L'Oréal Paris Clean Artiste Waterproof & Long Wearing Eye Makeup Remover, our best waterproof eye makeup remover. The non-comedogenic, non-irritating formula gently and easily removes waterproof makeup without leaving a filmy or oily residue on your skin. It instantly dissolves every trace of eye makeup—even long-wearing foundations and waterproof mascaras—while gently conditioning your lashes. Simply dip a cotton ball into the remover, close your eye, and sweep it gently across your lid.
TWO ADDITIONAL WATERPROOF EYE MAKEUP REMOVERS
Want an alternative to our best waterproof eye makeup remover? Perhaps you're looking for one that can handle a full face of makeup or make a convenient companion when traveling. Here are two additional waterproof eye makeup removers to consider.
Our best makeup remover for waterproof face and eye makeup: Micellar water. Micellar water has been a French-favorite cleanser for years—and for good reason. Since micellar water is a no-rinse cleansing option and you don't need to be near a sink to use it, it's very convenient. Besides being a cleanser, micellar water can also be used to remove makeup. Our best micellar water for waterproof eye makeup is the L'Oréal Paris Micellar Cleansing Water Complete Cleanser Waterproof – All Skin Types, which removes face and eye makeup, cleans dirt and impurities, and intensely purifies. Suitable for all skin types, including sensitive skin, and free of oil, soap, and alcohol, this micellar water can be used on the face, eyes, and lips. To use, all you have to do is saturate a cotton pad with micellar water and wipe the pad across your face.
Our best makeup remover for on the go: Towelettes. Towelettes are the perfect option for traveling, as they can easily fit in your bag and offer a single-use, mess-free makeup removal option. The L'Oréal Paris Ideal Clean All Skin Types Makeup Removing Towelettes clean without drying out the skin thanks to their alcohol-free formula. The ultra-soft towelettes gently yet effectively remove all traces of makeup, mascara, and even long wear makeup. To use, peel the label to open, gently wipe your face and eye area, then reseal pack to prevent the remaining towelettes from drying out.
WHAT TO DO AFTER YOU REMOVE WATERPROOF MAKEUP
Now that you're sans eye makeup, you may be wondering what the next steps in your routine should be. Follow the two steps below to complete your routine!
STEP #1: CLEANSE
Once you're done removing your makeup, you'll want to cleanse the rest of your face. If you choose to use micellar water or towelettes as your waterproof eye makeup remover, you can get completely clean without an extra step as these both double as a cleansing option! Of course, you may find that your skin could benefit from a little extra cleansing—so consider opting for a double cleanse if you're wearing waterproof makeup. Double cleansing involves first using a no-rinse cleansing option (like micellar water or towelettes) to remove impurities from the surface of skin, then using a rinse-off cleanser to help remove any remaining impurities.
Need a cleanser option? The L'Oréal Paris Pure-Clay Detox & Brighten Cleanser, L'Oréal Paris Pure-Clay Exfoliate & Refine Cleanser, and L'Oréal Paris Pure-Clay Purify & Mattify Cleanser are formulated to seamlessly transform from clay to mousse and remove everyday impurities from the surface of your skin without over-drying it. Daily, squeeze your cleanser of choice into your hands and add water to transform it from clay to mousse. Gently massage the cleanser onto your face using circular motions, then rinse thoroughly with lukewarm water and pat dry.
STEP #2: MOISTURIZE
Now that your skin is squeaky clean, apply a moisturizer formulated for your skin type. The L'Oréal Paris Hydra Genius Daily Liquid Care - Normal/Oily Skin, L'Oréal Paris Hydra Genius Daily Liquid Care - Normal/Dry Skin, and L'Oréal Paris Hydra Genius Daily Liquid Care - Extra Dry Skin are formulated with hyaluronic acid and aloe vera water to help provide long-lasting hydration.
Congratulations: Your makeup is gone, your complexion is clean, and your skin is moisturized. Now that you've mastered removing waterproof eye makeup, let's move onto another beauty skill that's worth having: removing self-tanner. Here's How to Remove Self-Tanner.
Discover more tips & tricks
Keep your skin happy
See all articles
Shop Featured Skin Care products
Discover More