makeup looks
How to Apply Makeup When You Have Dry Skin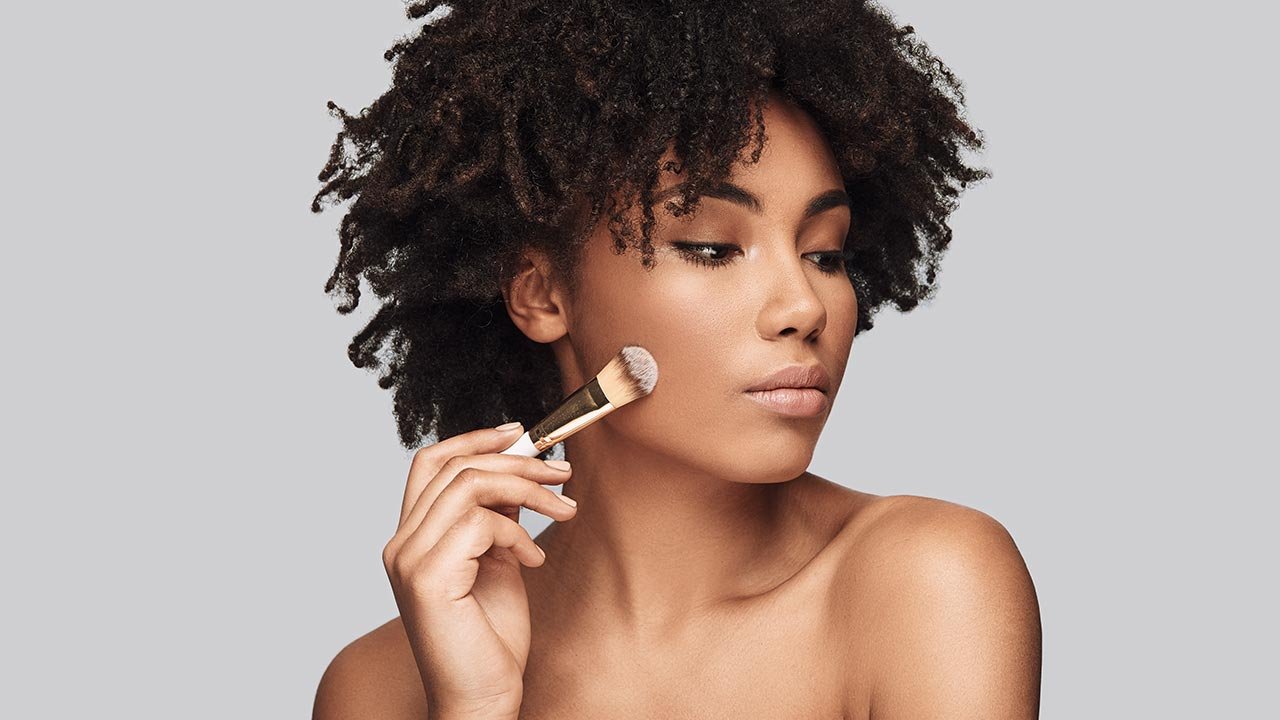 As if mastering the art of applying makeup wasn't hard enough, applying makeup for dry skin is even more complicated. Seriously, makeup just doesn't apply as well to skin that looks and feels parched. It's not a lost cause, though—you just need to lock down the right routine to disguise those pesky dry patches on your face. By following a few simple tips and using the best makeup for dry skin, you can expertly apply makeup to a dry complexion. Keep reading for 10 tips on exactly how to go about creating your next makeup look if you have dry skin.
TIP #1: START WITH A SCRUB
Help slough off any dead skin cells that may have built up on the surface of your skin, as they can cause your makeup to go on less than smooth. Use a gentle face scrub like the L'Oréal Paris Pure-Sugar Nourish & Soften Cocoa Scrub, which can help exfoliate dull, dead skin cells from skin's surface, before moving on to makeup.
TIP #2: USE MOISTURIZER WITH SPF
Moisturizing should be part of your everyday skin care routine—especially if you have dry skin that's in need of hydration! Double up on benefits by applying a moisturizer with SPF—yes, even in the winter! The L'Oréal Paris Revitalift Triple Power Day Lotion SPF 30 is formulated with SPF 30, Pro-Retinol, hyaluronic acid, and vitamin C to help hydrate your skin as well as reduce wrinkles, brighten, and firm.
TIP #3: USE THE RIGHT APPLICATORS
Half the battle in achieving attractive makeup is getting the application part right. This means no more rubbing foundation on with your fingers since that isn't exactly the most effective—not to mention hygienic—option. Tools like brushes or blenders are a good bet. Try applying foundation with the L'Oréal Paris Infallible Blend Artist Foundation Blender, bouncing the makeup sponge on your face to blend and build to your desired level of coverage.
TIP #4: WEAR PRIMER
If you have dry skin, wearing a primer under your foundation and eye shadow is a must. Primers don't just help makeup stay in place; they also help create a smooth canvas for your makeup application. Pre-foundation, apply a layer of the L'Oréal Paris Infallible Pro-Glow Lock Makeup Primer all over your face to hydrate and prep your skin.
TIP #5: FIND A FOUNDATION FOR DRY SKIN
When it comes to using foundation when you have dry skin, opt for liquid formulas since powder ones can make any patchiness more noticeable. The L'Oréal Paris Infallible Pro-Glow Foundation has a radiant finish and is formulated for normal and dry skin.
TIP #6: SKIP SETTING WITH POWDER
Powders have a tendency to look cakey. Keep your makeup in place (and cake-free) with a setting spray, like the L'Oréal Paris Infallible Pro-Spray & Set Makeup Extender Setting Spray, instead.
TIP #7: OPT FOR CREAM BLUSH
For blush and bronzer, stick with cream formulas. Again, powders may make dry skin look even drier, so steer clear of them if you're dealing with dryness. To add color to your complexion, swipe on the L'Oréal Paris Infallible Longwear Blush Shaping Sticks.
TIP #8: GET YOUR GLOW ON WITH HIGHLIGHTER
Sadly, dry skin can sometimes look dull—but thankfully, you can use an illuminator to help restore the look of your glow. Dot a liquid highlighter above your cheekbones to fake authentic-looking luminosity. The L'Oréal Paris True Match Lumi Glotion Natural Glow Enhancer can be mixed into foundation for an overall dewy complexion or used overtop your foundation to define your face. It's available in four shades for different skin tones, so apply whichever one is your match.
TIP #9: LAY OFF MATTE LIPSTICKS
It's not just your face that can have the tendency to look and feel dry; your lips may be in the same situation. While matte lipsticks are super-trendy, they can exacerbate the look of dryness and flakes. That doesn't mean you have to skip lip color altogether. Start by using a lip scrub to help exfoliate dead skin cells on the surface of your lips, then follow up with a hydrating lipstick in your shade of choice. The L'Oréal Paris Colour Riche Shine Lipstick has a sheer, hydrating formula with rich color payoff and a glossy finish—perfect for disguising a dry pout!
TIP #10: FRESHEN UP WITH A FACE MIST
Keep a refreshing facial mist on hand so that you can spritz it on whenever your dry complexion needs a pick-me-up during the day. When you need an extra boost of radiance and hydration, spritz on the L'Oréal Paris True Match Lumi Shake & Glow Dew Mist.
Discover more tips & tricks
Keep your skin happy
See all articles
Shop Featured Skin Care products
Discover More