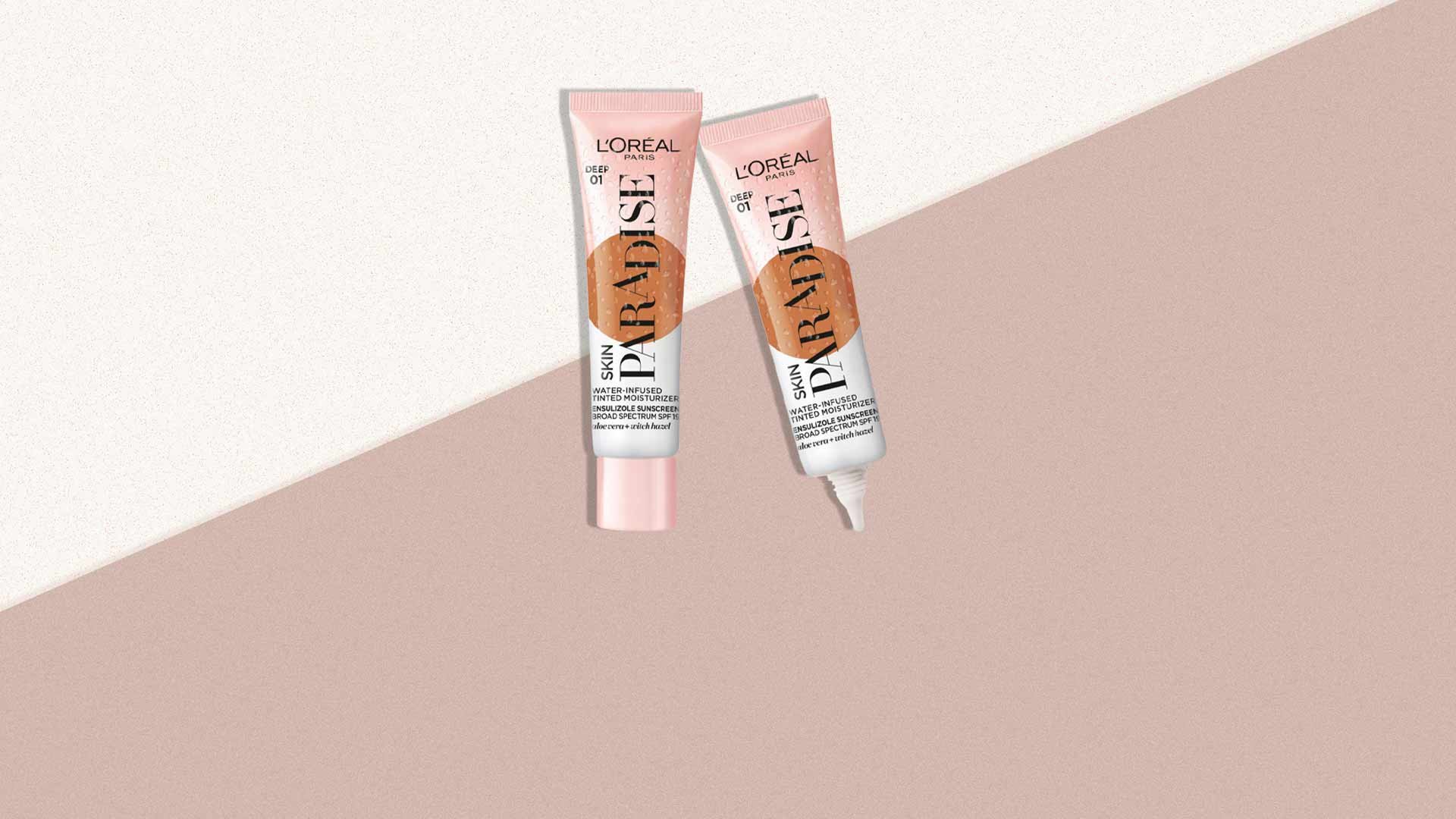 Unless you're living under a rock that shields you from all things beauty (what a nightmare), you've likely heard about tinted moisturizer. Hybrid products that meld your favorite aspects of skin care products with the best that makeup has to offer, a category that includes tints, BB creams and CC creams, are massively popular. And it's easy to see why; they work overtime and manage to do as much as any single product can possibly do. Tinted moisturizer, in particular, has to be one of our favorite skin care and makeup hybrids to hit the scene, and it's a perfect pick for those with mature skin. If we piqued your interest, keep reading to learn all about our best drugstore tinted moisturizer, including how to add it to your own makeup routine.
WHAT IS TINTED MOISTURIZER?
If you're wondering what's missing from your beauty regimen, we think we have it figured out: tinted moisturizer. The right tinted moisturizer can provide light coverage while also hydrating skin and leaving a glowing finish. It's exactly what it sounds like: Facial moisturizer that also has a slight skin tint with makeup pigments (like a foundation or a BB cream). So, you get the benefits of both makeup and moisturizer in just one product. Pretty cool, right? Even cooler: You can get those benefits without spending a lot—with a drugstore tinted moisturizer.
ARE BB CREAM AND TINTED MOISTURIZER THE SAME?
We've compared BB cream and tinted moisturizer a few times already, which may have you wondering if BB cream and tinted moisturizer are the same. The answer is a resounding no. A BB cream, also known as a beauty balm or a blemish balm, is a liquid makeup product that acts as an all-in-one essential, priming the skin, providing coverage, and offering a wide array of skin care benefits like hydration, sun protection, and shine control.
Tinted moisturizers, on the other hand, can provide some of the same benefits, but their primary role is to hydrate while offering just a touch of coverage. Tinted moisturizers also typically have lighter formulas than BB creams—you can think of a BB cream as falling in-between tinted moisturizer and foundation in terms of coverage.
CAN YOU USE TINTED MOISTURIZER INSTEAD OF FOUNDATION?
When it comes down to the topic of using tinted moisturizer instead of foundation, it really depends on what you're going for with your makeup look. If you're interested in covering up dark spots, age spots, or hyperpigmentation, foundation may be necessary to provide the level of coverage you're looking for. On the flip side, tinted moisturizer is a smart choice if you want to provide your skin with instant hydration while adding a touch of pigment for dewy and glowing skin. So, to answer your question, yes you can use tinted moisturizer instead of foundation, you just have to be realistic with your expectations. Don't expect your skin tint to provide full-coverage and you should be okay.
IS TINTED MOISTURIZER BAD FOR YOUR SKIN?
Okay, listen up: The truth is, tinted moisturizer isn't bad for your skin, but using it the wrong way could be. One of the biggest mistakes you can make with tinted moisturizer is to allow it to replace the rest of your skin care routine. Think of tinted moisturizer as providing an extra dose of nourishment—not as something to stand in for your regular moisturizer.
Things can also go haywire if you don't use the best tinted moisturizer formula for your skin type. Like any makeup or skin care product, if you use a formula that doesn't match your complexion, breakouts or excess oils can become a factor. If you have oily skin, look for an oil-free tinted moisturizer. If you have dry skin, look for one with extra nourishing ingredients in the formula. The key to using a tinted moisturizer effectively is to read your labels to ensure it fits your needs.
OUR BEST TINTED MOISTURIZER
If you're excited to try out tinted moisturizer for yourself, allow us to introduce you to the L'Oréal Paris Skin Paradise Water-Infused Tinted Moisturizer. This drugstore tinted moisturizer is formulated with water, aloe vera, witch hazel, and SPF 19, which helps keep your complexion hydrated and protected from the sun's harmful UV rays. The tinted moisturizer with SPF provides long-lasting hydration while also giving skin the appearance of a luminous glow. It's also oil-free, suitable for sensitive skin, and won't clog your pores. The lightweight formula offers natural coverage, whether that's alone or under the rest of your makeup. Pick your shade (from 12) and smooth it on in whichever way you please.
HOW DO YOU ADD TINTED MOISTURIZER TO YOUR BEAUTY ROUTINE?
As we said, you can wear our best tinted moisturizer all on its own, or you can use it as a way to round out the rest of your makeup and skin care routine. Follow these five easy steps to use our tinted moisturizer and complete your look.
STEP 1: MOISTURIZE BEFOREHAND
Moisturizing is always a must. Really, no exceptions. Before picking up your tinted moisturizer, massage the L'Oréal Paris Age Perfect Rosy Tone Moisturizer for Mature, Dull Skin onto clean skin. This moisturizer, also meant for mature skin, is formulated to exfoliate dead skin cell buildup from the surface of your skin and revive the appearance of skin's rosy tone, all the while nourishing skin with moisture—making it the perfect way to prep your skin for makeup. For an added boost of hydration, try applying the moisturizer while your skin is still damp post-cleansing to help lock in hydration.
STEP 2: SMOOTH ON YOUR TINTED MOISTURIZER
Now it's time for the main event. Squeeze a small amount of our tinted moisturizer onto your fingers and use them to smooth the serum over your skin, being sure to carry the tinted product down to your neck—we don't want any harsh lines here. If you'd prefer, you can always apply the tinted moisturizer with a makeup blender or brush.
STEP 3: COVER UP IMPERFECTIONS
If you need more coverage, just follow the skin tint with a little concealer. Reach for the L'Oréal Paris Infallible Full Wear Concealer Waterproof, Full Coverage to help disguise any skin imperfections, such as dark circles, age spots, or blemishes. Use the L'Oréal Paris Infallible Blend Artist Foundation Blender to smooth everything together. Once you're finished blending out, your skin concerns will be undercover.
STEP 4: BRUSH ON BLUSH
Every makeup look needs a pop of color, no matter how natural you want it to appear. After all, you're born with a flush on your cheeks. While we love colored eyeliner or lipstick—a bit of blush is all you need. Using a duo-fiber brush, sweep on the L'Oréal Paris True Match Blush in the color of your choosing. It's the perfect complement for your skin's tone and texture. You'll sport the "I woke up like this" look with ease.
Next up: For days when you're interested in wearing a little more makeup, go ahead and educate yourself on How To Do Full Face Makeup For a Flawless Look.
{ "@context": "https://schema.org/", "@type": "WebPage", "speakable": { "@type": "SpeakableSpecification", "cssSelector": ["speakable-content"] }, "url": "https://www.lorealparisusa.com/beauty-magazine/beauty-tips/beauty-trends/what-is-tinted-moisturizer" }
Discover more tips & tricks
See all articles
Shop Featured Makeup products
Discover More
{ "@context": "http://schema.org", "@type": "BreadcrumbList", "itemListElement": [ { "@type":"ListItem", "position": 1, "item": { "@id": "/", "name": "Home" } } , { "@type":"ListItem", "position": 2, "item": { "@id": "https://www.lorealparisusa.com/beauty-magazine", "name": "Beauty Magazine" } } , { "@type":"ListItem", "position": 3, "item": { "@id": "https://www.lorealparisusa.com/beauty-magazine/beauty-tips", "name": "Pro Ideas For Your Unique Look" } } , { "@type":"ListItem", "position": 4, "item": { "@id": "https://www.lorealparisusa.com/beauty-magazine/beauty-tips/beauty-trends", "name": "Beauty Trends" } } , { "@type":"ListItem", "position": 5, "item": { "@id": "https://www.lorealparisusa.com/beauty-magazine/beauty-tips/beauty-trends/what-is-tinted-moisturizer", "name": "what-is-tinted-moisturizer" } } ] }