skin care essentials
What Is BB Cream? How to Find the Best Formula For Your Skin Type
August 16, 2018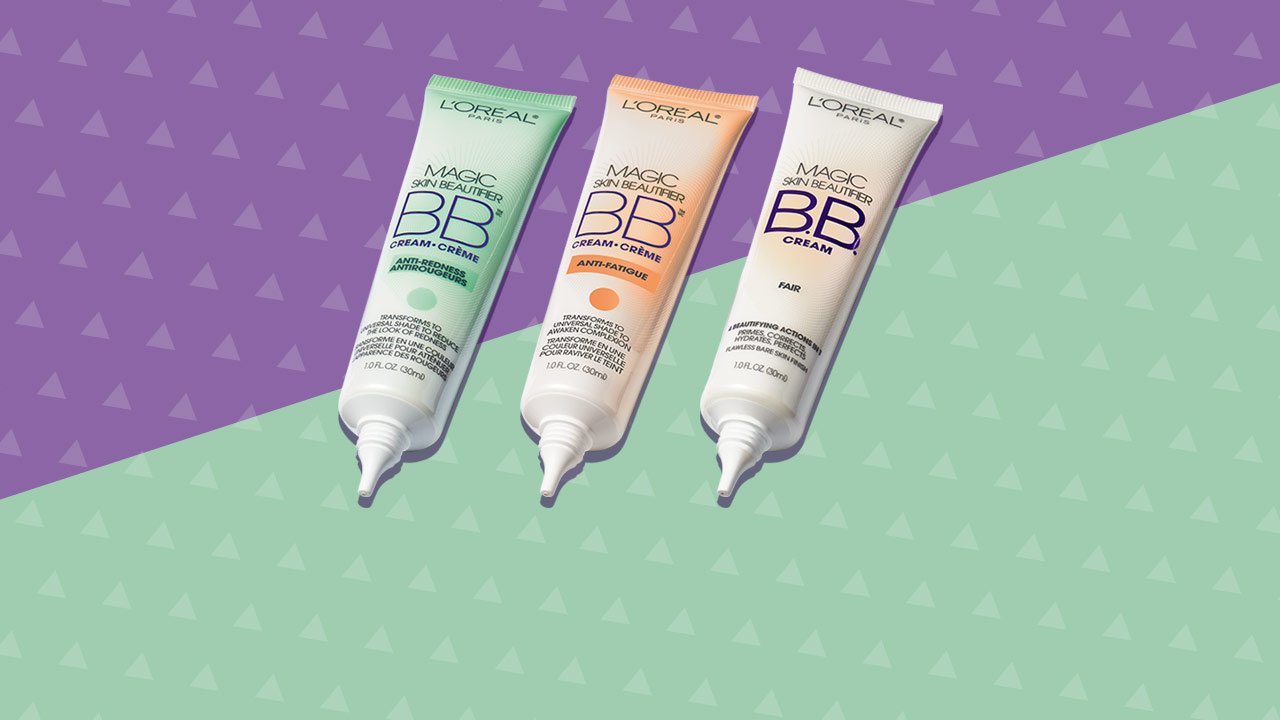 There are some makeup products that seem to have magical qualities (seriously, how do they do what they do?), and BB cream is definitely at the top of that list. Whether you're already a BB cream aficionado or you're still trying to figure out whether you should try it as part of your next makeup look, here's everything you need to know about this makeup-skin care hybrid—including the answer to "what is BB cream?".
WHAT IS BB CREAM?
BB cream has quickly become the go-to beauty product of so many women. But what, exactly, is it? The "BB" in BB cream stands for beauty balm or blemish balm and essentially, it's makeup that has skin care benefits—hence the label of makeup-skin care hybrid. Those benefits include anything from SPF to antioxidants to hydration to shine control. Sounds pretty neat, right?
Given these benefits, think of BB cream as being similar to a souped-up version of a tinted moisturizer. It's a great option on those days when you don't want to wear a lot on your face and would prefer to go for the always in style "no makeup, makeup" look. BB creams tend to have lightweight formulas that provide sheer coverage. Like we said, BB cream is awesome for those days when your complexion just needs a little extra something (but not heavy coverage).
HOW DOES BB CREAM DIFFER FROM FOUNDATION?
Even though you now know what BB cream is, you might still be wondering, how the heck does BB cream differ from foundation? Good question. The main difference between BB cream and foundation is this: BB cream is usually lighter in feel than foundation and focuses on a skin-first approach. That means the main purpose of BB cream is to focus on things like hydrating, illuminating, mattifying, or protecting your skin rather than coverage (which is generally the goal of using foundation).
HOW TO APPLY BB CREAM
Like tinted moisturizer, you can use your fingers to apply BB cream—that's probably the simplest way to do it. Make sure to rub the BB cream onto your skin in circular motions to spread it evenly across your face. (Just one note about this: Make sure your fingers are clean—you don't want any dirt or grime transferring from your hands to your skin!) Looking for an ultra-smooth finish? Try applying BB cream with a makeup sponge, such as the L'Oréal Paris Infallible Blend Artist Foundation Blender, which is designed with an exclusive plush material and easy-to-grip-shape for a uniform blending experience. To use, apply a small amount of BB cream to the sponge, then use dabbing and rolling motions to blend it onto your skin.
WHAT TO LOOK FOR IN A BB CREAM BASED ON YOUR SKIN TYPE
Pick your BB cream based on your skin type!
If you have oily skin…opt for a BB cream with a matte (a.k.a. non-shiny) finish and oil-free formula. Soon you'll be saying, grease? What grease?
If you have acne-prone skin…look for an oil-free formula that helps camouflage redness.
If you have dry skin…reach for a BB cream with a moisturizing formula to help hydrate your complexion.
OUR BEST BB CREAMS
Ready to use a BB cream for sheer, lightweight coverage? Here are a few options worth considering:
L'Oréal Paris Magic BB Anti-Fatigue (For All Skin Types): Suitable for all skin types, this BB cream is a serious multitasker that's formulated with beautifying beads (encapsulated, color-transforming pigments).
L'Oréal Paris Magic BB Anti-Redness (For All Skin Tones): This BB cream is formulated with encapsulated, color-transforming pigments that can help counteract redness. The formula is green and transforms to your perfectly customized shade as you blend it in.
L'Oréal Paris Magic by Studio Secrets Skin Beautifier BB Cream: This multi-tasking BB cream will hydrate, prime, perfect, and correct. You'll be left with a flawless, bare skin finish and more beautiful skin over time.
Enjoyed this article? Next, read our article, What Is CC Cream?
Discover more tips & tricks
Keep your skin happy
See all articles
Shop Featured Makeup products
Discover More